Wood never really goes out of fashion, ever. So it comes as no surprise that one of the biggest home decor trends for 2017 is achieving the natural look, with what else, but wood!
If you are looking for novel ways to fuse thisau naturelmaterial in your home decor, we have some classy ideas.
Wall of Wood
Brick walls are cool, but an entire wall of wood elevates the chic factor many notches up!
For your living room or bedroom feature wall, try wood-panelled walls. Unlike brick-cladded walls which can be heavy and weighty, wood lends a light and simple spirituality to any space.
What is more, there are so many varieties of wood laminates to choose from, and you could even consider upcycling wooden pallets and salvaged wood. From slick and modern to rustic, the decor options are plentiful.
Statement Pieces
Any interior designer will tell you that statement decor pieces are a must to lift your decor from blah to bling. If you think that they cost a bomb, actually they do not need to if you know what to select.
Try these clever, budget-friendly ideas:
Hang an interesting wooden shelf in the living room and artfully place your favourite book collection and a potted plant on it. Simple and looks picture-perfect!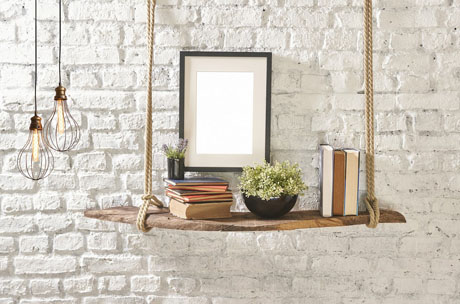 Trade the usual coffee table for small foldable side tables and place them strategically around the room. Pick one to serve as a focal point in your home and jazz it up with small but striking accessories. It can also be your canvas to photograph and share your culinary skills on Instagram!
Seats and Storage
It is nice to have an area where you can sit and leisurely put on your shoes. This industrial-looking crate that is comfy to sit on would make for a great addition to your home. If you find one that lets you store items inside, double points!
You can also DIY one quite easily. Get a crate and fit a cushion seat on top for extra comfort.
Woody Essentials
It is back to basics with the rustic look, so incorporate wood elements for that natural, organic touch. But for that modern edge, combine with metal – copper, aluminium or steel – and be surprised by the final look! One simple way is to display your kitchen utensils on steel hooks, or line your gleaming copper pots and pans on a shelf instead of hiding all away.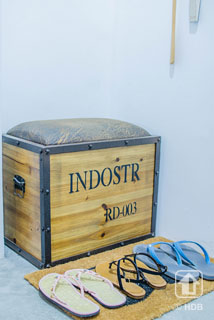 Sup on Wood
More than just a place where the family eats, dining tables also serve as a casual hangout space these days. To create a relaxed atmosphere, you can consider getting garden tables or cafe tables in place of the standard fare. But be sure to pick the ones made of wood – faux or real. Why? They say that supping on wood gives you extra appetite!
Accessories
If you are into details then wood accessories will help you score big on the trend as well. From wood-framed mirrors, to using a round block of wood as dining table centrepiece, the options are endless. Have fun experimenting and finding suitable accessories for your flat!
And you may not need to spend too much. Look out for our upcoming article on DIY wine box charging station.