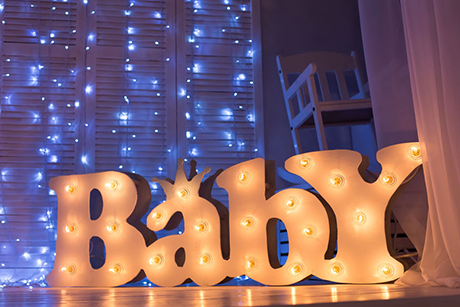 My new-born and the keys to my long-awaited flat came within a week of each other – talk about double happiness! Mindful that a child's needs will change a lot in the first few years, my husband and I wanted a nursery that can last beyond these early nights of fractured sleep.
Wall to Wall
Babies are drawn to bright hues, strong colour contrast, and geometric patterns. That is not a licence to go colour crazy though, as it can result in overstimulation and a cranky kid.
Start out with a neutral-coloured room—think white, cream, or even light grey—and add pops of colour to the walls, for a vibrant look that is not too overpowering. In our nursery, decals add visual interest but you can also opt for wall stickers. Both are relatively inexpensive and easy to replace.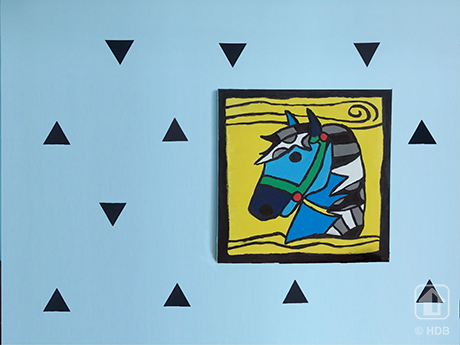 Hang colourful paintings or photos on the wall for instant pretty
To Store and More
More is definitely more when it comes to storage, because thanks to generous friends and relatives, the amount of stuff that a baby has can grow pretty quickly.
To accommodate our son's ever-growing clothes collection, we opted for a dresser over a cupboard, as teeny clothes do not take up a lot of vertical space. Storage baskets hold toys and serve double duty as decoration too.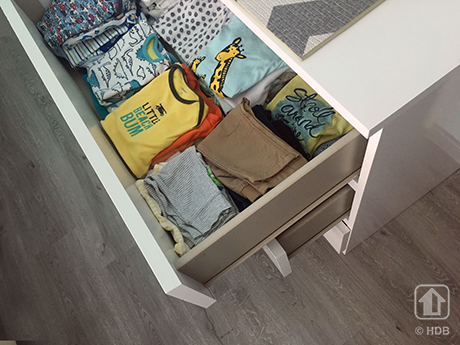 Clothes look cuter in miniature
Convert and Transform
When buying nursery furniture, we looked out for convertible everything, and settled on a cot which transforms into a toddler bed. This way, we are set for the next five years! A bassinet which converts into a playpen is another great way to extend the life span of furniture which your baby will otherwise outgrow very quickly.
We also did away with a changing table to save space, and opted to tote baby's supplies in a trolley that we can wheel around the house. Any wide, fl\at surface now serves as a diaper changing area—all we need is a changing pad.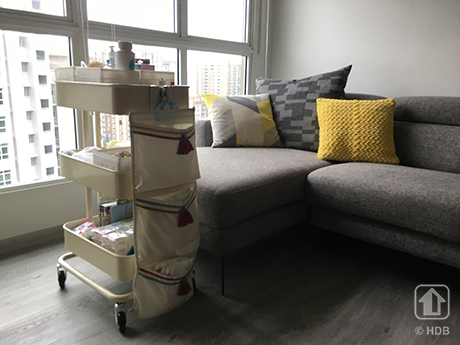 Diaper changing with a view
Baby Proofing
A safe nursery never gets old, no matter the age of a child. Window grilles, essential for high-rise living, were the first thing we installed. Cords on our blinds were looped up, unused electrical outlets fitted with covers, and a low-pile anti-slip rug will provide cushioning for baby's knees when he starts crawling, walking, and inevitably falling.
Setting up a nursery is really fun! If you have a nursery you are proud of too, drop us a note via mynicehome@mailbox.hdb.gov.sg or our Facebook page. Tips on helping baby sleep through the night are very welcome too! ?