Too much stuff and not enough space – sounds familiar? Well, there are many tips and tricks to creating more storage space while giving your home a spacious and welcoming feel. Here are some ideas.
Use vertical space
The vertical space in HDB flats is commonly untapped. By taking advantage of the unused space, you can gain practical floor area at home. For example, the bed is a large furniture that takes up significant space. By elevating the bed, you can transform the space below into a useful study or seating area – voila, you have created dual use for the same space.
Photo credit: Dorel Living
Build platform beds
Keeping belongings under the bed is one of the oldest and most economical storage methods that effectively maximises the space in the bedroom. It also helps to keep the room looking clean and neat. In fact, you could double the storage space if you place the bed on a raised platform with storage compartments. Hiding clutter, this discreet storage space is perfect for seldom used items such as holiday decorations, winter clothing etc.
Photo credit: Home and Decor
Float your furniture
A great tip to make your home look bigger is to get the furniture off the floor. 'Floating' furniture gives the room a contemporary and minimalist look. In addition, it also maximises every inch of space in the room and makes cleaning easier. Without furniture 'legs', wall-mounted furniture opens up the room visually, giving it an airy feel. Try wall-mounting your desks, cabinets or shelves, and see precious space being freed up!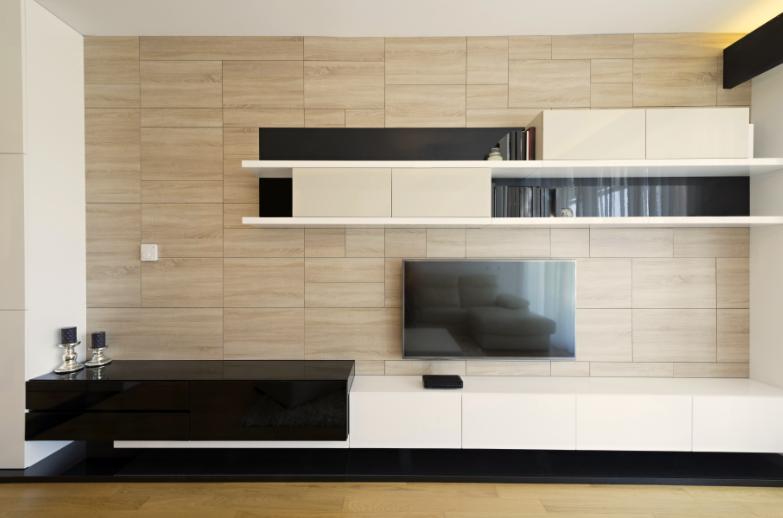 Use the walls
Walls offer excellent storage options. The creative use of wall space, whether through shelving or a small gallery wall, adds ample storage and character to your home. For greater visual impact, vary the height of the shelves to create interesting designs.
Multi-purpose furniture
Opt for multi-purpose, convertible or expandable furniture for more efficient use of space. Multifunctional furniture is practical as they serve dual or more purposes. A common example is the sofa bed which serves as a sofa by day, and a bed by night. Or you can consider a slot sofa with hidden footrests and coffee table to be set up only when needed.
Photo credit: BonjourLife.com
Do you have interesting tips to maximise space at home? Drop us a note at mynicehome@hdb.mailbox.gov.sg and tell us via our MyNiceHome Facebook page.