This article first appeared on Are You Ready (CPF)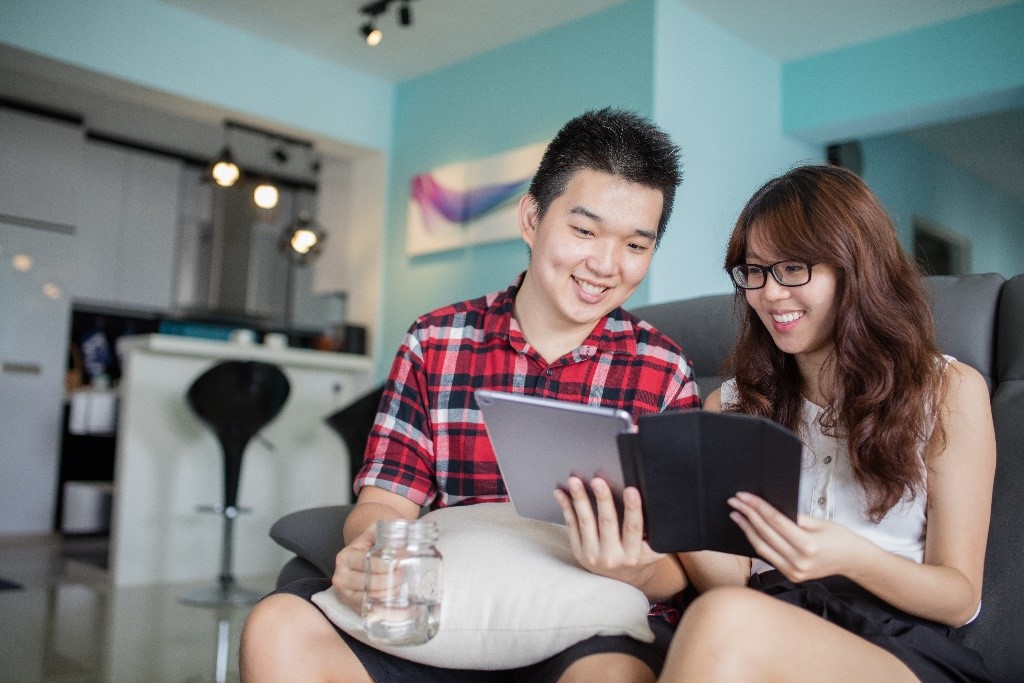 It's shaping up to be an exciting year for Felix! Newly engaged, he and his fiancée have just begun the hunt for a new home together.

With their combined income of $5,500, they decide to get a 4-room BTO flat in a non-mature estate and take up an HDB housing loan. Here's a look at the costs they have to factor in, and how their CPF savings can help to finance some of it.
Expenses that can be paid using CPF

10% downpayment
Felix and his fiancée are keen to apply for a 4-room BTO flat with a purchase price of $300,000. With a combined income of $5,500, they would be eligible to receive an estimated $35,000 in housing grants1.

Since they are first-timer applicants aged below 30, they are also eligible for the Staggered Downpayment Scheme, making their downpayment 5% of the flat's purchase price, i.e. $15,000, which they can pay for using their housing grant. (The other 5% will be paid upon key collection.)

Monthly housing loan installments
After taking into account the balance housing grant amount of $20,000 and their CPF OA savings2 of $90,000, Felix and his fiancée estimate that they may need a housing loan of $175,000 to pay the balance purchase price.

Based on a loan amount of $175,0003, Felix calculates his monthly installment4 using HDB's Monthly Installment Calculator tool, and arrives at an estimated monthly repayment of $794 over 25 years. Felix and his fiancée can choose to finance the housing loan installments fully or partially with the monthly contributions to their CPF OA.

Stamp duty and legal fees
Felix and his fiancée can also use their OA savings to pay the stamp duty and legal fees. Using the IRAS Stamp Duty Calculator, Felix calculates their stamp duty fee to be $4,200 based on the flat's purchase price.

Legal fees include Conveyancing Fees and Caveat Registration Fees, for the processing of paperwork for property ownership. Felix estimates that he has to set aside a few hundred dollars for Conveyancing Fees, while Caveat Registration Fees are chargeable at a fixed amount of $64.45.

Home Protection Scheme (HPS) premiums
Since Felix is considering using his OA savings to pay his monthly installments, he will have to be insured under HPS4, an insurance scheme that protects the insured member and their family from losing the flat in unforeseen circumstances. Using the HPS Premium Calculator, he estimates the cost of his premiums to be $131.60 per year for 22 years.

Other expenses (not payable using CPF)

Application and option fees
When applying for the BTO flat, Felix needs to pay an administrative fee of $10. He will also have to pay an option fee of $2,000 upon booking his flat. This option fee will be reimbursed to him in cash after they sign the Agreement for Lease and pay the downpayment using his CPF savings/housing grant.

Renovations, maintenance fees, property tax, utilities and fire insurance
Purchasing a home is only the start – Felix also needs to factor in the costs of renovation and recurrent costs that come with owning a home, such as service and conservancy charges, utility bills, property tax and fire insurance. Since these are costs that may run up his expenditure, he plans ahead and sets aside a budget.

Using CPF savings for housing needs

While many aspects of a home purchase can be financed with CPF OA savings, Felix and his fiancée realise that they need to strike a balance when considering how much OA savings to use. Using too much of their OA savings now would affect the amount of CPF savings they have for retirement in the future, while paying too much in cash could leave them with insufficient emergency funds.

Read more on the costs and fees of buying a new HDB flat at:
http://www.hdb.gov.sg/cs/infoweb/residential/buying-a-flat/new/finance/costs-and-fees

1First-timer households buying a BTO flat may be eligible for up to $80,000 of housing grants, comprising Additional CPF Housing Grant (of up to $40,000) and Special CPF Housing Grant (of up to $40,000).
2Flat buyers taking up an HDB housing loan may each retain up to $20,000 in their CPF OA and use the balance to pay for the flat.
3To confirm their eligibility for an HDB housing loan, Felix and his fiancée would have to apply for an HDB Loan Eligibility (HLE) letter.
4The HPS is a mortgage-reducing insurance that protects insured members and their families from losing their HDB flats in the event of death, terminal illness or total permanent disability. HPS insures you up to age 65 or until your housing loan is fully paid up, whichever is earlier. Its annual premiums will be deducted from your CPF Ordinary Account (OA).

Information accurate as of Jan 2019.