Selecting floor finishes for your home sounds like a pretty basic and simple task, but with new trends and classic styles being reinvented all the time, the options can be mind-boggling.
1. Know your needs
Top on the list is knowing your family's needs. Here are some simple considerations:
Polished and non-slip surfaces. For safety, you might consider non-slip flooring if there are young children and/or elderly at home.

Durability. Tiles come in all sizes and materials, but some are hardier than others. Would you be placing heavy furniture or equipment on the floor? Also, would you use a rug to cover most of the floor?

How often do you plan on cleaning your home? Picking the right colour and surface for your home might mean less housework. ?

Cost. While you can modify your floor finishes in the future, it is no minor renovation. Thus it is better to get it right from the start and not spend more time and budget to modify it later.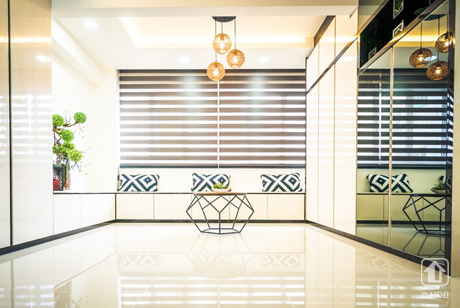 Using the right floor finish can change the feel of rooms entirely. Large, polished tiles in light tones are popular choices for living rooms, as they make spaces look much bigger and inviting
2. Get inspired at showrooms
While most home owners get their design inspiration online via apps and websites like MyNiceHome, picking tiles is much easier if you head down to a store or showroom, and take a look at the selections available.
New flooring technologies, like vinyl laminates, offers flexible flooring options that mimic the look and feel of highly desirable looks. The good news Ð these are more durable and easy to maintain.
At showrooms, you will learn that tiles have advanced beyond the typical ceramic, porcelain and marble tiles we have seen everywhere. There are tiles mimicking materials and textures. Decorative tile designs, like vintage Peranakan and antique Art Nouveau, have also returned as mass-market reproductions.
3. Decide on the Optional Component Scheme (OCS) for BTO flats
For added convenience, you can opt-in OCS components (for non-PPVC flats)and have floor finishes in the living room and bedrooms installed by HDB. These items can be paid using CPF as part of the cost of your BTO flat.
4. Check out the flooring guidelines
While we are free to dream up beautiful floors, get yourself familiar with HDB flooring guidelines before embarking on any major works at your new home.
Got any creative flooring ideas to share? Connect with us at our Facebookpage or at mynicehome@hdb.mailbox.gov.sg