Faqih and Lydia designed their 4-room flat in Punggol with their growing family in mind. Though they loosely define their interior décor style as modern Scandinavian, the couple shared that keeping to the theme was not their top priority when renovating their home.
A harmonious palette of blues and greys is quintessentially Scandinavian
"We wanted our home to be kids-friendly, clean, and homely." Lydia said. "Having a design theme may not necessarily help us achieve that," Faqih added.
Faqih and Lydia thought of their kids first when designing their home

Interesting pieces such as a carpet with a zig-zag pattern add personality to a room
A cosy reading corner
The couple had a pleasant renovation process with their interior designer from Facelift Design. "As we cook on a regular basis, we told our interior designer that we could compromise on everything except the kitchen," Lydia quipped.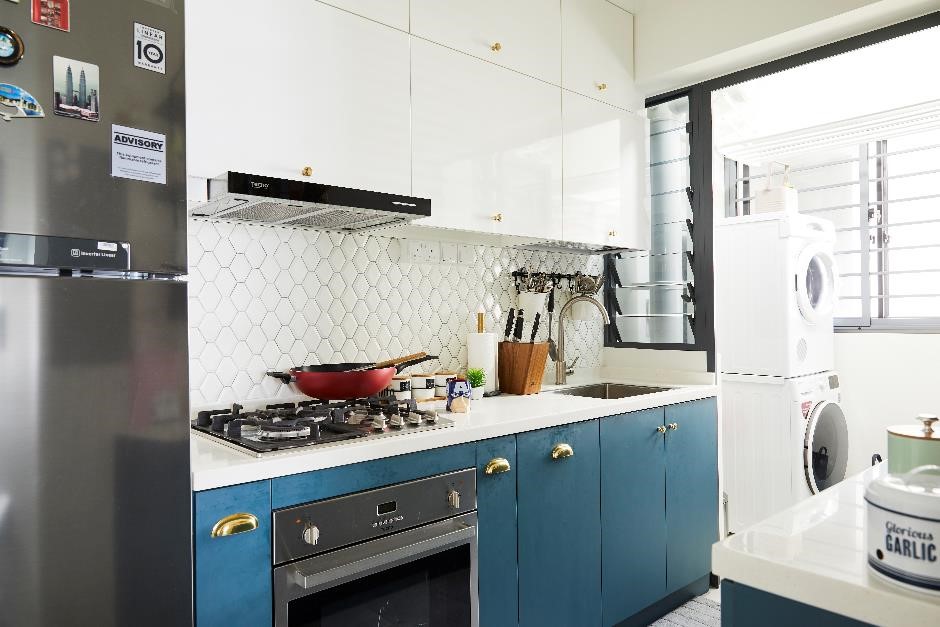 The couple opted for unique teal cabinets with gold handles
Nevertheless, Faqih and Lydia's home is still a reflection of their personal tastes and preferences, such as in their choice of furniture. The couple had purchased the major furniture pieces from various stores, including Star Living, Prestige Affairs, Lush Furniture, and Nook and Cranny.
Their total renovation cost was about $30,000, as they did not require much carpentry works done for their home.
Mixing and matching patterns spice up a pastel-toned room
The children's bedroom is decorated with fun furnishings and colourful prints
An expansive view of Waterway Terraces from the balcony
The couple shared that they had chosen the Punggol unit because of its convenient location, reasonable price, and attractive flat layout. "The best part is that we are within walking distance to most of the amenities we need," Faqih said.