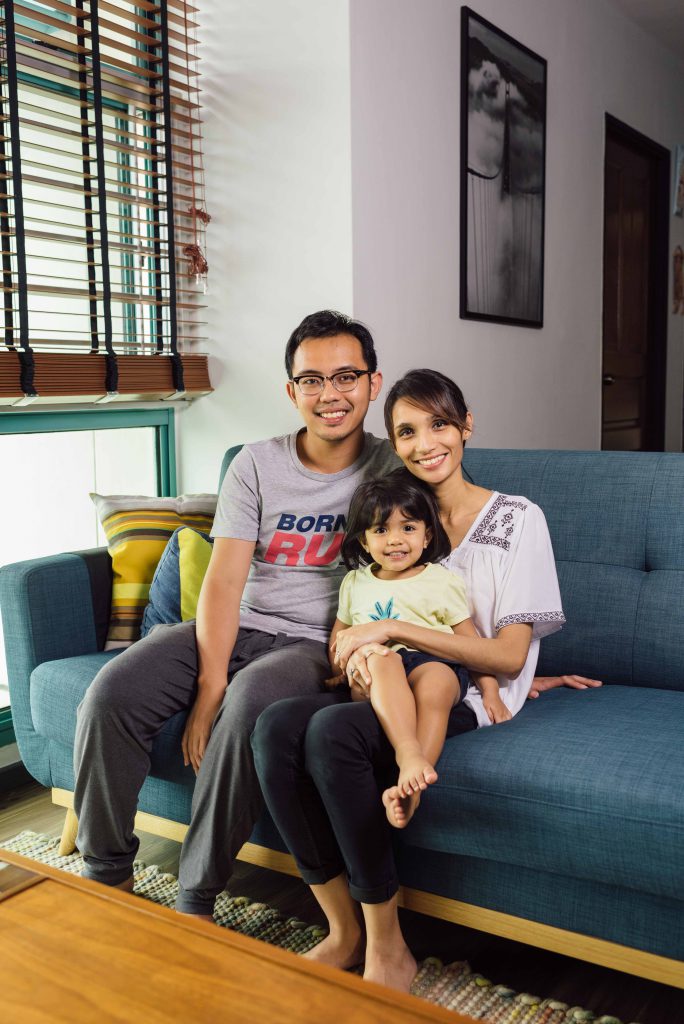 Daring to be different, a fusion of styles was the look that Nizam and Fazlin were going for. In less assured hands, it can turn out very wrong. In their case, the mix of Scandi, vintage and industrial styles flows effortlessly from one room to the other, making their 4-room flat quite the charming abode.
Keeping customised cabinetry to the barest minimum allows them to mix and match and be creative – and also rein in renovation costs. "We didn't want to have a lot of built-in cabinets around the house so we have interesting cupboards like these for the living room," says Nizam.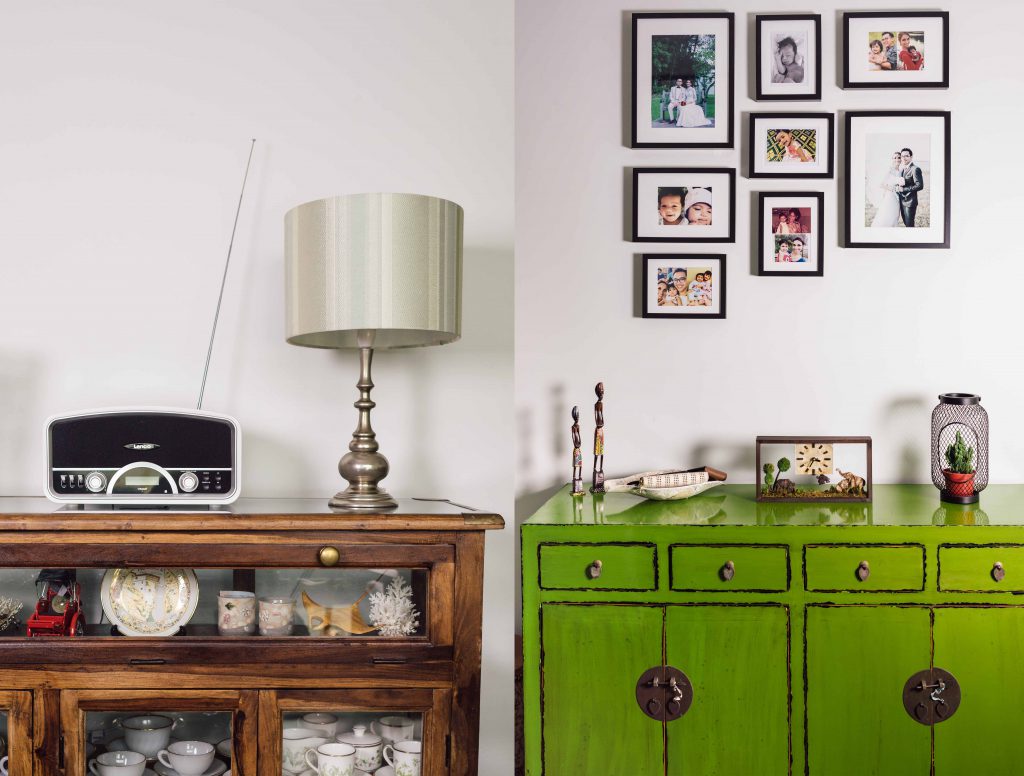 (Left) An antique wood and glass cabinet to store mum's and grandma's chinaware (Right) The moss green 'vintagey' chest sets off the family's framed shots perfectly
The couple have a 2-year-old daughter Maya, who was born when they just moved in. Hence they made a conscious effort to have lots of free space for her to run around and play as she grows up.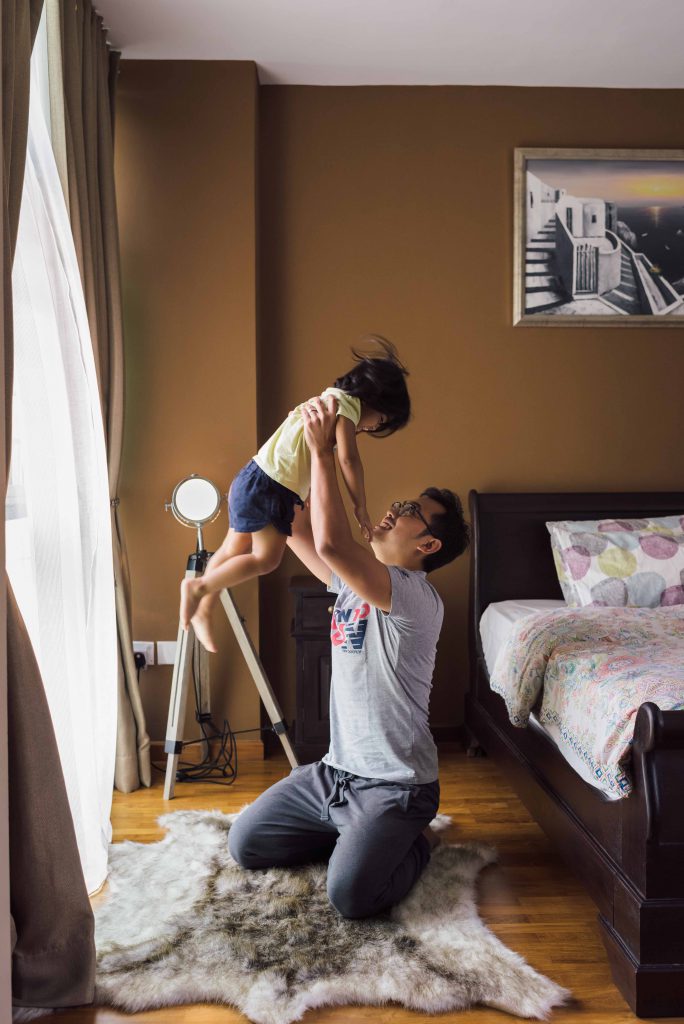 Daddy's girl! A rug adds to the cosy space
The dining area is Fazlin's favourite. With its fire-engine red brick wall and unusual pendant lighting, it is the industrial chic corner of their home.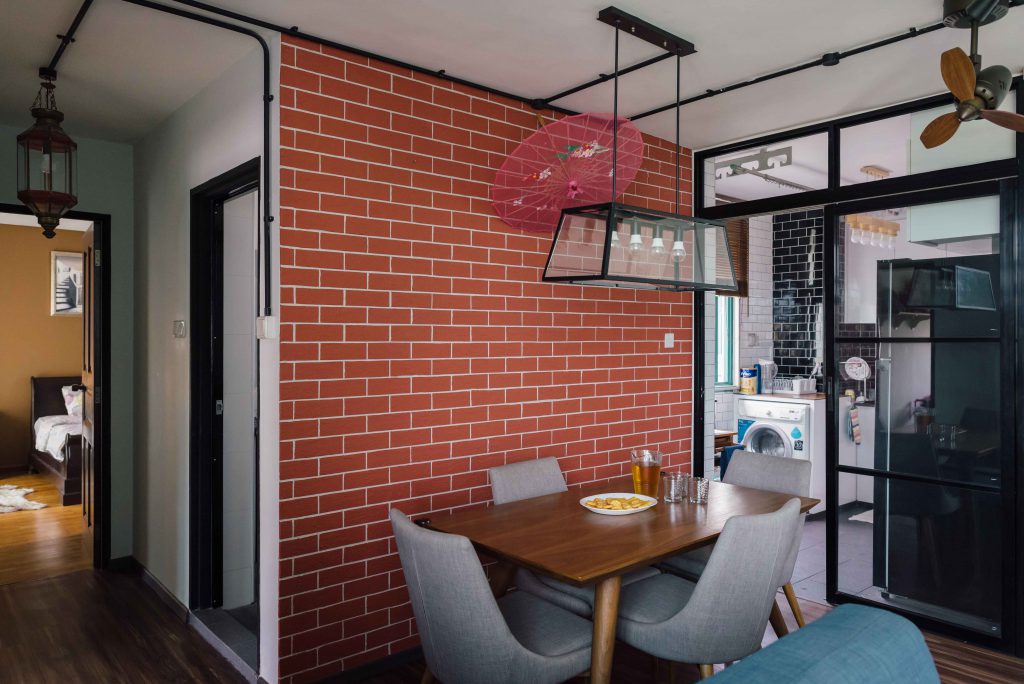 Bringing the cafe concept right to their dining space
The brick-wall design also continues in their kitchen but is given a twist with monochrome, glossy tiles. Coupled with a gold and bronze backsplash, the kitchen looks fabulous!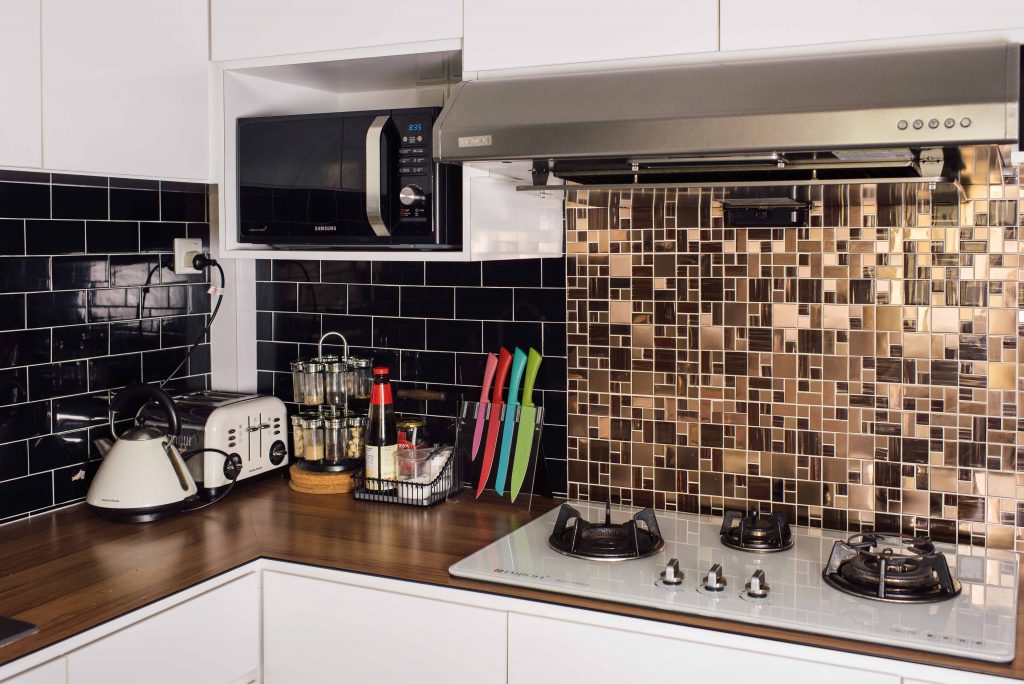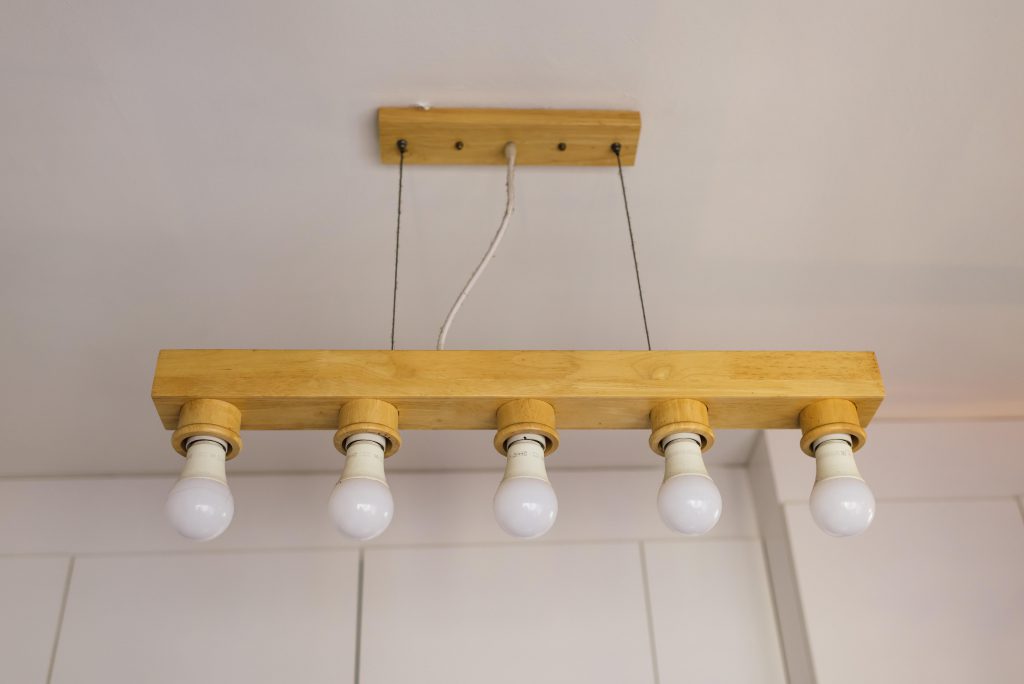 The kitchen spots a modern industrial look complete with hanging pendant lights
The couple has also displayed their travel mementos around their house, including some art pieces from their honeymoon in Greece. Some Scandinavian touches to their bedroom like the earthy browns and a furry rug, remind us of the 'Hygge' style (the art of creating intimacy).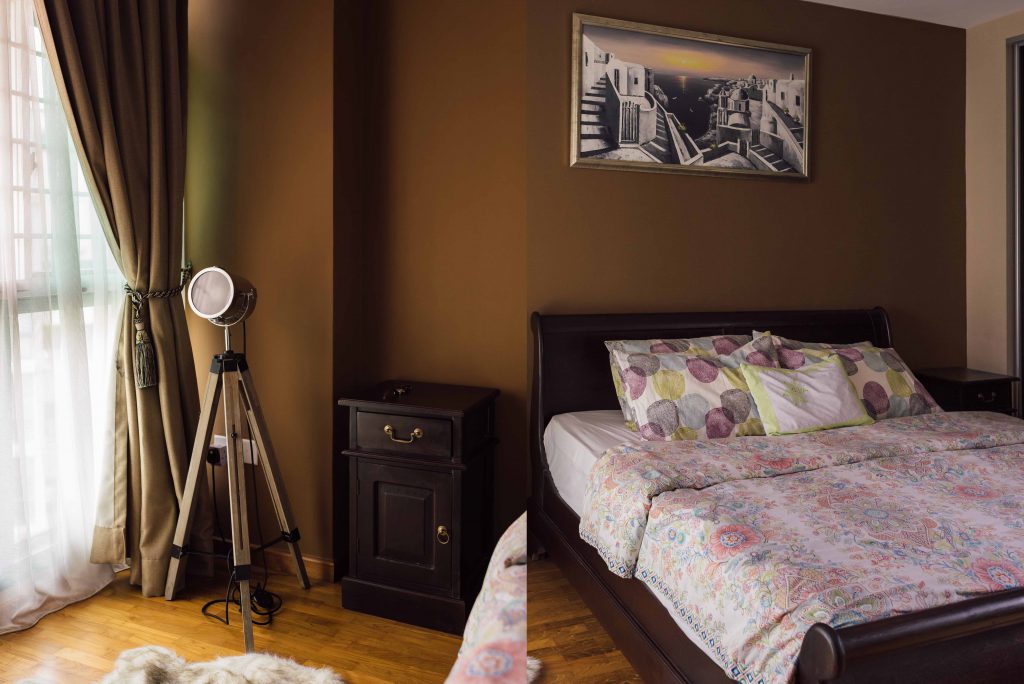 Spotlight, furry rug and a painting of Santorini in the master bedroom
One of the rooms has been converted into a guest room for their relatives and doubles up as a play room for Maya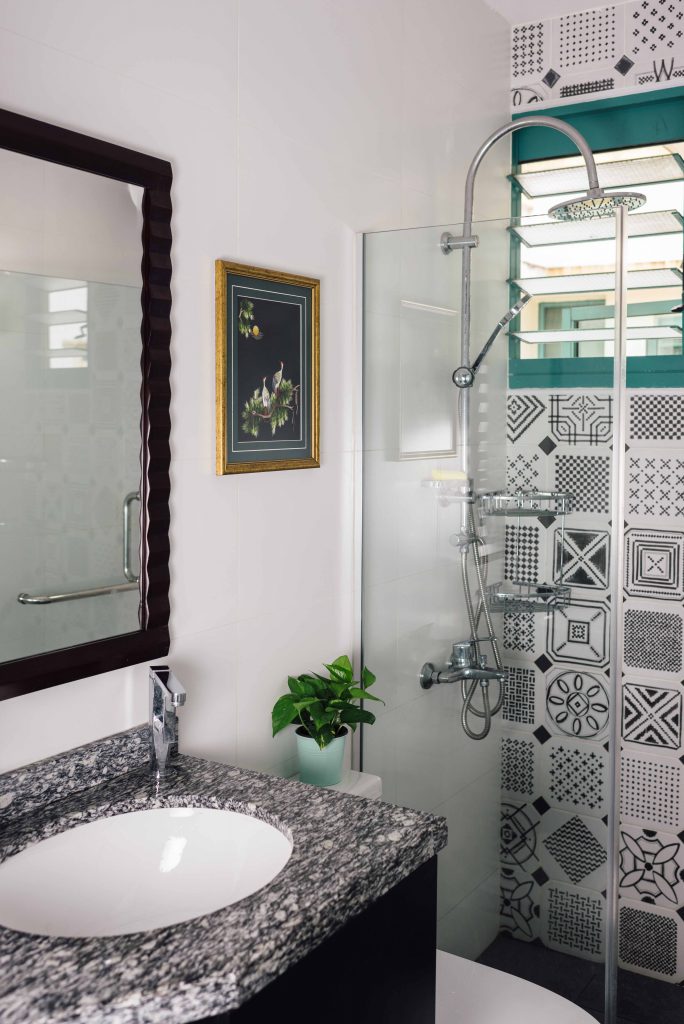 The patterned wall tiles complement the mottled granite vanity top
"Our relatives were the first to visit and they did not quite know what to say initially to our fusion style! But they all thought that the decor was nicely done up, and that our home had interesting and quirky furniture," says Fazlin.
"Our cosy home is perfect for us, reflects our personalities and what we both love! Though it doesn't look right out of a showroom, we like it this way," adds Nizam.
Know of any HDB homes with interesting decor that we can feature? Send us an email at mynicehome@mailbox.hdb.gov.sg