If there is one thing you would not find in Fiszuanie and Ashik's 4-room flat in Tampines GreenTerrace, it is anything dark or woody.
The couple designed their house with the idea of it being bright and spacious, which meant having lots of whites, with pops of colour to inject character.
A clean, white space which greets the couple after a long day at work

Framed up memories from the couple's travels

Planning way ahead, the couple took the DIY route – from sketching out designs to sourcing materials and contractors to create their dream home. Doing so also meant overcoming obstacles and saving money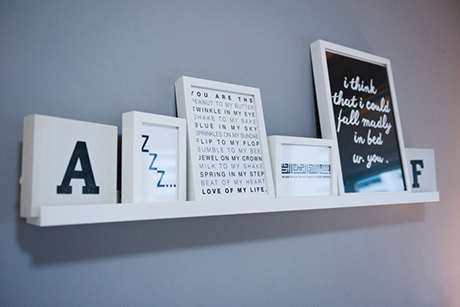 Varying shades of white are in every room
For example…
Fitting in a bathtub might seem difficult unless one resizes the bathroom. But this was not an issue for the couple as they found a portable, standalone bathtub which looks as good as a built-in one. "We saved more than half of what it would have cost to install a built-in bathtub, and don't have to worry about having to hack any tiles if there's any choke!" said Fiszuanie. But of course, the couple checked that fitting in the bathtub would be in line with HDB's guidelines for bathroom renovation before making their purchase.
Perfect for a bubble bath

From the start, the couple wanted their walls to be white all around. But as their kitchen came with beige tiles, replacing them with white tiles would cost a lot. So they got specialists to paint over the tiles with four coats of paint.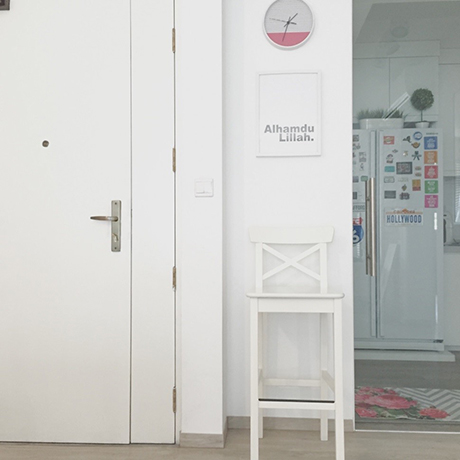 Out, brown spot – white paint took care of the original brown door!

The main door to their flat was painted over too – with six coats of paint. "We did this ourselves. It was tedious, but we couldn't change the door, and didn't want any browns at home!"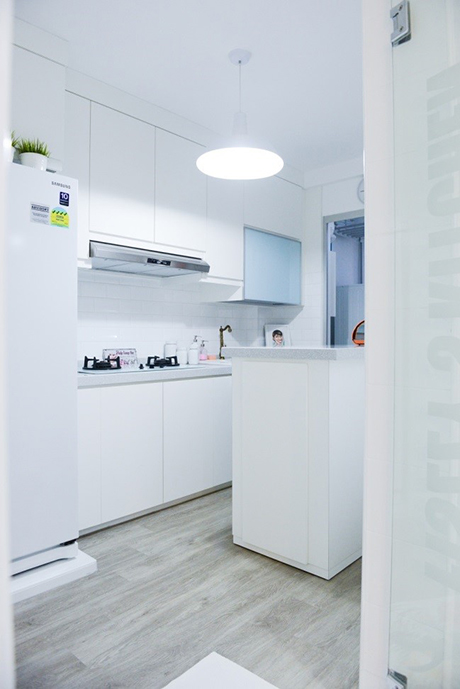 Realising the dream of having an island in the kitchen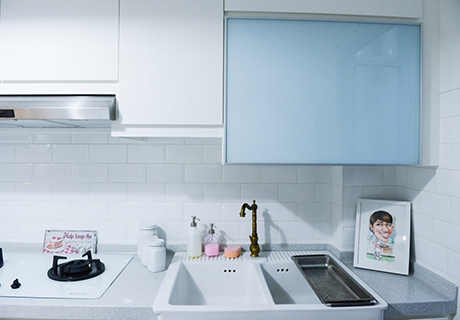 Planning in advance gave the couple much time to source for their dream fittings – like this vintage-inspired tap and farmhouse sink
But what is most impressive is the moveable island the couple designed especially for their kitchen.
Built-in oven in a moveable kitchen island

"I've always dreamt of having a kitchen island, but that would require me to have lots of space in the kitchen. I didn't have that much space, but I was determined to realise my dream. So I designed one to fit in a dry cabinet and an oven, and found a carpenter to construct it!" said Fiszuanie. She shared how Ashik was sceptical of the idea at first, but then he chipped in with what she called the best idea ever – to make it moveable. "Now if I ever feel like having a change, I could always push it up against the wall."
The 'D.I.White duo', Fiszuanie and Ashik
Looking back on their experience of designing their home and managing the different contractors they hired to execute their plans, they felt it was well worth the effort: "It was tiring. But at the end of the day, the satisfaction of seeing your dream home come to life is indescribable!"
If you know of other nice homes that should be shared with others – and yours too – let us know at mynicehome@mailbox.hdb.gov.sg or drop a comment on our Facebook page. We would love to get in touch!
(All photos courtesy of Fiszuanie and Ashik)