Feeling the wanderlust but unable to take flight with your travel plans? Fret not, all is not lost. While that visit to the Colosseum or cruise down the Chao Phraya River may be out of reach for now, make the best out of your holiday and take your adventurous spirit to the heartland instead!
With our #HDBeautiful estates, the perfect travel photo-opp is just minutes away! From visiting a museum gallery to chilling by a quarry pond, we show you how you can travel the world by just spending a day in Jurong East. That's right Westies, this one's for you.
1. Visiting an Art Museum
While they may not be world famous, the colourful murals are museum-quality. Depicting icons of Jurong East including the Chinese Gardens, the murals were completed in 2016 by volunteers from the Singapore Contemporary Young Artists, JTC, Fuhua Primary School and the Residents' Committee.
2. Taking a Stroll at a Botanical Garden
With the gorgeous blooming flowers in our neighbourhood, you can easily recreate a vacation-worthy photo. All you need is a little creativity and framing to capture the perfect shot. In addition to admiring the lush greenery, the community space is also fitted out with chairs for you to catch your breath before continuing on your photo walk.
3. Beach, Please
For those who don't already know, Jurong Lake Gardens is home to a variety of attractions, including Butterfly Maze, The Logs Trail and Clusia Cove – a water park that brings residents closer to nature. From immersing yourself in its natural ambience to spending time with the little ones in the tidal pools, Clusia Cove offers the unique heartland holiday experience. Plus, what better way to beat the heat than to enjoy a cooling soak while being surrounded by lush greenery?
4. Exploring Modern Architecture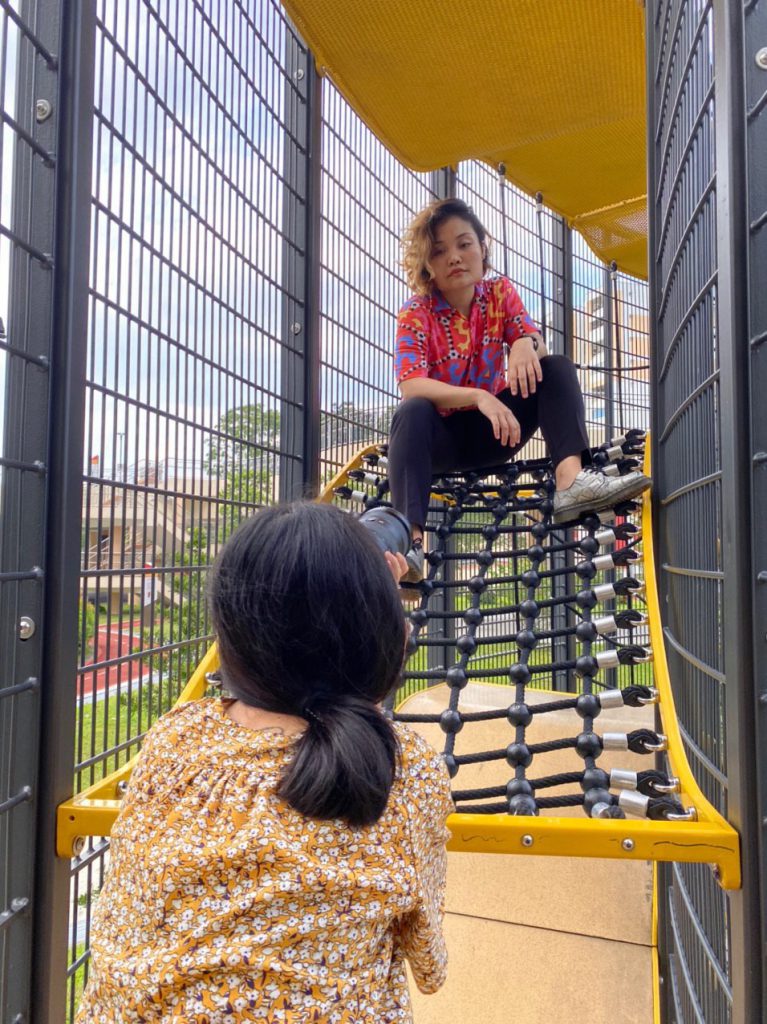 Nestled among Blocks 648, 549, 556 and 558, Jurong Playfields is a neighbourhood sports and recreation hub that caters to residents of all generations. Launched in 2018, the hub features a green plateau with an exercise and viewing deck, a futsal court, playground, jogging track and barbeque pits amongst other amenities.
With the playground's many interesting design elements, you can have your very own fashion shoot – right in the heartland!
5. A Fitspo Adventure
Ready, set, shoot! In addition to being an integrated sports and recreational hub, Jurong Playfields is also the first Active Health Sport-in-Precinct facility in Singapore. With a variety of amenities including a jogging track, there's no lack of photo and training opportunities in this creative community space.
Ready for your own estate adventure? In celebration of HDB's 60th anniversary, HDB and SPH have launched Photonico: Shapes of Home, a photo competition that documents the transformation of public housing. Showcase your creativity and submit your entries featuring the architectural elements of HDB estates and/or the vibrancy of the heartland. Or, submit your entries on Instagram by hashtagging your photos with #ShapesofHome!