Congratulations, you're officially a homeowner!
While key collection is a straightforward process, you should prepare ahead to make the experience at HDB Hub even more of a breeze. Here are some tips to help you mark this milestone in your homeownership journey like a champ!
Save the Date
Make your work arrangements early to ensure that your key collection experience is a relaxing and memorable one! While we have taken pains to streamline the key collection process, we recommend setting aside some extra time to visit your new home after the appointment for the very first time (remember the pineapple for good luck!). You can also explore your new neighbourhood and enjoy a sumptuous meal to celebrate the start of your homeownership journey!
Get Your SingPass (and 2FA) Ready
You will need your SingPass login and its 2-Factor Authentication (2FA) set up if you are using your CPF savings for the flat purchase. Login to your account prior to the appointment date, to ensure that you're able to access it and avoid having to reset your password at the very last minute!
Activate Your Utilities
That's right, you can do so before key collection! Getting this settled early means one less thing to worry about, and it also allows you to start checking for defects early and shorten your overall renovation journey. The application can be done completely online.
Bring the Required Documents
The following list of documents is mandatory. Make sure you have them ready before the appointment –
| | |
| --- | --- |
| Identification Cards (IC) | Make sure that all applicants (for married couples that means both husband and wife) have your IC with you. According to ICA's website, the processing time for a replacement IC can take up to a month for first loss and up to 3 months for subsequent losses. If you've misplaced your NRIC, do apply for a replacement early. |
| Certificate of insurance | You must buy fire insurance from HDB's appointed insurer, FWD Singapore Pte Ltd (FWD), if you are taking an HDB housing loan. |
| Completed GIRO form if you are paying monthly loan instalments partially or fully by cash | You may apply for GIRO payment on HDB's website. Print and sign on the completed form and bring them along with you for your appointment. |
| Power of Attorney | If you are unable to attend the appointment, you may appoint an attorney whom must bring along with him the Power of Attorney. If you are overseas, the attorney must bring one true copy of the document certified by the solicitors and two photocopies. |
Collect Your Welcome Kit
This is the moment that you have been waiting for! You might be surprised to know that HDB provides new homeowners with a beautifully designed Welcome Kit. Its design and content have been refreshed recently to commemorate HDB's 60th anniversary in 2020!
You will find the keys to your flat in a sleek and classy pouch inside a tote bag adorned with iconic sights of the heartland. Be sure to check that you have all the keys and do test them out during your visit to your new home.
Share the Good News
Pics or it didn't happen, right? Be sure to take a photo with your Welcome Kit and share the good news with friends and families on Instagram.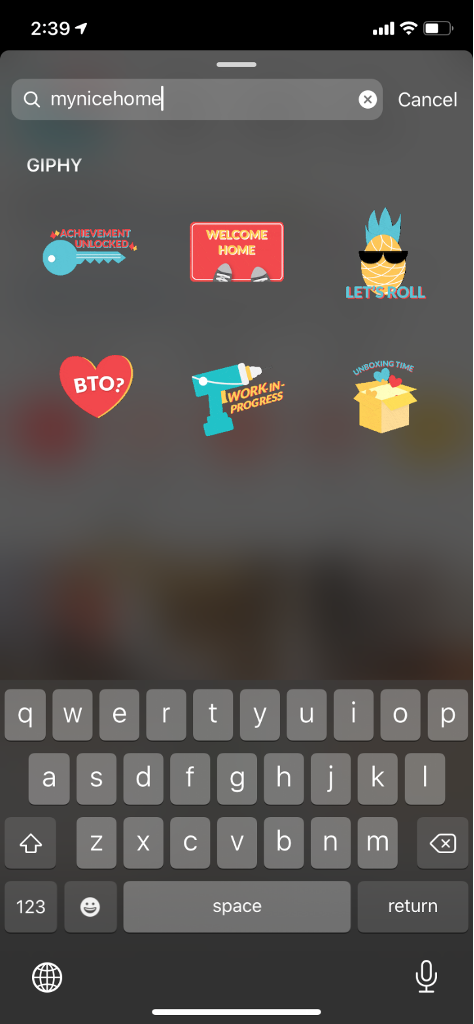 Add some oomph to your Instagram Story with our exclusive MyNiceHome gifs! You can find them under gifs in Instagram by searching for 'mynicehome'. Just collected your keys? Check. Showing off your home renovation? Check. Just moved into your new home? Check. Let the gifs do the talking.
While you are at it, why not also give us a shout out by tagging us @MyNiceHome!