The My Nice Home Gallery at HDB Hub has new interior themes for the 2-Room Flexi, 3-room, 4-room and 5-room showflats. Check them out below:
Quick Links
2-room Flexi (36sqm): Crafted Cocoon
In this home designed for an artist, the space within a 2-room Flexi flat is made multi-functional with furniture that can be easily moved around. The crafting worktop, for example, could be wheeled out and used as a dining table when hosting friends.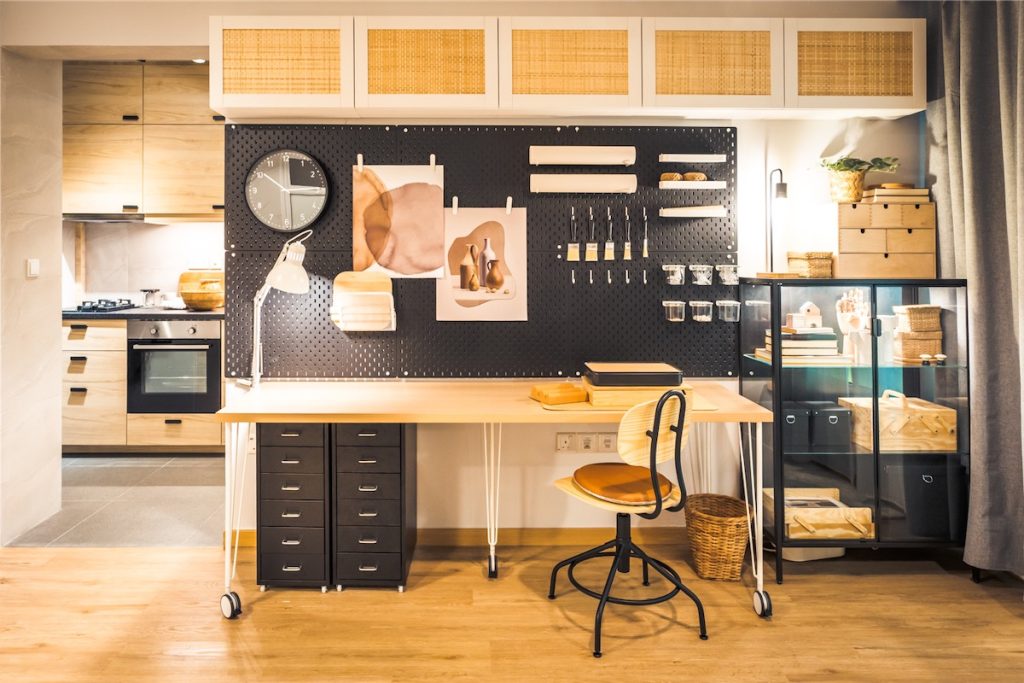 The pegboard wall offers a flexible vertical space to hang up pieces of work or shelves, and for storing tools when not in use. It also serves as an accent piece for the home's modern minimalist style – one that is dressed up in neutral shades of grey, and some woody touches.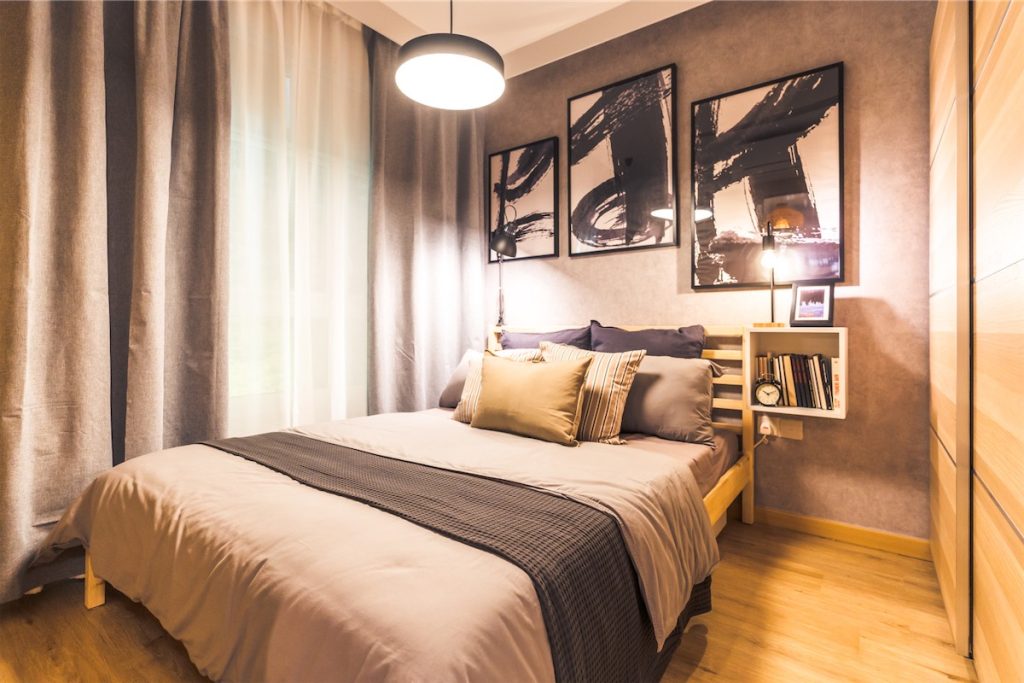 ---
2-room Flexi (46sqm): Wellness
Envisioned as a home for an active senior couple, this flat incorporates flexible fitness areas and pops of green all around.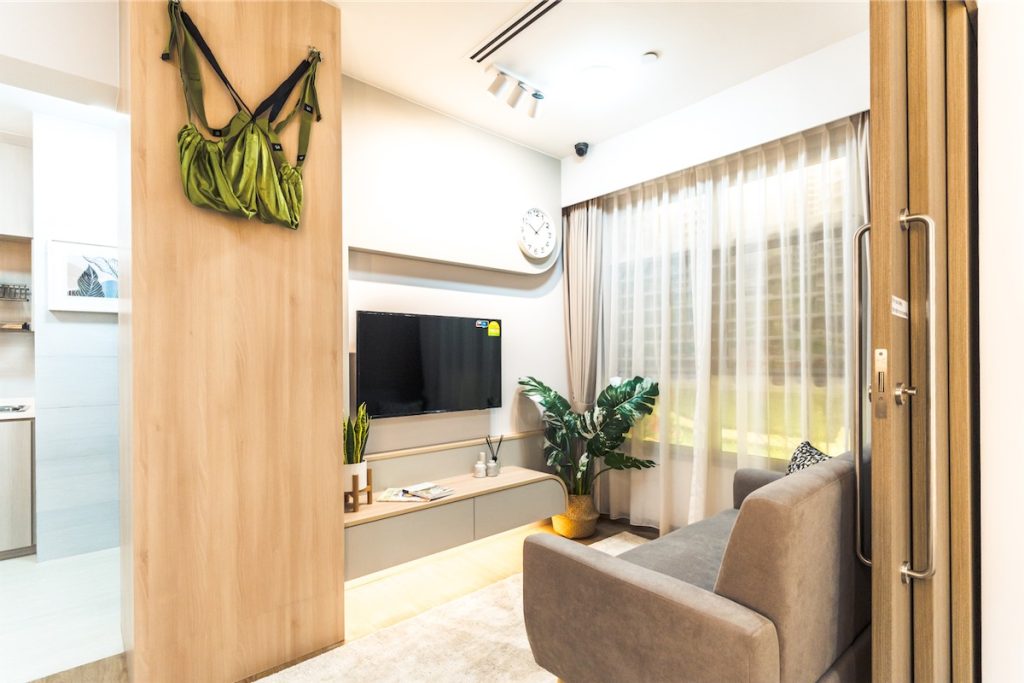 The showflat shows how to make fitness a lifestyle: By installing suitable hooks onto a wall, home owners can attach equipment for training and stretching. Having a dedicated space for exercise is also useful in making healthy living sustainable. A handy pegboard wall can be used for storing equipment when not in use. The space can also be converted into a caregiver's room for senior couples in their later years.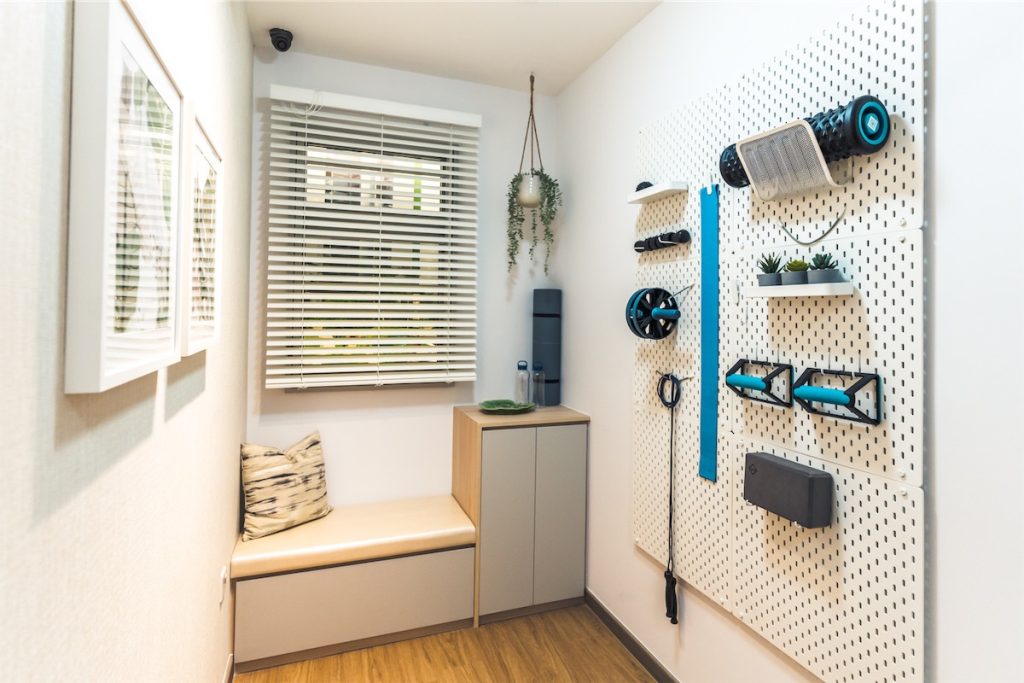 ---
3-room: Asian Modern
This showflat features a refreshing take on Asian-influenced design – marrying modern furnishings with subtle prints and shapes on the walls.
For example, the black-outlined paneling on the walls echo partition screens of the past, and is also a clever way of masking the bomb shelter door without taking up space.
Discreet patterns and prints add visual interest to each room, balancing the aesthetics of modern minimalism.
Check out the second bedroom's use of playful colours and display items to enliven the space for children (or young adults). The study table here can also be folded when not needed, to make space in the room.
---
4-room: Harmonious Delight
Step inside this showflat which demonstrates how home owners can spice up a neutral and woody theme with charming shades of pink and green. Don't miss the sofa's wooden storage box which is handy to keep small items in, such as TV remote controls and smartphone chargers. This way, you won't clutter the space.
An island countertop is shared between the dining and kitchen areas in this open kitchen. It can work as a prep space, food serving area, or a cozy dining spot. Opt for an extendable dining table for greater flexibility in hosting a larger group while enjoying a more open dining area when it's not needed.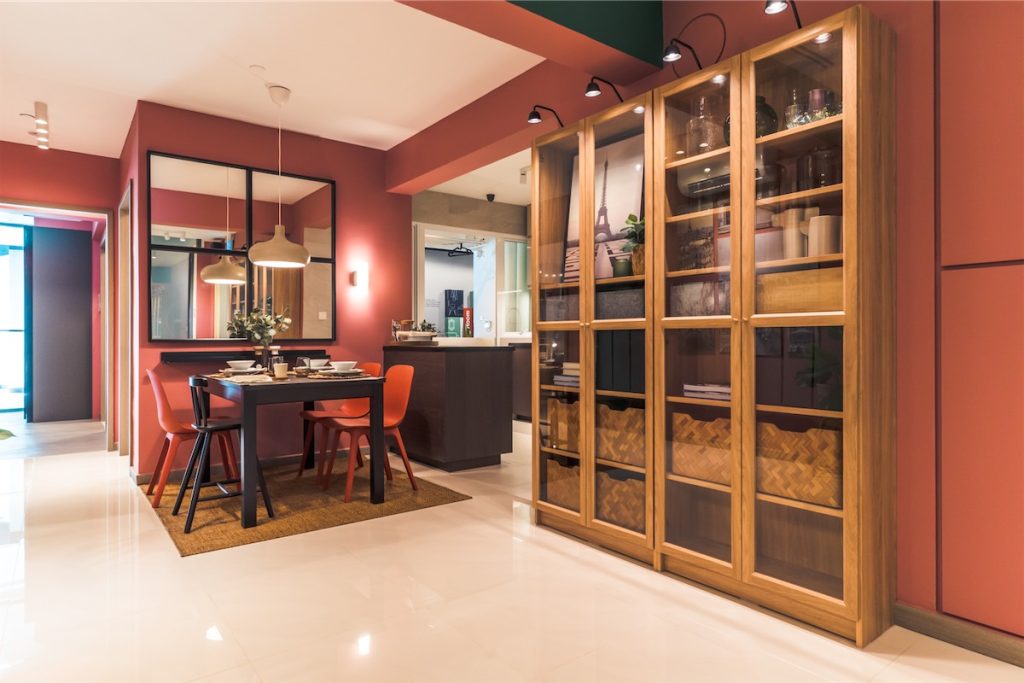 These desks installed in the second bedroom can be adjusted at 3 different heights – so that it grows with its young users, seeing them through toddler to teenage years.
Having a dedicated room for studying and working will always be useful. Invest in an adjustable work desk – the showflat features one that is motorised – for a convenient and ergonomic home office.
Smart features in a home can add convenience to daily life and routines, Here, the lights and roller blinds in this bedroom can be easily controlled with a few taps of your device.
---
5-room: Poise
For a timeless aesthetic with a touch of glamour, step inside the 5-room showflat to see how curved furnishing and details like marble prints and gold accents can make a home look "wow".
A mirror with a slight bronze tint lends a luxe touch of warmth, while naturally enlarging the space.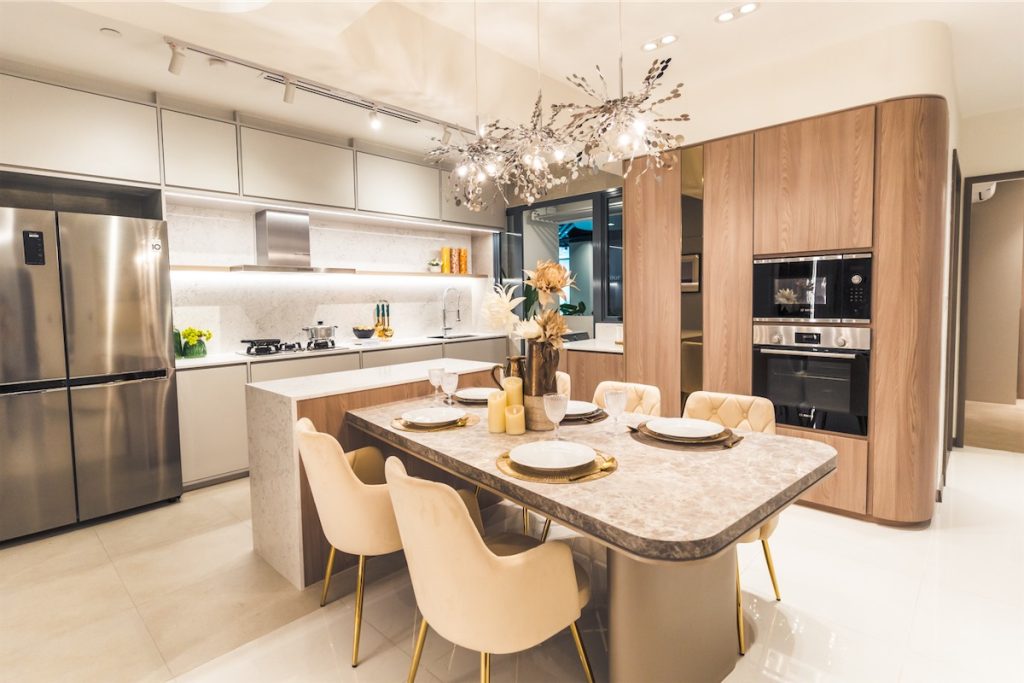 This showflat features a kitchen that fully embraces the open kitchen concept where the dining space extends out from an island countertop. In fact it could feel like dining at the chef's table!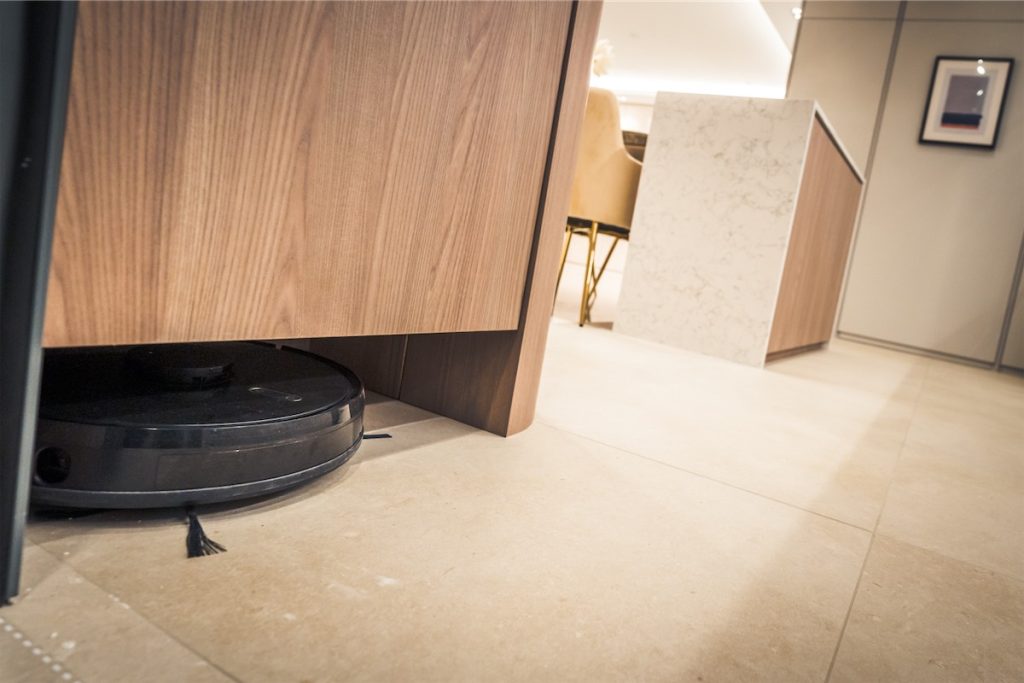 With a "home" built for smart appliances, such as a robot cleaner, the home can be kept clean while not sticking out when the robot is not in use.
One of the bedrooms in this showflat showcases smart solutions to enhance the safety of elderly residents. An emergency alert button can send alerts for assistance, a bed pressure sensor mat can detect falls, and motion sensors can activate lighting around the bed to make moving around at night safer.
Tip: Add pull-down racks into the wardrobe so that clothes kept on higher racks can be easily and safely reached.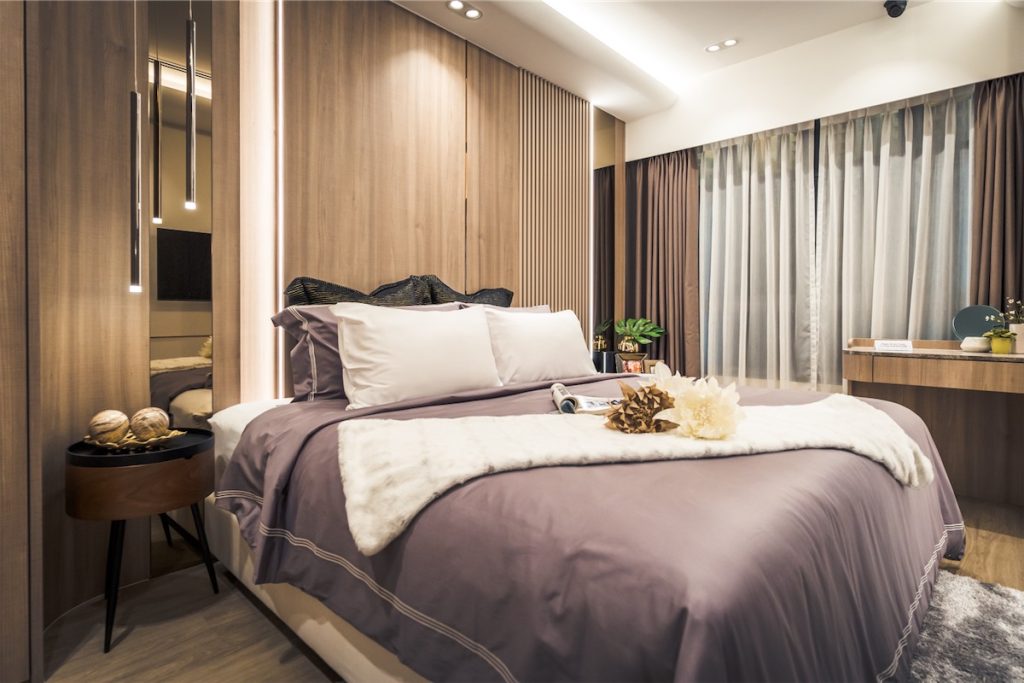 The main bedroom features several smart solutions that can help make the home more comfortable – such as curtains that close automatically in response to temperature and humidity levels detected by sensors.
It might be challenging to design a children's bedroom that fits with a modern and classy theme. In the 'Poise' showflat, playful bursts of colours are hidden at some angles, or can even be 'tucked away'. One example is this foldable study table, which would also free up space for the kids to play when not in use.
Explore the showflats yourself at the My Nice Home Gallery at HDB Hub and discover even more design ideas. Check out this page for latest opening hours and directions, plus links to our online virtual showflats.
By Nicholas Yau