Journey with us into the homes of HDB residents in this 3-part series and witness the transformation of their flats into beautiful homes.
Homeowners: Geoffrey and Sian Ching
Town: Tampines
Flat type: 5-room BTO
As an architect, Geoffrey is no stranger to designing homes. When it came to his own flat, the decision to manage the entire renovation process himself was thus a no-brainer, and it was a personal project that he had been looking forward to.
The flat looks really airy and bright! What is the plan for this space?
Sian Ching: We wanted a big communal area because I love hosting. We are planning for an open kitchen and also hacked the walls of the first bedroom to create a larger living area. For privacy, we will add a feature wall with a concealed door to separate the bedrooms from the rest of the house.
How did you start planning your home?
Geoff: As we intend for this flat to be our forever home, we plannedfor our future needs right from the start. The layout and design must be versatile enough to suit us at different life stages, without the need for major rework in future. We went ahead with the hacking works after we were confident that we could rebuild the walls if needed. For the bedroom in particular, we ensured that the placement of the air-con unit and lighting, for example, would still be ideal even after sealing the space.
Sian Ching: Layout aside, Geoff and I browsed Pinterest and Instagram for design and décor inspiration.
What advice would you give home owners who intend to take the DIY route?
Geoff: If you plan to engage contractors without the help of interior designers, it's important to understand the contractor's working style. Source for a contractor who understands your needs and is willing to communicate.
After doing so, set a timeline and agree on the milestones and responsibilities, such as whose role it is to source for supplies. In our case, we conducted extensive research on materials that best suit our needs. While this may help reduce costs, these tasks are time-consuming and there might be hiccups, such as things you have overlooked, y as your renovation journey progresses.
Homeowners looking to design their flats can consider using SketchUp, a complimentary software that can draw up 3D renders.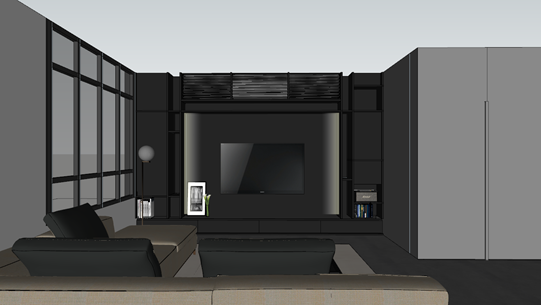 Let's talk about renovation expenses—how does one stay on track?
Sian Ching: We started with a budget in mind and listed what we wanted before shortlisting the essentials. That said, we were willing to spend more on our renovation as we consider it a long-term investment. We also tracked our expenses using an excel sheet.
Geoff: When renovating, it's easy to neglect the cost of furniture. It's important to factor the furnishing cost into the total renovation budget to avoid settling for furniture you don't fancy. This is especially so for theme-heavy houses, where furniture can play a big role in tying the entire look together.
In part 2 of the series, find out more about Sian Ching and Geoffrey's renovation works and how they, like many homeowners, had to take on the challenges brought about by the pandemic.