Looking to give your home a makeover? Read on for some tips on HDB flat bathroom renovation!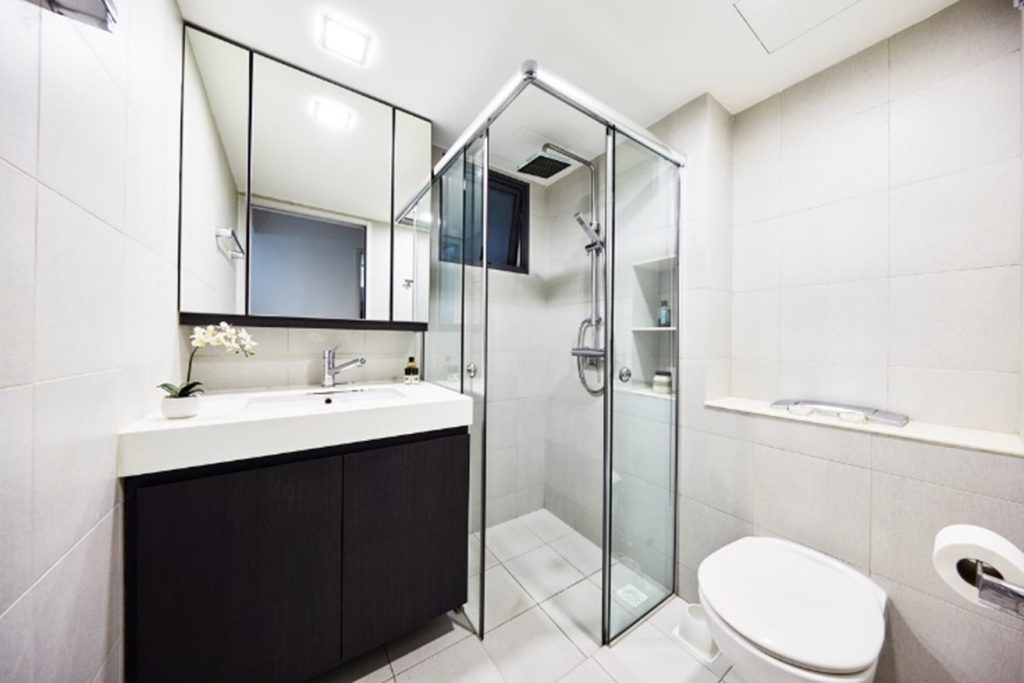 Before embarking on your HDB flat bathroom renovation, it's best to first think about the overall look, space utilisation and potential additions to the space.
Some new HDB flats built using the Prefabricated Prefinished Volumetric Construction (PPVC) method come with full floor finishes and built-in sanitary fittings (wash basins, shower sets), while some flats will only provide these under the Optional Component Scheme (OCS).
Familiarise Yourself With the HDB Renovation Guidelines
Have a major makeover in mind? Do familiarise yourself with the HDB renovation guidelines and renovation permits to prevent potential hiccups. For instance, did you know that you cannot remove the wall and floor finishes in bathrooms of new HDB flats, for a period of three years? Instead of hacking away the original tiles, you can overlay them with tiles of your choice.
List Down the Essentials
After reading up on the guidelines, the next step is to determine the kind of works you need done – whether you choose to DIY or get professional help. Some contractors offer bathroom packages, which may reap savings if the works are extensive.
1. Water Heater
First, determine the type of water heater you want for a comfortable shower. There are many different appliances available on the market, ranging from instant heaters to those with a built-in tank that can be chosen to fit your budget, household size, and shower habits. There are also smart, energy-efficient water heaters that are remotely operated and notify you when the heated water is ready. It's also recommended to have your water heater installed with any major renovation works, to ensure that it fits nicely within the bathroom.
2. Bidet
A bidet spray beside the water closet (WC) unit comes in especially handy for bathroom cleaning or when you're looking to give doggo a shower. You may also wish to add an automated WC bidet, for a more luxe experience.
3. Shower Dividers
Depending on your bathroom layout, a shower divider can help keep some areas of the bathroom dry. You can choose from a simple rail to run a shower curtain, or a more sophisticated option such as glass screens.
Glass screens are a great way to segment your bathroom, keeping much of it dry and clean. Customised storage units, along with mirrors, can help hide the clutter. Do however, ensure that the floor slab is not tampered with when installing the shower screen – you may refer to the HDB renovation guidelines for more details.
4. Mirrors and Storage
Another aspect to consider when embarking on your HDB flat bathroom renovation journey is how much storage to include. Some home owners prefer to include storage behind the bathroom mirror and in cabinets below the sink. Others may prefer keeping to a minimalist style with just a few simple racks to place toiletries and hang a dry towel for the shower.
Read our guide on flat renovation for more tips or check out the latest reads on renovation works.