How well do you know our HDB towns? One thing's for sure – you can't miss the greenery in every estate.
From Winnie-the-Pooh inspired parks, insect hotels and Singapore's own version of Sakura blossoms, these HDB towns will give you a sensual treat of the sights and sounds! Learn more about the innovative ways we wove greenery into our towns and estates.
Did you know? As part of our master planning process, we conduct environment studies to understand how we can integrate existing nature and greenery into new housing projects, so residents can stand to benefit from living amidst nature and greenery. It is almost like a marriage between the nature and the built environment!
Here's our round-up of 3 green havens in the heartland which you can enjoy or look forward to.
Queenstown (Dawson)
The Dawson estate in Queenstown is known for bringing to life the 'Housing in a Park' concept, a vision announced as part of HDB's Remaking Our Heartland (ROH) programme in 2007.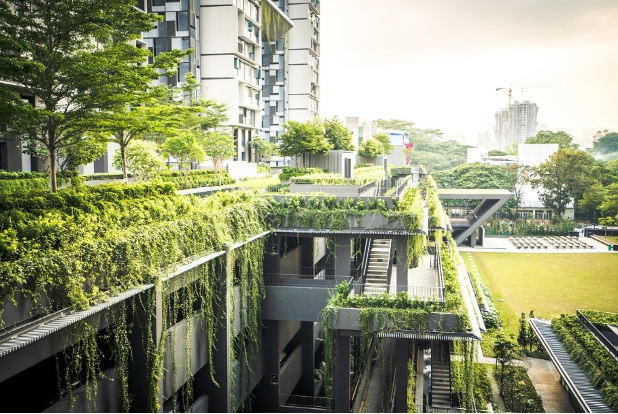 The Dawson developments boast a remarkable green plot ratio of more than 4.5. In other words, greenery in the whole estate is more than 4.5 times the area of the site. Surely a sight you need to see for yourself!
Lush greenery can be found across various levels in housing projects such as SkyVille @ Dawson— from precinct gardens at the ground levels, to roof gardens and even sky gardens at the 47th floor! Multi-storey car park facades facing flats or entrances are also adorned with trailing vines for a greenhouse vibe. Residents can enjoy fitness and play facilities near their home amidst these verdant landscapes.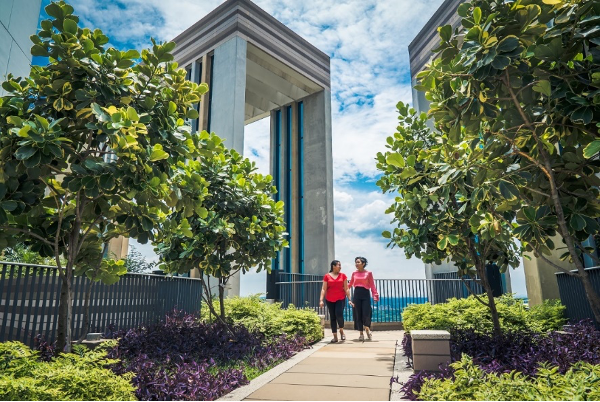 Besides being a visual treat, you can also take cover under the trees at Dawson on sunny days. HDB is planting more than 4,300 new trees from over 70 species in Dawson estate, including flowering trees. One of our favourites is the Trumpet Tree (Tabebuia rosea), or Singapore's own version of Sakura blossoms in Japan. Bring along your friends and families for Insta-worthy shots there, when it's the flowering season in March and August!
While you are there, see if you can spot the mature trees within the estate, which have been retained as a reminder of Dawson's historically rich identity. These trees are more than aesthetically-pleasing – they provide the foundation to enhance the vegetation and retain the vibrant biodiversity in the area, forming an intriguing blend of new and old greenery in the area.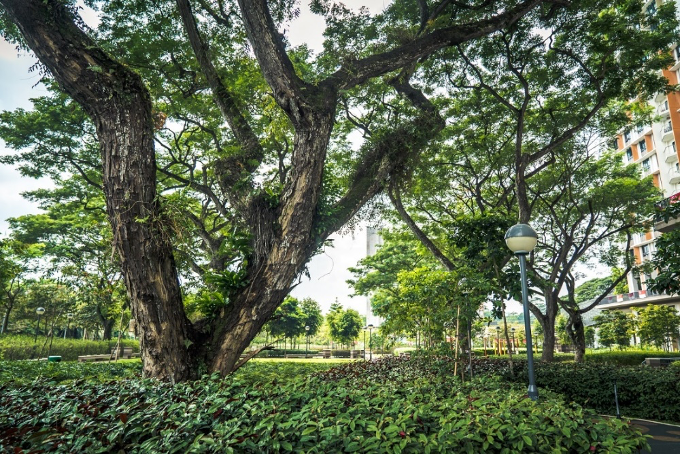 Within Dawson, a stretch of what used to be Margaret Drive has been pedestrianised to create a 200-metre long Dawson Community Eco-corridor, lined with pockets of seating beneath shady full-grown Rain Trees (Samanea saman) and Broad-leafed Mahogany Trees (Swietenia macrophylla), alongside tropical plant species. These trees provide a lusher habitat for local biodiversity and were chosen specially to attract birds like hornbills, sunbirds and woodpeckers.
Parents looking for a healthy dose of outdoor fun for their children will find a gem in Dawson! HDB's latest playground at SkyParc @ Dawson, features an 'eco jungle adventure', and is suitable for children of all ages. The playground, which is adjacent to the Dawson Community Eco-corridor, is inspired by Singapore's woodland habitat and our native wildlife, and will offer a fun-filled adventure for your little one.
On top of interactive play, the Eco-corridor also offers 'insect hotels' which provide a safe way for children to observe various insects. Keen to learn about these 'staycations'? These 'hotel rooms' are made out of recycled logs and other bio-degradable materials to create natural nesting habitats for beneficial insects, such as solitary bees which pollinate our plants.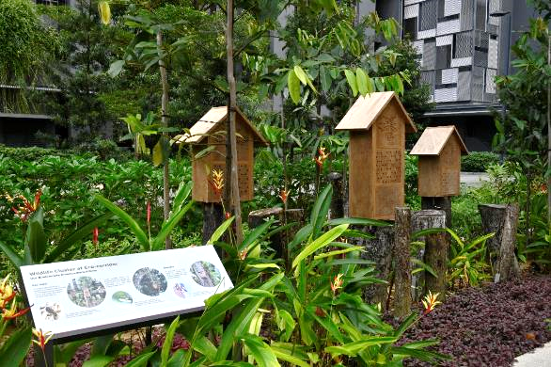 Watch the following video to learn how HDB estates bring you closer to nature:
Punggol
Fitness enthusiasts would be spoilt for choice when it comes to exercise spots in Punggol! Punggol is the first town to feature a man-made waterway of a whooping 4.2km (this is equivalent to almost 5,000 steps if you are looking for a picturesque workout!). Along the banks of the Punggol Waterway, you will find 35 specially cultivated freshwater-tolerant mangrove species. These hardy mangrove roots stabilise the slopes at the riverbanks, prevent erosion, so residents can enjoy a scenic waterway.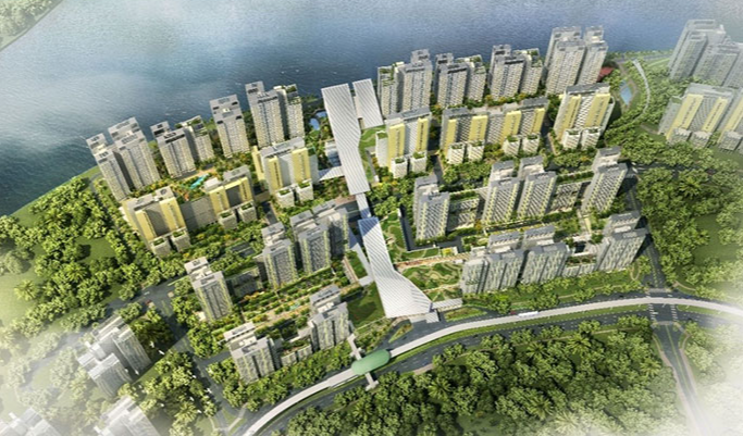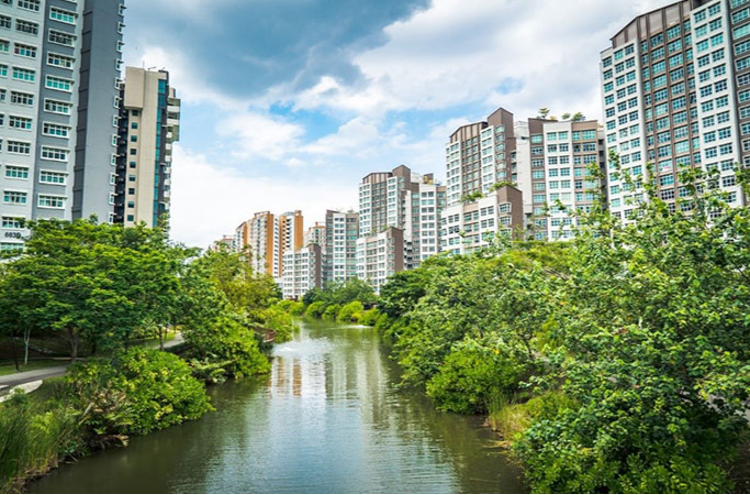 Fun fact: Punggol Northshore is the first district to adopt HDB's Biophilic Town Framework. Inspired by the concept of 'biophilia' – the innate human instinct to connect with nature and improve physical and mental well-being, this Framework helps HDB's architects plan the neighbourhood landscape to foster stronger connections with nature. Since July 2018, HDB has progressively applied the framework to new housing projects.
Jog to the iconic Jewel Bridge and catch an aerial view of HDB's patented invention: an interlocking hexagonal floating module system. Plants are grown on these modules, therefore introducing more greenery on the surface of the waterway. Together, the mangroves and floating wetlands act as natural water cleansers and help to absorb excessive nutrients and pollutants from the water. This is almost similar to a water filter, but one that looks visually pleasing, and requires minimal upkeep!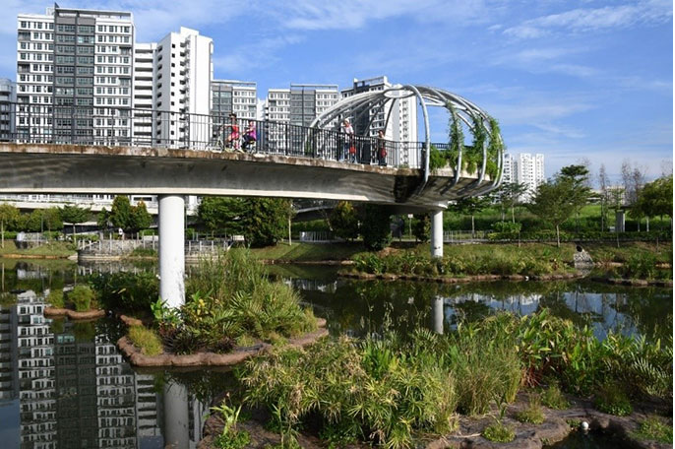 If you prefer cycling instead, ride along the 26km North-Eastern Riverine Loop (NERL), which links up four parks and passes through the rustic landscapes of Punggol Beach, Punggol Promenade and Lorong Halus Wetland. Take in the beautiful sights that the North-Eastern side of Singapore has to offer as you coast through the scenic route.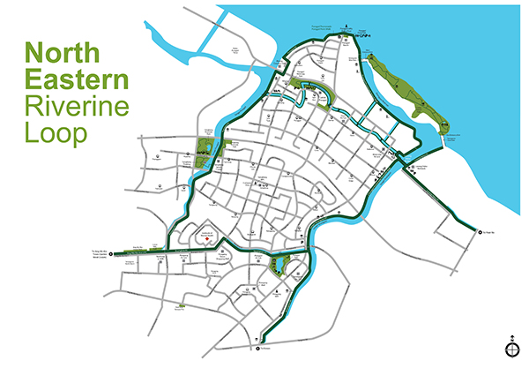 Fancy island hopping without crossing the seas? Discover the charms of Coney Island Park, home to a wide variety of habitats and a diverse range of fauna and flora, including several nationally threatened species. This 87ha ecologically sustainable park is accessible from Punggol Promenade or Punggol Point Walk, and can be easily accessed and explored entirely on foot or by bicycle. With its rich biodiversity in a rustic setting, Coney Island Park offers much to immerse in for bird and nature lovers.

Toa Payoh (Bidadari)
Lastly, a sneak peak of what's coming up in Bidadari – a new 10ha Bidadari Park, which will form a green lung for the estate and provide a peaceful retreat for the community. To be completed progressively by 2022, the park is a collaboration involving HDB, NParks, PUB and NHB.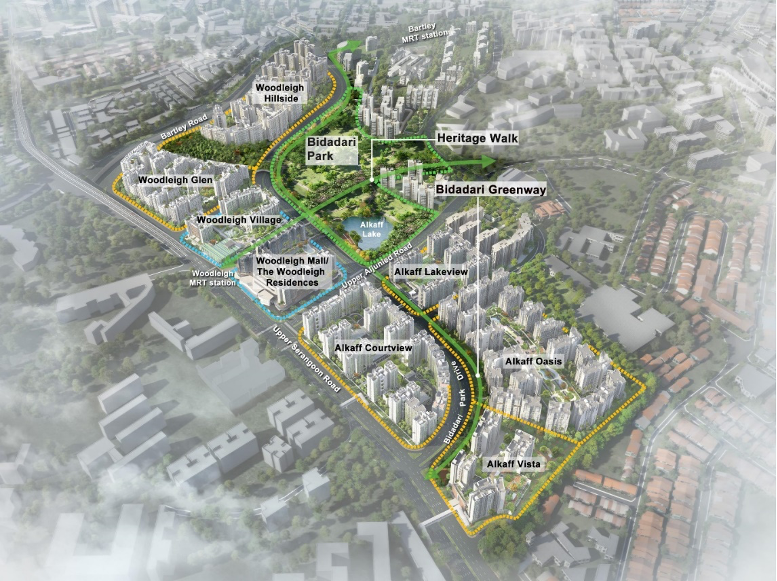 Did you know? Bidadari Park is inspired by the Hundred Acre Wood inhabited by Winnie-the-Pooh. The team behind Bidadari Park envisioned a green space for adventures across the woodland, where marshes and streams come to life, just like in the story!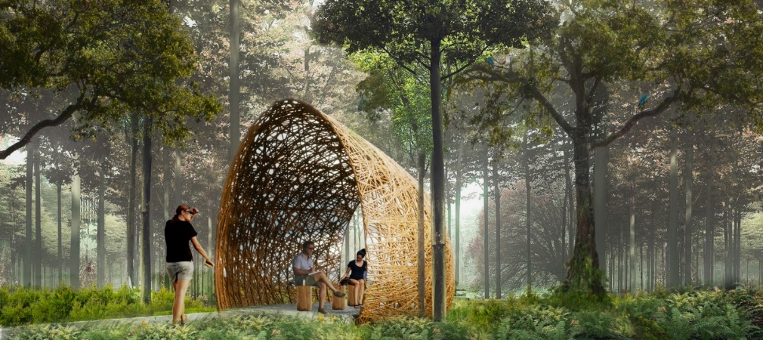 Hiking enthusiasts will be pleased with the trails totalling 6km in the park, with a good vantage point to spot dragonflies and wading birds on an 80m long boardwalk across the marshland. To catch a breather, you can take a break at the observation decks, viewing sheds, and pavilions.
Visitors to the park might spot some friendly wildlife passing by the park to other parts of the island! Densely planted with shrubs, trees and flowering plants, the park also facilitates these natural wildlife movements and acts as a seamless connector.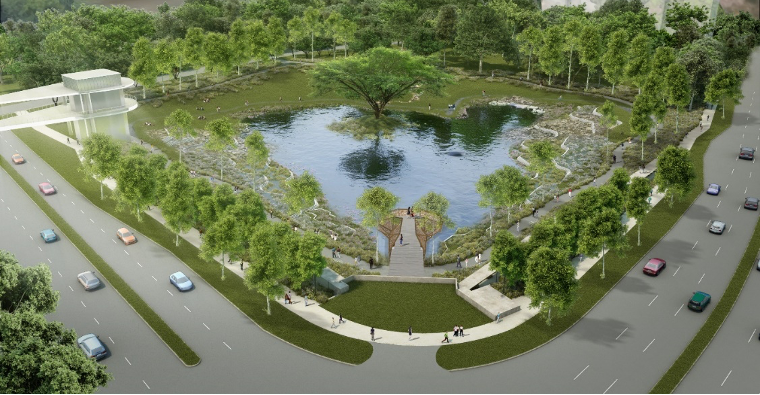 If you crave tranquility, stop over at the new Alkaff Lake within Bidadari Park. Beyond being a great spot for relaxation, the lake will also serve as a stormwater retention pond to reduce the risk of floods.