OVERVIEW

BUKIT BATOK

TENGAH

YISHUN

QUEENSTOWN

KALLANG/ WHAMPOA
Our last sales launch of 2022 offers a bumper crop of homes, our largest launch ever – with BTO flats to choose from across 10 projects.
Nearly 6,000 flats will be offered in the non-mature estates of Bukit Batok, Tengah, and Yishun. If you're a first-time home buyer, applying for a home in a non-mature estate will offer you the best chance of getting a flat. Apart from double ballot chances, 95% of 4-room and bigger flats in non-mature estates will be set aside for you. Also, virtually all first-timer applicants have been invited to book a BTO flat in non-mature towns within three tries, withabout 90% of them -successful within two tries!
BTO flats are priced with generous subsidies and made even more affordable with grants. Like most first-timers, you could use less than a quarter of your monthly income to service your flat's mortgage loans. As CPF contributions are typically above 25 per cent of salary, this means that most home buyers can use their CPF to service their loans fully, with little or no cash outlay. Plus, with over 95% of 4-room flats (our most popular flat type) in non-mature towns priced below $400,000, you'll be able to find a home that meets your budget and needs!
Check out the projects on offer for the November 2022 sales launch now:
Town
Project Name
Flat Types
Est. Number of Units
Non-Mature Town
Bukit Batok
West Glades @ Bukit Batok
2-room Flexi, 3-room, 4-room, 5-room
790
Tengah
Garden Waterfront I & II @ Tengah
2-room Flexi, 3-room, 4-room, 5-room
2070
Yishun
Vanda Breeze @ YishunMiltonia Breeze @YishunAranda Breeze @ Yishun
2-room Flexi, 3-room, 4-room, 5-room
2960
Mature Town
Kallang/ Whampoa
Kallang Horizon
3-room, 4-room
470
Queenstown
Ulu Pandan Banks
3-room, 4-room
1,330
Ghim Moh Natura
2-room Flexi, 3-room, 4-room
960
Queensway Canopy
Community Care Apartments, 3-room, 4-room
960
Prime Location Public Housing (PLH) Model
Kallang/ Whampoa
Kallang Horizon
3-room, 4-room
470
Queenstown
Ghim Moh Natura
2-room Flexi, 3-room, 4-room
1,330
Ulu Pandan Banks
2-room Flexi, 3-room, 4-room
960
Grants and Priority Schemes
Families with household income of up to $14,000 can buy BTO flats. Eligible first-timer applicants can also receive CPF housing grants of up to $80,000. Singles with an income of up to $7,000 are also eligible to purchase 2-room Flexi flats in non-matures estates and receive a CPF housing grant of up to $40,000. To better your chances of getting a flat, consider applying under one of the HDB priority schemes if you're eligible.
Flexi Flats
Your eligibility for a 2-room Flexi flat is determined based on factors such as your age, the lease tenure, and whether buyers are first-timers, second-timers, or others.
Useful Tips for Flat Buyers
Before applying for your flat, read up on the flat buying process and take note of the following tips:
Information on BTO flats on offer is available on HDB Flat Portal, where you can check out all the details and apply online. You do not have to visit HDB Hub to get the information.
If you do not have Internet access, do seek support from family members instead of visiting HDB Hub or Branches. Those who require assistance, especially seniors, may call the HDB Sales/ Resale Customer Service Line at 1800-866-3066 for assistance.
Consider applying for a BTO flat in non-mature towns to enjoy a higher chance of success in securing a flat. You can also check the application rates of past BTO projects for each town via HDB Flat Portal.
You can only submit 1 application for 1 flat type and 1 location during each sales exercise.
The construction period for each project varies, depending on their individual attributes, such as development height, number of units, design, site conditions and constraints. Projects with challenging site conditions or more complex designs may take longer to construct.
Regular updates on the application numbers for the various flat types/ towns will be published on the HDB InfoWEB, so check for updates before submitting your application.
If you wish to take up an HDB housing loan for your flat purchase, a valid HDB Loan Eligibility (HLE) Letter is required when you book a flat. Do check your loan eligibility and apply for an HLE letter at www.hdb.gov.sg/hleapply.
Applicants are shortlisted via a computer ballot and are not processed on a first-come-first-served basis. Just remember to submit your application before the end of the sales launch.
At Bukit Batok, you will find convenient amenities near your new home, with shops and F&B outlets available at the Town Centre and Neighbourhood Centre that's just a short walk away. A new hawker centre will also be built at the nearby Harmony Village @ Bukit Batok. If you enjoy staying active and breaking out a sweat, you'll like the numerous sports facilities around town. You can even make it part of your weekly routine to walk around nature, at Bukit Batok Town Park and enjoy the sights and sounds of Little Guilin.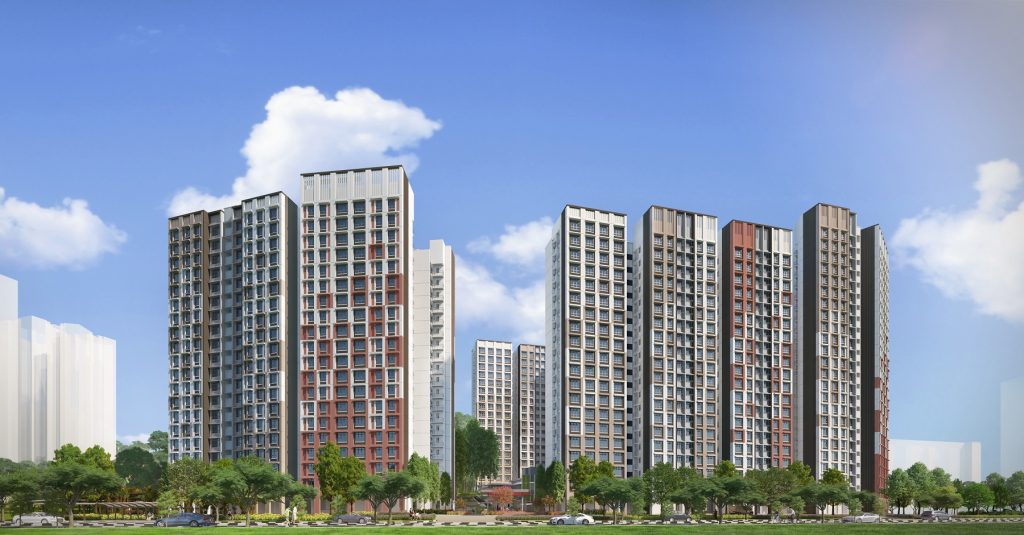 Perspective of West Glades @ Bukit Batok
Detail
Units offered
790 (2-room Flexi, 3-room, 4-room, 5-room)
Projects location
Bounded by Bukit Batok West Avenue 2 and 5
Transport links
Bukit Batok MRT and Bus Interchange, Bukit Gombak MRT
Shops/ Malls
West Mall
Bukit Batok Town Centre
Hawker Centre at Harmony Village @ Bukit Batok
Schools
Dazhong Primary School & MK@Dazhong
Lianhua Primary School
Dunearn Secondary School
Hillgrove Secondary School
Millenia Institute
Eden School (Special Education)
Notable landmarks
Little Guilin, Bukit Batok Town Park
Bukit Gombak Sports Hall and Stadium
If you've been keeping up with the news, then you'll know that these new flats are part of Garden Waterfront I & II @ Tengah, which are right next to Tengah Pond and will be surrounded by numerous green spaces. This project will pilot several new construction technologies, along with other smart and sustainable features that will be integrated into homes in Tengah. The most exciting feature for flats here is that they are built using a beamless flat plate system, letting you have greater flexibility in designing the layout of your home!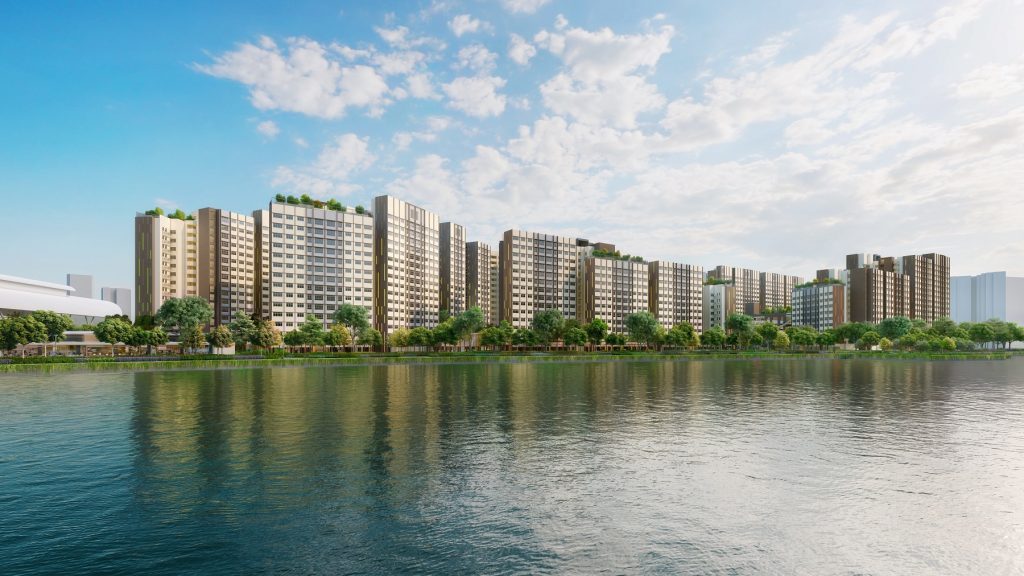 Perspective of Garden Waterfront I & II @ Tengah
Detail
Units offered
2,070 (2-room Flexi, 3-room, 4-room, 5-room)
Projects location
Bounded by Tengah Garden Avenue and Tengah Boulevard
Transport links
Jurong Region Line MRT (station name to be determined)
Shops/ Malls
Tengah Town Centre, Neighbourhood Centre
Schools
Jurong Primary School
Shuqun Primary School
Rulang Primary School
Fuhua Secondary School
Yuhua Secondary School
Jurongville Secondary School
Hua Yi Secondary School
Notable landmarks
Tengah Pond
Jurong Park Connector
Jurong East Sports Centre
Spread across three projects, nearly 3,000 flats will be built in Yishun at Miltonia Close where a large park will be integrated within the developments. Home owners will be able to enjoy recreational activities amidst nature, and the location offers a quiet respite with views of Lower Seletar Reservoir and the Orchid Country Club golf course.
Perspective of Aranda Breeze @ Yishun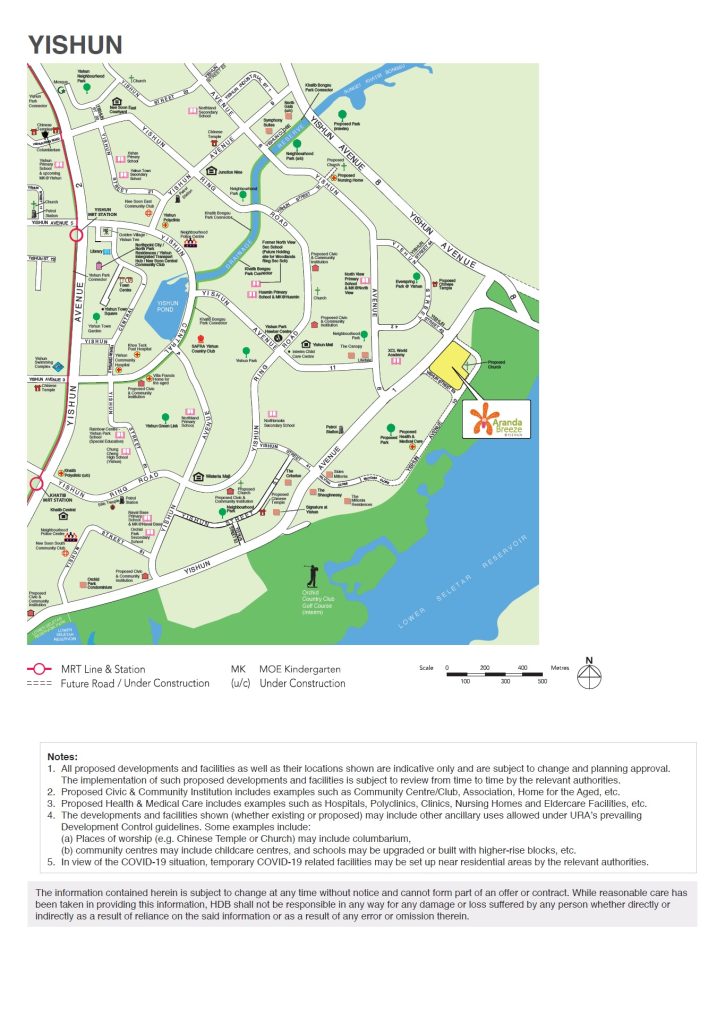 Perspective of Miltonia Breeze @Yishun
Perspective of Vanda Breeze @ Yishun
Detail
Units offered
2960 (2-room Flexi, 3-room, 4-room, 5-room)
Projects location
Along Yishun Avenue 1, Miltonia Close
Transport links
Yishun MRT Station and Bus Interchange
Shops/ Malls
Wisteria Mall
Yishun Mall
Yishun Park Hawker Centre
Northpoint City
Schools
Northland Primary School
North View Primary School & MK@North View
Humain Primary School & MK@Huamin
Northbrooks Secondary School, College
ITE College West
Notable landmarks
Lower Seletar Reservoir
Yishun Park
SAFRA Yishun Country Club
Orchid Country Club
All three projects are part of Health District @ Queenstown, which will be designed to gradually integrate new features and amenities to help residents live better, by enhancing their physical, social and mental well-being.
One project, at Ulu Pandan, will also be the first car-lite district in Singapore, allowing residents to enjoy the benefits of a green living experience, while having good commuting options with convenient access to train and bus services.
The Queensway Canopy project will offer Community Care Apartments (CCAs) along with other flat types, to provide seniors with more housing options. CCAs integrate senior-friendly housing with care services and amenities to support seniors to age in place independently in their silver years within the community.
Perspective of Ghim Moh Natura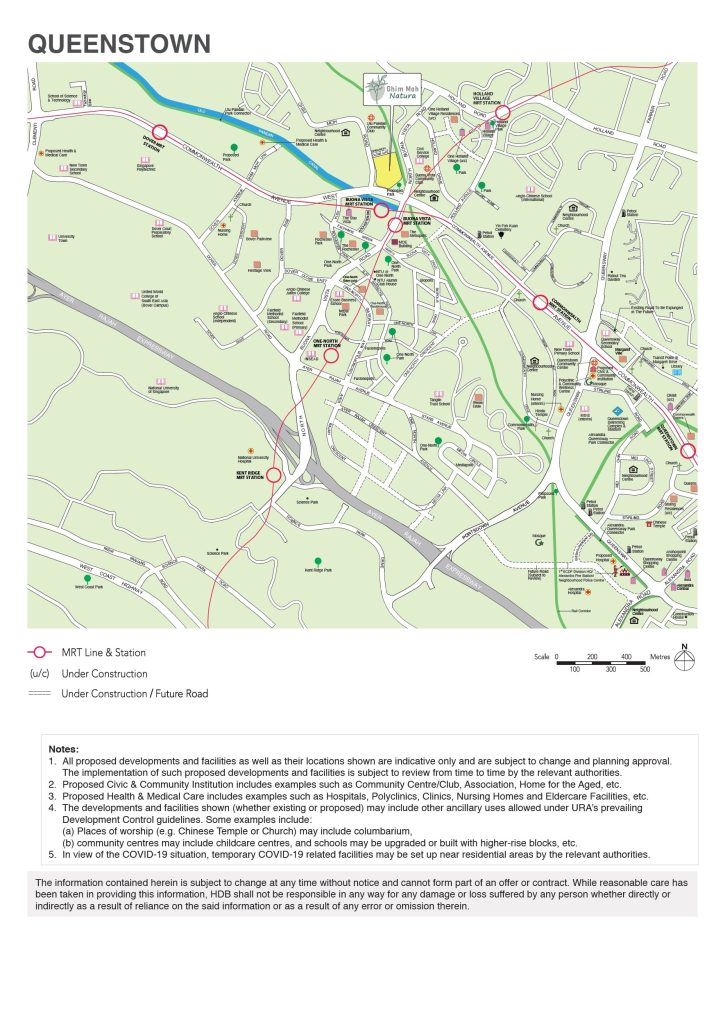 Perspective of Queensway Canopy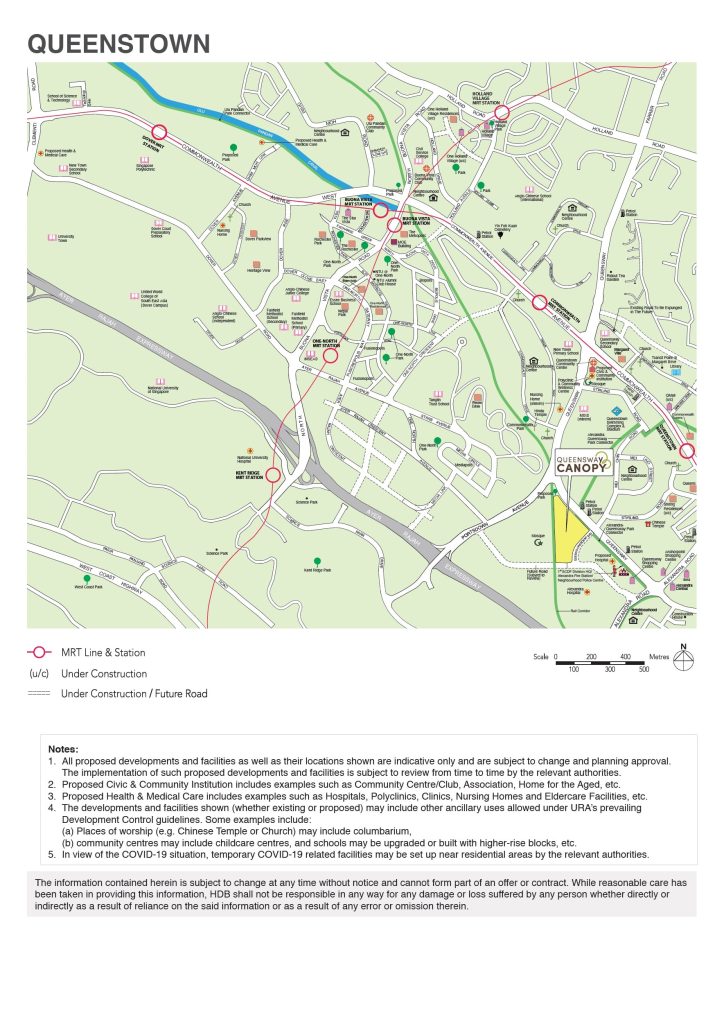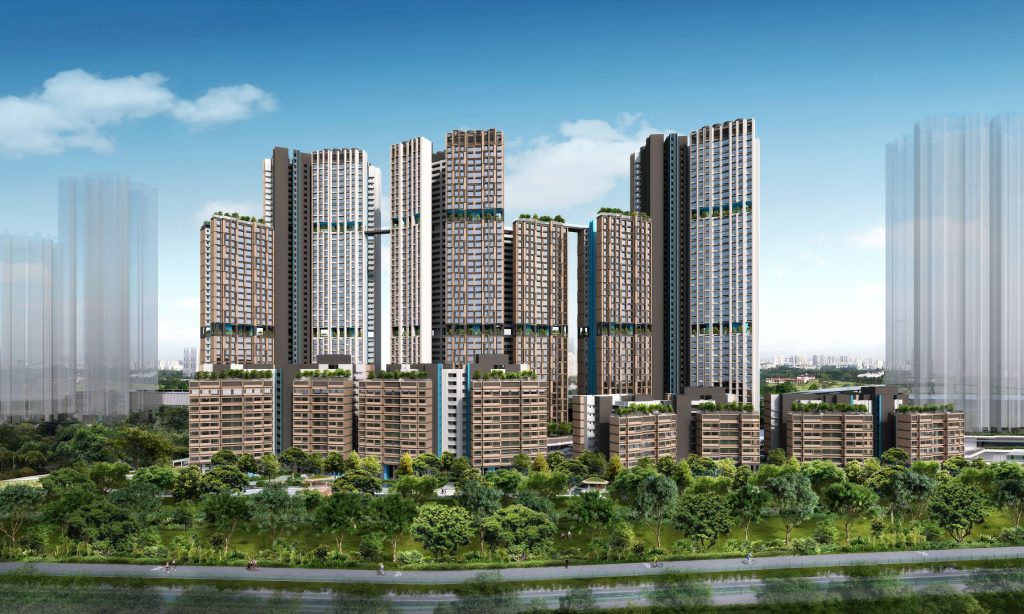 Perspective of Ulu Pandan Banks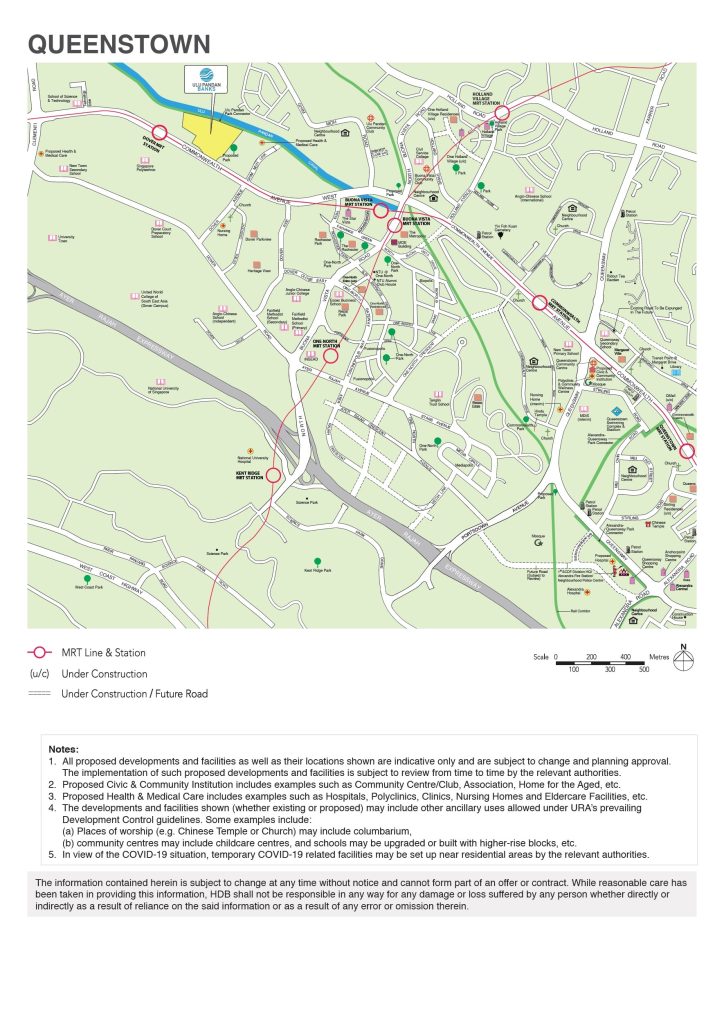 Detail
Units offered
A total of 3,250 flats across 3 projects:
1,330 flats (3-room, 4-room)
960 flats (2-room Flexi, 3-room, 4-room)
960 flats (Community Care Apartments, 3-room, 4-room)
Projects location
Along Commonwealth Avenue West
Bounded by Ghim Moh Road and Commonwealth Avenue West
Transport links
Dover MRT Station
Buona Vista MRT Station
Holland Village MRT Station
Shops/ Malls
The Star Vista
Holland Village
Alexandra Central
Queensway Shopping Centre
Anchorpoint Shopping Centre
Various Neighbourhood Centres around the town
Schools
Fairfield Methodist School (Primary/ Secondary)
New Town Primary School
Queensway Secondary School
Singapore Polytechnic
Anglo-Chinese Junior College
MDIS
INSEAD
National University of Singapore
Notable landmarks
Rail Corridor
Ulu Pandan Park Connector
Holland Village
Alexandra-Queensway Park Connector
This project is located right beside Kallang MRT Station, offering you quick connections to the city and easy transfers to anywhere around town. You'll also be surrounded with amenities to serve your daily needs, with numerous shopping and dining options just a short bus ride away.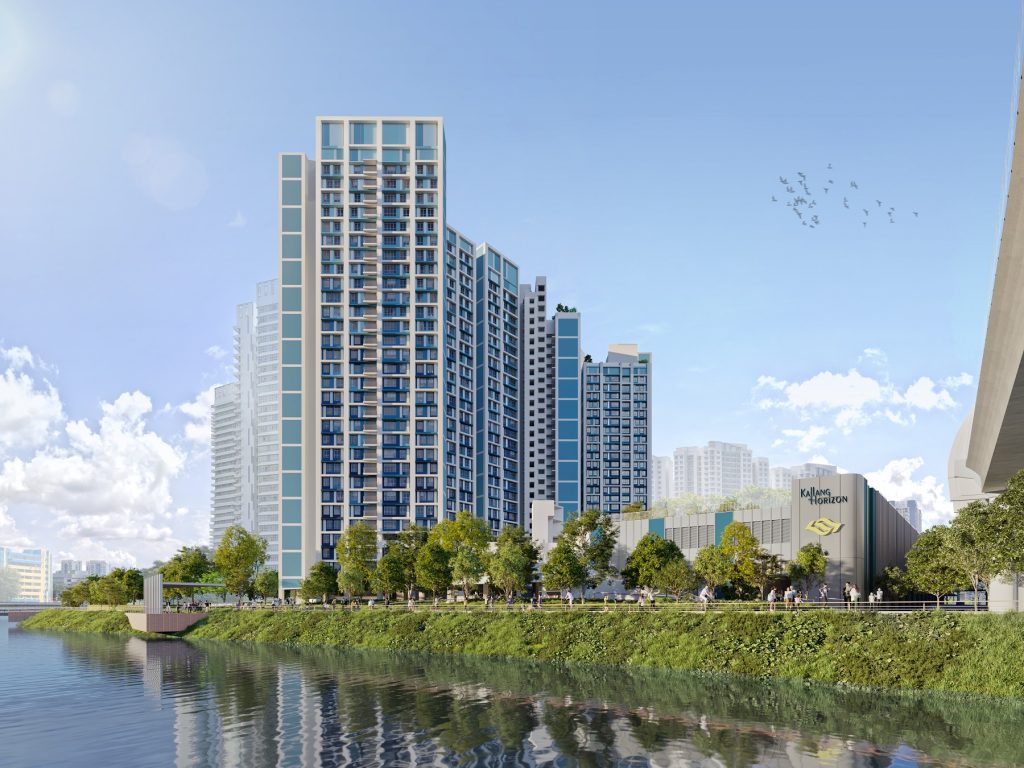 Perspective of Kallang Horizon
Detail
Transport links
Kallang MRT Station, and project will be integrated with future Bus Interchange
Shops/ Malls
Neighbourhood Centre
Golden Mile Food Centre
Aperia Mall
Kitchener Complex
Notable landmarks
Singapore Sports Hub
Kallang River
Kallang Riverside Park
Jalan Besar district