If the living room is the 'face' of a home, then the kitchen is where the heart is. After all, it is where we whip up home-cooked meals for our loved ones. Even if you don't cook frequently, getting your layout right makes all the difference to the functionality and flow of your kitchen.
Check out these 6 kitchen layout ideas for some inspiration!
1. Kitchen Island
Interior Designer: Tidplus Design
Photo Credit: Qanvast
A very popular choice today, the island is a large work surface placed usually in the middle of the kitchen. If you entertain often, consider utilising the island as both a work and social area where family and friends can connect while meals are being prepared.
Psst! If you're thinking of hacking your kitchen wall to make way for an island in your flat, bear in mind that any demolition or alteration of walls can only be carried out after obtaining HDB's approval. This is to ensure that the renovations do not compromise the structural integrity of your flat.
2. Peninsula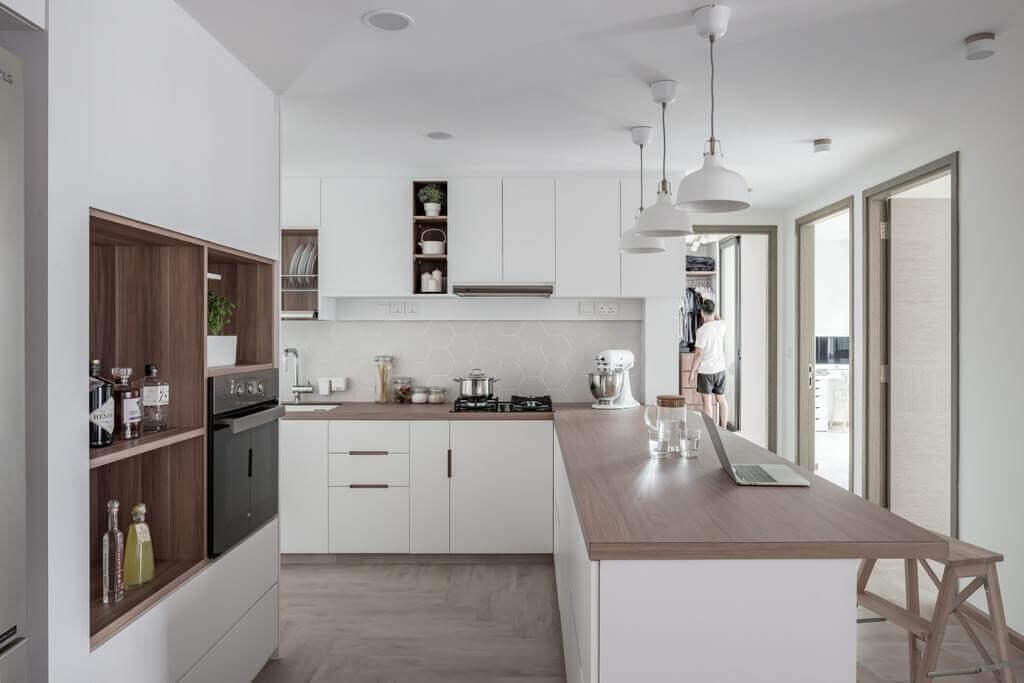 Interior Designer: Zenith Arc
While an island is a standalone surface, a peninsula is attached to a wall or another structure. Think of the peninsula as a cousin of the island! As with the island, the peninsula offers a great opportunity for interactions during meal preparation.
3. Galley
Interior Designer: Yang's Inspiration Design
The galley kitchen consists of two rows of cabinets facing each other. This type of layout offers greater storage space. Consider installing open shelves instead of upper cabinets above the galley, to avoid having an overly-cramped kitchen.
4. L-Shaped Kitchen
Interior Designer: Nitty Gritty Interior
Photo Credit: Qanvast
The L-shaped kitchen features cabinets on two perpendicular walls. This offers better accessibility, and you will not have to move back-and-forth, as everything is within reach.
5. U-Shaped Kitchen
Interior Designer: Zenith Arc
Other than providing plenty of storage space, the U-shaped kitchen allows for great workflow as you move about the kitchen. Most importantly, this layout is able to accommodate multiple chefs – great for families who bond over cooking.
6. Single-Wall Kitchen
Interior Designer: Bowerman Interior
Photo Credit: Qanvast
As its name suggests, this layout consists of cabinets installed against a single wall. You can opt for either upper and lower cabinets, or even open shelves. This straightforward layout is most suitable for owners who are looking for a simple and fuss-free kitchen.
Is there a specific kitchen layout that you prefer? Let us know in the comments below! If you have a kitchen that you are proud of, share it with us at mynicehome@mailbox.hdb.gov.sg!