Once you have a great partner by your side and a shiny ring on the finger, it is only natural that both of you would be looking to buy your very own home sweet home. If you wish to take a housing loan from HDB, be sure to apply for your HDB Loan Eligibility (HLE) letter before you seek out your new pad.
Why do I need an HLE Letter?
An HLE letter will tell you the amount of HDB housing loan you are eligible for, the repayment preiod, and other important financial details. This loan amount, coupled with CPF housing grants, as well as your CPF and cash savings, make up the budget for your flat.
Armed with this information, you can avoid falling in love with a flat that is beyond your means.
You will need a valid HLE letter when you book a new flat with HDB, or even when you exercise an Option to Purchase to buy a resale flat.
Okay… so how do I apply for an HLE Letter?
There are only 4 steps to apply for an HLE letter. You can do so online via HDB InfoWEB. Do prepare the required information and documents beforehand for a smoother application.
Not everyone is eligible for an HDB housing loan though, so it is best to check on your loan eligibility as early as possible. Having an HLE letter in hand will also help you plan your flat budget. There is no harm in planning ahead; after all, the HLE letter is valid for 6 months and there is no payment involved to apply for one.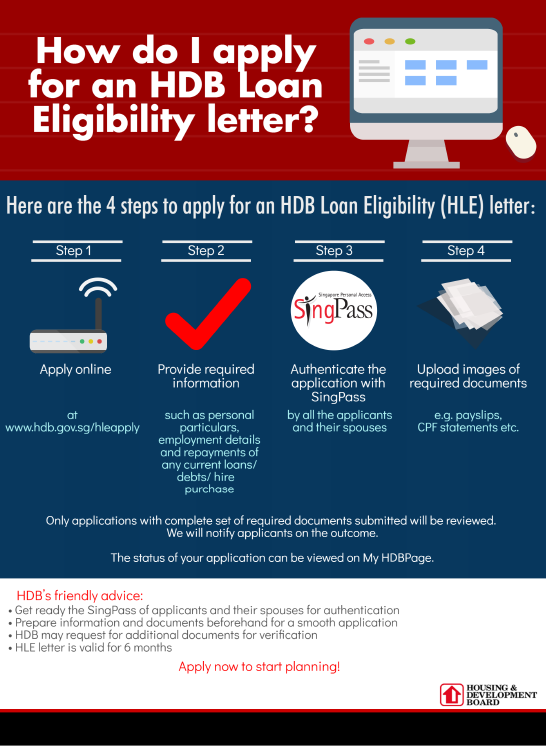 What if I did not get a large enough loan?
Regular income, age, and financial standing are 3 main factors that HDB considers in loan assessment. If you are just starting out in your career, and the eligible HDB loan amount is insufficient to cover the price of the flat you have your eye on, look around some more. There will be a flat for every budget and need.
Spend within your means and do not overstretch yourself financially — a cheaper flat might mean more money for rainy days, renovations, furnishings, or even a vacation.
We also have other financial tools; to help with your planning. All the best in working out a housing budget, so you can make an informed decision when buying a flat!