If there's a home that makes you feel like you're wrapped in a warm hug, it is Liza Hassan's cosy 2-room flat in Bukit Panjang.
With warm-toned lights that flood the house, and soft, plush furnishings that make the space feel inviting, you'd be forgiven if you get too comfortable.
That's exactly how Liza – who is warm and welcoming herself – wants her loved ones and guests to feel when they visit her home.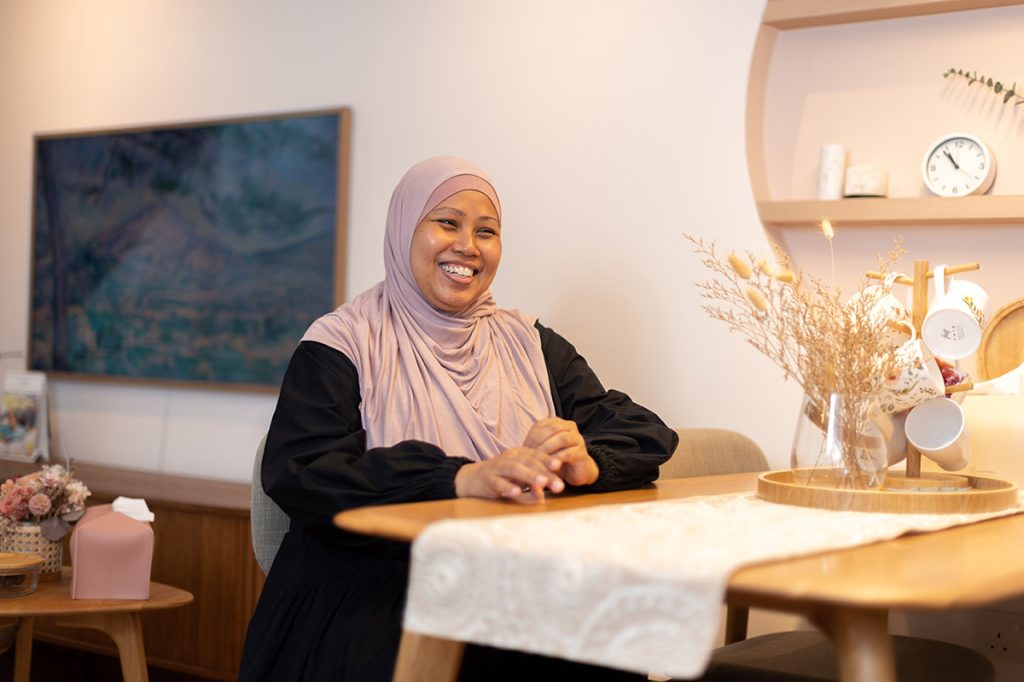 A Love for the Korean Aesthetic
Inspired by the cosy and chic apartments she stayed at during her holidays in South Korea, Liza decided to create her own Korean-inspired dream home.
Liza recalls being struck by the minimalistic yet warm and cosy designs of the apartments. "I knew I had to recreate the comfort and serenity I felt in those Korean homes. I didn't want to just leave those experiences behind," says Liza, who loves everything about Korean culture.
An important aspect of the Korean aesthetic is natural light, so one of the first things Liza did was to replace the sliding partition of her 2-room flat with a glass one. "I made sure to maximise the amount of natural light that enters my home," she says. "It definitely feels brighter and more spacious."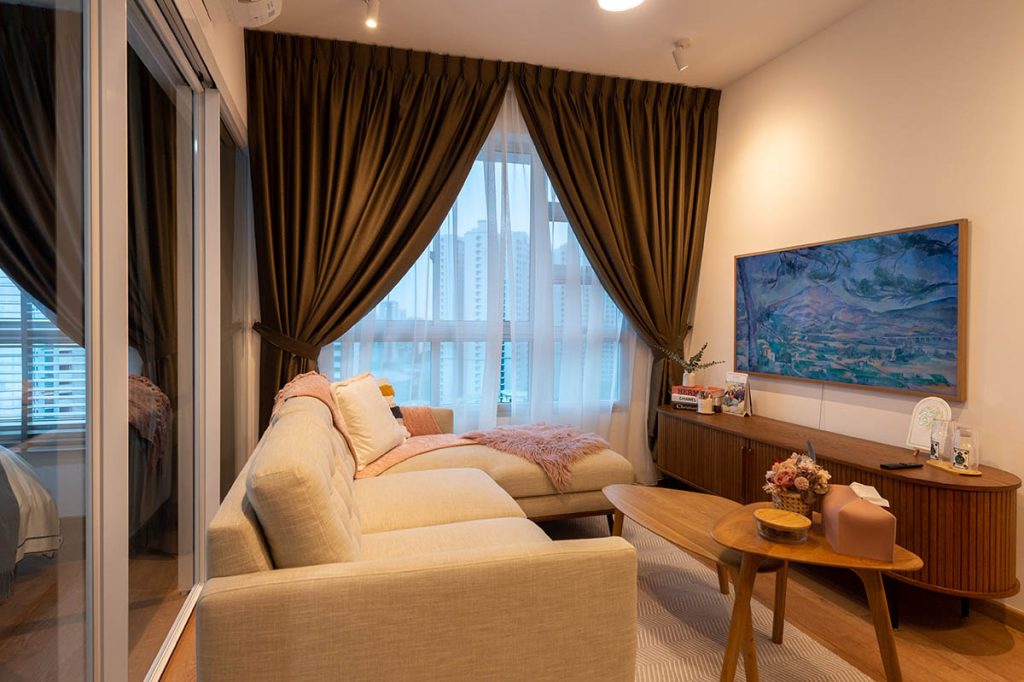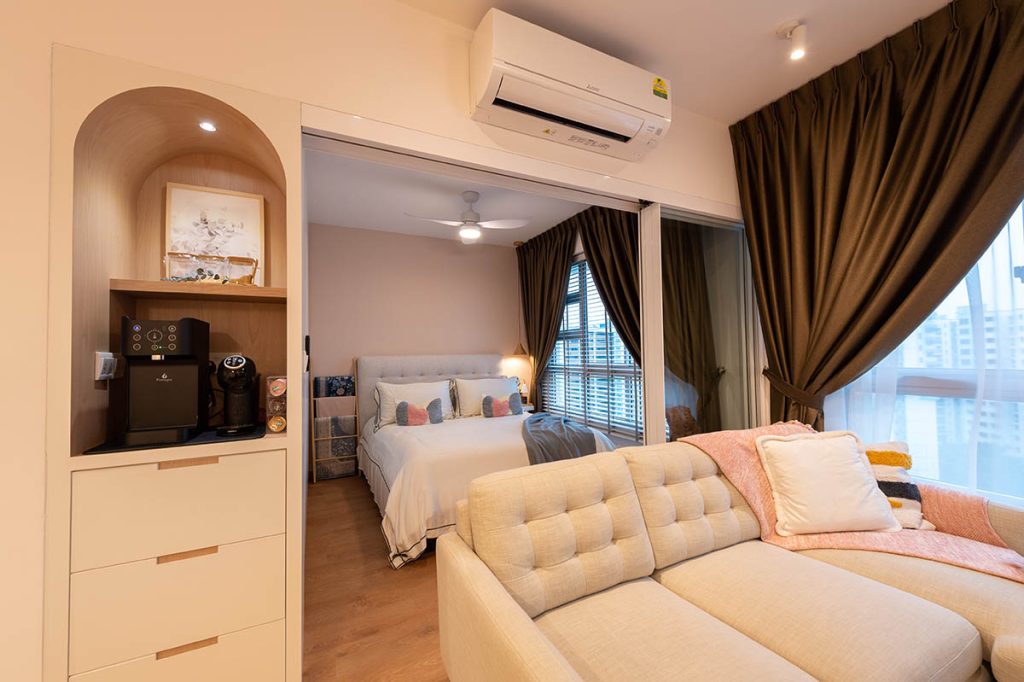 To create a comfortable and relaxed atmosphere, Liza chose muted, earthy tones such as nude and brown for her furnishings and accent walls. Where possible, she incorporated wood or wood-inspired materials that could add warmth and texture to the space, such as the wood look floor tiles in her kitchen. She also opted for loose furniture pieces rather than built-in carpentry, which helped create a sense of openness and flow in the room.
Put together, these design decisions helped give Liza's home a more natural and organic feel, and created an inviting space that feels much larger than it actually is.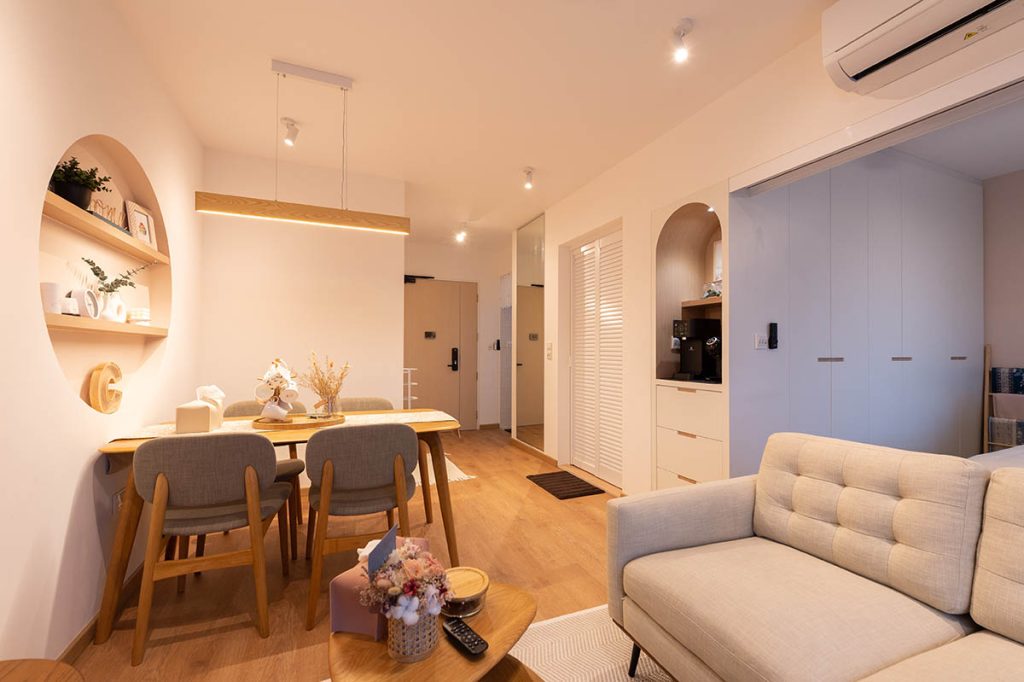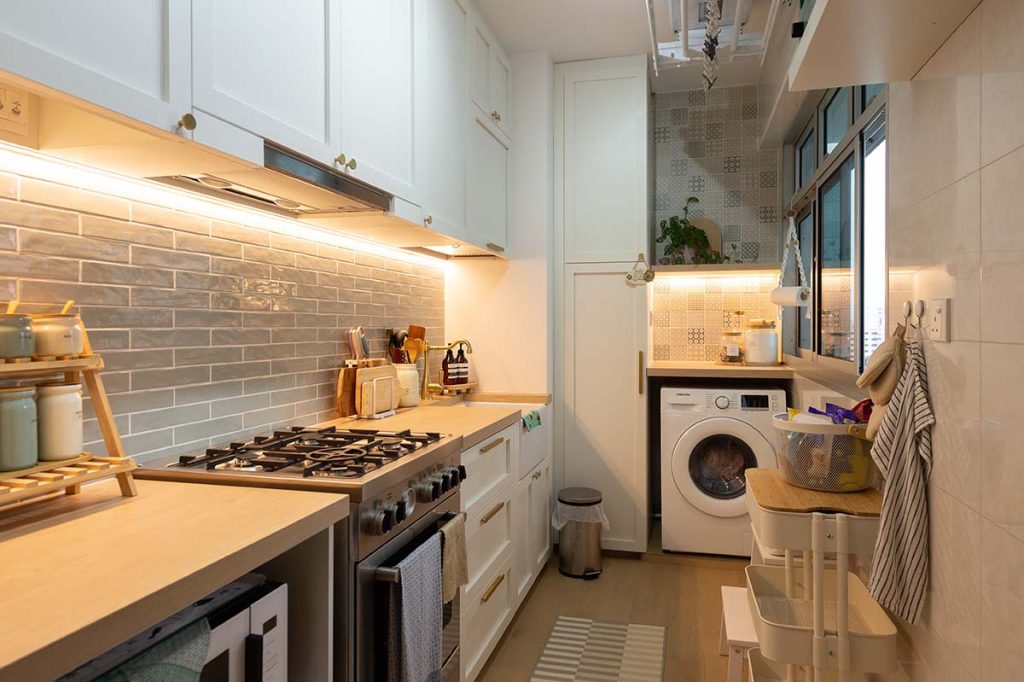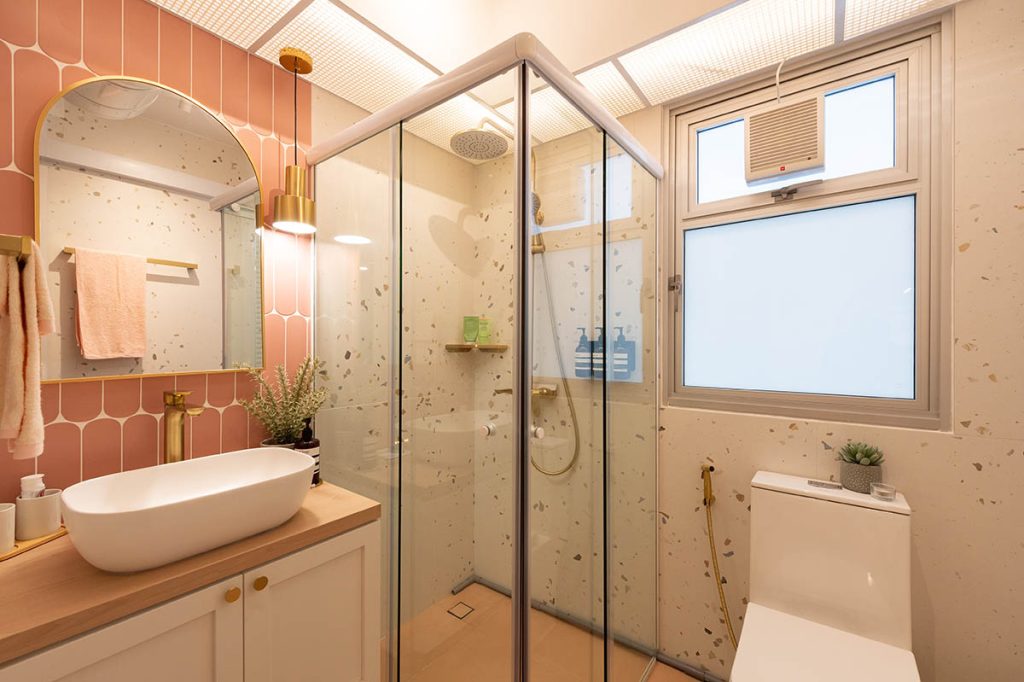 Her favourite part of the house is the dining area, as this is where all her favourite things can be found in one place. This includes the linear pendant lighting that she had specially flown in from Korea, to the décor pieces and homeware she purchased during her travels to the country. The décor pieces are placed in a unique circular niche that adds depth and dimension to the room, while also providing a functional space for display.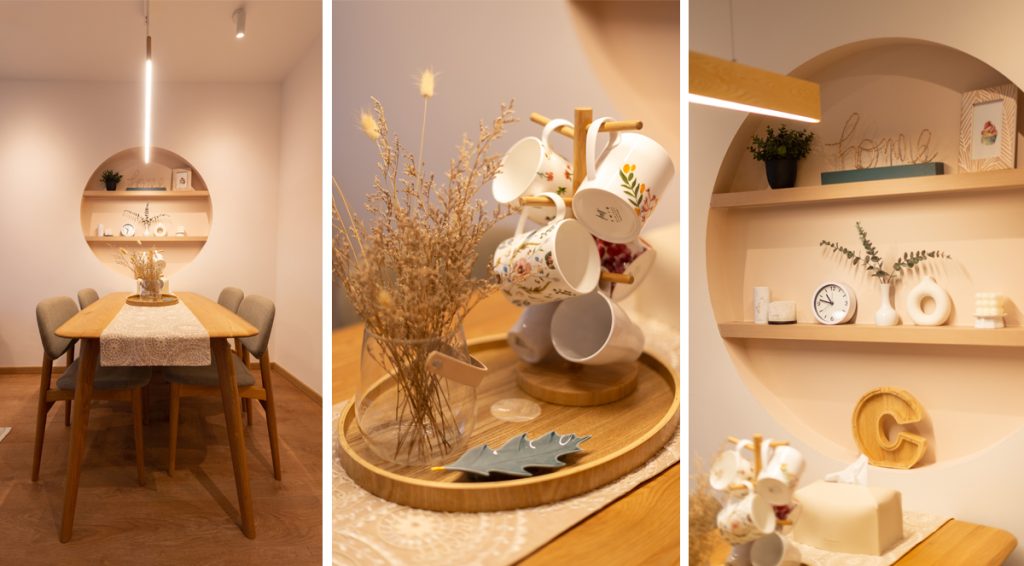 A Place for Everything
A huge coffee drinker, Liza worked with her interior designer to section off a part of her bedroom wardrobe to create a nook that would become her coffee pantry. "Everything I need to make my daily brew is here – cups, coffee capsules, water, utensils," Liza says. "I don't need to go back and forth from the kitchen to the living room if I'm entertaining guests, as I store what I need here in the coffee pantry."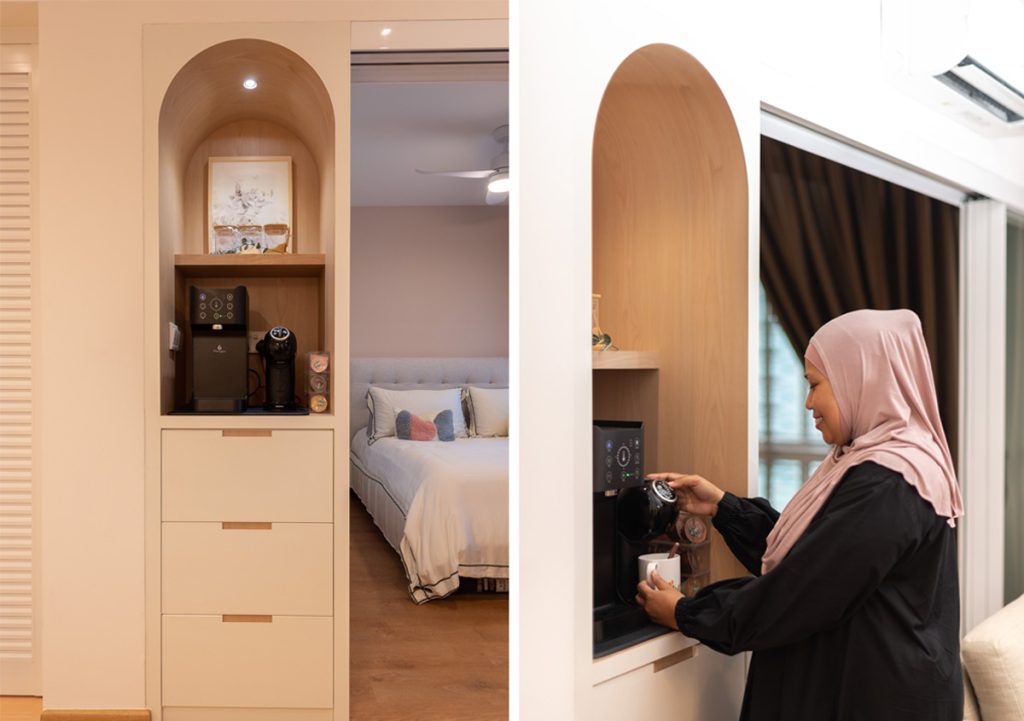 It was important that each space in Liza's home, like her coffee pantry, is well thought out to serve its purpose. "I am someone who must have her things tidy and organised. There is a place for everything in my home and everything must be in its place," she laughs.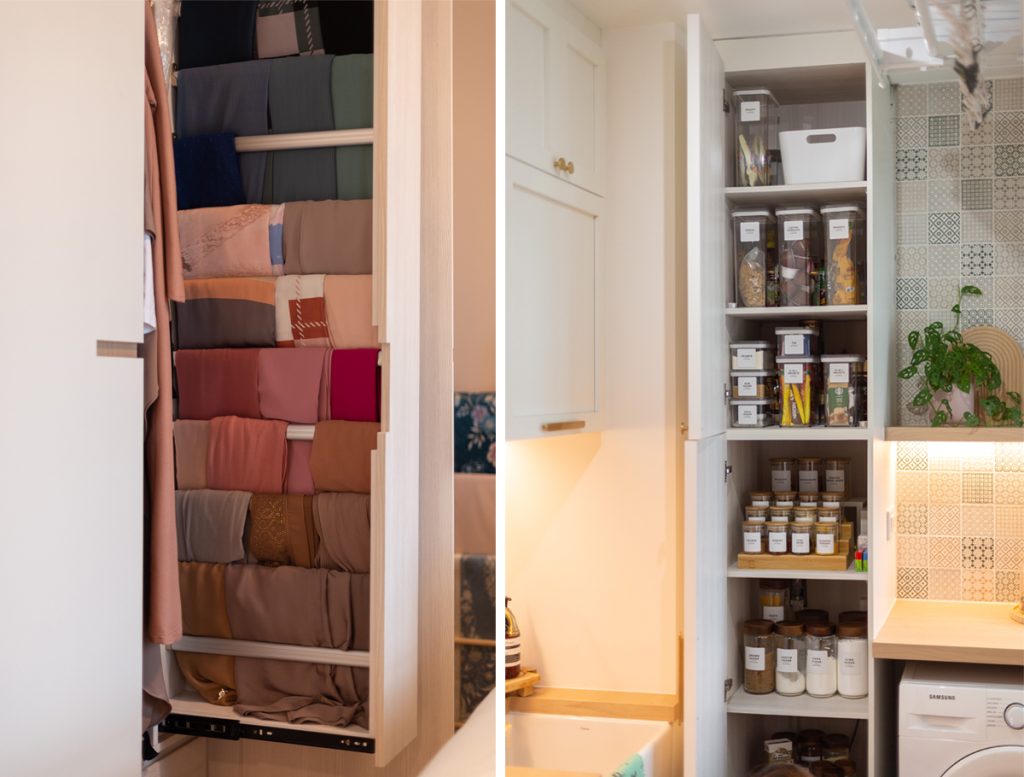 Even before she got the keys to her flat, Liza had already chosen the furniture and appliances she wanted for her home – a tip she recommends for all home owners-to-be. "Doing so made the 3D rendering of my house's interior design more precise. The accurate drawings allowed me to better plan each space in my home, as the placement of the furniture helped me visualise how I could move around to carry out my daily tasks."
More importantly, Liza was able to create a space where her loved ones could be together when they come to visit, even though they could be doing different activities. "I wanted a cosy and intimate space where my family could either sit on the couch or dining area, so that we can watch TV or bond over good food together at the same time," she says.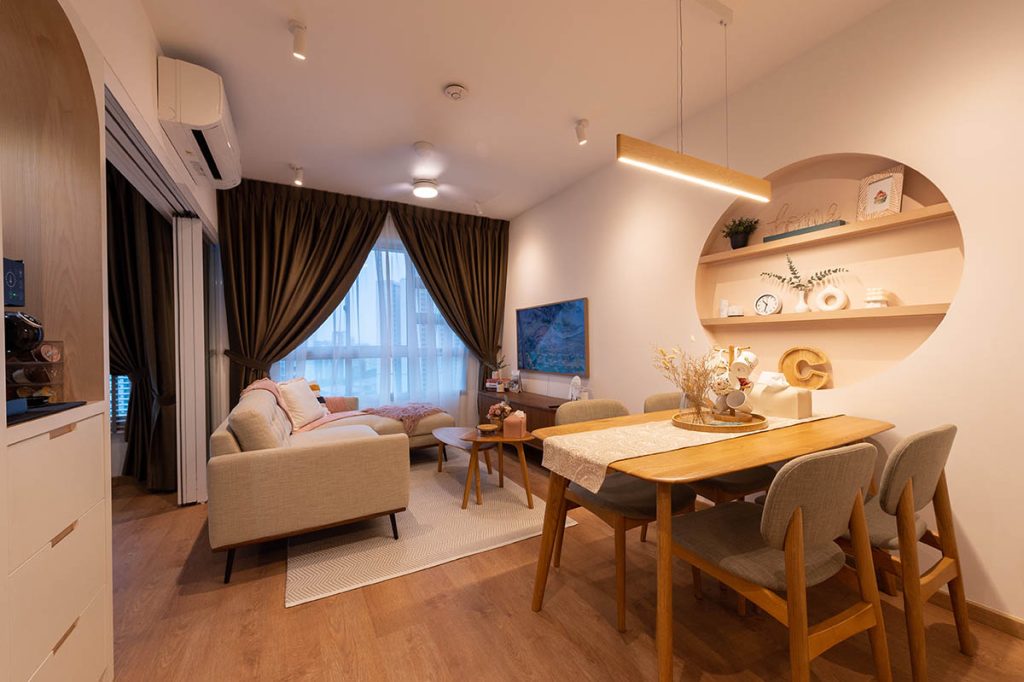 Her Heaven on Earth
For Liza, a Korean-inspired home is not just about the design; it also encourages a simpler and more mindful way of living. "My home makes me feel so at peace. It probably also helps that I have fully paid for my flat!" she laughs.
Liza, who is very close to her parents, also says, "It's great that I was able to get a place so near to my parents, so that I can visit them often."
It's easy to see why Liza calls her cosy home her 'heaven on earth': "This is where I can be myself, relax with family and friends who come over, and create lots of happy memories with them."