Step inside Belle and Benson's home and you'll be transported into a tropical paradise with stunning views of the sea. It's also handmade with love.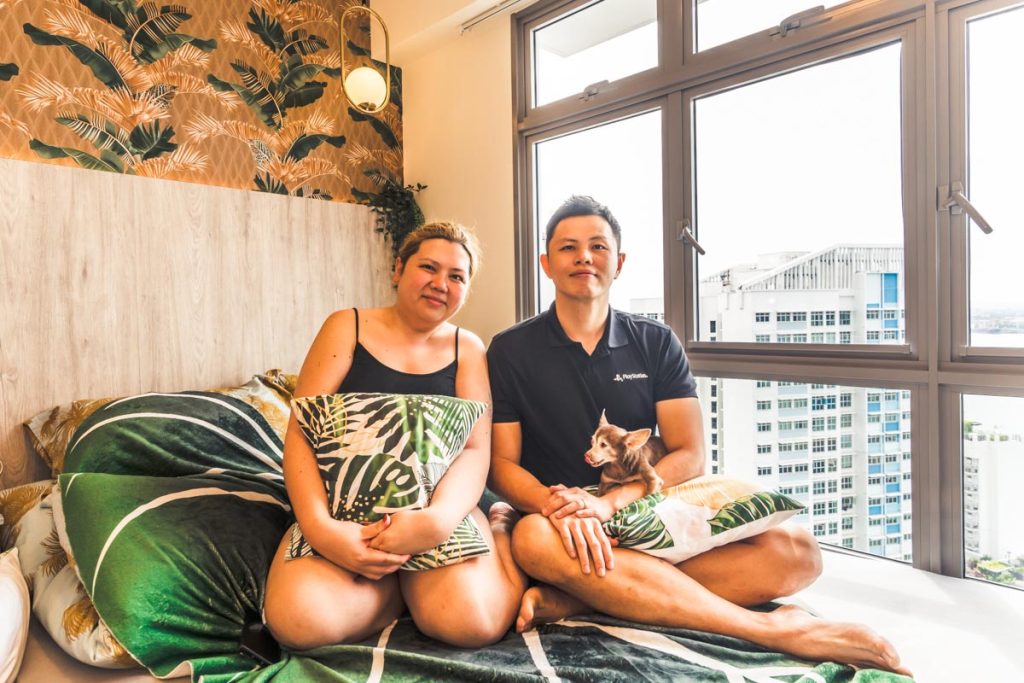 Shaping a Tropical Paradise
"If I can DIY, I will do it, as I can save money that way," Belle says, pointing out the tropical-themed wallpaper that she applied herself. Another DIY project she worked on was the mirror arrangement on the ceiling of the entryway, which complemented the pendant lights to add more depth and sparkle to the area.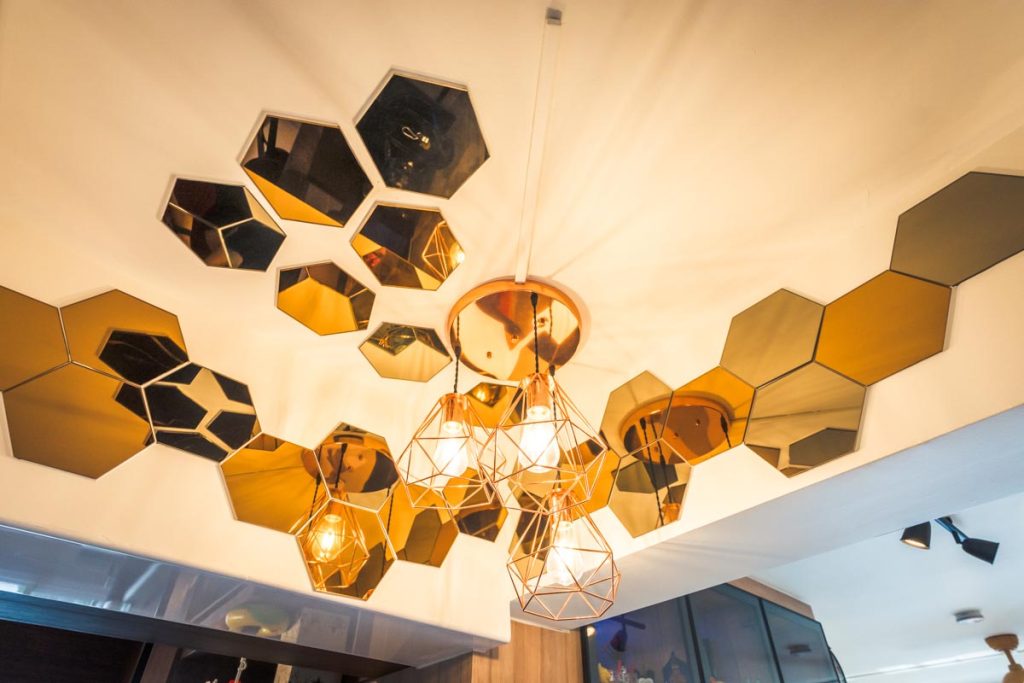 With a more flexible schedule as a freelancer, Belle worked out pockets of time to focus on renovating the flat. From planning, sourcing for suppliers, managing contractors, to even doing some of the work herself. The result? A beautiful home crafted to the couple's wishes, and everything done for less than S$30,000.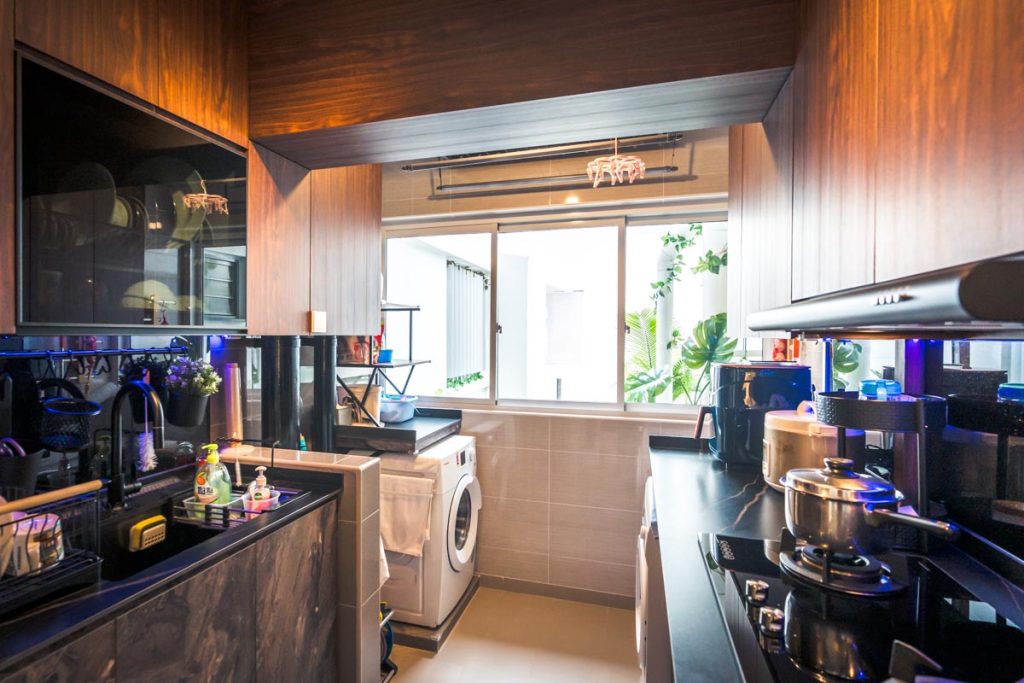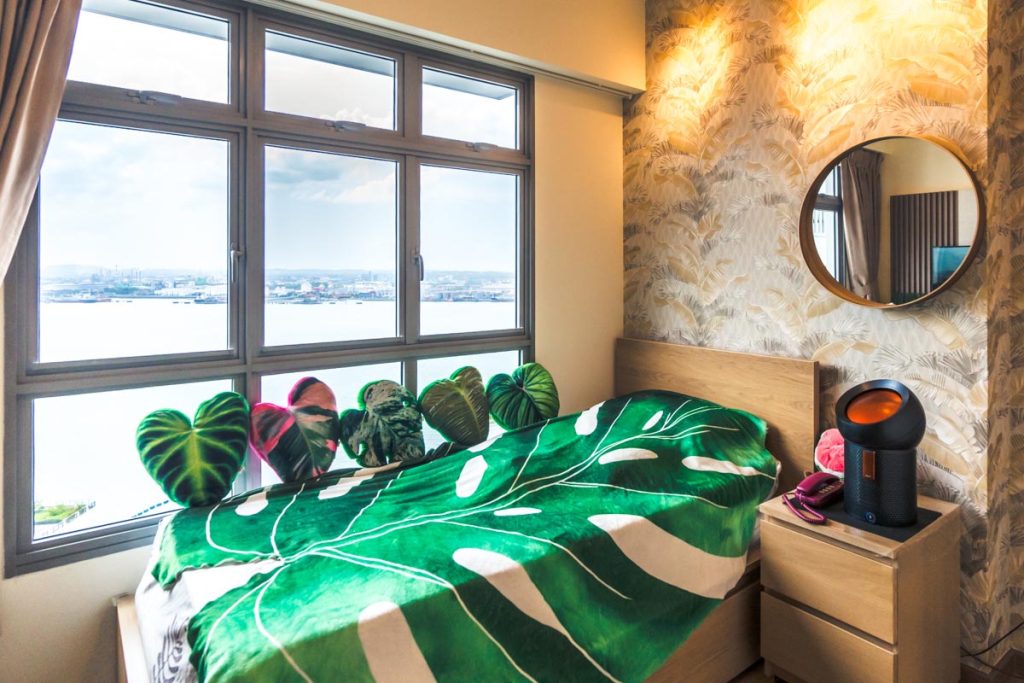 While the couple engaged an interior designer to customise the carpentry works to fit their needs, they also did not waste the opportunity to pick up new knowledge throughout the process.
"Always stick around to film, take photos, and ask questions. You never know what you might learn from the contractors – a new skill, some neat tricks for home fixes, or even a useful contact who can help save you money with renovation works," they say.
Adding Personality to the Home
Belle and Benson's home is a tropical paradise—with a huge dose of personality. For one, the couple did away with a metal grille gate, opting instead for a door with a glass panel. They say that it makes their home feel larger, and more welcoming to anyone happening to walk by.
This means that from outside the home, viewable through the glass door, one cannot miss the sight of the couple's terrariums with overflowing mists – akin to a miniature 'Cloud Forest' in an HDB flat. The couple handcrafted these habitats from scratch – from buying individual tanks, lighting equipment, and gardening supplies.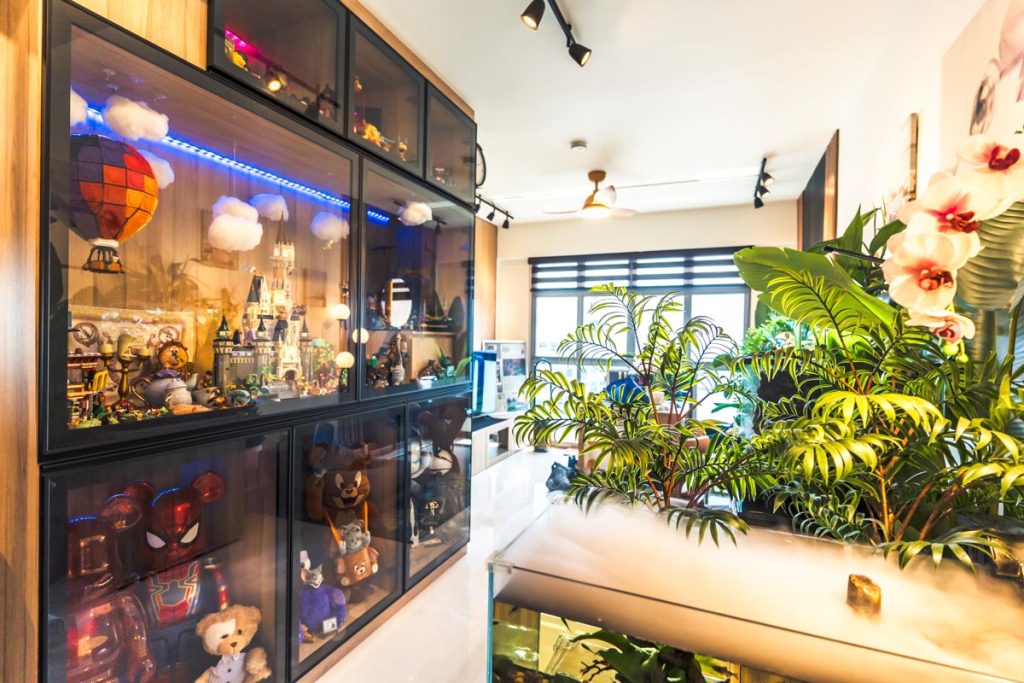 While most of the couple's design decisions were focused on keeping the home practical, beautiful and within budget, Belle confesses that she still splurges from time to time – such as on her collections of Bearbrick and Disney memorabilia.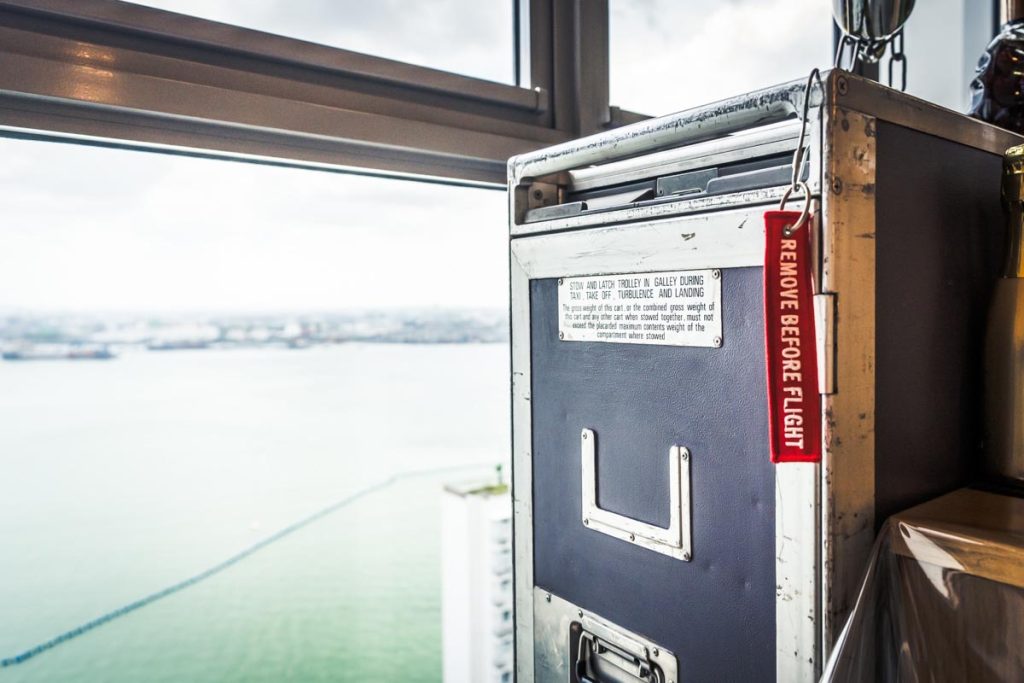 Home by the Sea, by Chance
Moving from their West Coast flat, which offered sea views, Belle and Benson's choice to switch it up at Punggol Northshore happened by chance. "We just wanted something convenient and cozy, without spending too much," the couple explains.
The couple budgeted for a 3-room flat and then applied for their home under the Married Child Priority Scheme (MCPS), with Belle's mother living together in the flat (with her own room that exudes a similar tropical vibe). With a good queue number, they secured the flat of their dreams – a sea view home on the top floor. Belle and Benson were also eligible for $60,000 in housing grants, which brought down the cost of their new home.
"We love it here in Punggol Northshore. It's full of greenery, and we love the beautiful sunset views," said Belle. The couple also enjoys the peace and quiet of their home, as it's away from busy roads and highways. However, convenient amenities such as a 24-hour coffeeshop are available nearby, and the bustling Northshore Plaza offers them even more choices – and that's just a 10-minute stroll away.
Today, Belle and Benson are proudly living in their Home Sea-weet Home.