"Our home mood board was just a compilation of colours and elements that we like," home owners Farrah and Ee Long recall, laughing. "It was a mish-mash of styles."
Even though their ideas appeared disparate initially, the result is a cosy, colourful space combining influences from their favourite holiday destinations, Bali and New York.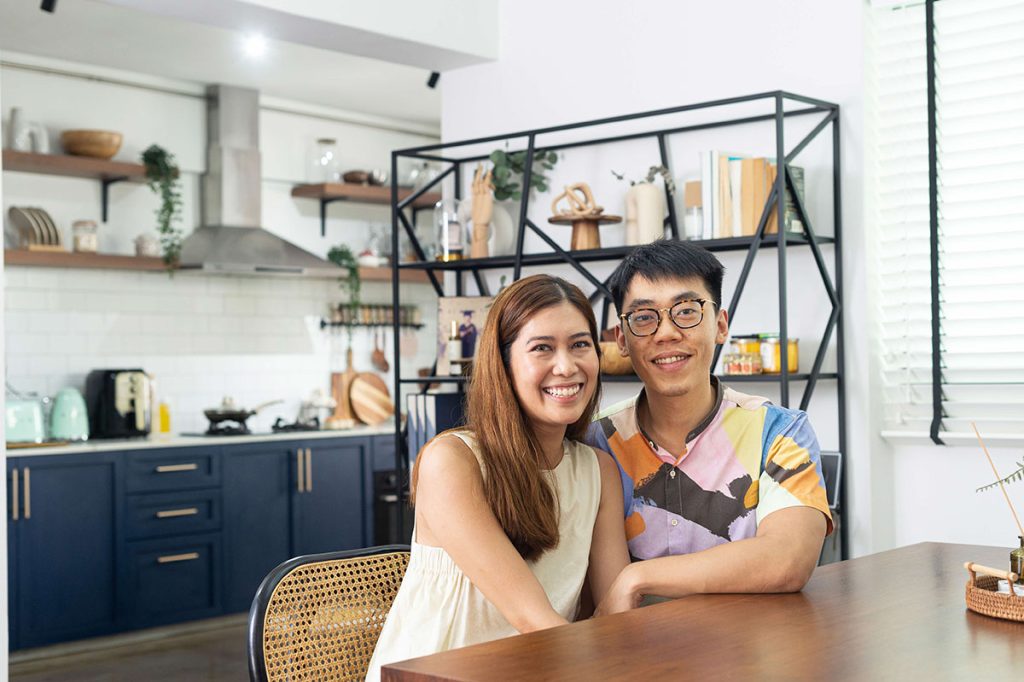 Breezy Bali Vibes
The boho-tropical style of Bali is evident throughout the Marsiling 5-room flat. In the living room for instance, most of the furnishings, such as the coffee table, sideboard and armchair are fashioned from rattan, as are the wall decorations. Soft cushions and a light-coloured rug complete the boho look.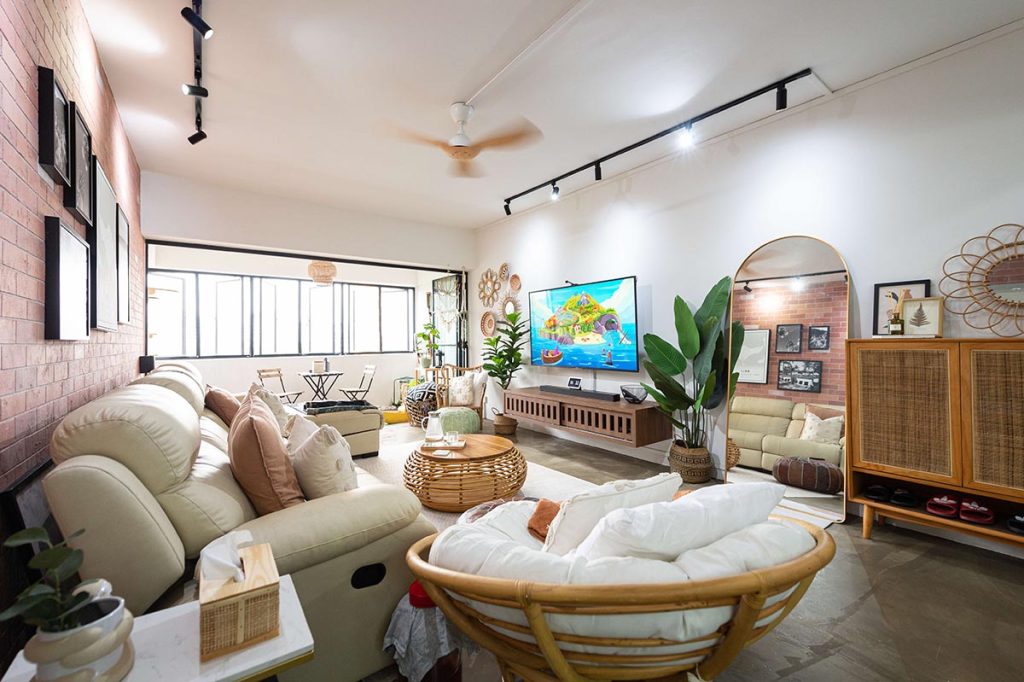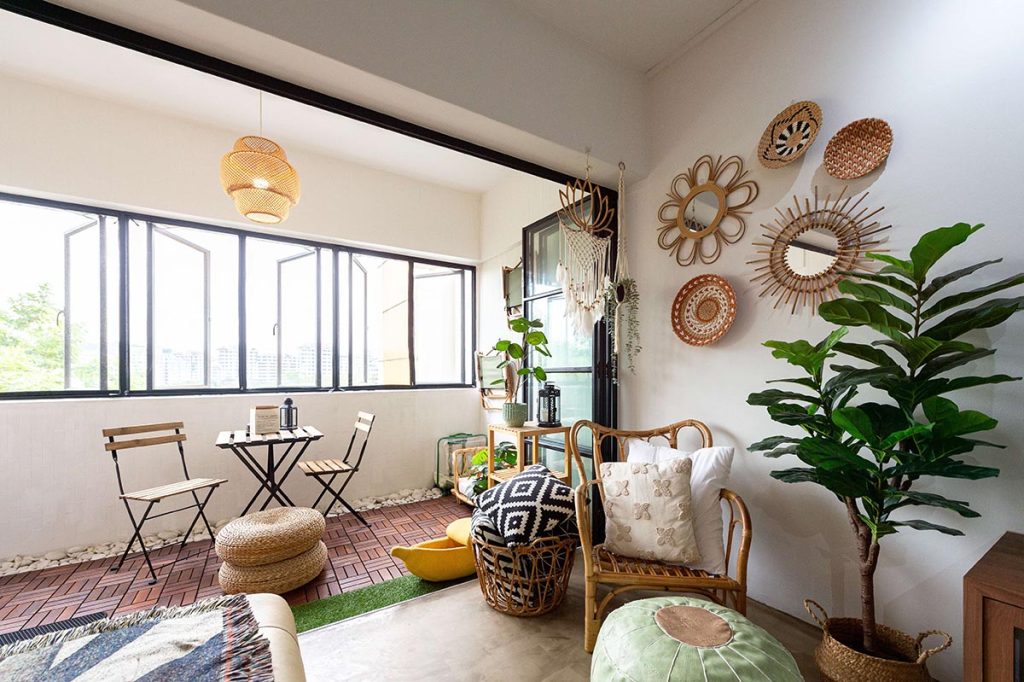 New York Chic
Co-existing in the same space is an exposed brick wall that would not look out of place in a New York loft. It offers an unexpected design twist while complementing the cement screed flooring which the couple did up themselves. "We had a professional demonstrate a small area, then we finished the job ourselves," the home owners say. "We thought the DIY element added more character to the flat."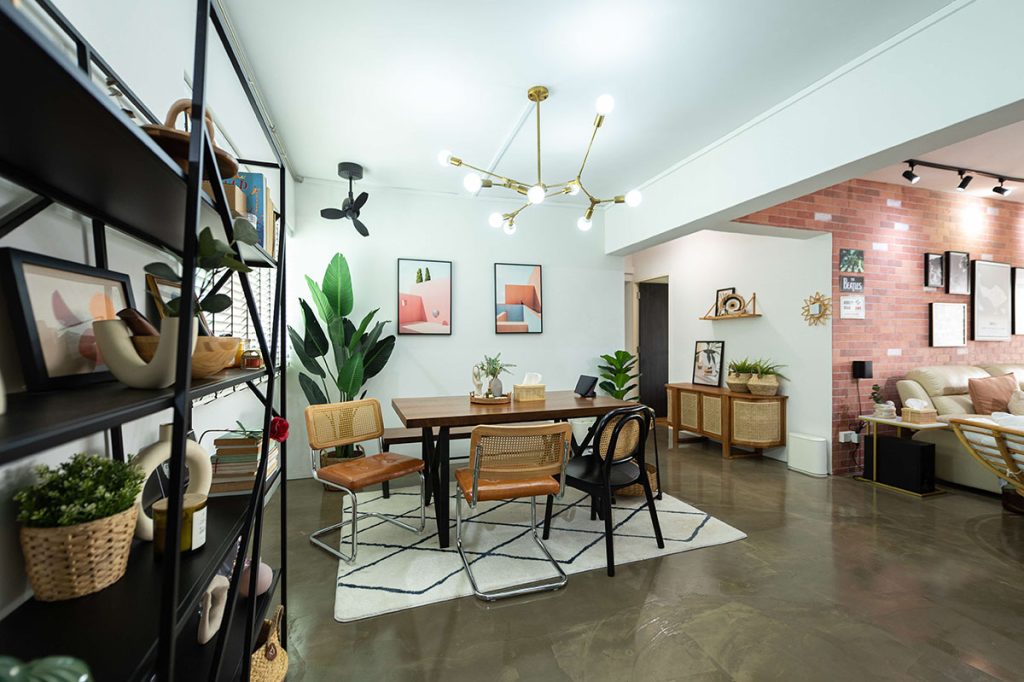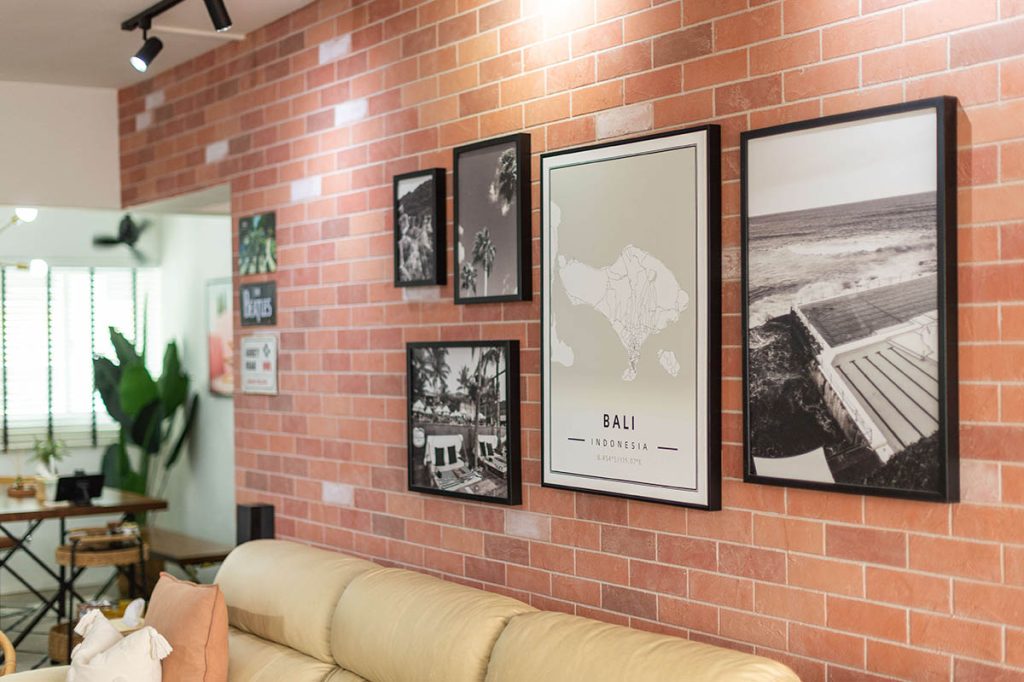 Black accents, as seen in the furniture as well as the balcony door frames, lend an industrial touch. Black-framed glass panels also feature prominently in the couple's bedroom, where they demarcate the resting space and the walk-in wardrobe.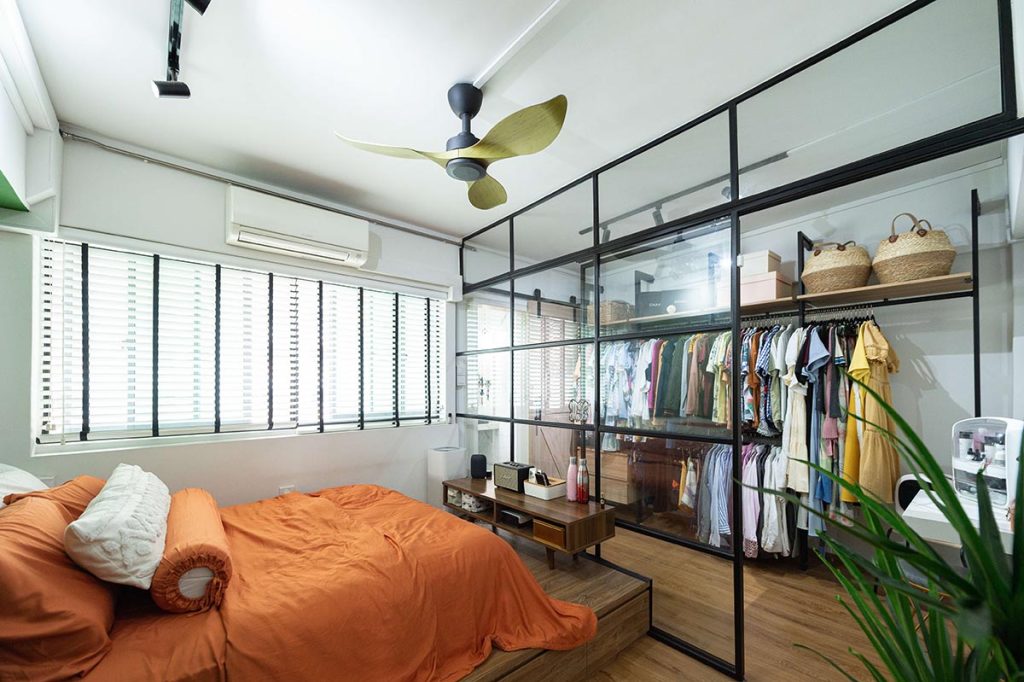 In the kitchen, the subway tiles and royal blue cabinets add to the New York loft look. To open the space, top row cabinets were replaced by open shelving.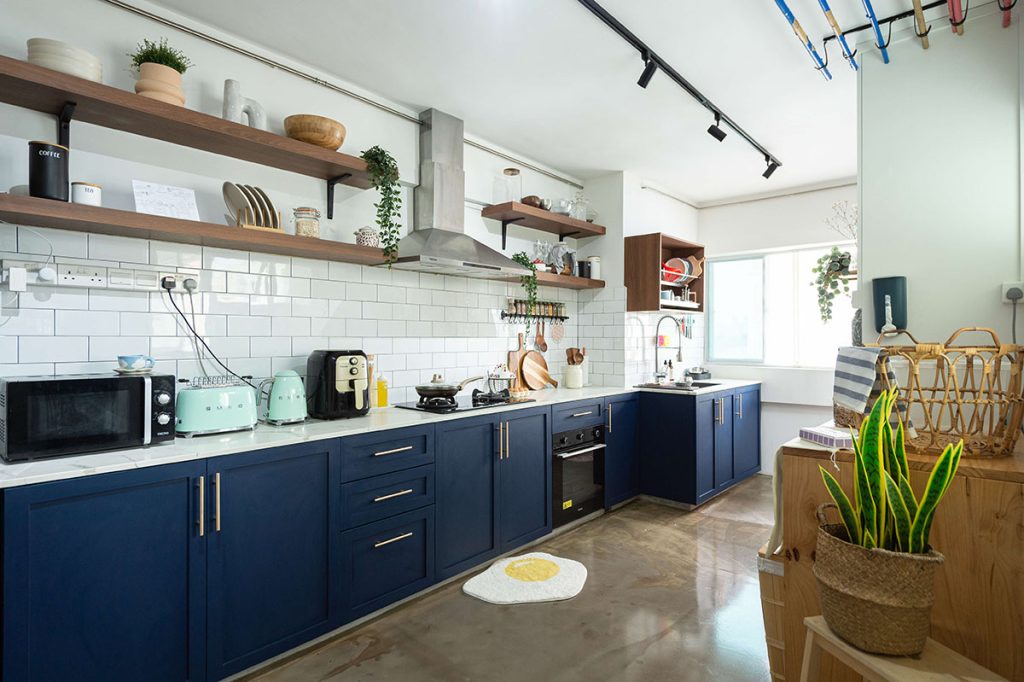 Home for their Hobbies
The couple describes their style as "design-and-plan-as-we-go". Even after moving into their home in early 2020, Farrah and Ee Loong had no concrete ideas for their spare bedrooms. It was only after work-from-home became the new norm did one of the bedrooms become a home office. To maximise the space, a chill-out corner comprising a daybed, lounge chair and vinyl player was incorporated.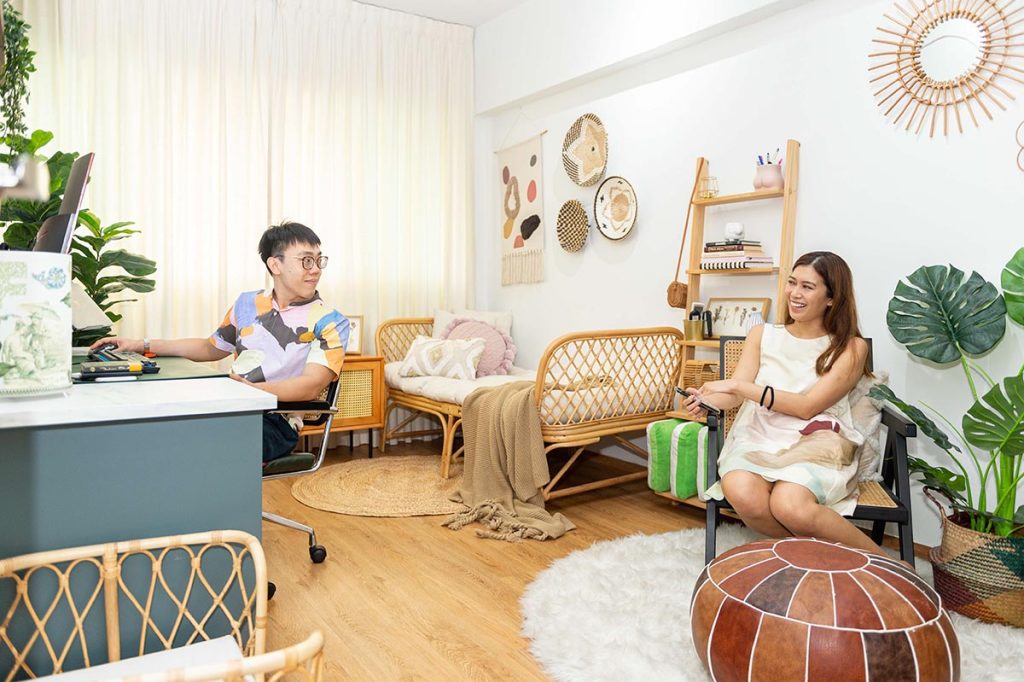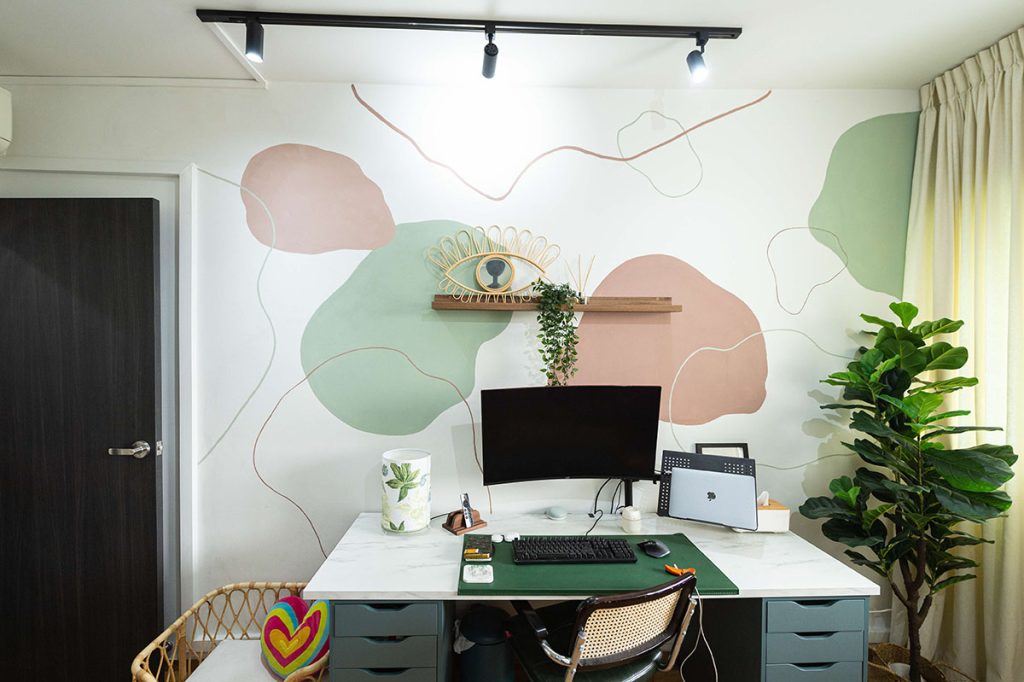 "We love listening to music! As vinyl lovers, we decided to include our hobby in our design of the space," Ee Loong explains while gesturing to their vinyl records collection displayed on the wall.
Following COVID restrictions that kicked in the same year, the couple decided to transform the remaining bedroom into a home gym, keeping in mind the maximum floor loading capacity. "We find more motivation to work out this way," the couple laughs.
For new home owners who are about to embark on their renovation journey, Farrah and Ee Loong advise not to rush into things. "For instance, deciding on the purpose of the bedrooms after you've moved in might be unconventional, but this can allow you to better understand your lifestyle and better maximise the use of the space," they smile.