Spalling concrete is one of the common maintenance issues owners of older flats face. Read on to find out how you can prevent spalling concrete at home!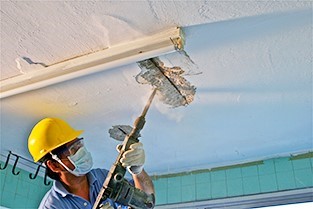 What is spalling concrete?
Spalling concrete occurs when steel bars embedded in the ceiling starts corroding, causing the concrete to crack and fall off in chunks. This is a natural deterioration process — a part of the wear and tear that every building goes through!
In older HDB flats, spalling concrete is especially common in bathrooms, as moisture in the air causes steel parts to rust.

What can I do to prevent spalling concrete?
Spalling concrete is a surface maintenance problem that occurs in reinforced concrete structures. This means that there are easy steps you can take to prevent spalling concrete from happening.
Repaint ceilings regularly
Repainting your ceilings not only refreshes the look and feel of your flat, but also protects your ceilings! Paint helps to prevent carbonation, and you should ideally repaint your ceilings regularly.
Seal cracks/ holes properly
If you notice any holes or cracks in ceilings, quickly seal them to prevent moisture and carbon dioxide from entering the concrete. Similarly, seal up any holes drilled into the ceiling that are no longer in use.
Ensure sufficient ventilation
A humid environment speeds up carbonation. To reduce the humidity in moisture-prone areas such as the kitchen and bathrooms, open the windows, vents or doors when the areas are not in use.
Repairing spalling concrete
With regular maintenance, spalling concrete within HDB flats is usually minor and can be easily repaired. Engage a contractor to have it fixed once you spot signs of them. Remove any loose spalling concrete to prevent them from causing injury to your family members.
As a home owner, it is your responsibility to repair spalling concrete in your flat! Do not leave it unattended for a long time, as it will eventually spread to a bigger area, and may weaken the building structure.
Hope you are in a better position to prevent spalling concrete now! Follow us on Facebook page for more home maintenance tips to keep your home in tip-top condition.