Looking at the black, white and grey colour scheme of this Bukit Panjang HDB flat, it is hard to imagine that the monochrome aesthetic was the last thing on the home owners' minds when they designed their home. Shu Xia had envisioned a colorful Bohemian theme, while her husband, Jian An, preferred an industrial-inspired home.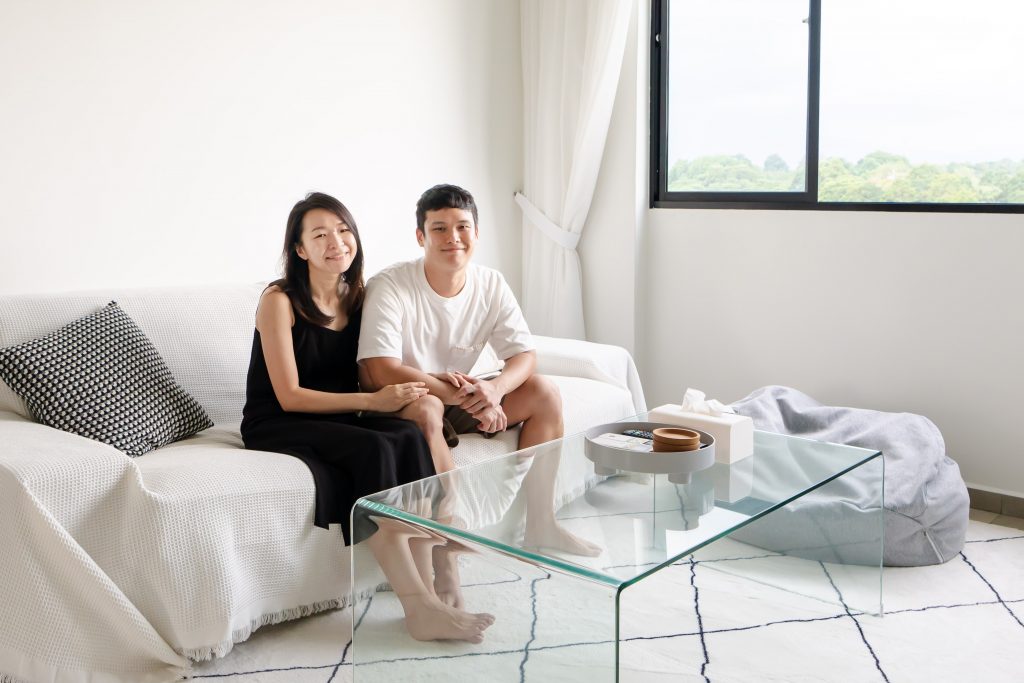 From Bohemian to Monochrome
"We couldn't quite decide on an interior theme – so we ended up with a classy and timeless look that both of us are comfortable with," Shu Xia smiles. "The minimalist look of the monochrome palette appealed to Jian An and we used wood furnishings and plants to add some colour to the space."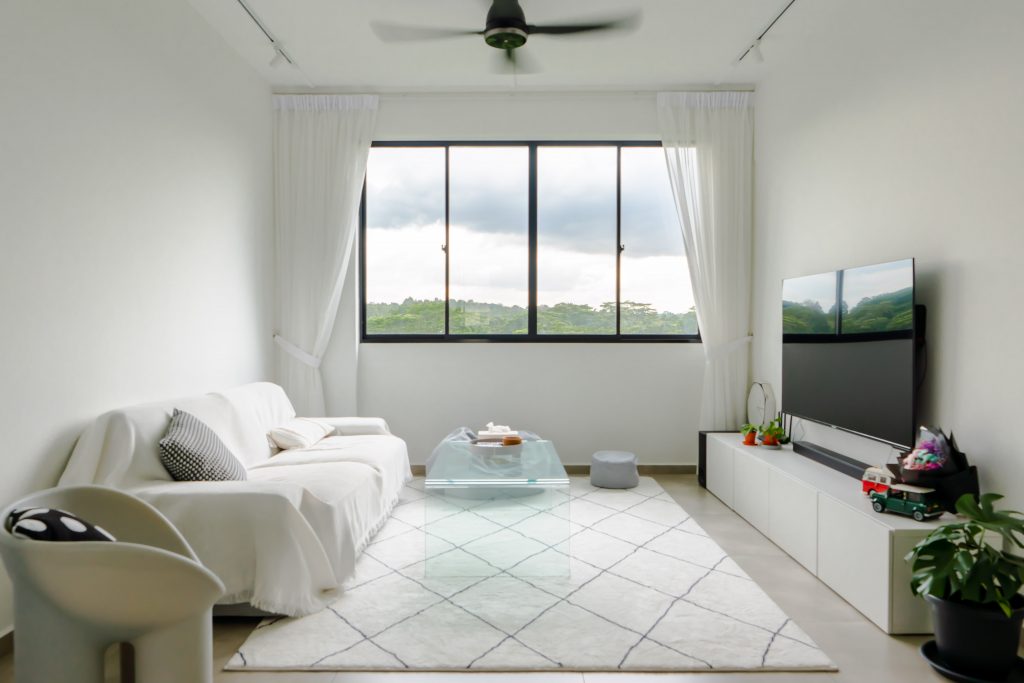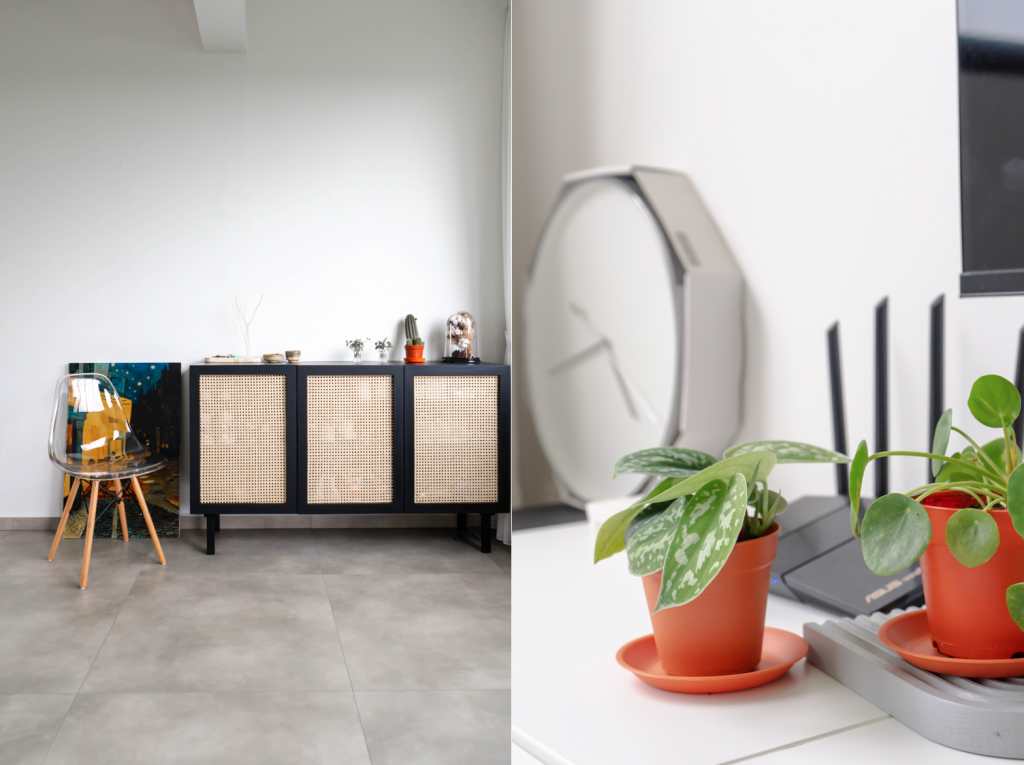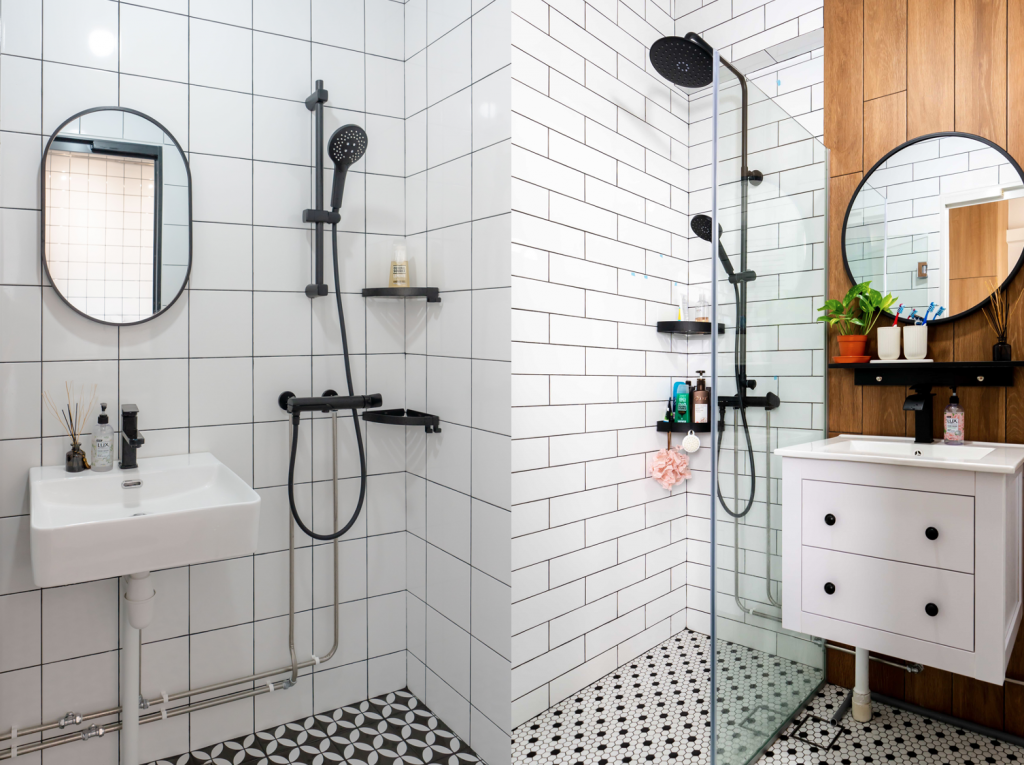 In contrast to the common living space, the master bedroom sports a cosier vibe — "We wanted a cosy environment that's conducive for resting, hence we opted for a more Scandinavian-inspired design with warmer tones."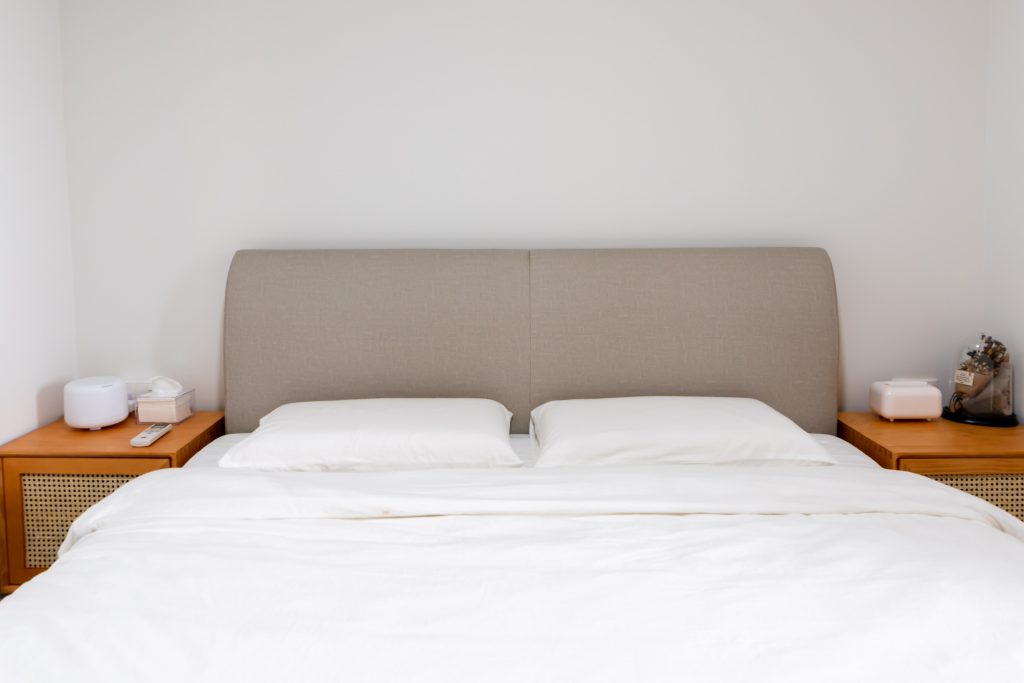 An Open Concept Home
Familiarity with the western part of Singapore was a large factor in their decision to set up home in Bukit Panjang. "While we considered different housing options, we chose this resale flat for its layout and location. Not only were we fortunate enough to find a flat near our parents, we also managed to enjoy the Proximity Grant for our flat purchase," Jian An shares.
"Layout-wise, we had a rough sense of what we wanted, and having a straightforward, squarish layout definitely helped with space-planning," he adds.
Unlike many other homes, the flat first opens up to the dining room and kitchen, before seamlessly connecting to the living room and the bedrooms. The dining room is also separated from the living room, which gives more space for hosting.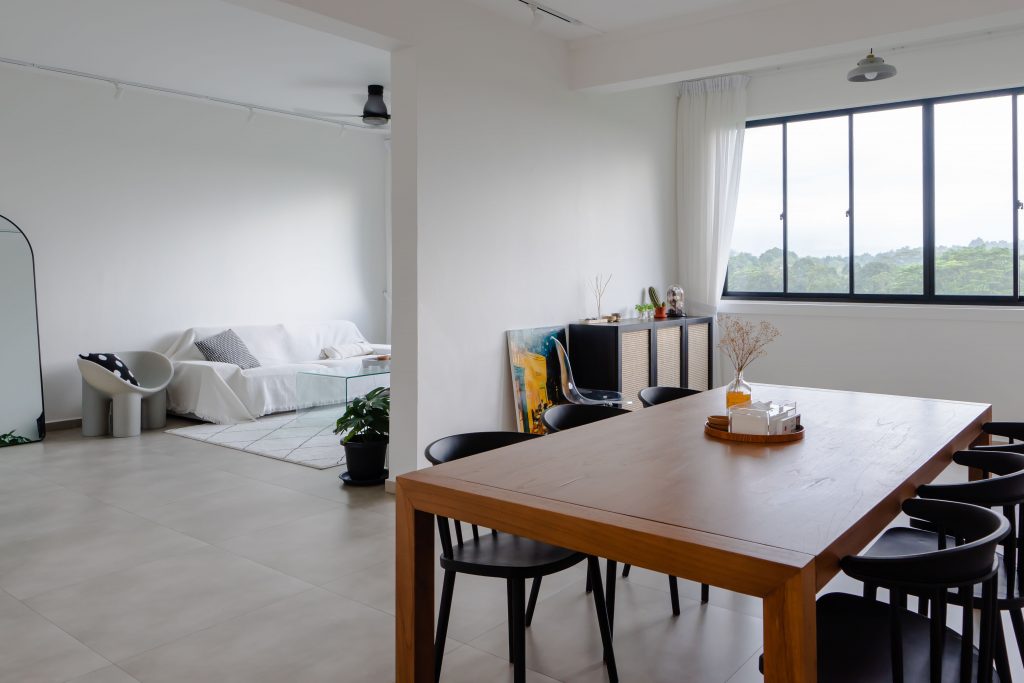 The open-concept kitchen features an extended bar counter, along with a built-in pantry. As home owners who spend a considerable amount of time in the kitchen, Shu Xia and Jian An had initially contemplated a sliding door, to compartmentalise the space and contain cooking fumes.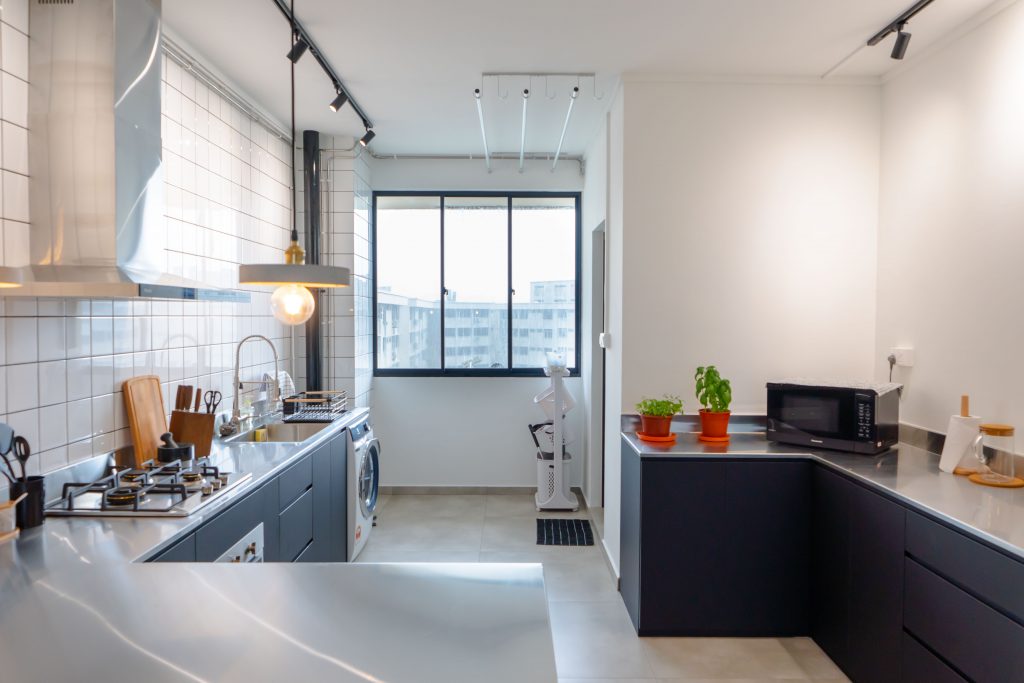 "However, we really liked the visual of an open-concept kitchen. We also thought the kitchen window could help ventilate the cooking area, so we did away with the sliding door," they explain.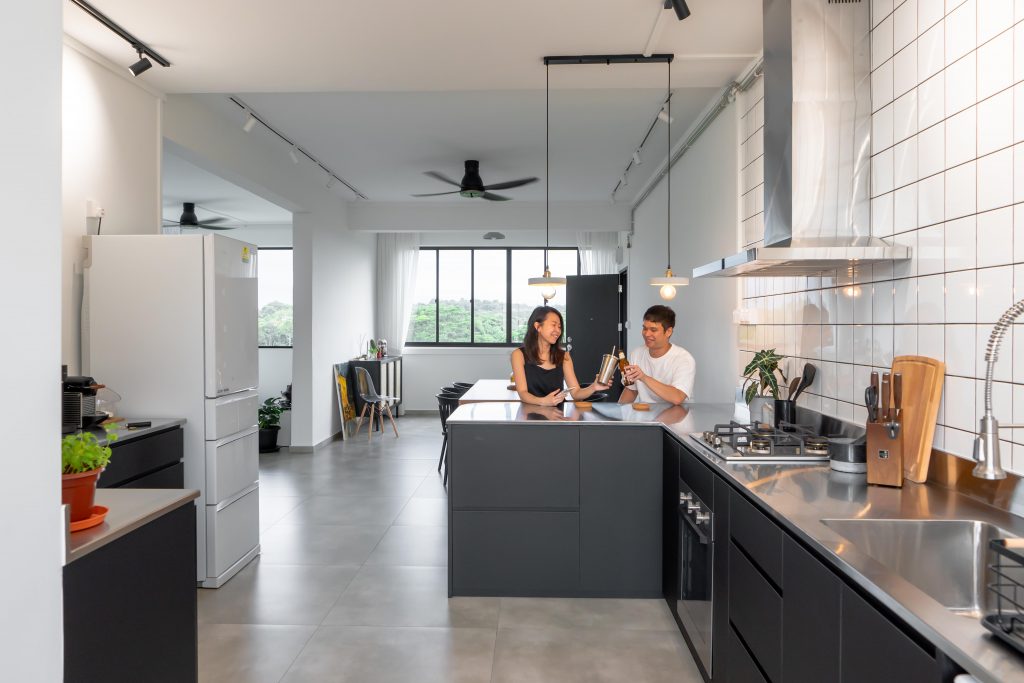 The black-coated kitchen bar counter easily makes a design statement, especially with its curved and fluted elements. The shiny stainless steel countertop is another distinguishing feature, seamlessly integrating with the kitchen sink and complemented by the grid-tiled backsplash.
Renovation Challenges and Advice for New Home Owners
Like most home owners conducting renovation works amidst the pandemic, Shu Xia and Jian An faced several challenges, including a delay in the supply of materials, as well as a shortage of material and manpower.
"We were in the midst of renovation when we were informed that the floor tiles we wanted were unavailable due to supply issues. We had to improvise and source for a different option with a similar design," Shu Xia says.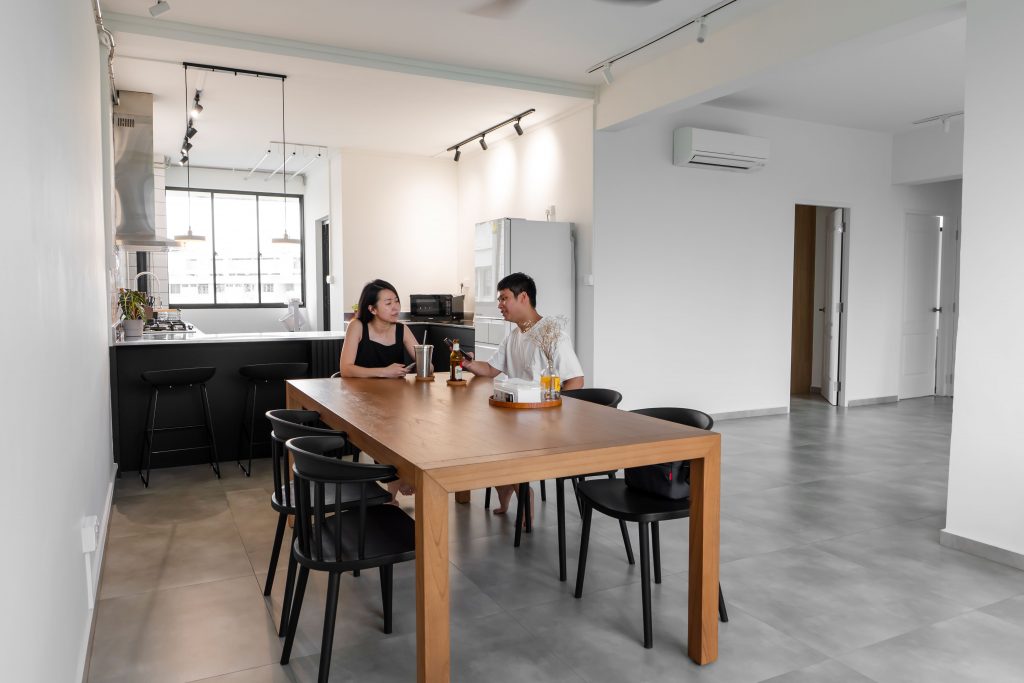 "From our experience, it's important to be flexible and to keep an open mind. The pandemic brings about many unforeseen challenges – patience is definitely a must-have," the couple laughs.
Photos by Adrian Tan