It was love at first sight for Samantha and Jovin Loh, when they viewed a 5-room resale flat in Queenstown. "We loved it so much we made an offer for the unit on the day of the viewing!" they recall. "The spaciousness of the flat and panoramic view from the living room were really attractive to us."
While they were excited to kickstart renovation works after collecting the keys to their new home, they decided to do so only after their wedding, a decision which worked out unexpectedly well. Prior to their big day, Samantha and Jovin had been searching for a studio to practise their first dance when they thought of their new home. "The walls of the living room were previously lined with full-length mirrors and we thought, 'Where better to rehearse our dance than in our future home?'"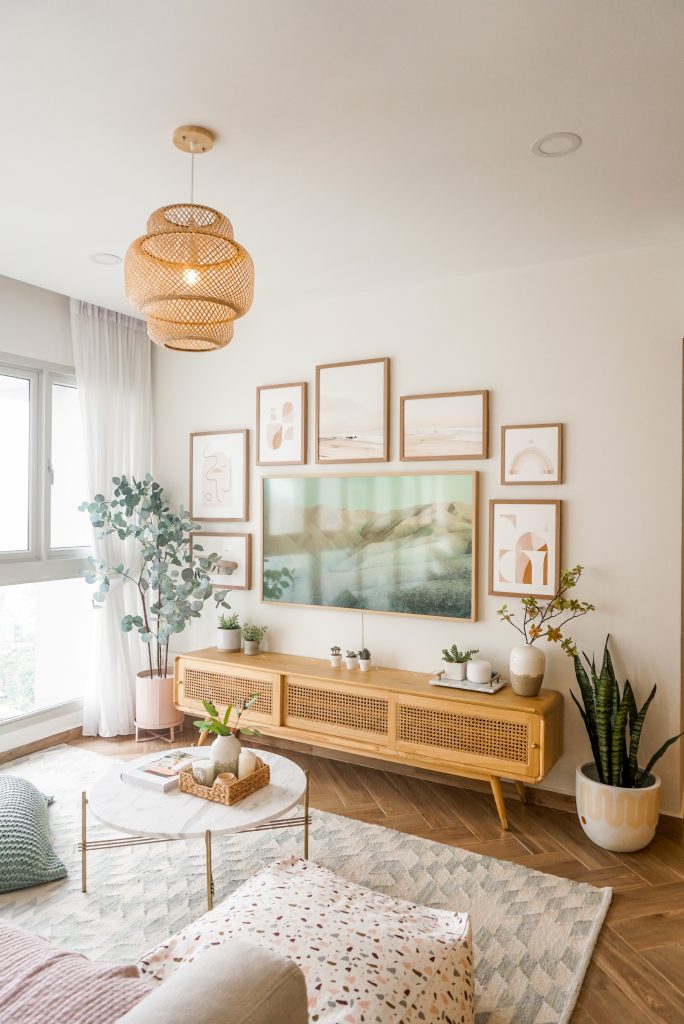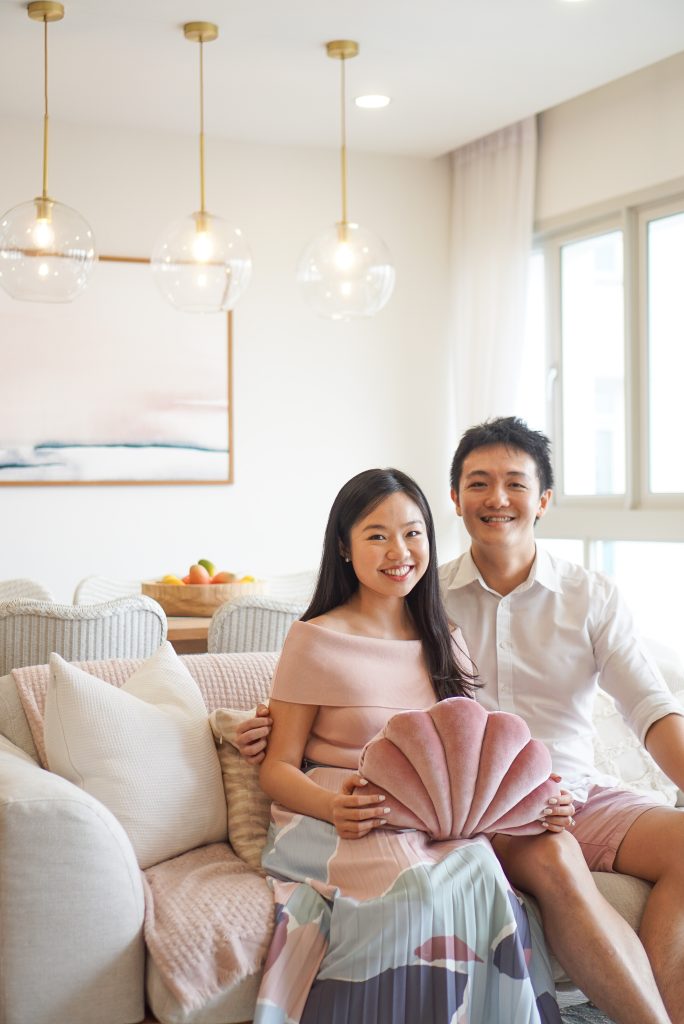 Wooden Accents and Muted Colours
Rattan furnishings and wooden wall frames add warmth
Post-wedding, Samantha and Jovin gave their flat a complete overhaul, transforming its stark monochrome interior into a cosy, calming space which featured plenty of wood. "We wanted to create a homely vibe, so we opted for wood-like tiles throughout the flat. We also use wood and rattan furnishings for an added dose of warmth," Samantha explains.
Complementing the wooden accents is a pastel colour palette, in which one unique shade stands out. "I've always loved the colour frost. It reminds me of summer and adds a pop of colour to the overall look," Samantha says, referring to the blue shade with grey undertones.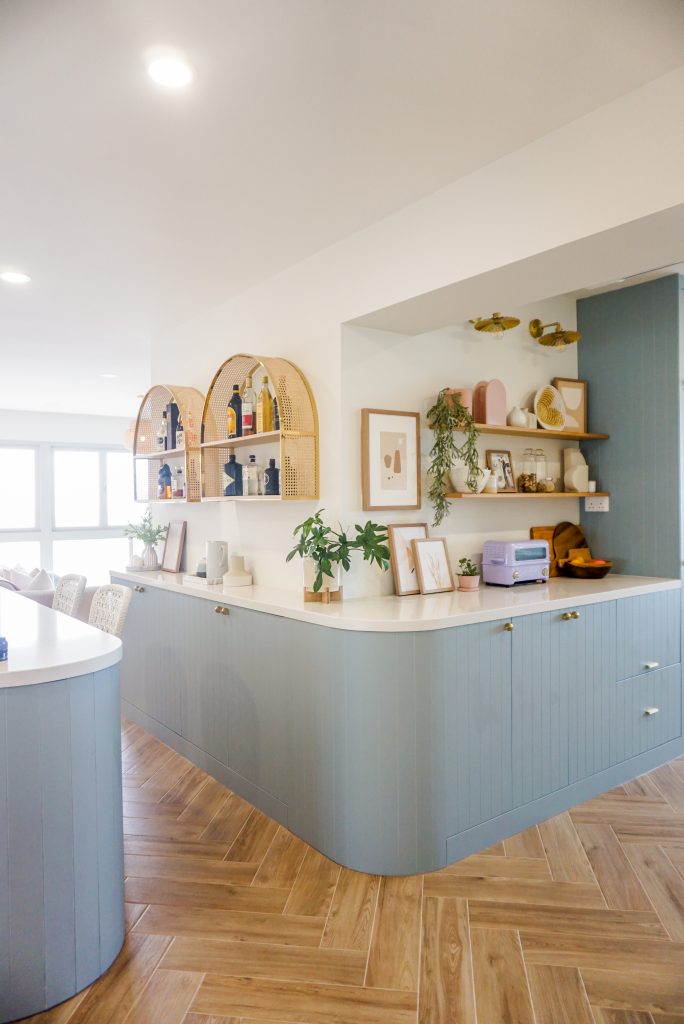 Made for Entertaining
In the Lohs' flat, the colour is especially eye-catching as it is used in the open kitchen—the cabinets and bar— which is close to the flat's entranceway.
In designing their new home, the couple prioritised a spacious living and dining area. "We often have family and friends over and we want to be able to house everyone comfortably, hence the open kitchen concept," they explain. "To accommodate larger gatherings, the bar sometimes transforms into a dining area. It provides a good view of the house and we installed electrical points there so that we can host hotpot and fondue parties!" the couple says.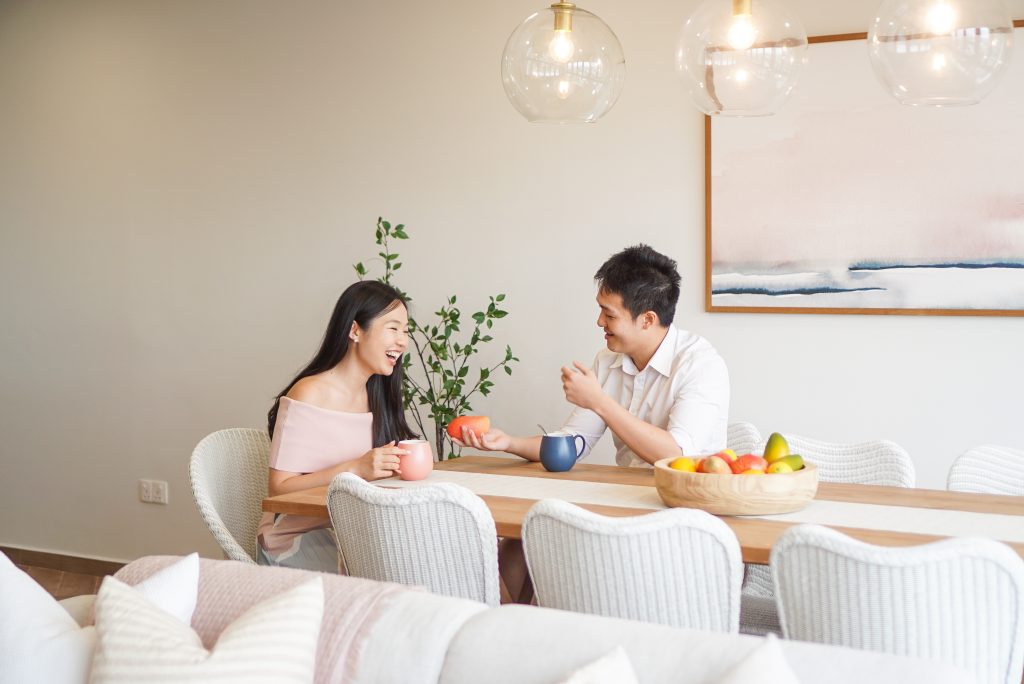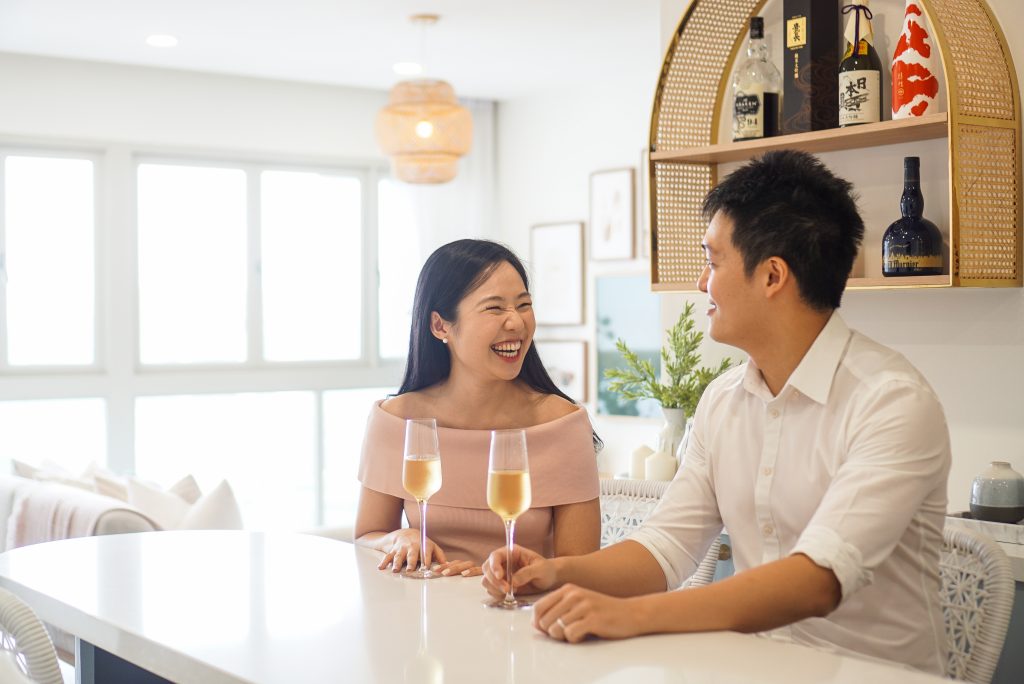 Unique Design Elements
Guests to the flat might find it difficult to locate thae common bathroom at first, and that's because its entrance blends into the living room, concealed by Japanese-inspired wooden slats. The bomb shelter received the same design treatment, with the two hidden entrances demarcated with two alphabets – 'T' for toilet and 'B' for bomb shelter. "We thought the idea was really unique, so we built a feature wall to conceal the rooms, as well as to give the living room a more seamless look."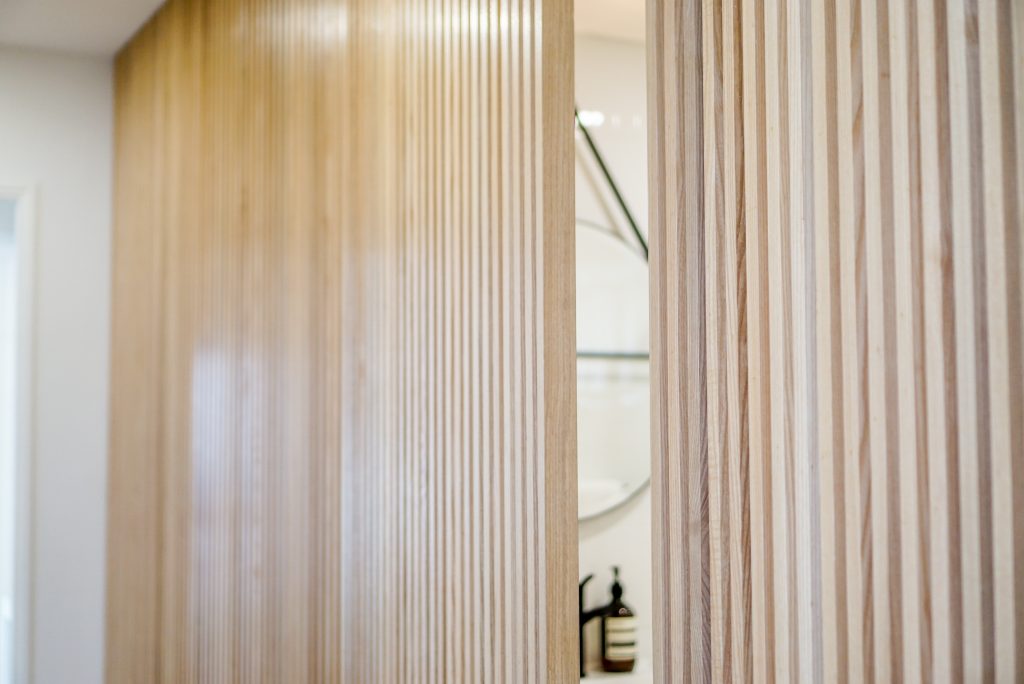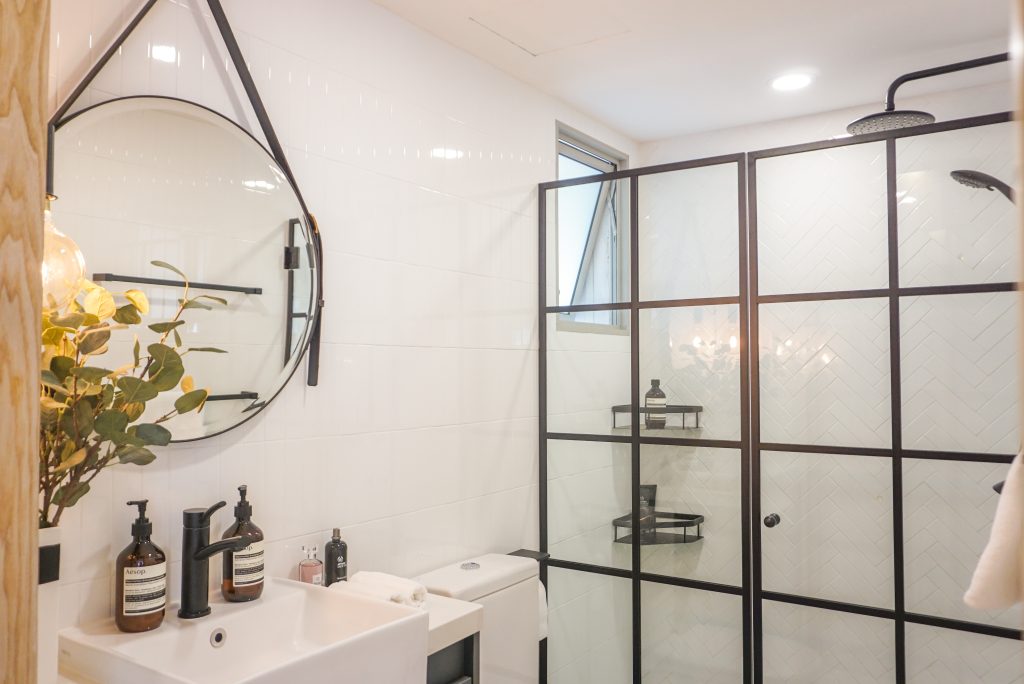 Unlike the living areas, the bathroom features a monochrome colour scheme. The black-framed glass partition and door repeats itself in the master bedroom, where the couple decided to do away with an entire wall because they wanted more light in the room.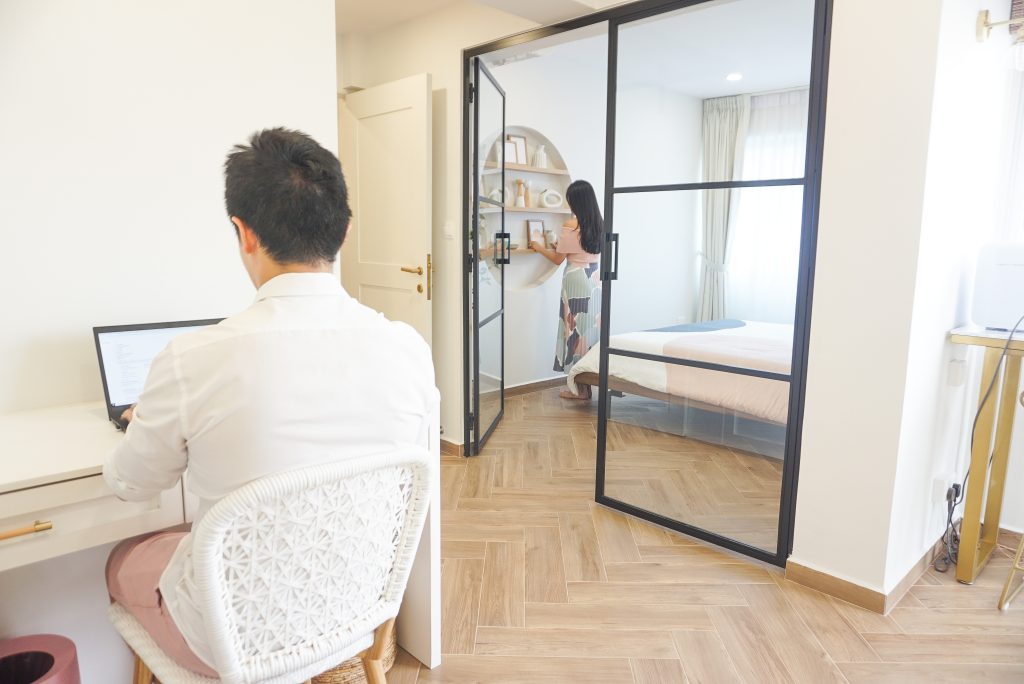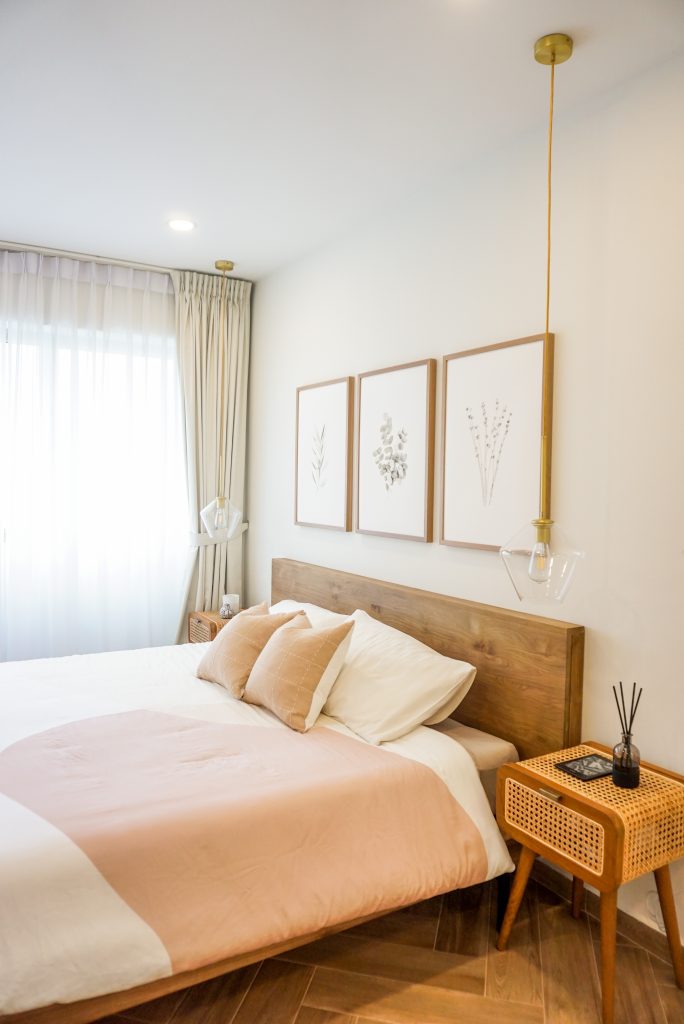 The master bedroom and common bedroom were also combined to form a dressing/ home office area with more wardrobe space, a decision that the Lohs are very happy with.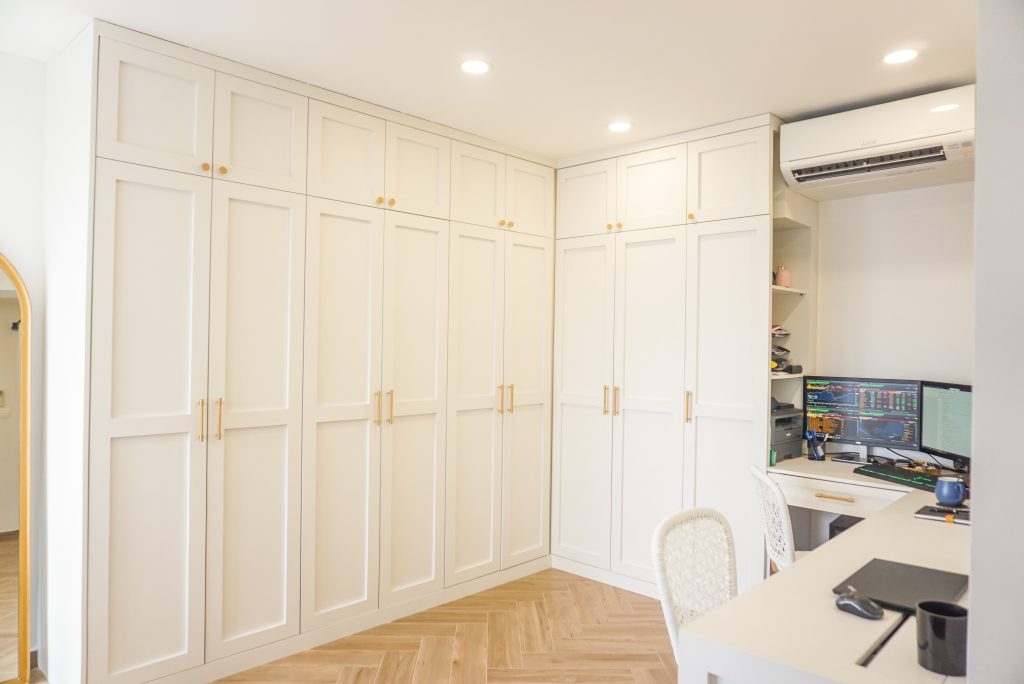 The couple are happily settled into their new tranquil neighbourhood, despite being initially unfamiliar with the area—Jovin used to live in Choa Chu Kang and Samantha grew up in Bedok.
"I always thought we would live in the east. Out of the 18 houses we viewed, this was the only one that wasn't located in the east. I guess east side might not be the best side after all!" Samantha quips.
Photos by Briana Tan