At first glance, it seemed like a chic flat with simple, minimalist aesthetics. Then, the phrase "Alexa, turn on the lights" was spoken aloud.
The lights in the living room brightened, and I felt like I walked into a real-life episode of The Jetsons. Except this all happened in an HDB flat. (Imagine the possibilities in our smart-enabled flats coming up in Punggol Northshore!)
Smart-enabled homes are getting increasingly accessible, with more solutions becoming available in the market to make our lives more convenient. The variety makes it easier to get started, and tailor the smart lifestyle to fit your home and budget—just like Yueyu and Jinru did.
The young homeowners made their home 'smart' – with most of the gadgetry and technical magic discreetly designed and positioned. But perhaps the most amazing thing is that they did most of it on their own. Strategically placed on their dining table are both voice assistants from Amazon and Google, which are both used to activate different lights and speakers around the flat.
It started off as a personal project to make the house more convenient to live in. "We wanted fewer keys, so we replaced the locksets with digital locks," said Yueyu. "I trialled some of the products at my parent's home before implementing them here."
The couple's DIY approach to installing smart home products brought much savings to their home project. They searched for their locks on online marketplaces, and even found a professional installer online. To complete the clean and modern look, each room is also fitted with touch-sensitive light switches that glow with a touch.Apart from the technological wizardry, what stood out in the home was its timeless look and ease of living. "I guess it is comfortable and easy to tidy up. No bulky furniture, and we can move things around easily when we have guests," said Jinru.
Having storage space under the bed means that they can keep their room clutter-free
Cleaning is a breeze, with a robot cleaner doing much of the daily sweeping. "We specifically found furniture that would work with the robot. Our wardrobe is built in, and storage is below our bed," Jinru explains. With less surfaces, there'll be a lot less cleaning to do!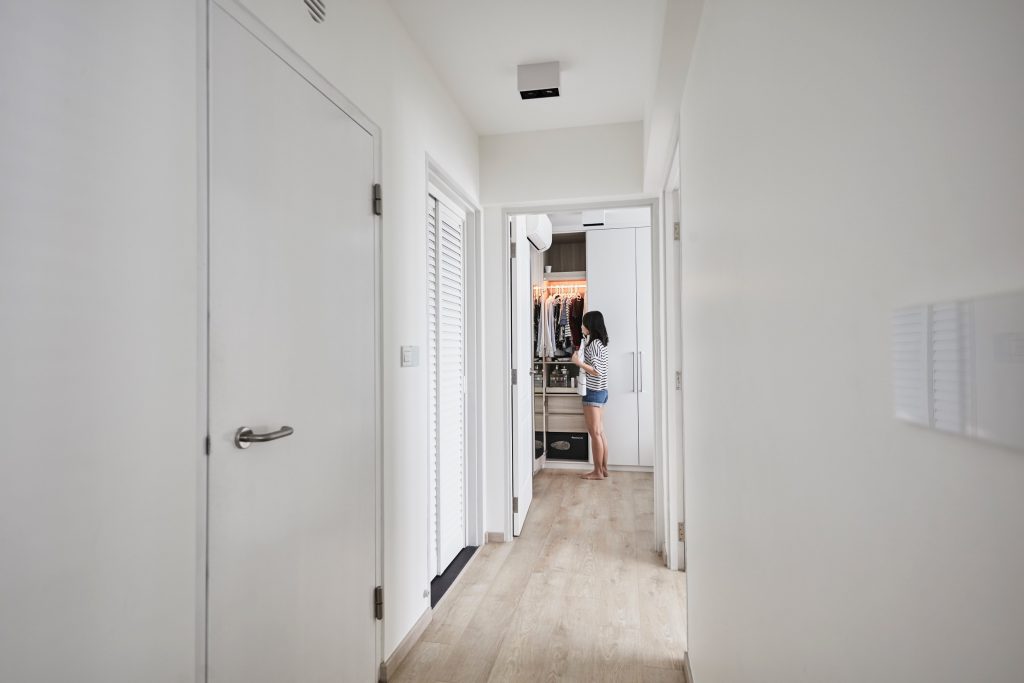 Know of other well-designed HDB homes that we can feature? Drop us a note at mynicehome@mailbox.hdb.gov.sg!