The friendship between 27-year-old Chun Chang and 13-year old Azry seems like an unlikely one. Their paths crossed 4 years ago when Azry first attended a mentoring session helmed by volunteers, at the multi-purpose hall near his HDB block in Chai Chee.
"I felt slightly out of place at first, but Chun Chang quickly made me feel welcomed," Azry recalls.
"Having benefited from the mentorship, I now help out at the events and befriend children in the neighbourhood. It makes me feel like an older brother to them!" he laughs.
From right to left: Azry and Chun Chang
Despite his full-time job as a business development manager, Chun Chang is committed to expanding the reach of KidzCare@Kembangan-Chai Chee. With both his workplace and home located within the Ubi neighbourhood, Chun Chang also highlights how the ease of access between Ubi and Chai Chee has allowed him to dedicate more time to his volunteering efforts.
Today, we sit down with Chun Chang and Azry to find out more about their volunteering experience.
Hello Chun Chang, tell us more about your mentoring programme.
At first glance, some may mistake us for a tuition centre but we are more than that. Depending on the activites, we operate at varying locations including Sunlove Study Spot, Residents' Committees Centre andViva Business Parklocated within the vicinity. We are volunteers who help students with their homework, play a sport, or simply chat with them. We want to create a place where students can hang out and study at the same time.
I started this programme in 2013 when I was in National Service. We only had a handful of students at the beginning, and conducted sessions at the void decks and pavilions beside the basketball courts with makeshift tables and chairs. The location made the programme easily accessible to the children within the neighbourhood and kept the sessions cosy and informal.
The programme was inspired by my first volunteer experience.I was accompanying a group of primary school students on an excursion to the Science Centre when they suddenly asked if they were overseas. It dawned on me that the children spend most of their time within the neighbourhood, and had never visited the western part of Singapore. New experiences are a luxury to them.
We also noticed students who'd hang around the neighbourhood aimlessly, sometimes late into the night. This was when we decided to reach out to this particular group of children to see how we can help.
The programme looks very successful!
Word spread over the years, and we now have about 150 participants. Some of our activities are held at community centres or multi-purpose halls. The programme has also become more structured. For example, the Homework Club is held every Thursday and Sunday evening. Students who require more academic help can attend tuition sessions conducted by teacher volunteers.
We try to organise a variety of interesting and fun events to provide students with new experiences, such as baking sessions. With the help of our partners, we even managed to bring the students to Universal Studios Singapore! Another memorable session was attending the movie screening of Captain America: Civil War.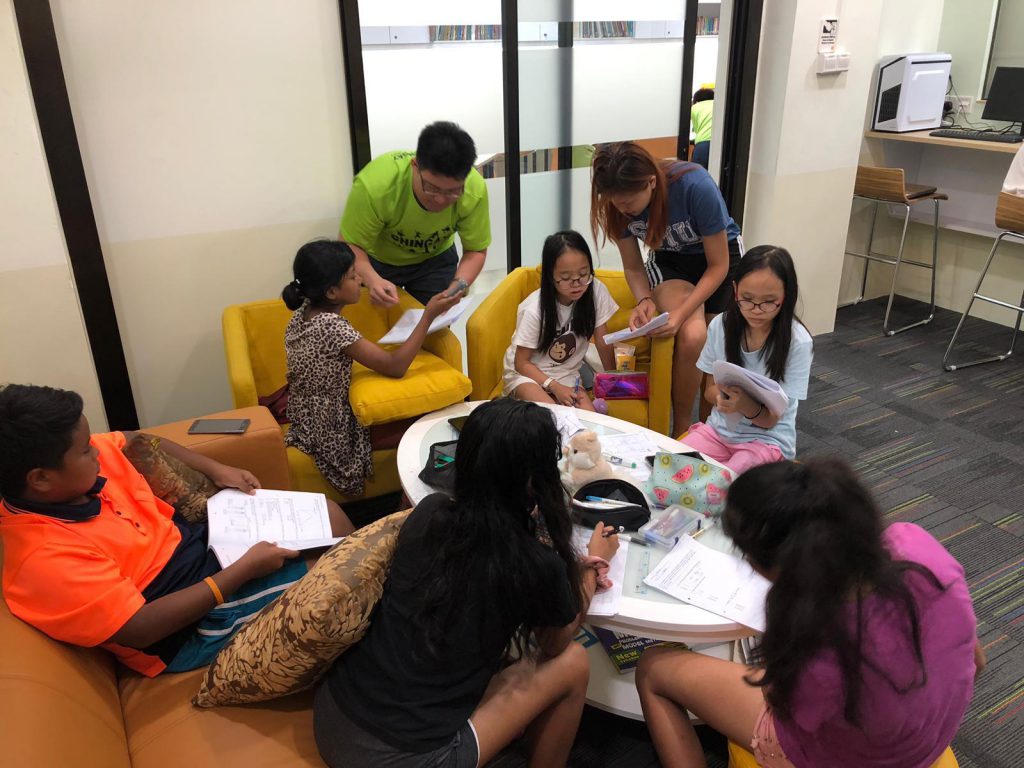 What keeps you going as a volunteer?
I hold a full-time job and juggling work and volunteering is definitely a challenge! However, the experience of watching the children grow and mature is very rewarding. Some of them even invite me to their prize-giving day in school, or Edusave Awards ceremony—it makes me proud to see how far they have come.
It's also heart-warming when the families keep me updated on their lives – some of our previous mentees and their family members, like Azry and his mother, have even become volunteers!
Our volunteers come from all walks of life, but we share a common goal of wanting to provide children from less advantaged backgrounds with opportunities. Looking at how the programme has become what it is today, has made the journey worthwhile.