When I was young, my grandparents used to regale us with stories of their kampung life and their bewilderment encountering high-rise living for the first time when they moved into an HDB block. They also recalled the joy of having neighbours over to catch the popular shows on their first monochrome TV set… and the friendships formed.
Even though my grandparents are no longer around, these stories linger in our loving memories of them. So I was pleasantly surprised when I saw their stories come to life through a series of murals in Tiong Bahru! Created by local muralist, Yip Yew Chong, they illustrate life in a time past in Tiong Bahru.
Reflections of my memories
These carefully crafted murals echo the familiar stories of life in HDB estates, sending a wave of nostalgia that is sure to strike a chord with many Singaporeans. It sure did for me. ?
Bird corner
Bird corners where lively chatter and chirping converge are now a rare sight in Singapore. My grandfather used to boast how his pet bird would outshine and outsing the rest whenever he and other bird lovers gathered at such spots.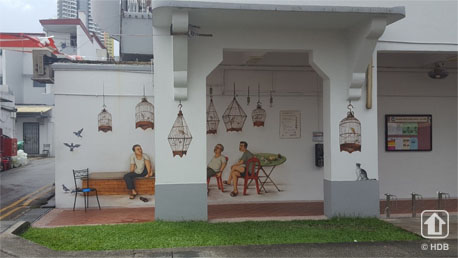 I wonder if any of these birds is the breed that my grandfather had…
Home
This gate was left open when I visited. It was not part of the art installation, but this scene brought to mind what my grandparents used to tell me – how they and their neighbours would keep their doors open so that everyone could help check in on one another. ?
A home, even with just simple decorations and furniture, can be bliss too. Of course, the funny jibes dished out by local comedy legends, Wang Sa and Ye Fong (shown on the monochrome television set in this mural), will make home an even more enjoyable place to be.
Pasar and fortune teller
The largest mural of the series, it shows some of the yesteryear trades along the streets of old Tiong Bahru.
This part on the pasar is my personal favourite as it brings to life the buzzing and lively street hawker experience!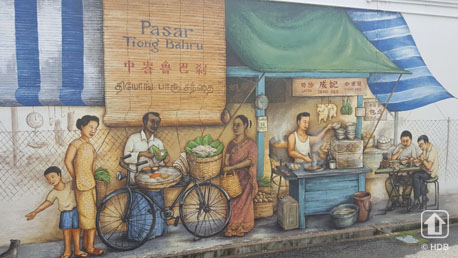 This part on the pasar is my personal favourite as it brings to life the buzzing and lively street hawker experience!
#Bonus: More Murals
As I was snaking through the alleys of Tiong Bahru, I chanced upon several animal-themed murals by another local artist, Ernest Goh.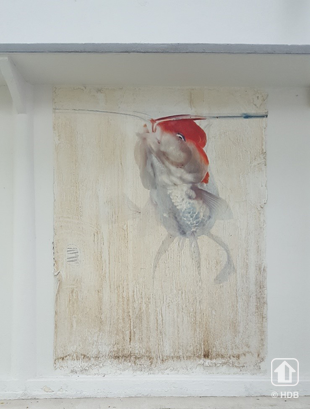 A giant goldfish that swims on the wall
The famous goat family at the even more famous Tiong Bahru market
Quick guide to the murals
Whether you belong to the young hipster crowd or the young-at-heart folks in search of good old times, these murals and the nostalgic charm of Tiong Bahru will definitely be worth your time.
Happy exploring and snap away!
I have told my story. These walls have told theirs too. If you have stories about the heartlands, email them to us at mynicehome@hdb.mailbox.gov.sg or tell us on Facebook!