Ang Mo Kio used to be home to huge rubber plantations until HDB began developing the town in 1973. It was the seventh new town built in Singapore. Over the years, Ang Mo Kio has transformed into a modern and self-sufficient town, its bustling town centre a lifestyle destination of choice, with a wide array of dining, retail, and leisure options, including a cinema!
Gran Ooi's family moved into the town some 14 years ago, setting up home in Yio Chu Kang Green, one of Ang Mo Kio's neighbourhood , which also includes Teck Ghee and Kebun Baru.
Gran has lived in Ang Mo Kio for half his life
Green Town, Green Communities
For a town whose name loosely translates to 'red-haired man's bridge' in Hokkien, bustling Ang Mo Kio is a very green place. Apart from the picturesque Bishan-Ang Mo Kio park located at the town's edge, a popular green space is Ang Mo Kio Town Garden West, a sprawling, lush garden built on a hillock. Palm trees adorn its entrance, and a large lotus pond and observatory deck wait to be discovered within.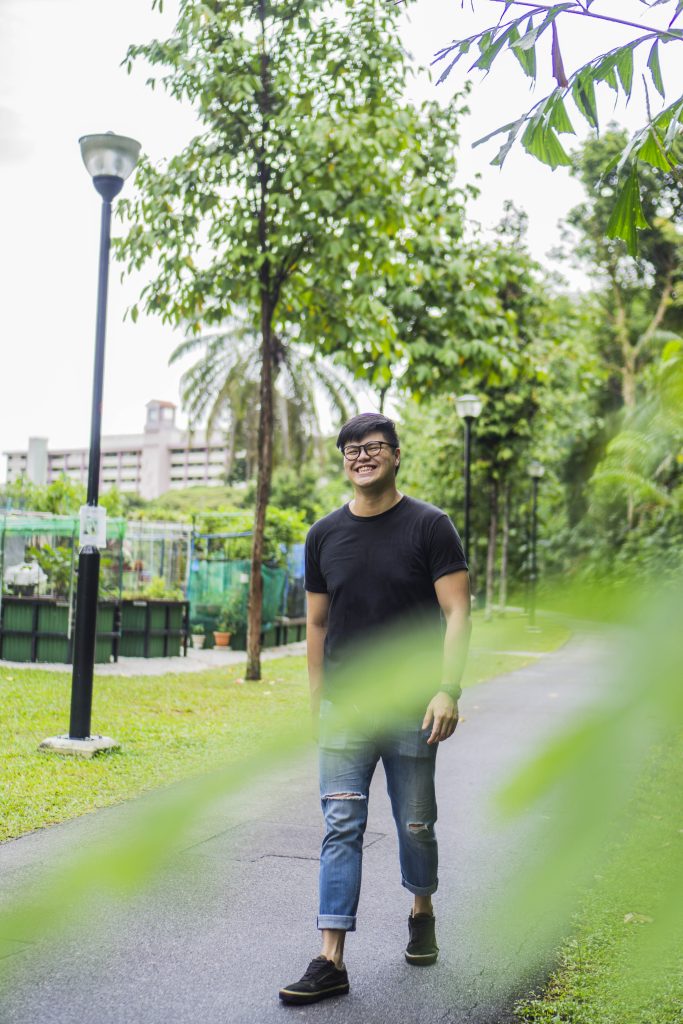 Gran taking a stroll at Ang Mo Kio Town Garden West
The park is an urban sanctuary that provides a respite from the bustling city life – I really enjoy my evening strolls here," Gran shares.
Kebun Baru Birdsinging Club, where bird-loving residents gather
Bird cages are hung on the high poles for residents to admire
"Not many may know this, but nestled within the garden is the Kebun Baru Birdsinging Club. On Sundays, bird owners would gather and hang their bird cages from the tall poles – it's quite a sight! The melodious singing of various birds makes me feel closer to nature," Gran adds.
Programmes like the HDB Greenprint, launched in Teck Ghee in 2015, aim to make Ang Mo Kio greener and more sustainable. Beyond the abundant greenery around the neighbourhood, some green features include solar panels on rooftops, and even an auotmated waste collection systemwhere household waste is automatically vacuumed through the underground pipes into a centralised bin centre, thereby minimising pest nuisance, foul smells, and waste spillage.
To nurture green communities, secured bicycle parking facilities have been installed in Teck Ghee, and eco-friendly pedestrian paths and cycling tracks enhanced. Today, Gran can enjoy a 4km bicycle ride around the neighbourhood, connecting him seamlessly to amenities such as Ang Mo Kio MRT station and Ang Mo Kio Hub.
Continual Improvements
The HDB Greenprint is just one of several improvement programmes that HDB has rolled out for Ang Mo Kio. Over the years, the town has seen several improvements made to its flats, blocks and precincts, as a result of upgrading programmes like the Lift Upgrading Programme, Home Improvement Programme and now-discontinued Main Upgrading Programme.
Improvements also come in the form of new public housing developments such as Ang Mo Kio Court at the corner of Ang Mo Kio Street 22 and 23, which bring with them new amenities, such as playgrounds and fitness corners.
More recently, Ang Mo Kio was announced as one of the towns selected for the Remaking Our Heartland (ROH) programme. ROH has benefitted 9 other towns and estates including Punggol, Toa Payoh, and Yishun, and aim to transform Ang Mo Kio into a more vibrant living space.
"I'm definitely looking forward to the renewal plans for Ang Mo Kio," Gran shares. "I've seen Yishun's makeover and hope Ang Mo Kio will have even more green spaces for recreational activities."
A Charming Neighbourhood
Amidst the numerous improvements that have been, and will be taking place in his town, Gran appreciates that Ang Mo Kio still retains its distinctive heartland charm.
"The convenience store at my void deck has been helmed by the same couple since I moved in 14 years ago. I go so frequently that the auntie recognises me and will sometimes hand me free snacks," he laughs.
Another place that holds fond memories for him is the dragon playground at Ang Mo Kio Avenue 3, with its terrazzo-tiled head and tail, and a body of coloured steel rings. Built in 1979, this is one of only two such playgrounds that remain – the other is located in Toa Payoh Lorong 6. To Gran, the playground is more than just a play space.
The dragon playground at Ang Mo Kio is one of Singapore's remaining two
"The dragon playground reminds me of a simpler time where children didn't have access to fancy technological gadgets. All we had was our imagination, and we created our own adventures. I used to stand on the head of the dragon and imagine that I was commanding a pirate ship," he recalls.
In fact, the dragon playground inspired Gran many years later too. "When I was in university, I was working on a play that revolved around the playground. In fact,I visited the playground for inspiration during script readings!" he says.
"If given a chance to live in any town in Singapore, I'll choose Ang Mo Kio a hundred times over," Gran smiles. "Its distinctive charm, tranquil gardens, and convenient transport networks are to me, unbeatable."
Remaking Our Heartland Survey
HDB is seeking residents' suggestions for development plans under the Remaking Our Heartland Programme. To participate, visit HDB InfoWEB.