The name Pasir Ris translates to 'white sands' in Malay – a name inspired by the long stretch of beaches that line the coast of the north-eastern town. "Pasir Ris has a relaxing and resort-like vibe to it," says 25-year old Angela Chua, who has lived there all her life.
Angela has lived in Pasir Ris for about 25 years
The Coastal Town
Developed in the 1980s, Pasir Ris' seaside town identity was inspired by its locale, and the design elements in the neighbourhood centres and parks reflect this theme. Examples include the ship-shaped Loyang Point, wave-forms on the roof of Elias Mall, and aptly-named Atlantis, Aquaria, and Sea Shell Parks.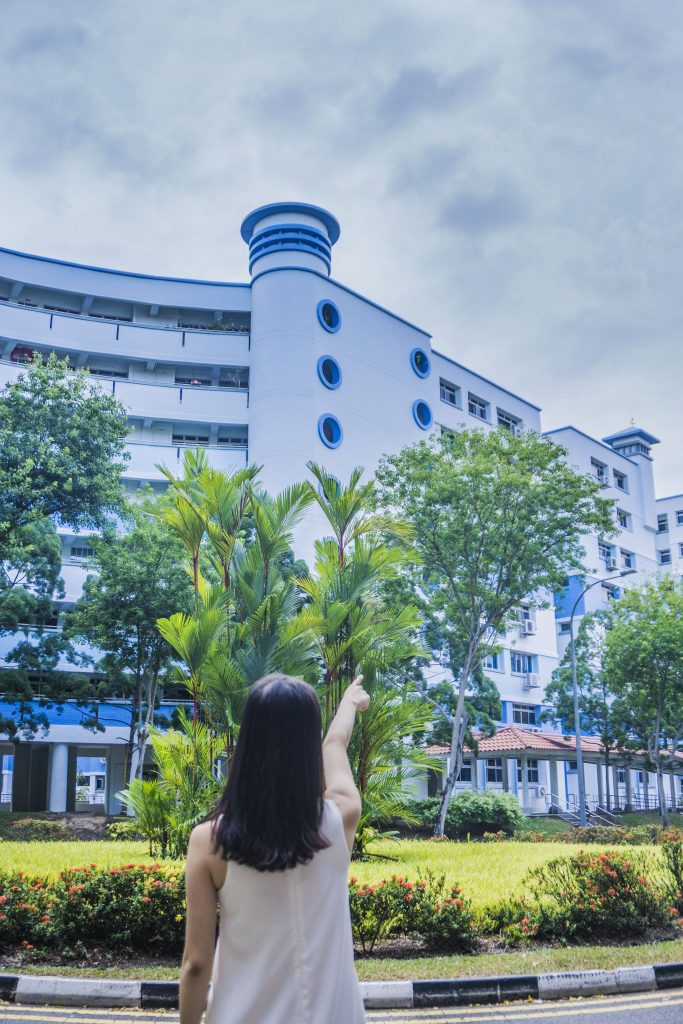 Angela pointing out the unique design features of her block
The architecture of select residential blocks in Pasir Ris also reflect the coastal theme. Some blocks sport shades of blue, while others include balconies with clam-shaped openings. Angela's block along Loyang Avenue also has unique design features. "The circular balcony openings of my flat resemble port holes," Angela points out. "If you look closely, the turret attached at the top of the block looks exactly like a lighthouse!"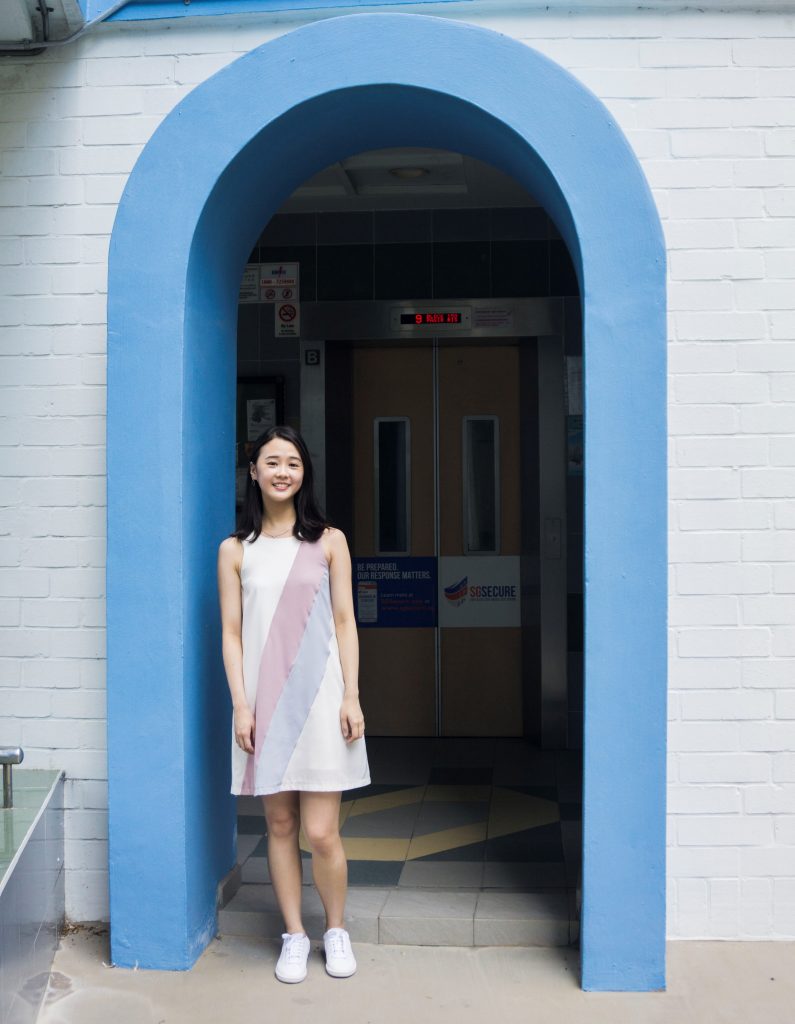 A port-inspired cut out at the lift lobby
"As a child, I used to pretend that my block was a ship, and that I'm living on the sea," recalls Angela. "My cousins, who also live in Pasir Ris, often came over and we would play at the void deck while exploring its different coastal-inspired cut outs!"
Bringing Nature Closer to Home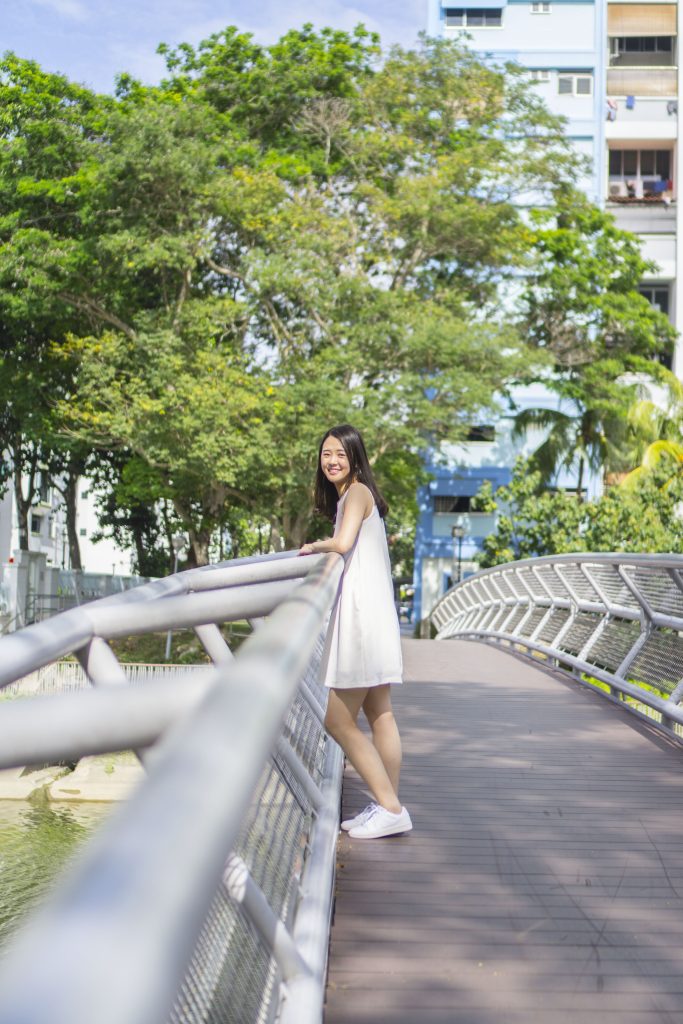 Pasir Ris is known for its close proximity to nature
In 2015, Pasir Ris, together with Toa Payoh and Woodlands, were selected as the third batch of towns to be comprehensively renewed under the Remaking Our Heartland (ROH) programme. The town was envisioned to be an urban sanctuary, its development plans taking into consideration ideas and suggestions from residents.
Rejuvenation plans for Pasir Ris include enlivened, landscaped community spaces and an enhanced Pasir Ris Park and Beach, which includes the upgrading of existing facilities, as well as the addition of play areas to encourage family activities. In addition, cycling and walking connectivity will be improved and a proposed Central Greenway (with elevated cycling/ pedestrian paths) added to provide direct connection from the town centre to Pasir Ris Park. "As part-time tutor, I currently use the cycling paths a lot to get to classes and back home. I also can't wait to explore Pasir Ris Park with the Central Greenway!" Angela enthuses.
To bring nature closer to residents, garden spaces and high-rise greenery will be incorporated into the future mixed-use development that will be integrated with the bus interchange in the Town Centre. New public housing developments next to Pasir Ris Park will be designed to offer a park-like living environment for residents.
Vibrant Community Spaces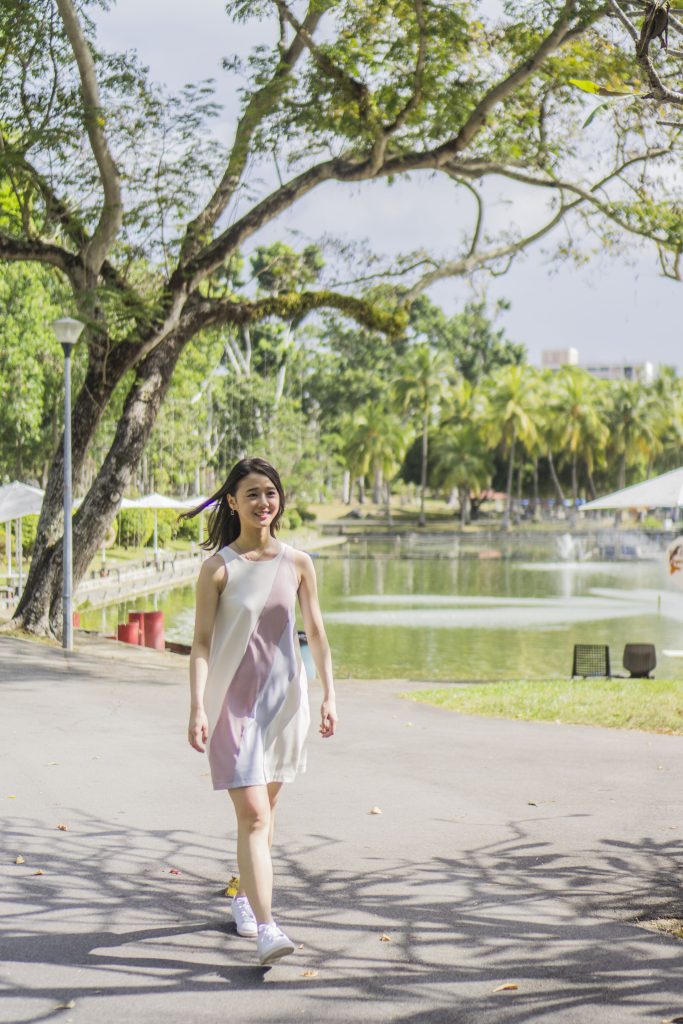 Angela taking a stroll beside a fishing pond at Pasir Ris Town Park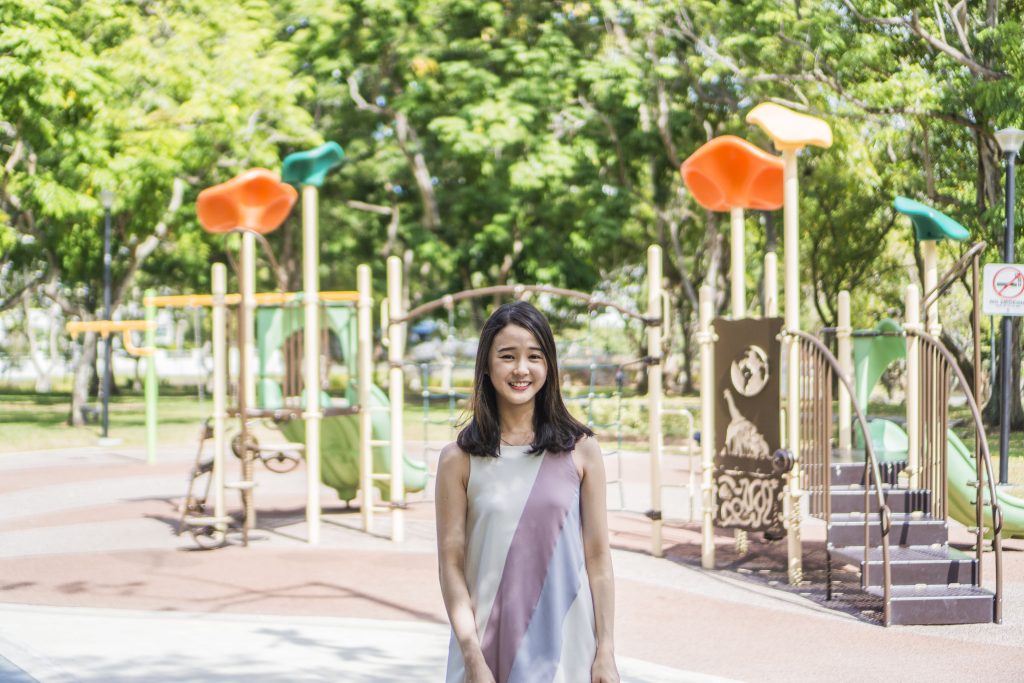 The playground Angela used to visit
Pasir Ris Town Park, which is within walking distance from the current Town Centre, is home to the only commercial saltwater fishing pond in Singapore, Previously a sand quarry, the pond was retained by HDB as the park underwent various developments before it became a hangout for fishing enthusiasts.
"During my childhood years, my dad often took me to the Pasir Ris Town Park," Angela recounts. "We'd admire the fishes in the pond before visiting my favourite playground! I'm glad that even after all these years, the recreational facilities remain in good condition thanks to upgrading. Up until when safe-distancing measures were enforced, many families will visit the park to spend some quality time together, especially during the weekends."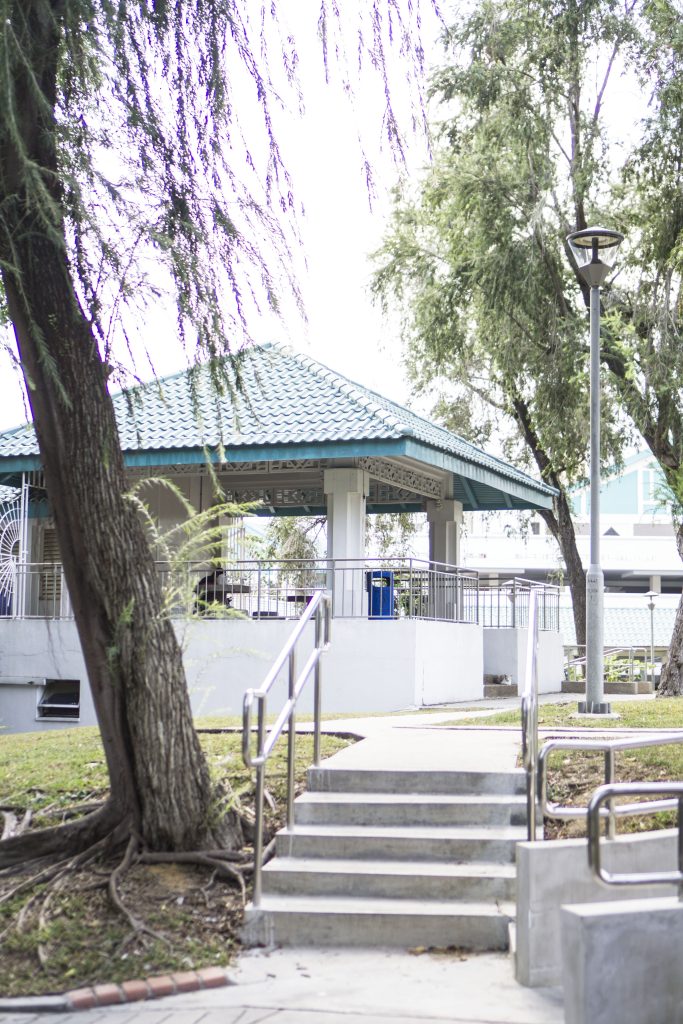 Angela used to hang out with her friends at the pavilions after school
"My secondary school friends and I used to hang out in the park after school. One of our favourite activities was visiting a now-defunct comic book store located across the road from school. We'd rent a book for $1 and spend a couple of hours reading," Angela shares.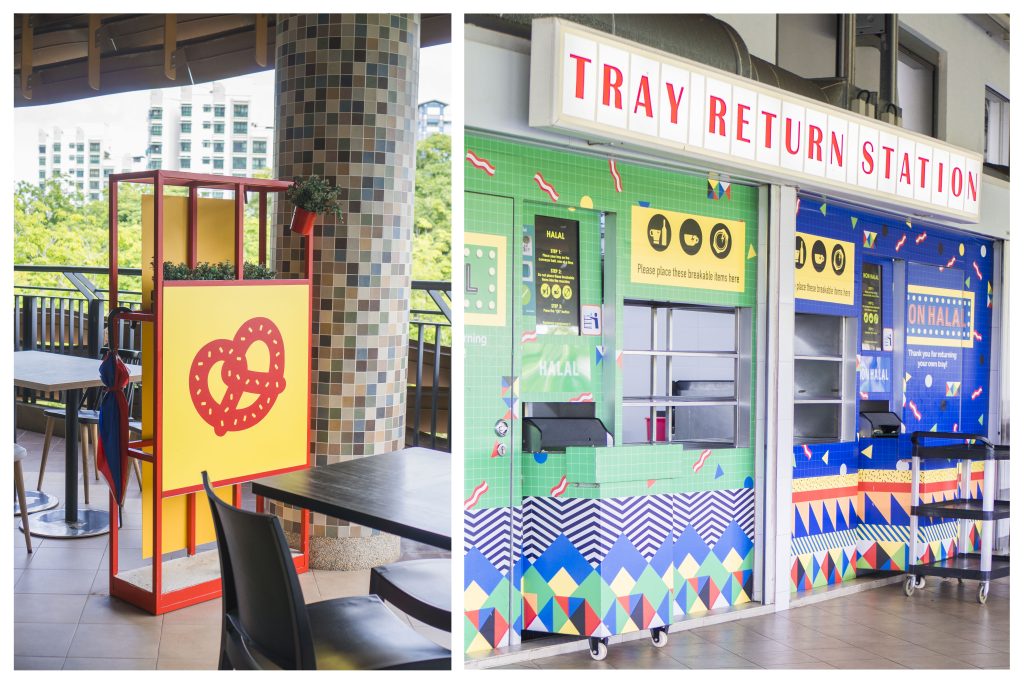 The Paris Ris Central Hawker Centre was completed in early 2018
You would probably have also read about the 'hipster' hawker centre in Pasir Ris Central, which was upgraded in 2018. The two-storey hawker centre offers a mixture of contemporary and traditional cuisine at affordable prices.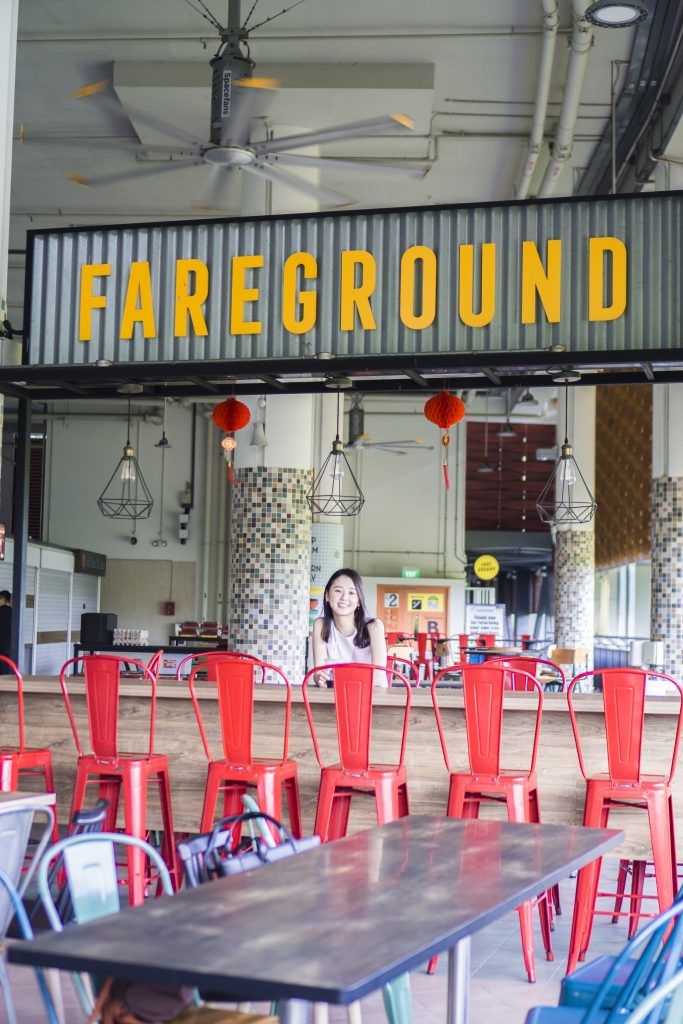 The contemporary-looking hawker centre is one of the projects under ROH
"The hawker centre injects a new energy to the town centre," she shares. "I love the variety of food and often have my meals here with my friends. Despite my frequent visits, there are still food that I've yet to try! My all-time favourite dish is the meatballs with grilled herb potatoes and caramelised onions from the stall Wild Olives."
"I love how much the town has to offer. Pasir Ris has everything I need and more. In addition to the usual amenities, the town is home to recreational facilities, beautiful parks and hawker centres – I'm really excited for the upcoming renewal projects," Angela says.
Note: Images for this article were taken before the Circuit Breaker period.