A resident of Tampines for almost three decades, Sarah Amnah Zaihan is proud to call the town home. "East side, best side," the 32-year-old mother smiles. "From shopping malls to playgrounds to parks, we have everything we need in Tampines!"
"I managed to convince my husband to move to the East," Sarah laughs. "It wasn't easy, given how he was staying in Ang Mo Kio, a centrally-located estate. But he quickly saw the upsides of Tampines, especially its vibrant community and array of amenities.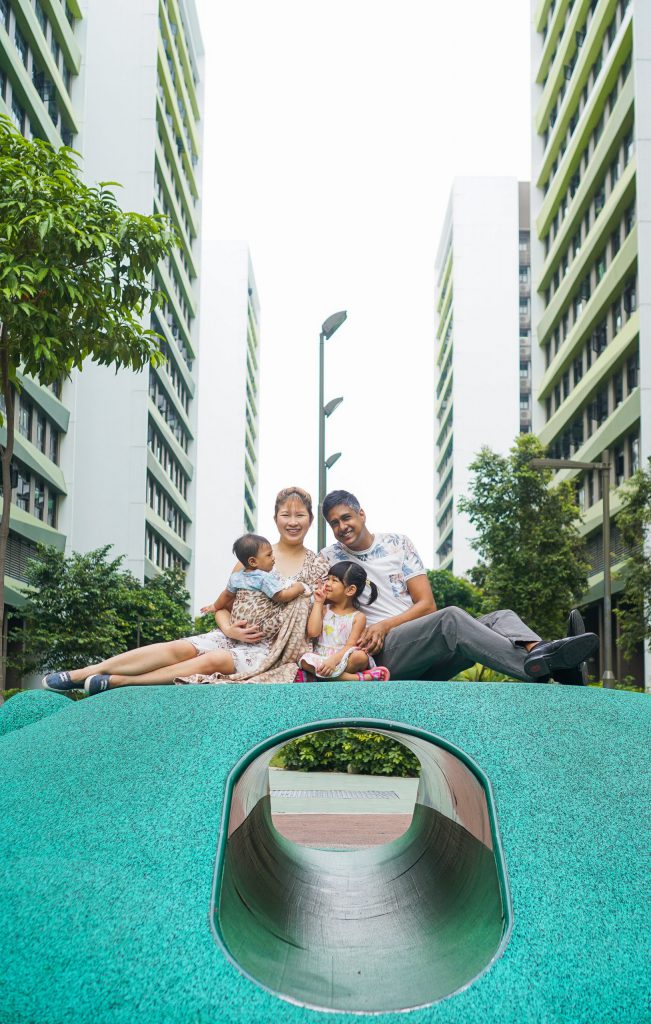 Home to more than 232,000 residents and a wide range of recreational facilities and amenities, one might find it hard to believe that the bustling town was once a remote land filled with kampungs, farms and sand quarries.
The first HDB flats in Tampines were completed in the late 1980s. In a span of just two decades, Tampines had become a self-sufficient town well-loved by residents in the East.
Singapore's First 'Precinct' Town
To provide residents with better access to amenities and shared spaces, the precinct planning concept was first introduced in Tampines. Under the concept, neighbourhoods were divided into precincts that were surrounded by facilities and amenities.
It was also in Tampines where housing blocks with individual design characteristics were pioneered. These include staggered, curved and angled block designs, as well as rounded balconies and void deck arches. The facade of Sarah's childhood home in Tampines West for instance, is decorated in red bricks.
"Not only are the block designs interesting, their unique designs have also made them icons of their respective neighborhoods," Sarah says. "For instance, all I had to say was the 'red brick block' near Temasek Polytechnic and my friends would know instantly where my home was."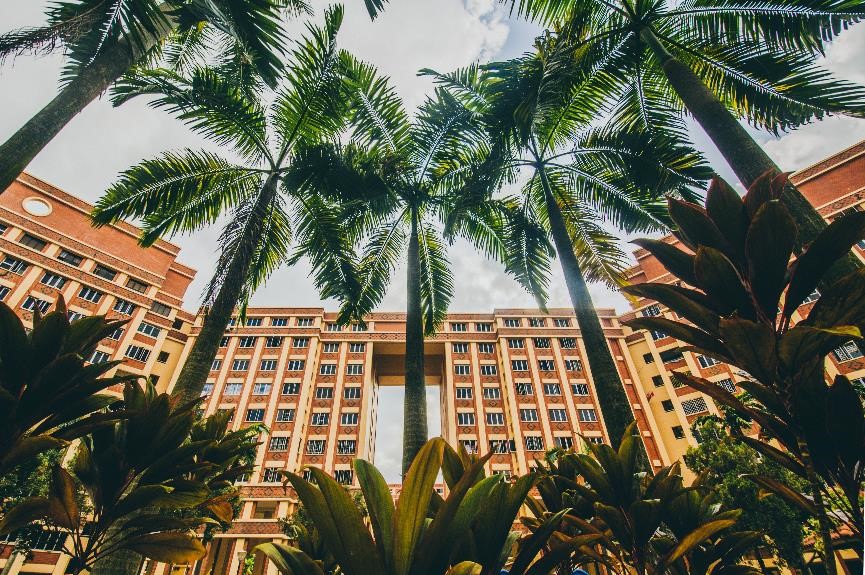 Green, Social Spaces in the Heartland
The neighbourhoods in Tampines are interlaced with green, social spaces. One such space is Tampines Central Park. Home to jogging tracks, pavilions and the mosaic tile watermelon and mangosteen playgrounds, the park is popular among residents.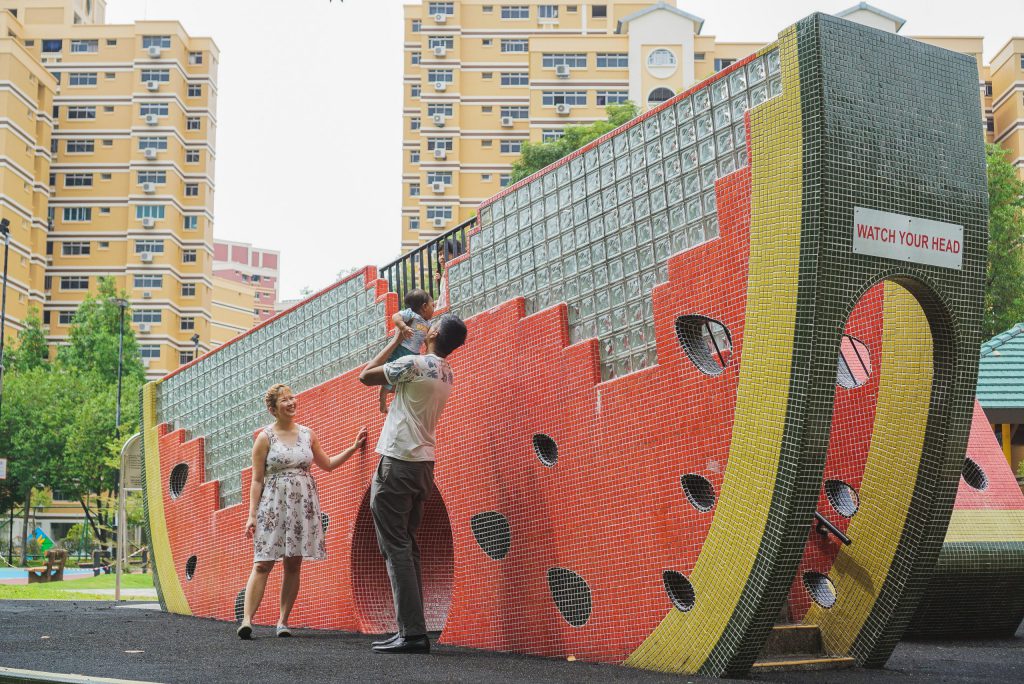 "The playgrounds have been around since I was young. Back then, they came with sand pits. There was also a pineapple playground where my secondary school friends and I hung out," Sarah reminisces. "The playgrounds are now part of my jogging route, and I still catch up with my friends at the park!"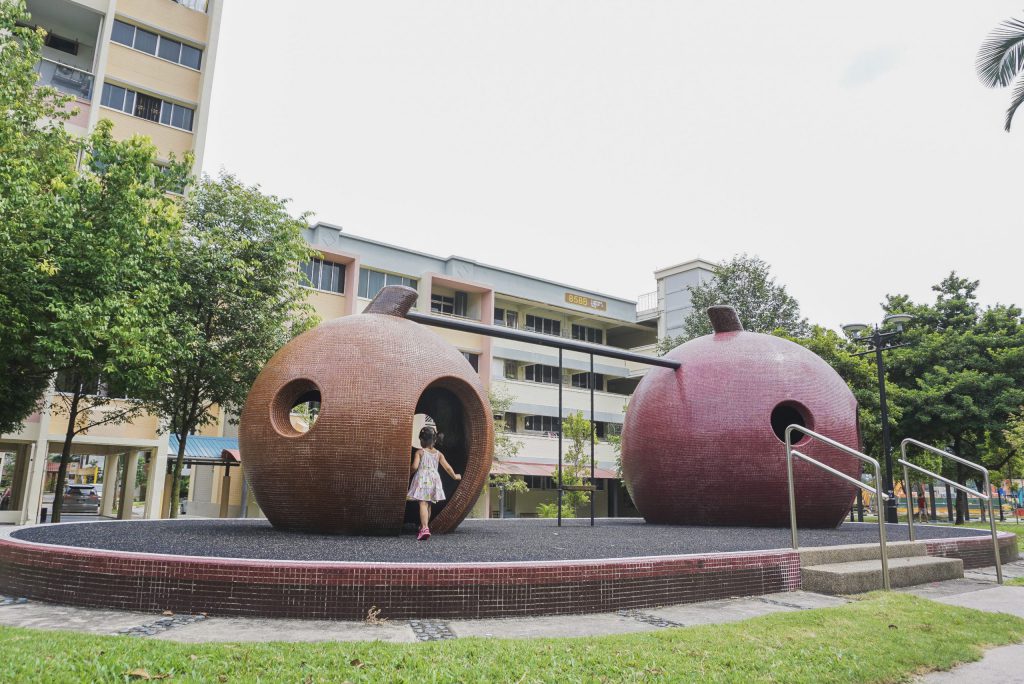 "Despite being generations apart, Safiya and I will always have the shared experience of playing at the same playground," Sarah smiles as she watches her three-year-old explore the mangosteen playground with great enthusiasm. "It's like we have the same childhood memory, and that to me is really special."
The park itself is a green social space that plays hosts to community events, including a concert by the Singapore Symphony Orchestra in 2002. "We love visiting this space over the weekends," Sarah smiles. "It is always buzzing with activities such as Zumba sessions and Taichi lessons. We really enjoy the lively atmosphere."
Tampines Eco Green is another green space in Tampines. Opened in 2011,the park is home to natural habitats and three walking trails. The eco-living theme also extends to the furniture found within the park, which are made from recycled materials.
As a nature lover, Sarah is glad to be able to get close to nature in the heartland. "I love how rustic Tampines Eco Green is. We've always wanted to visit the park and I'm glad we finally did. When Safiya was younger, I would go on hiking trails with her on my back – I can't wait to return to explore the park trails with the family!"
Building A Vibrant Community
Besides green lungs, a wide variety of social spaces and amenities are populated throughout the estate, to encourage communal bonding. The Tampines Round Market & Food Centre for instance, has been a big part of the Tampines community since it opened in 1983.
Comprising a ring of shops, wet market and communal spaces, the Round Market has served as a social hub for residents since 1983. Community activities including music performances, flea markets and movie screenings are also often held at the market.
"Growing up, my father would take me to the Round Market for meals," Sarah recounts. "While the space has since been modernised, I'm glad that the kampung sprit remains – it is still buzzing with activities, with residents catching up with each other and the stall owners."
In 2017, Tampines welcomed Singapore's first integrated lifestyle and community development, Our Tampines Hub (OTH). The hub comprises a diverse and comprehensive range of facilities and amenities such as a library, hawker centre, retail shops, stadium and Festive Arts Theatre.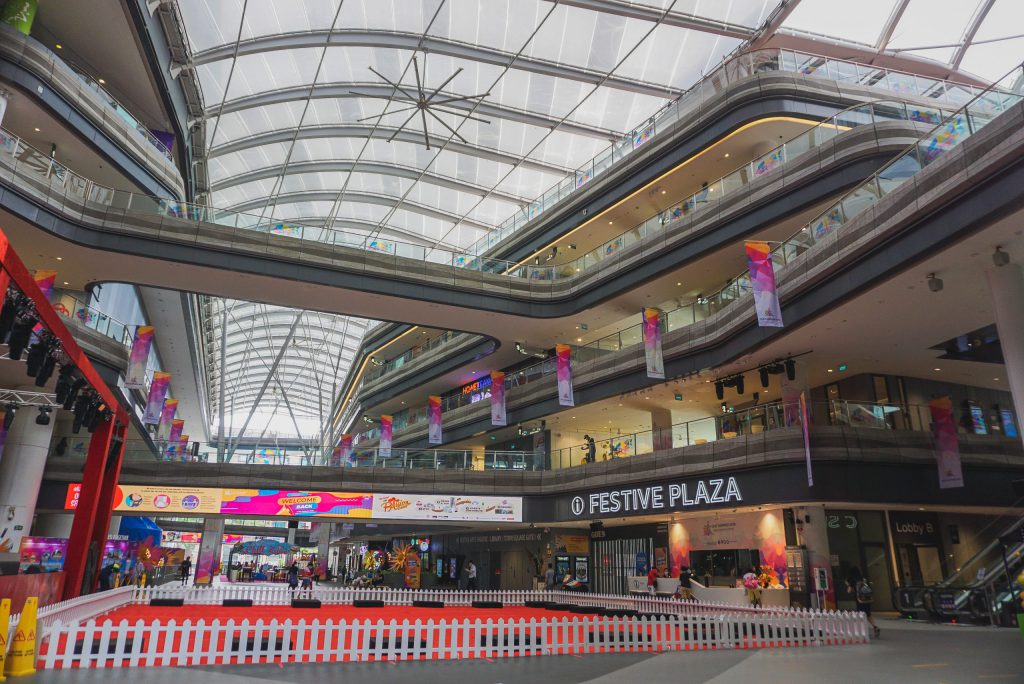 "We visited OTH during the first week of its opening and were impressed at the variety of facilities under one roof," Sarah says. "We're now frequent visitors – whether it's for grocery shopping, browsing books in the library or visiting the outdoor playground with the kids," Sarah shares.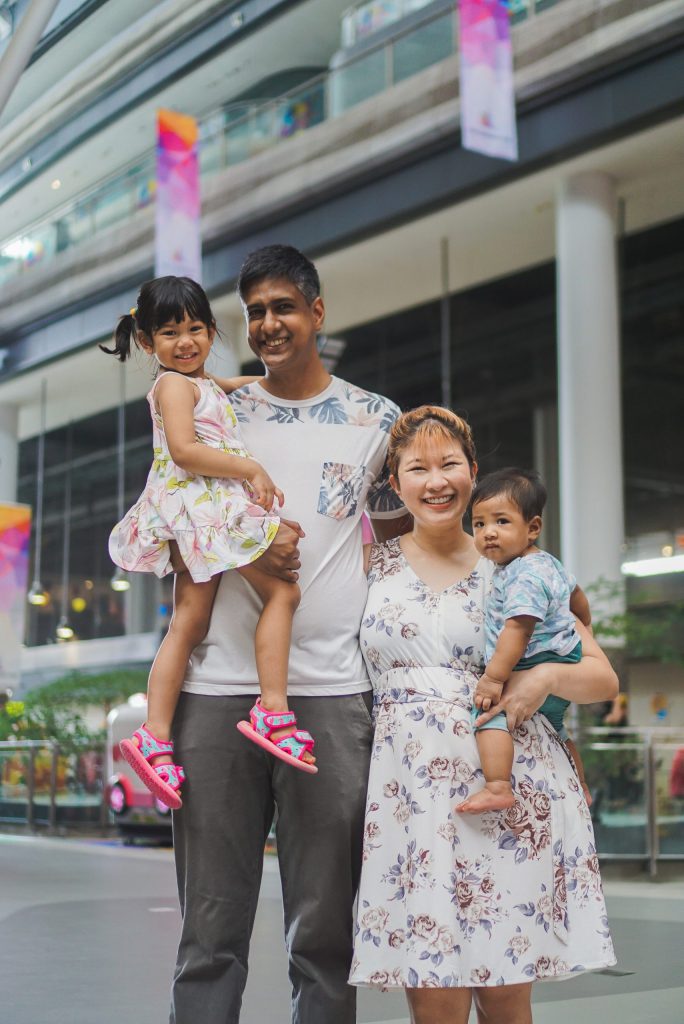 Residents can also find the Public Service Centre, a one-stop service centre that provides various services offered by multiple government agencies at OTH.
Agencies such as the Housing & Development Board (HDB), Ministry of Social and Family Development (MSF), People's Association (PA), North East Community Development Council (North East CDC), Workforce Singapore and ActiveSG are housed under one roof within the Public Service Centre, providing added convenience for residents.
Refreshing Tampines
Beyond the addition of OTH, selected neighbourhoods in Tampines have also been upgraded under the Neighbourhood Renewal Programme (NRP) to keep up with residents' needs. Under the programme, improvement works to existing amenities such as the Round Market were made, while new amenities such as playgrounds and garden walks were added.
Tampines will also welcome its new extension – Tampines North. Designed with a holistic environment for residents to live, work and play, the new housing area will capitalise on existing greenery and adopt the park-like living concept.
Beyond new green spaces, green landscaping has also been incorporated into newer housing developments such as Tampines GreenRidges and GreenWeave.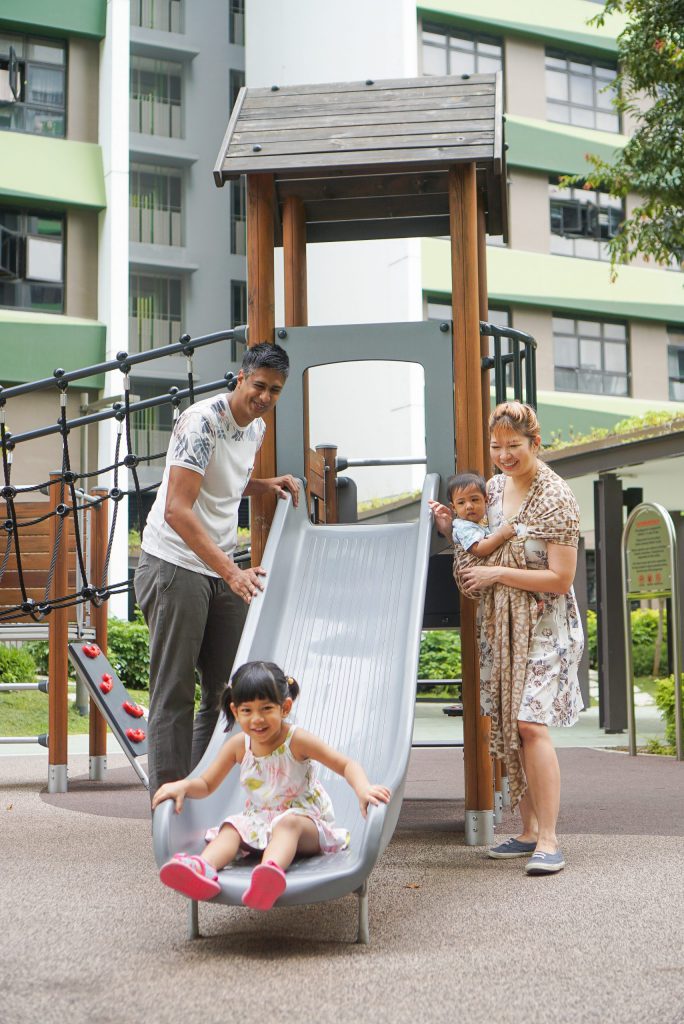 "I love the pockets of greenery that are weaved into the newer neighbourhoods, especially the rooftop gardens." Sarah concludes. "I also appreciate how the approaches to designing and building homes, such as creating a nature-centric living environment, play areas and lifestyle hubs, have added to the overall vibrancy of the town."
Photos by Briana Tan