Punggol is a modern eco-town known for its lush greenery and picturesque bridges. Listed below are the top spots to explore in Punggol, such as the bridges along the waterway and its new generation neighbourhood centres, Northshore Plaza and Oasis Terraces.
1. Waterway Wonder
A night view of Punggol Waterway
A 4.2km-long man-made waterway runs through Punggol and is now a key part of the town, made possible as part of the Remaking Our Heartland programme to rejuvenate Punggol. Not only has it helped to realise waterfront living for Punggol's residents, the waterway is also home to a thriving ecosystem, including numerous species of freshwater plants, mangroves, butterflies, dragonflies, and birds.
Mangroves, native to Singapore, are planted along the waterway, where they help to maintain the water quality
Carefully selected plants add a welcoming pop of colour to the water surface
While admiring the view from the waterway, be sure to look out for the honeycomb-inspired buoyant platforms that facilitate the growth of lush greenery. Approximately 760 of these floating wetlands can be spotted at the waterway, adding life and colour to the water surface.
2. The Famous Five (Bridges)
High on the list of top spots to explore in Punggol, Punggol Waterway is home to not one, not two, but five picturesque bridges: Jewel Bridge, Sunrise Bridge, Kelong Bridge, Adventure Bridge and Wave Bridge.
The Wave Bridge is especially perfect for the 'gram, as is the Jewel Bridge at sunset. Another note-worthy bridge is the Kelong Bridge that was inspired by the kelong, a fishing platform that's built on wooden stilts.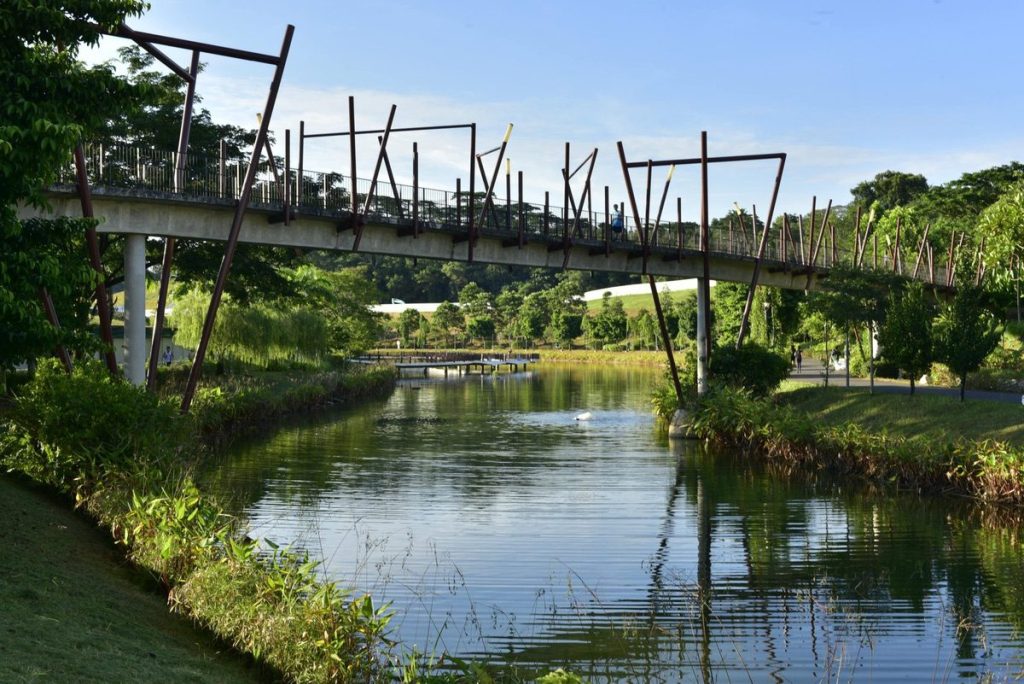 This unique design is also a reflection of Punggol's history, where the town used to be home to several fishing villages.
3. Green Developments and Seafront Views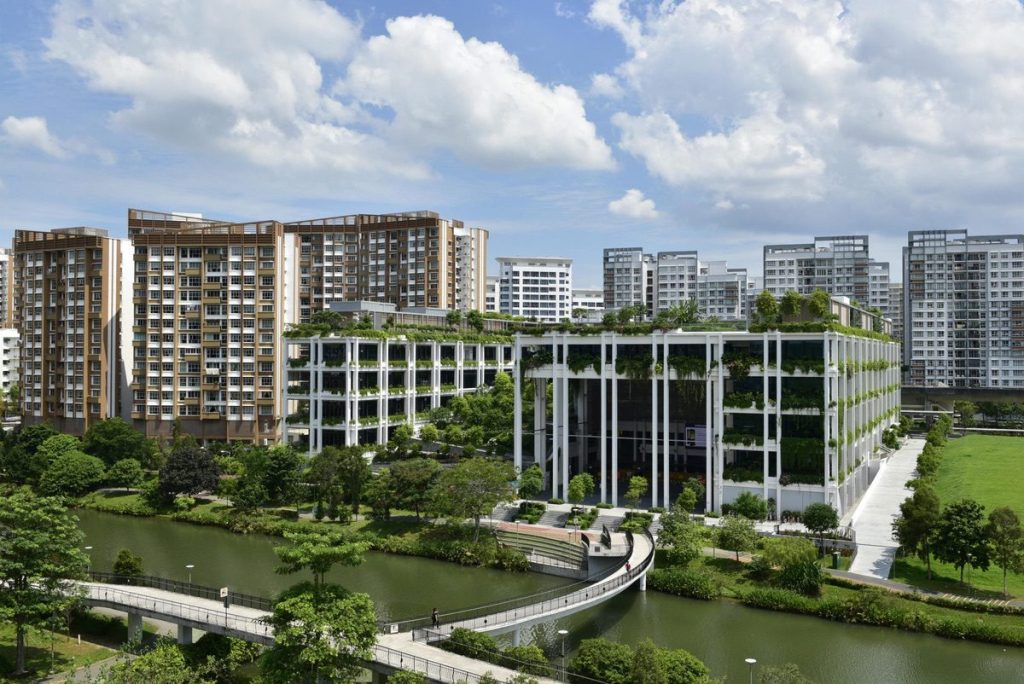 Designed to capitalise on the waterfront location, Oasis Terraces is Singapore's first new generation neighbourhood centre. The 7-storey development offers a wide range of amenities and sports and recreation facilities.
As part of HDB's efforts to build greener neighbourhoods, smart and sustainable features such as motion-sensor lighting and sensor-activated fans are utilised, to encourage green living. Extensive green terraces and landscaping are also incorporated within Oasis Terraces, to bring nature closer to home.
Northshore Plaza is HDB's first seafront new generation neighbourhood centre. The development comprises two connected buildings Northshore Plaza I and II that offer a variety of retail and dining options, as well as a supermarket and childcare centre. The neighbourhood centre is also connected to the LRT and surrounding residential blocks, and provides direct access to the waterfront for residents and visitors to enjoy the seafront view.
To create a sustainable living environment, smart and green initiatives were incorporated within the planning, designing and building of Northshore Plaza. These include using naturally-ventilated corridors, smart fans, solar panels and rooftop greenery to regulate the ambient temperature.
A sheltered community plaza is also designed for communal events, while community pods function as resting points. Digitally interactive directories and the ShopperLink App are also used to enhance the shopping experience.
4. Punggol Discovery Cube
Overlooking the iconic waterway, Punggol Discovery Cube is a first-of-its-kind visitor centre in an HDB town. With the help of multimedia showcases, you can discover the rich history of Punggol and the developments that have defined its distinct Waterfront Town identity.
An interactive architectural model of Punggol will give you a bird's-eye view of the entire town, including its 7 signature waterfront districts.
Head to the second floor for significant moments of Punggol's development and planning. Here, learn about the smart and sustainable initiatives implemented at Punggol, including the use of modelling tools to simulate environmental conditions such as wind flow, solar radiation, shading and noise, to create the best possible homes.
Before ending your visit of the Discovery Cube, step out to the open-air viewing deck at the top of the centre and enjoy panoramic views of the estate!
5. Date Ideas and Family-Friendly Activities
Punggol is also home to an array of recreational activities. For instance, hop on your bike and explore the scenic sights of Punggol along the park connector! Spots to visit include the waterway, its bridges, and Coney Island.
Fitness junkies will appreciate Arkbloc, a recreational space that combines fitness and bouldering, a form of climbing. Fancy a more laidback weekend? Visit Hai Bin Prawning and master the art (or try your luck) at fishing and prawning.
6. The Punggol Settlement and @Punggol
Feeling peckish after a walkabout of the top spots to explore in Punggol? Punggol Settlement offers a wide culinary spread, from fresh seafood to Thai cuisine. Located next to the Punggol Jetty, Punggol Settlement also provides a unique dining experience with a view of the sea.
Craving for some Tom Yum? Pop by Trunk at Bay, an eatery that serves classic Thai food. Tuck into dishes such as Green Curry and Phad Thai while enjoying the cool breeze.
Otherwise, head to @Punggol, a hidden gem at Tebing Lane offering restaurants, cafes and recreational activities. Visit Whisk and Paddle, an industrial-themed café that offers a diverse menu, ranging from the classic mac 'n cheese to an innovative sambal seafood pizza. There are other eateries in the area too — some housed within shipping containers!
Especially so if you're craving for a breath of fresh air, embark on a discovery journey of Punggol and you may be surprised at what you'll find.
Ready to embark on a heartland adventure? Explore other heartland spots within Punggol, or uncover more gems in our HDB towns and estates.