From keeping clean to getting organised, there's a lot more to home maintenance than one might have imagined. But what if we told you that you can keep household tasks to the minimum, with these hacks?
Whether its maximising space or creating storage solutions, listed below are some built-in ideas to minimise the upkeep of your new home.
1. A Recessed Dry Kitchen and Concealed Door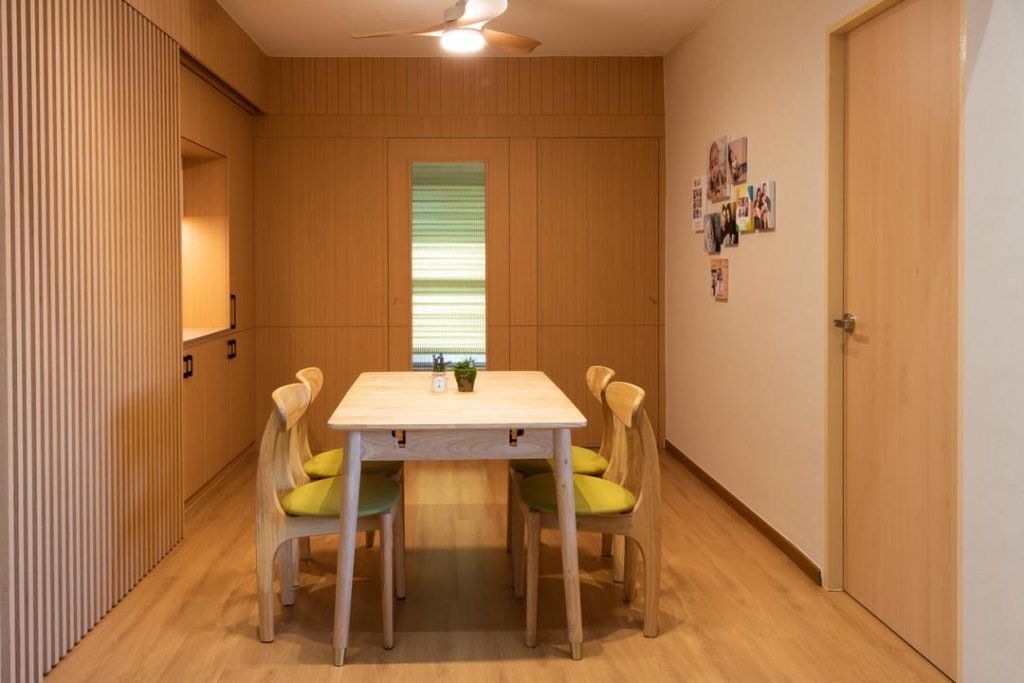 The idea of having a recessed dry kitchen in a tidy home is great, and it gets better when it comes with a sliding door that conceals the entire space when it's not in use.
Pair that with a custom sink cover board and you'll be able to hide the dirty dishes while expanding the space of the countertop.
2. A Master En Suite That Blends In with the Wardrobe
By using a near-identical wooden laminate, the designer of this easy-on-the-eye HDB home was able to create an almost seamless facade with the master bedroom en suite's entrance and an adjoining wardrobe. Closing the bathroom's door completes the illusion of a continuous wraparound, while conveniently hiding anything you deem unsightly.
3. A TV Feature Wall that Doubles Up as the Bedroom Entrance
Much like the example above, hiding the master bedroom of this small but clever 3-room HDB flat behind a TV feature wall guarantees privacy while satisfying the need for a visually cleaner home.
4. A Hidden Wet and Dry Kitchen
The concealed dry/wet kitchen setup in this resale HDB flat at Kim Tian Road is ingenious.
Pocket doors fronting a baking counter and black cabinets hide both fixtures from plain sight. The same goes for the entrance to the wet kitchen which can be closed off during heavy cooking.
5. A Compact Ironing Board Within the Wardrobe
It's nifty, space-saving, and guarantees less clutter – what's not to love about a foldable ironing board that is hidden within the wardrobe? From the easy accessibility to no longer having to assemble the ironing board, this design feature makes ironing much more manageable.
6. Hidden Shelves and a Galley Counter
With a set of well-placed pocket doors in the right colour, it's possible to make everything (read: shelves, kitchen appliances, and even one half of a galley kitchen counter layout) blend into the surroundings. Just check out the rest of this 38-year-old HDB flat's 180-degree makeover.
7. A Concealed Dresser in the Bedroom Wall
The design of this master bedroom's slatted wood walls is definitely noteworthy, as it's able to completely conceal a dresser, mirror and all, right beside the bed! Not only is it convenient, it also perfectly conceals any wardrobe-related clutter.
This article was contributed by Qanvast, Singapore's go-to renovation platform. Whether you're embarking on a major overhaul or a simple refresh, Qanvast can connect you to the right professionals for the job. Read the original article here.