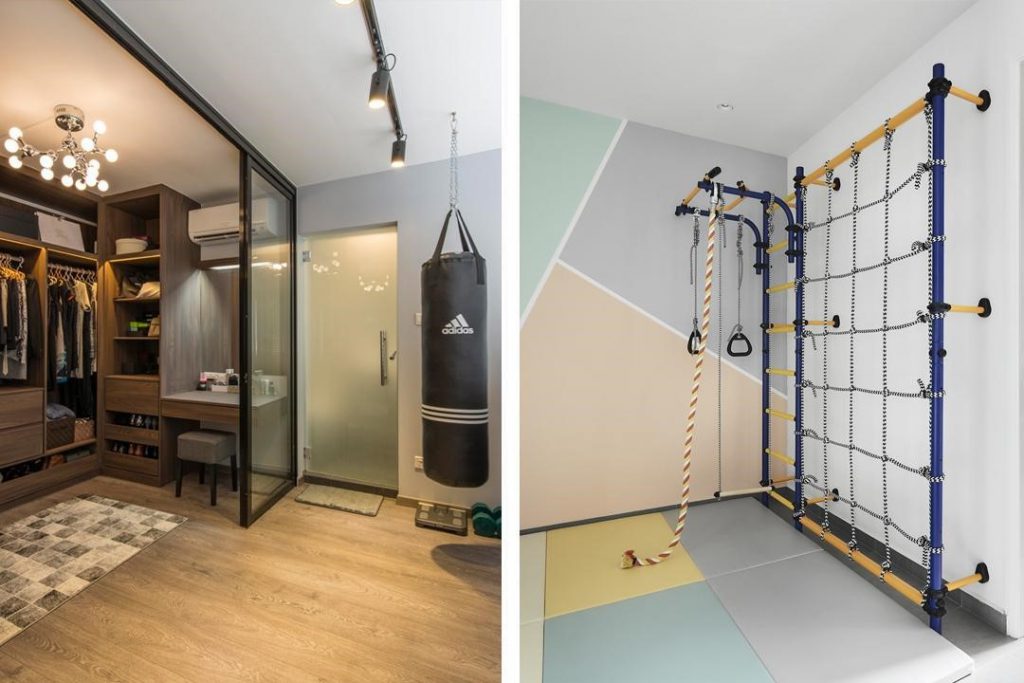 Setting fitness goals is easy, but working towards them is the real challenge. Whether you're already a fitness junkie or a fitspo-to-be, having a dedicated home gym will definitely help in your fitness journey. Not only is it free of membership fees, you can work out anytime you wish without having to wait your turn.
Feeling pumped? Below are 7 home gym ideas to help achieve your fitness goals.
1. A Climber's Dream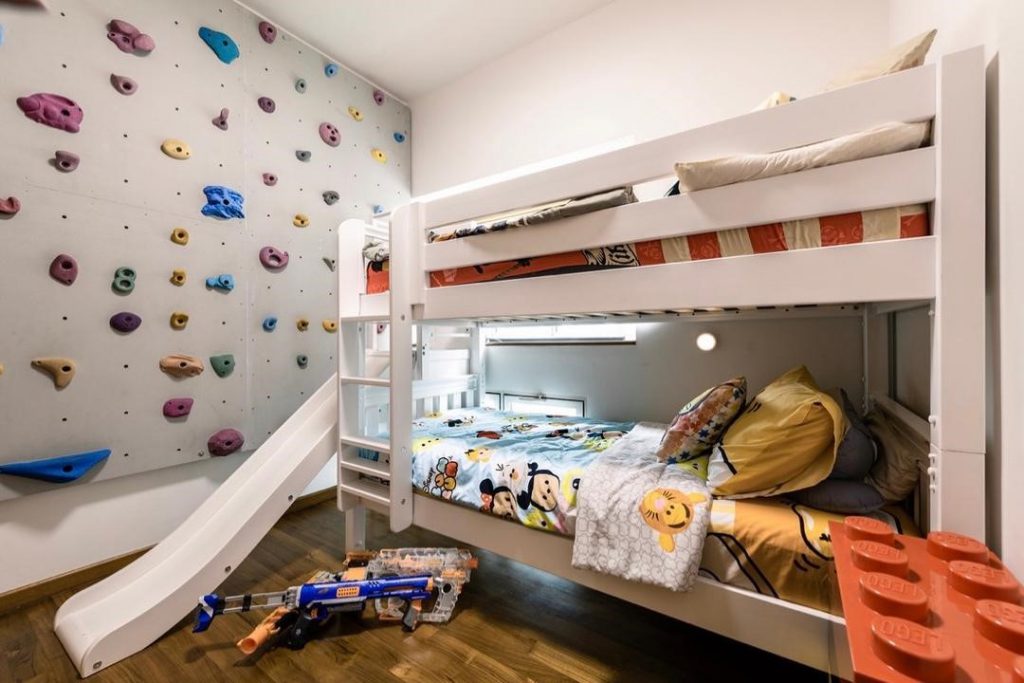 Interior Firm: The Orange Cube
There's no time like the present to start arms training, and a great way to do that is through rock climbing/ bouldering! However, instead of shelling out $25 or so every time for a climbing session, simply install a rock wall and some hangboards within your home. The wall is suitable for both adults and children, plus you're free to change up the holds whenever you wish – a climber's dream
2. (Pole) Dance Like Nobody's Watching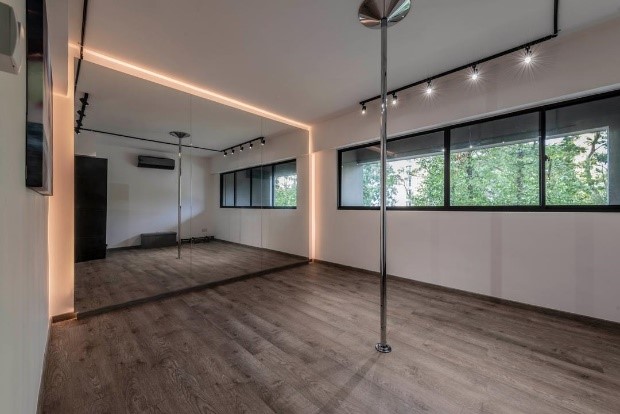 Interior Firm: Fifth Avenue Interior
Pole dancing is great whole body workout that can be easily brought into your home. The set-up for this sport is relatively minimal, requiring just mirrors, non-slip flooring and of course, a pole. Include a sound system and you'll have yourself a pole-dancing studio!
3. Do You Lift?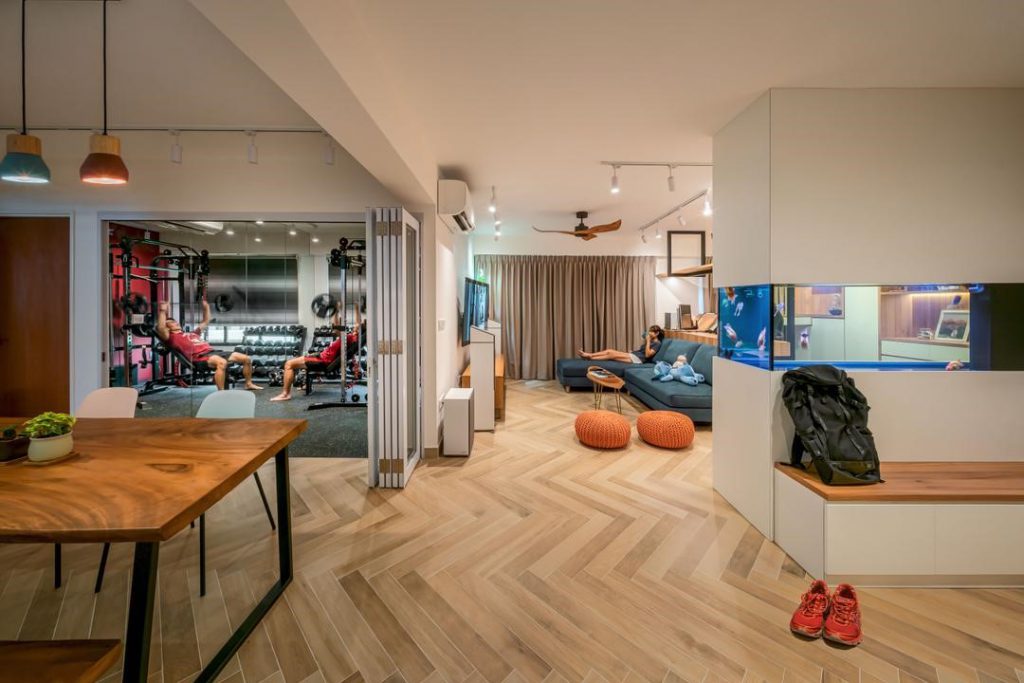 Interior Firm: Zenith Arc
Despite the bulky machines and equipment, a conventional gym can be replicated in your home with a little space-planning. Weight-lifting enthusiasts can consider dedicating a spare room to a home gym with reflective surfaces to visually enlarge the room.
4. A Lean and Mean Machine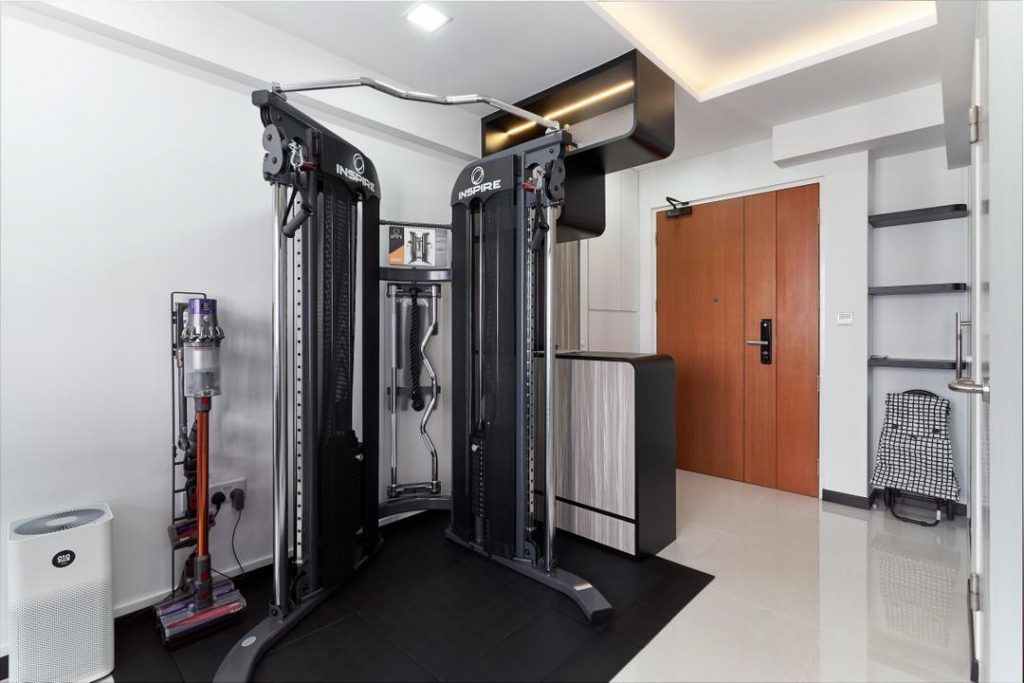 Interior Firm: Noble Interior Design
Can't spare a room for your home gym? Fret not. Consider having an exercise corner in the living room with a cable machine, and by using a gym mat to demarcate your workout space. For additional privacy, opt for a built-in partition at the entryway.
5. A Play Space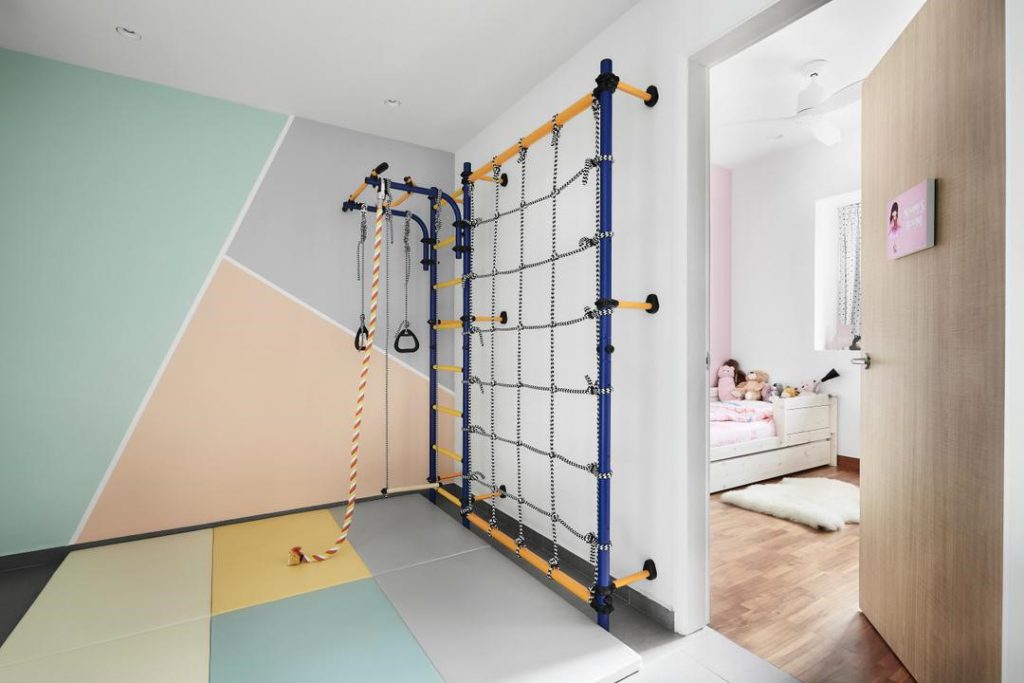 Interior Firm: Third Avenue Studio
Encourage the little ones to get active by converting the walkways and/or corridors into play spaces! Include fun, interactive features such as a climbing net and ropes – but also be sure to cover the area with some mats to cushion the landings.
6. A Zen Zone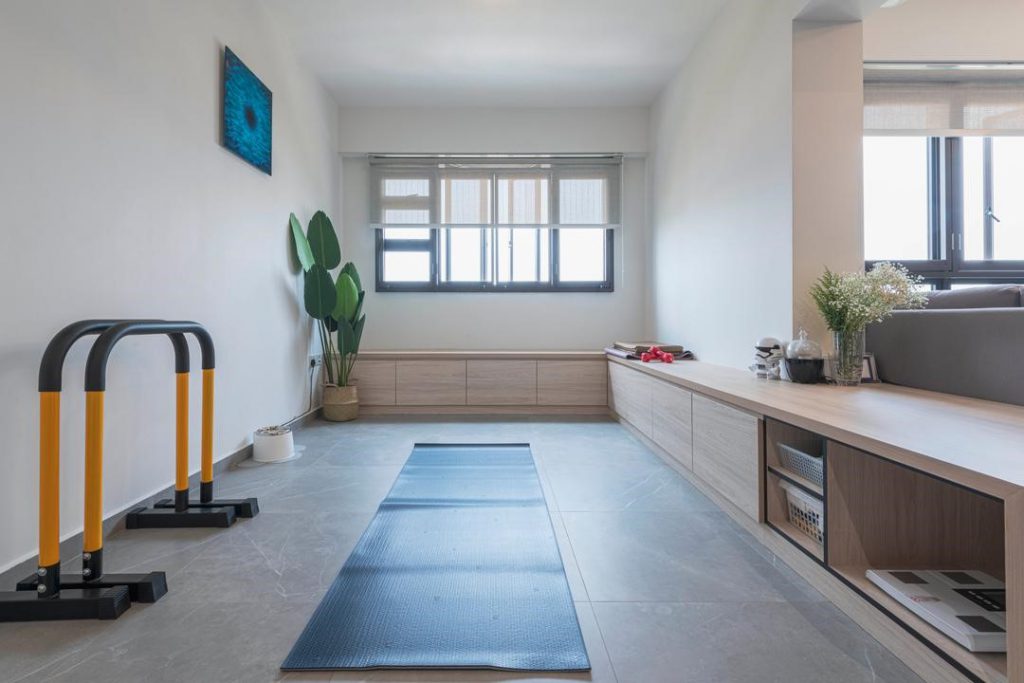 Interior Firm: Meter Square
Perfect for yoga, meditation, and reading, convert your spare bedroom into a cosy nook for some quiet 'me time'. For added functionality, opt for non-slip tiles to convert a space for yoga, and line the perimeters of the room with built-in storage that can double-up as a settee!
7. A Room That Packs A Punch
Interior Firm: Third Avenue Studio
Have an unused corner or some space to spare? Maximise it by hanging a punching bag or if you're not a boxer, a pull-up bar. Not only does this simple set-up help you get your daily reps in, it also gives you the flexibility to switch up the room layout if needed.
This article was contributed by Qanvast, Singapore's go-to renovation platform. Whether you're embarking on a major overhaul or a simple refresh, Qanvast can connect you to the right professionals for the job. Read the original article here.