There are many ways we can share about our first homebuying journey on social media – often a Facebook or Instagram post/ story. For 33-year old Gwendolin who just collected the keys to her BTO flat in Bidadari, she chose to share her experience through TikTok!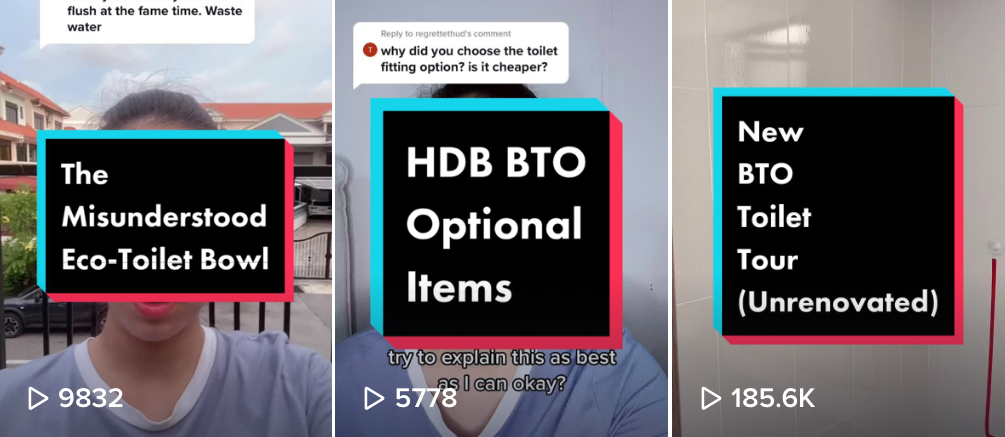 Gwen applied for her BTO flat in Bidadari during the February 2016 sales exercise, and just collected the keys from HDB. Besides showing her and her family (including her 1-year old daughter!) checking out their new flat, Gwen has also created more TikTok videos on things she likes about her flat – including the unique "environmentally-friendly" toilet bowls that HDB provides!
Gwen and her husband opted for a 4-room unit because they like its open kitchen concept: "The kitchen has a decent-looking backsplash, which gives families the option to save on additional renovations."
Her BTO project is close to schools and is a short walk from Woodleigh MRT station. When announced, the project was also one of the first new developments to come with the Pneumatic Waste Conveyance System (PWCS), an automated waste collection system that facilitates cleaner and more efficient waste disposal.
In a chat with 99.co, Gwen shares more about her home ownership journey, as well as advice for potential and new homeowners:
What made you decide to apply for a BTO flat?
A BTO flat is a brand new unit with a 99-year lease, so we figured there will be fewer wear and tear problems that we have to deal with. As resale flats may require electrical re-wiring and additional plumbing works, we thought renovation costs for newer flats may be relatively lower.
At the current moment, we are staying with both our parents – half a week at each parents' place, We can't wait to experience having our own place.
We decided to go with our BTO project in Bidadari as the flats on offer were within our budget, and because it's near where my in-laws are staying. We were blessed to be able to get a queue number on our second application attempt.
Was the key collection a smooth process?
One of our key concerns was the time needed for flat completion. The only frustration is the delay caused by the pandemic, which we understood was inevitable. Although our flat's estimated completion was scheduled for 4Q 2020, we collected our keys in July 2021.
We did write to HDB to explain that we are living with our in-laws and that we have a child. We asked HDB to prioritise key collection for us and they did. We were the first homeowners in our blocks to receive our keys and I'm very grateful for that.
Whilst waiting for the keys to our flat, my husband and I started planning for renovations early. We sourced for interior designers, so we felt like things were moving on our part. Once we got our keys, we could immediately kickstart renovation works.
Did you take up any housing grants for the flat?
Unfortunately, we were not eligible for the Special Housing Grant (SHG) because it is applicable only for 2-room Flexi, 3-room or 4-room flats in non-mature estates, whereas Bidadari, which is part of Toa Payoh town, is a mature estate. While we did not get the grant, we did benefit from extra ballot chances under HDB's Married Child Priority Scheme.
As a mother and wife moving into your new home, what insights have you gained through the experience?
In a way, my husband and I had were "forced" to live with our in-laws while waiting for our new flat to be ready – we could have forked out money to rent a place but chose not to. We realised it is not that bad after all. We may explore doing that in future should we need to take care of them or for childcare purposes. Living with in-laws may also mean that you live under their rules because it is their place, so there are frustrations in not being able to live that freely.
Moving into a new home after having a child has its positives because her grandparents will get to spend time with her, and we have more help at home while she's young.
Any advice for young, millennial Singaporeans making their first home-buying journeys?
If you know that your significant other is the right one early on, consider applying for a flat early, especially if you want to enjoy your exclusive space for two before a baby comes along. Don't be discouraged during the long wait. It buys you time to save up for a nice renovation!
This article was adapted from 99.co, Singapore's fastest growing property platform for information like resale HDBs for sale and rent in Singapore. Check out the original article here.