With its sleek, textured velvet couch and a golden-accented coffee table on a luxurious rug, we wondered if we had accidentally stepped into the home of Jay Gatsby. Did we also mention the sparkling crystal chandelier hanging from the ceiling?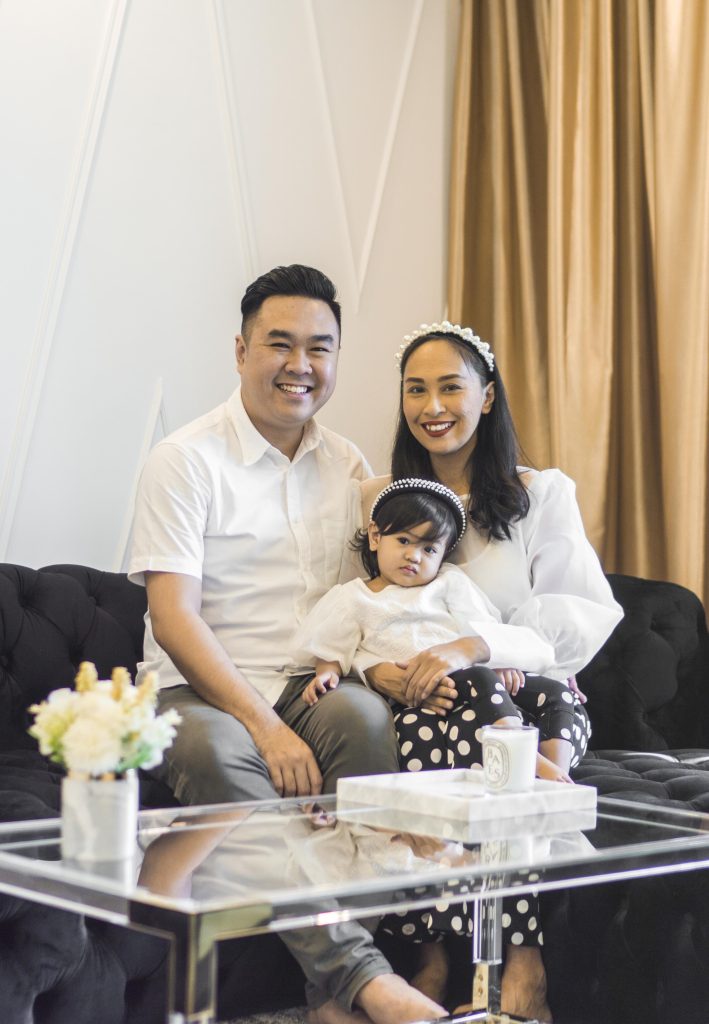 From left: Farhan, Fayona, and Yati
Yati and Farhan, owners of the 4-room flat in Tampines, explained that they were going for a modern luxe look with shades of white, black, and gold as the predominant colours. The dining table for instance, is made of pure marble, while the kitchen features a marble-mosaic backsplash and rose gold accents.
The kitchen, featuring a marble-mosaic backsplash
Adding to the glamorous vibe of the flat is the golden-accented bathtub in the master bedroom toilet. "It's very good for relaxing in," Yati laughs. "I really look forward to a nice soak – especially after a long day."
The master bedroom toilet features a luxurious bathtub
Pops of gold that lend glamour
Yati meticulously picked out every piece of furniture and accessory, her keen eye for detail honed by her extensive experience in the fashion industry.
"We bought most of our furniture and accessories online," Yati laughs. "I was determined to keep the theme consistent and would scour the Internet for the perfect piece." Farhan agrees and says, "It took us a lot of effort, but it's important to not settle."
The modern luxe theme extends into Farhan and Yati's rooms too. The master bedroom is plush and cosy, with an upholstered headboard and decorative wall panelling that would not feel out of place in an upscale hotel.
The master bedroom in shades of black, white and gold
The couple combined the master bedroom with the adjoining common bedroom, converting the latter into a walk-in wardrobe. This sun-drenched space features floor-to-ceiling white, gold-trimmed cupboards and drawers, complete with a textured seat that matches the sofa outside.
"The walk-in wardrobe offers us more space. It helps to keep our clothes organised and makes it easier to pick out our outfits," Yati shares. "It's something we've always wanted."
The couple's walk-in wardrobe
Daughter Fayona having her mid-day snack in the walk-in wardrobe
"Our interior designer was PSD Studio. It's important to engage interior designers that can work independently – for instance, our designers oversaw most of the renovation process and there were no major issues," Farhan says.
The couple's renovation took a little over 2 months before they moved in on 11 August 2019. "We remember the exact date as we had combined the Hari Raya Haji celebration with our housewarming party," the couple smiles. "It was definitely a day to remember."