Decorated Christmas tree, check. Customised ornaments and fairy lights, check and check. With Christmas around the corner, one can almost hear the crackling of the firewood in this cabin-inspired flat in Ang Mo Kio.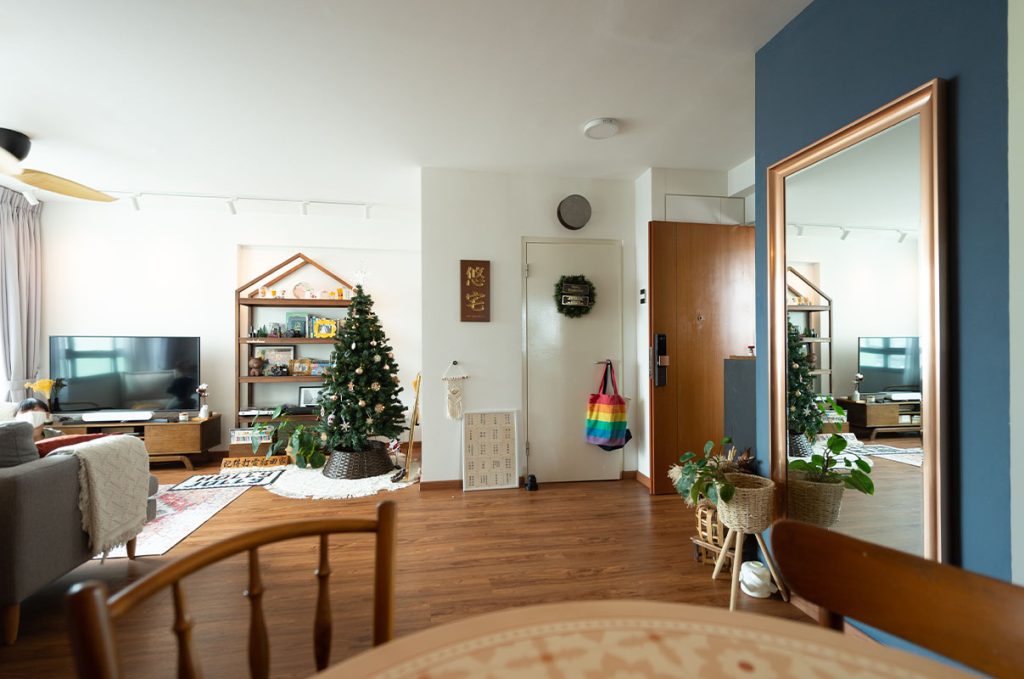 Decorating for the Holidays
For the Lius, getting their home ready for the holidays began as early as November. "It's never too early to shop for the holidays," Mrs Liu laughs. "Start early for more cost savings and to avoid rushing."
She recommends investing in a centrepiece, such as a Christmas tree or a wreath, and starting fun traditions such as customising ornaments to celebrate family milestones such as birthdays, anniversaries and graduations.
However, the couple is mindful about the timelessness and versatility of the other home décor items that they buy. "For instance, we picked up the gold frame at the Christmas corner, knowing that it can be styled for different holidays – from Christmas to Chinese New Year."
Furnishing with a Purpose
Sustainable furnishing is a key theme, which is why many items, such as the dining table and chairs, are pre-loved and have been used by several different owners. The antique shelf in the dining room, which happens to be one of Mrs. Liu's favourite pieces, is vintage as well.
"For the longest time, the space was empty. We weren't quite sure what to furnish it with, until we chanced upon this antique shelf on an online marketplace. Its unique, intricate details caught our attention immediately and the dimensions were perfect for the space – needless to say, we snapped it up," she smiles.
The home owners' preference for darker wood tones and rustic elements such as preserved florals, lend their space a cosy, cabin-inspired feel. At the same time, soft textiles such as cushions and rugs in neutral shades balance the rugged style with their contemporary designs.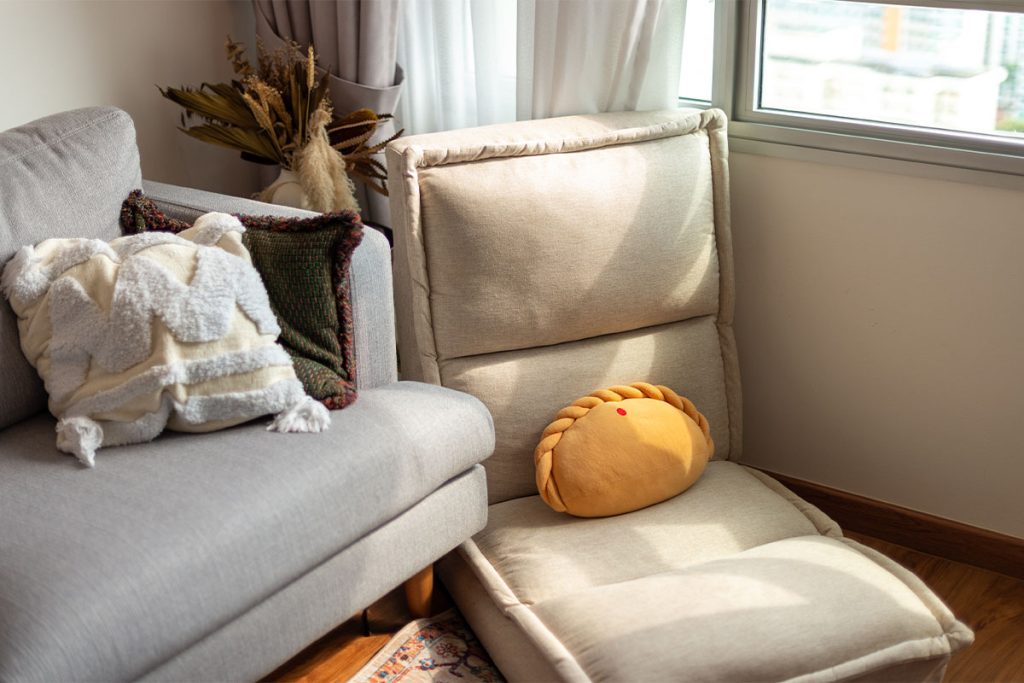 Growing with their Needs
"When we first moved in, we only had the basics such as the TV console, sofa, dining table, chairs and the bed," the couple shares. "We wanted to live in the flat for a period of time before deciding on the rest of the furniture, to ensure that we purchase what we need."
Mrs. Liu, who has a passion for interior styling, explains that having loose furnishing allows her the flexibility to easily switch up the look of her home, to tailor to their evolving needs.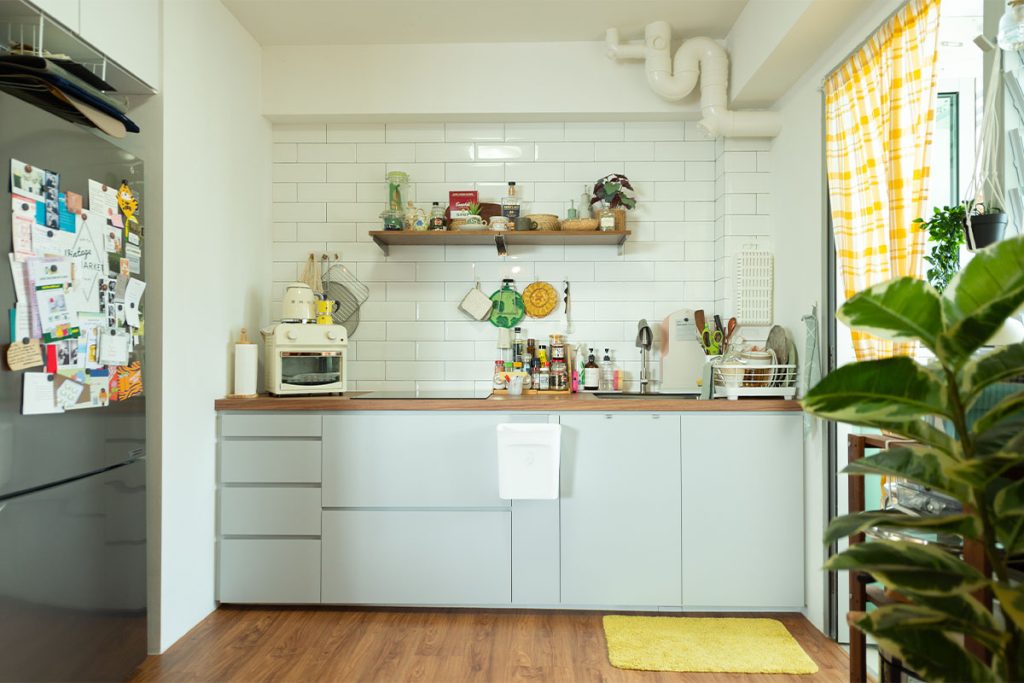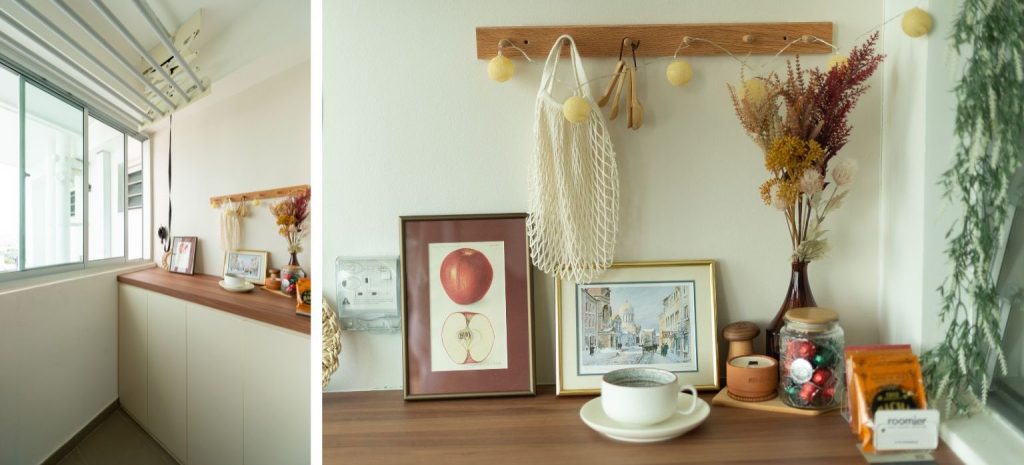 "We experimented with the dining area a couple of times before finalising the layout," she chuckles. "For instance, we played around with the placement of the dining table, to allow us the best view of the TV during mealtimes while doubling as a hangout area when we have guests over."
"It's taken us approximately 3 years to furnish and decorate our home, and we'd still like to say that it's a work-in-progress," the Lius laugh.