'Unconventional' is the word that comes to mind when you step foot in Limpeh Barbershop. Everything— from the eye-catching logo and shop name, to its effervescent owner (a woman no less!)— goes against the grain. We caught up with Fidd to find out what inspired her to pursue barbering, and why she had her heart set on setting up shop in the heartland.
What got you into barbering?
While working as a designer, I pursued home-based barbering part-time. After a while, I decided to set up shop, and that's how Limpeh Barbershop started. As my background is in design, I took care of the branding, logo, and the concept of my barbershop!
I love getting to know people, from their culture, to their work, and life experiences. Every hour brings with it a new person, and a new story. This is not something that I can get in another job.
My chair is like a counselling chair. It probably brings my customers some comfort when they let out their feelings and confide in me.
Why did you decide to set up your barbershop in an HDB estate?
I've been staying in Bedok since I was born. I want to make a difference in this community, especially in the lives of the underprivileged kids that live here.
My regular customers usually need to book and make an appointment; but for these kids, I offer them a free hair cut whenever they want. At the end of the day, a haircut doesn't cost me much. Through this simple act, I want to show them that there is good in this world.
Heartland shops, especially in the older estates, really bring people closer together. For examle, on my days off, when I go to the supermarket in my estate, I bump into my customers and it's always nice to chat with them. Heartland shops provide the personal touch and connection with my valued customers.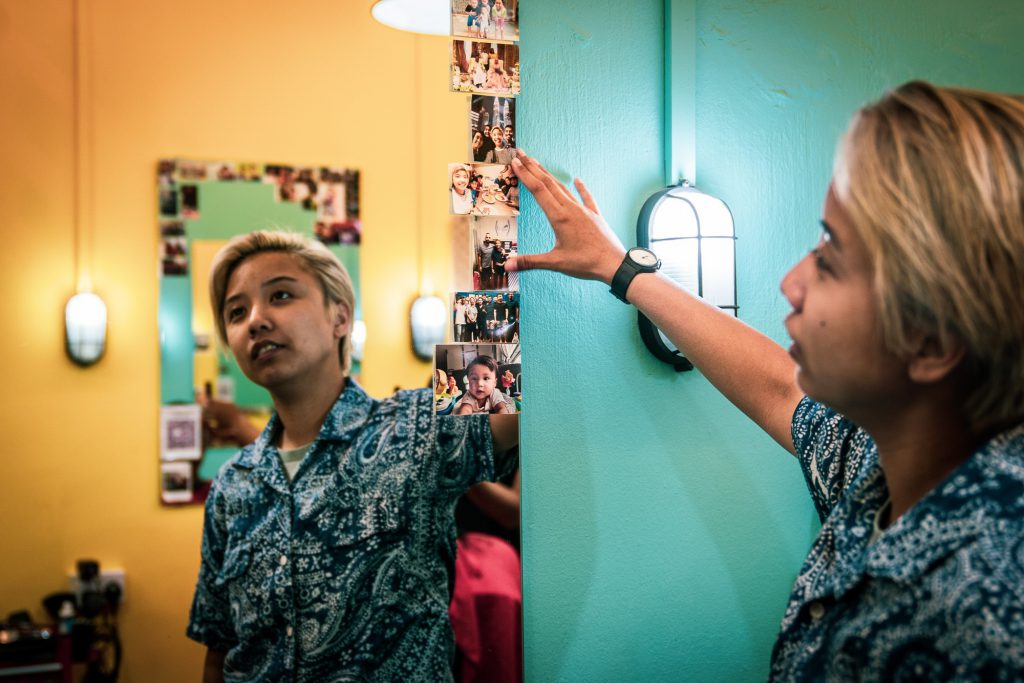 Fidd showing us pictures of the people she holds close to her heart, neatly arranged around the mirror at her workstation
Fidd's trusty clipper that has served her well over the years was a gift from her friends
I have a regular customer, a Chinese uncle who is wheelchair-bound and has weak eyesight. His helper has told me before that "Ah Gong" only wants me to cut his hair, and doesn't want anyone else to do it. I gave his helper my number, and asked her to call me anytime Ah Gong wants to come for a haircut.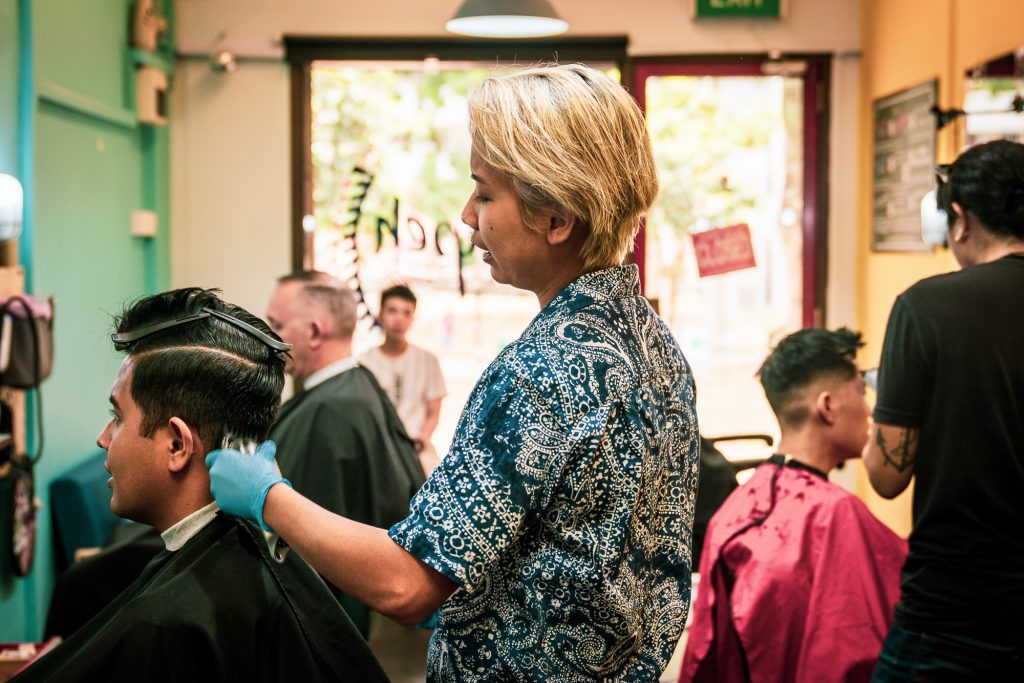 I welcome anyone and everyone, regardless of their race, age, background. The reason why I named my barbershop "Limpeh Barbershop" is because I don't want people to think that I only serve a specific group of customers.
I serve young kids, and I serve the elderly. My oldest customer is in his 80s. Usually I ask them about their stories, and their past. They are happy to share them with me. Some of my customers joke with me that they are not handsome anymore because they are old. I always assure them that they can still look good – they just need to know how to style or cut their hair. I believe barbers also play an important role in helping customers with their self-esteem.