Search "$1 nasi lemak" on Google, and you might be surprised to find that such a wallet-friendly option is not a thing of the past. In fact, you would likely find a slew of articles and videos on Kedai Makan Muhajirin. Stallholders Jirin and Nana are part of a family-run business which has served budget-friendly meals—including their $1 nasi lemak— for more than 3 decades.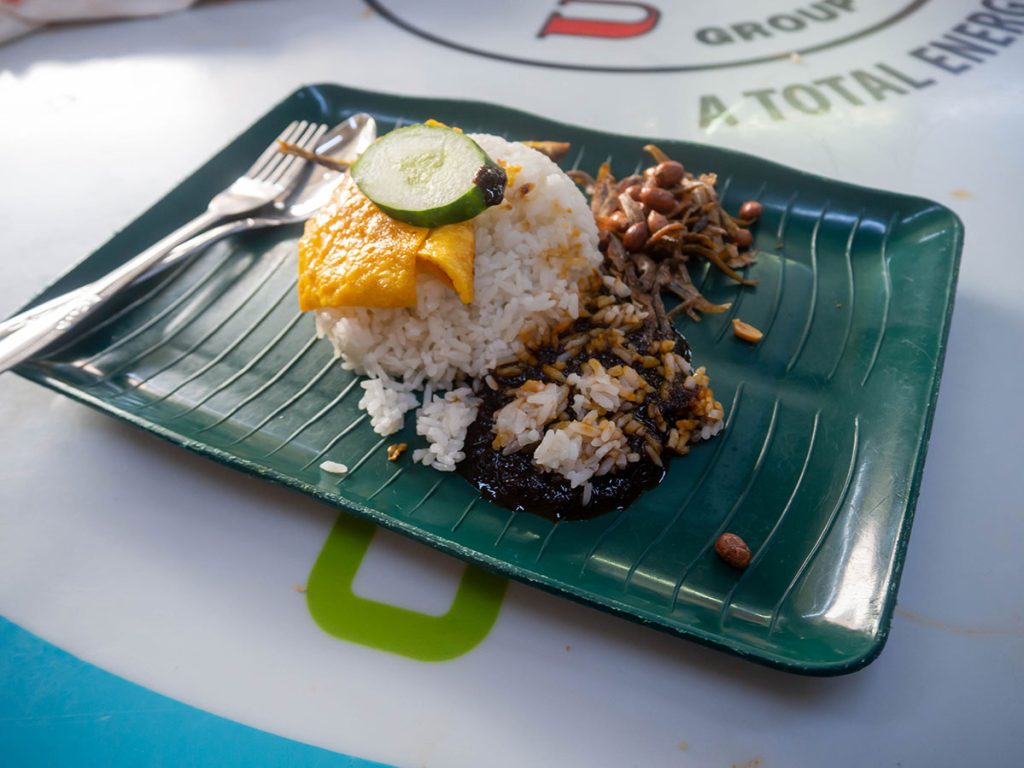 Budget-friendly food from the heart
For $1, customers can choose between fish and ikan bilis to accompany fragrant coconut rice topped with a portion of egg, cucumber and sambal. They can also pay a small top-up of 50 cents to get both fish and ikan bilis on their plate.
Jirin and Nana acknowledge that it has been challenging to maintain the base price of their signature dish at $1, partly due to ingredients that have gotten more expensive. "It helps that we also sell other dishes, which helps us cope with rising costs," says the couple, who also sells mee rebus, mee siam and lontong.
Still, the most popular item on the menu is their nasi lemak, and they've been careful to keep the price unchanged. "We see it as our way of contributing back to the community," Jirin and Nana explain, as the low prices can benefit residents in the area who are less well-off. Besides Kedai Makan Muhajirin, there are 3 other budget meal options within the same coffeeshop at Block 20 Lorong 7 Toa Payoh. These provide residents access to affordable cooked food options amidst concerns about rising cost of living.
An integral part of the community
Kedai Makan Muhajirin has received lots of love from Toa Payoh residents since Jirin's parents first set up the stall in 1987. In fact, their customer base is so loyal, they rallied around when they heard their favourite stall might soon be gone.
"When my parents had to move out of our old stall a few years back, they thought of closing shop and retiring," recounts Jirin. "But when word spread, so many customers reached out to my parents to persuade them to continue the business. Some even offered to help us find another vacant stall in the area!"
Fortunately, Jirin's parents were convinced, and ended up opening their stall just a few blocks down.
Keeping up with the times
Since then, Jirin has taken over the reins of the business, while his parents continue to help at the stall. One of his biggest challenges? Maintaining the same taste that has become familiar to Toa Payoh residents.
"I think it's harder than setting up a stall of your own, because of customers' expectations," shares Jirin.
While price and taste has remained the same, the stall has also evolved with times. Jirin and Nana set up a WhatsApp channel for the business, opening up another avenue to take orders. "We're thankful to the customers who support us by placing bulk orders for our nasi lemak, which is another way we've coped with rising costs," says Jirin and Nana.
Judging from the steady stream of walk-in customers, even on a weekday morning, it's clear that Kedai Makan Muhajirin is an integral part of the community, welcoming faces both old and new.
"Sometimes, our parents will point out customers who have been patronising our stall since they were young. Now they're all grown up, and they still come back to eat here with their own children in tow," shares Jirin and Nana.
Just as the stall has passed from one generation to the other, it seems that their legacy will continue with the next generation of residents.
---
BudgetMealGoWhere
There are already over 80 coffee shops offering budget meals listed on the BudgetMealGoWhere website – a collaboration between HDB and GovTech, to help residents find affordable food options easily and conveniently. More coffeeshops will be listed on the site, with all 374 HDB rental coffee shops islandwide set to offer budget meals by 2026.
---
By Wong Li Ying
Photos by Fitri Diana