Gone are the days where fluorescent tubes were the default choice of lighting for homes. Today, you will find a blinding (pun intended) range of lights of different designs and functions. Good lighting fixtures not only provide the appropriate illumination to achieve your desired ambience; they can also serve as statement pieces.
Here are some tips to help you choose the lighting fixtures that best suit your home!
Consider the Theme
Keep in mind your interior design style when shopping for lights. If you are going for a more simple and clean look such as the popular Scandinavian, Japandi or minimalist styles, consider sleek lights, such as pendant or track lights. These lighting fixtures are usually more subtle in design, which will complement the mentioned themes. If your style is a little bolder, a glamourous chandelier may just be the thing for you!
Statement pieces should be placed at prominent places to complement the overall theme and add to the ambience. Some popular spots are above the dining table, in the living room or beside the bed.
Area to Illuminate
When choosing lighting fixtures, consider the size and shape of the area that you wish to illuminate. For large spaces , good ol' ceiling lights are your best bet. These are generally placed in the centre of a room to help evenly distribute light throughout the space.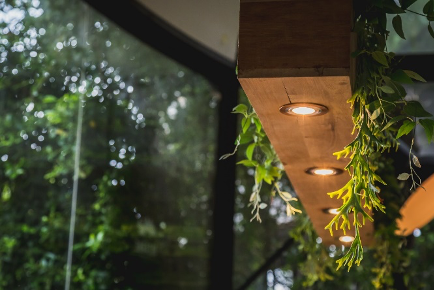 Otherwise, consider downlights – a smaller and generally inexpensive alternative that can be installed in multiples to provide sufficient lighting. Due to their small size, downlights can also be installed in tight spaces that are unable to accommodate ceiling lights. Think in-between areas such as the corridor between rooms as well as the wardrobe area.
Purpose of the Space
Will you be spending hours working or reading in the room? Or will it be a space for some winding down after a long day?
Reading for long hours can be straining on the eyes. To reduce discomfort, use a good desktop lamp with adjustable brightness to help reduce glare. Also, remember to complement it with a ceiling light to help balance the contrast between the ambience lighting and your desktop to further reduce the strain.
When designing a room that is meant for relaxation, consider the use of cove lights, which are indirect source of lights often built into ledges and recesses. The light source is either directed towards the ceiling or the floor. Hidden from sight, soft, diffused cove light exudes a luxurious vibe.
Don't overlook the importance of lighting when it comes to designing your dream home!