With many of us still working from home, you may find that having a comfortable workspace can help with increasing productivity. From cosy corners to functional elements, here are some tips to personalise a home office that meets your work-from-home needs!
1. Adopt a Neutral Palette
A neutral palette of white and wood gives off warm and cosy vibes and can makes the space look uncluttered. Complement the look with some wooden shelves and storage before finishing off with some macramé décor for a rustic touch!
2. Consider Versatile Elements
The pegboard is a great option for those who wish to have a little more flexibility when it comes to storage. Unlike permanent carpentry, the pegboard is lightweight and versatile – perfect for homeowners looking to personalise their workspace.
3. Keep it Transparent
There's nothing quite as sleek as a glass partition, which makes it a popular option for home offices. Not only does it brighten the space, it also acts as a soundproof barrier to help with minimising distractions.
4. Carve Out a Private Space
For more privacy, consider the half-wall partition. The glass panel lets in light while maintaining an enclosed space for a more conducive environment. Use dark wood to warm up the space and you'll find yourself with a fine home office!
5. Get Creative with Colours
Bold is beautiful. For the creatives out there looking for an inspiring work environment, opt for a splash of colour! This home office takes it a step further by including striking modular shelves for an instant mood lift!
6. An Open Concept Workspace
Who says that a home office has to be an enclosed room? The open-concept works especially well here thanks to the unhindered view plus built-ins that keep the mess hidden.
7. Maximise Space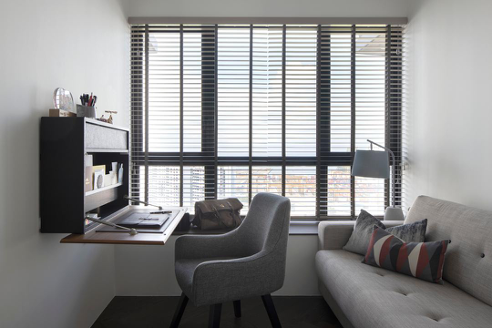 Looking to maximise space? Consider having a mounted work station! For instance, this drop-down 'desk' takes up a small amount of floor space when in use, and folds neatly back into the floating cabinet – it's a real neat way to keep your desk organised!
8. Invest in Multifunctional Furniture
A desk that pulls out from existing cabinetry offers a sleek solution to concealing the work station.
9. Incorporate Geometric Elements
Asymmetric shelves not only keep the space visually interesting, but also comes with open niches that make for great displays. Be sure to keep the messier elements in drawers and behind closed doors!
10. A Winding-Down Corner
Even in the comfort of your home, working in the same spot can get stale. One way to shake things up is to allocate a small, cosy corner in your home office for winding down purposes. Use comfortable, loose furnishings in this space and take a well-deserved break!
This article was contributed by Qanvast, Singapore's go-to renovation platform. Whether you're embarking on a major overhaul or a simple refresh, Qanvast can connect you to the right professionals for the job. Read the original article here.