Far from being dark and gloomy, black is a versatile colour for creating your desired ambience, ranging from a grand and opulent space to a cosy hideout. If you're looking to incorporate this bold colour but are hesitant about an all-black interior, fret not – you can still achieve the look by using black as the dominant colour. Listed below are some black interior design ideas to help inspire your home mood board!
Living Room
1. Combine medium tones and metallic accents
No, this is not a hotel and yes, this is an HDB flat. This 3-room home makes use of medium tones such as orange and grey to balance out its black interior. Metallic gold accents embodied by the side table and the gold TV frame are also used, to liven up the space.
2. Complement black with dark, earthy tones
Dark earth tones such as browns and greens are usually good complements to black interior design ideas. Take a look at the dark green feature wall with fluted panels pictured below for instance – it creates continuity and adds texture in contrast to the smooth cabinets.
Accent pieces in the form of furniture can also be incorporated. An example would be the chocolate brown sofa in the home below. The slight contrast in colour adds visual interest whilst creating a cosy vibe.
Dining Room
Experiment with Lighting
Who says you have to dine in the dark? Opt for under cabinet lighting as an accent light for some illumination without it being overly harsh.
To ensure ample natural light coming in during the day, make sure to get day curtains in addition to your blackout ones. Task lighting, like pendant lights, can help to create a cosy vibe during dinnertime.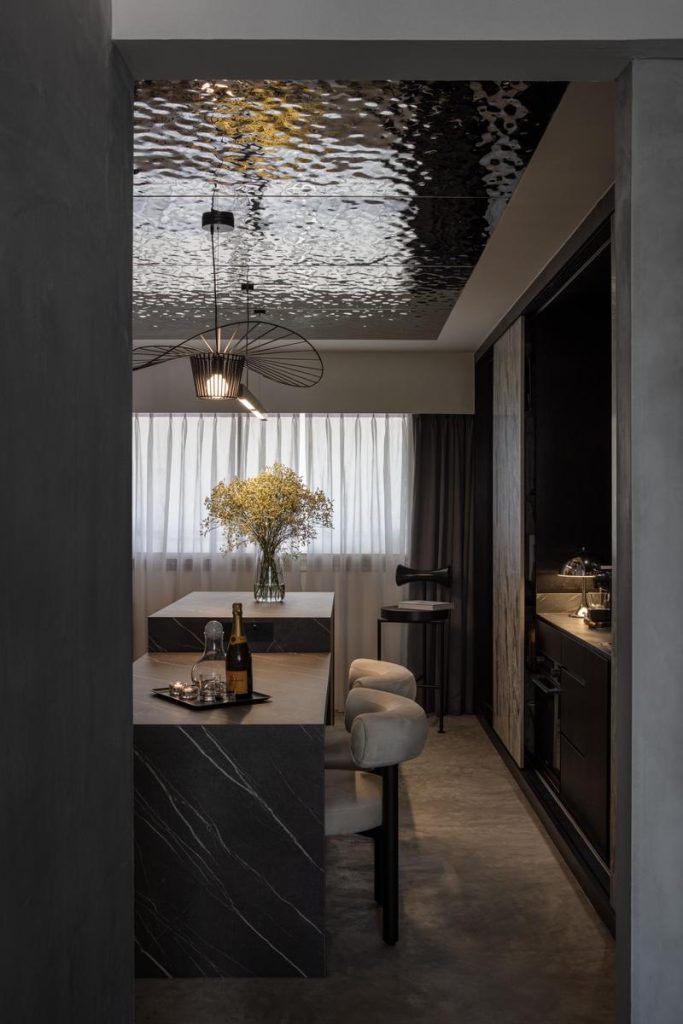 2. Adopt black backdrops
A dark backdrop is perfect for adding a touch of pizzazz to your interiors. By incorporating a black feature wall, the homeowners transformed the wall-hung wine rack into a statement piece in the dining room.
For an additional wow factor, consider glossy cabinets for the space as opposed to matte black laminates.
Kitchen
1. Liven up the space with different shapes and textures
Using a variety of textures and shades of black can instantly add dimension to any space. This contemporary kitchen combines a reflective surface like marble with matte laminates.
To create the illusion of a larger space, you can also incorporate a reflective backsplash.
You can create textual contrasts with cabinetry, like these shaker style cabinets with their recessed panels and metallic knobs. To elongate the space, try incorporating a fluted panel wall!
2. Create contrast with flooring
Worried about how it may look to gloomy with an all-black space? Jazz up the floors with a contrasting colour or texture instead!
Peranakan tiles are a brilliant way to add a touch of vintage charm into an otherwise modern all-black kitchen.
Home Office
1. Use black steel frames
When experimenting with black interior design ideas, it's important to be mindful of the overall lighting, to prevent the space from becoming overly dark.
By replacing wall partition with black framed sliding glass panels, one can maximise the natural light and open up the space whilst incorporating the colour black – the best of all worlds, if you ask us.
Natural lighting from these full-length windows help to brighten up this study that can certainly double up as a 'man cave'.
2. Include mirrors
For starters, you can use mirrors for cabinet doors, where the reflective surfaces will bounce off light whilst making the space feel bigger. In a similar vein, you can also consider having a mirror behind the work table, for an added sense of spaciousness.
Bedroom
1. Balance darker tones with neutral ones
With neutral colours like brown, beige and taupe, you can add warmth to the room. Cool neutrals also work well with black interior design ideas in achieving a clean and minimal look.
2. Add curves
While clean lines add order to an all-black room, breaking up linear shapes with rounded edges/ curves can add a 'softer' look to the room. Curves can also be used to create a focal point – such as this curved vanity.
Take it up a notch by adding furniture or accents with rounded shapes, like the vanity stool, to make the room more inviting.
Bathroom
1. Create dynamism with different elements
Mix up different elements to see what looks can brighten up your all-black bathroom. Industrial-style wooden cabinets, walls and flooring add a touch of ruggedness for a unique look.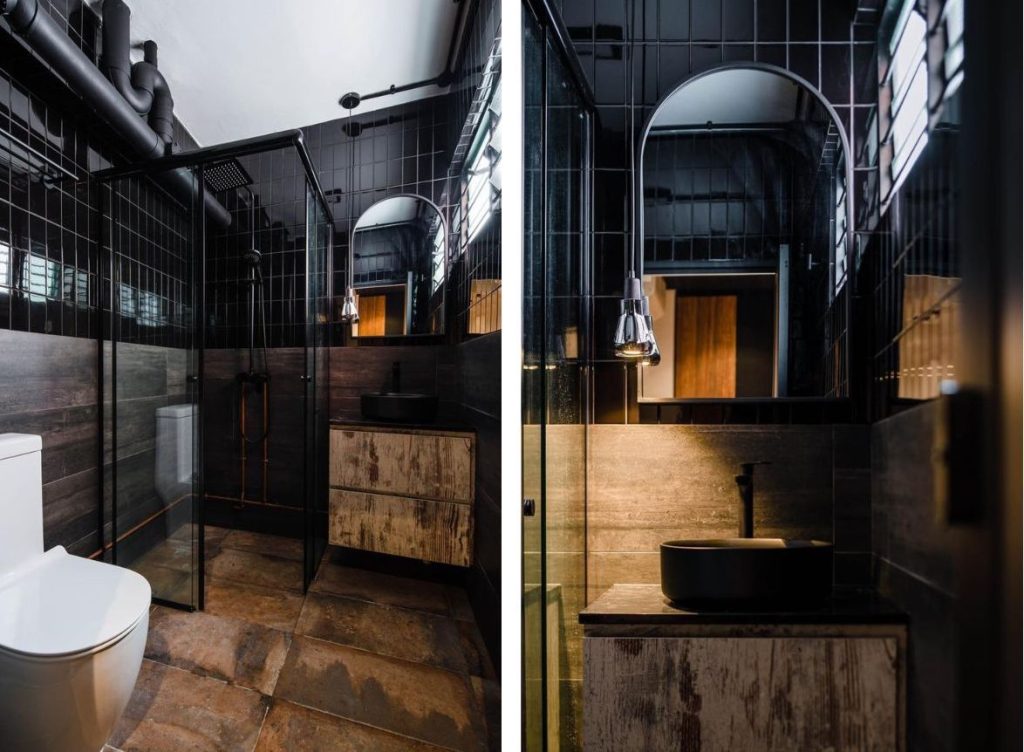 The glossy black subway tiles are the perfect way to add some elegance to the space. The exposed pipes are also painted black to match with the space.
Check out Design Ideas and Home Tours for more interior inspiration, and remember to familiarise yourself with the required renovation permits before commencing your renovation journey! For more information and tips, read our guide to renovating your flat.
The article was adapted from a version first published by Qanvast.