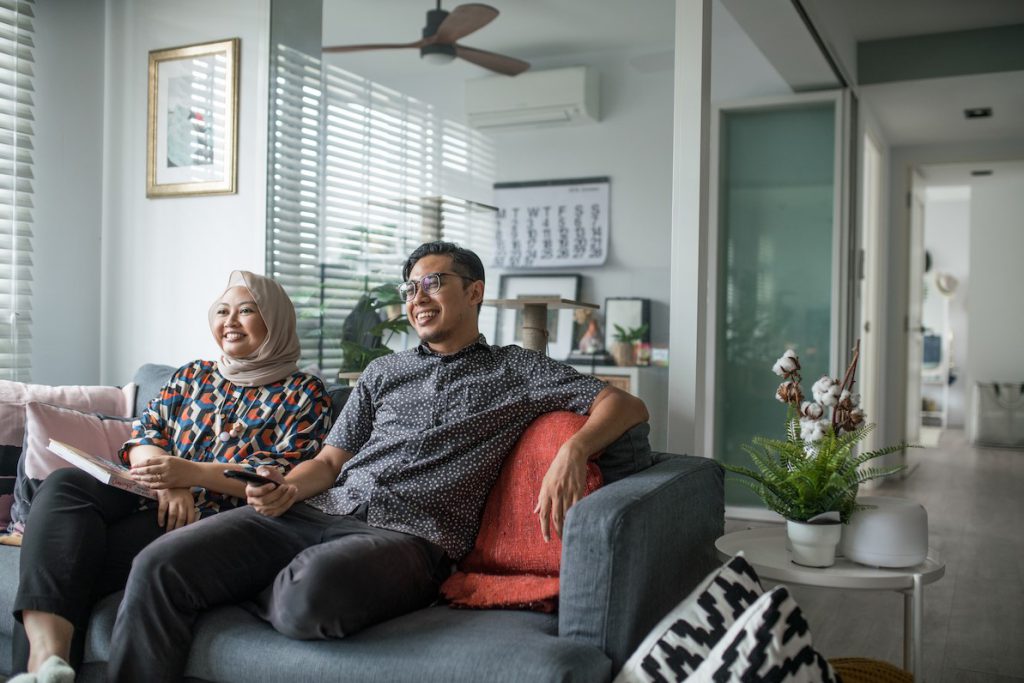 Syafiq and Yati's 4-room flat is more than just a place for them to unwind after work. As he is a freelance photographer, and she runs an online floral business (@fleursbyspoleczny), their home also doubles up as their office.
The couple carved out specific spaces in their home to work – one room to house all of Syafiq's photography equipment and where he spends time editing photos, and another for Yati to assemble beautiful floral bouquets for her clients.
The room that Syafiq uses as his work space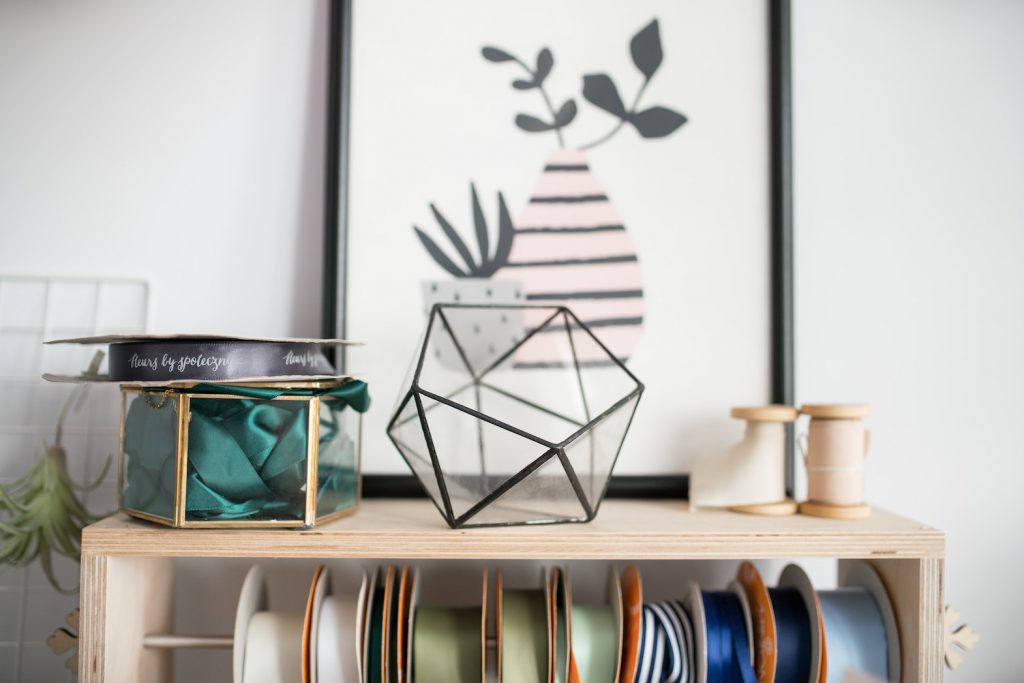 Yati keeps all her floral arrangement materials in a neat corner in one of the rooms
Since they spend a large part of their day at home, they wanted it to be a versatile space. Yati, in particular, views their home as a canvas to express her creativity and love for beautiful things. "This is a 'rojak home'," she said with a laugh. "We just buy what we think is nice! And I love to move things around, so our home never looks the same.". Rojak is a traditional fruit and vegetable dish commonly found in Southeast Asia. It also refers to an 'eclectic mix' in colloquial Malay.
Before they started renovating their flat, interior-related videos on YouTube were their inspiration as they aimed to create a full-white minimalist home. But as their renovation began, they started adding subtle textures, patterns and colours into their home interior.
An example was the herringbone-patterned brick wall in their living room, that was from Performance Coating International, a company that specialises in interior surface paint. The special finishing traps less dust, as compared to the actual brick material, hence making it easier to clean and maintain. The couple entrusted contractor and designer (@jamesmorispteltd) with the task of renovating their flat and were very happy with the result. Meanwhile, they sourced other furniture items from IKEA, Castlery, and Ezybuy.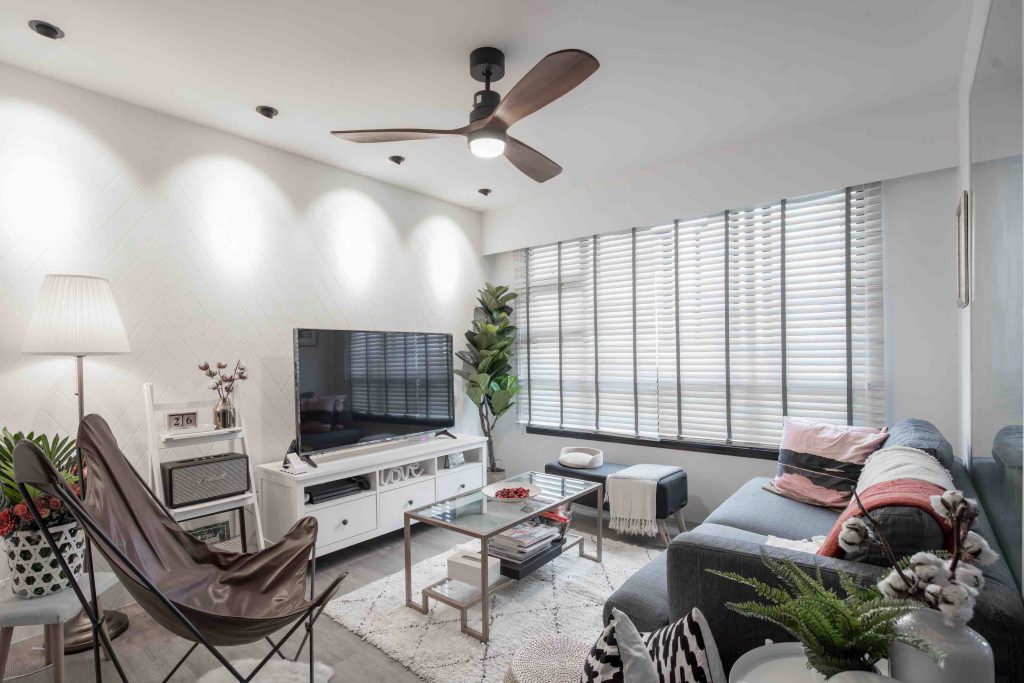 Subtle textures and patterns in their home
Subtle textures and patterns in their home
Plants also make a consistent appearance throughout the home; olive plants, monsterra leaves, and fiddle plants to name a few. She bought them from @bobmubarak, who is famous in the Insta-realm for selling beautiful artificial flowers and plants.
Artificial olive plant used to decorate their dining table
The couple chose to have a teal feature wall in their master bedroom, to create a calming atmosphere for relaxation. In the ensuite bathroom, a 'resort-style' theme was adopted to complement the chill vibes of the room.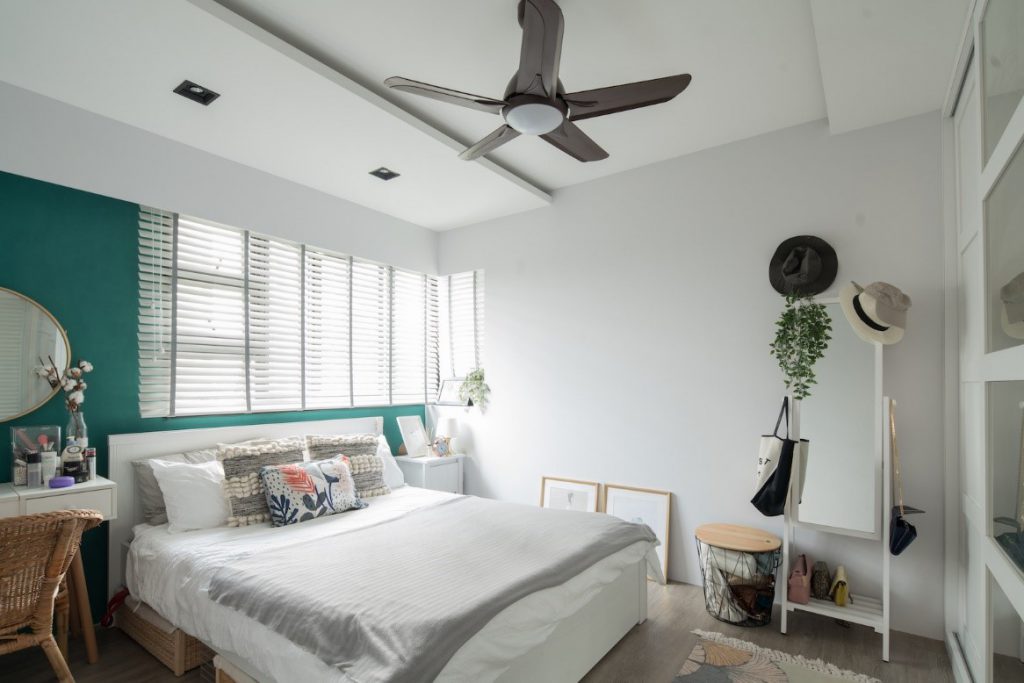 The resort-style bathroom in their master bedroom
So even though their 'office' is just in the next room, their resort-style bedroom transports them to another place and provides respite from their work. Yati and Syafiq spend a lot of time in in their 'Rojak Home' but they can never get enough of it… and we totally get why!
Keen on showcasing your beautiful flat on our website? Drop us an email at mynicehome@mailbox.hdb.gov.sg