In one swift motion, 60-year-old Chada and Ying Ying leap off the steps before landing gracefully on their backs. At the same time, 59-year-old Margie effortlessly performs a handstand against the wall. While they may not be back-flipping or running across rooftops, the strength and flexibility these seniors demonstrate are impressive.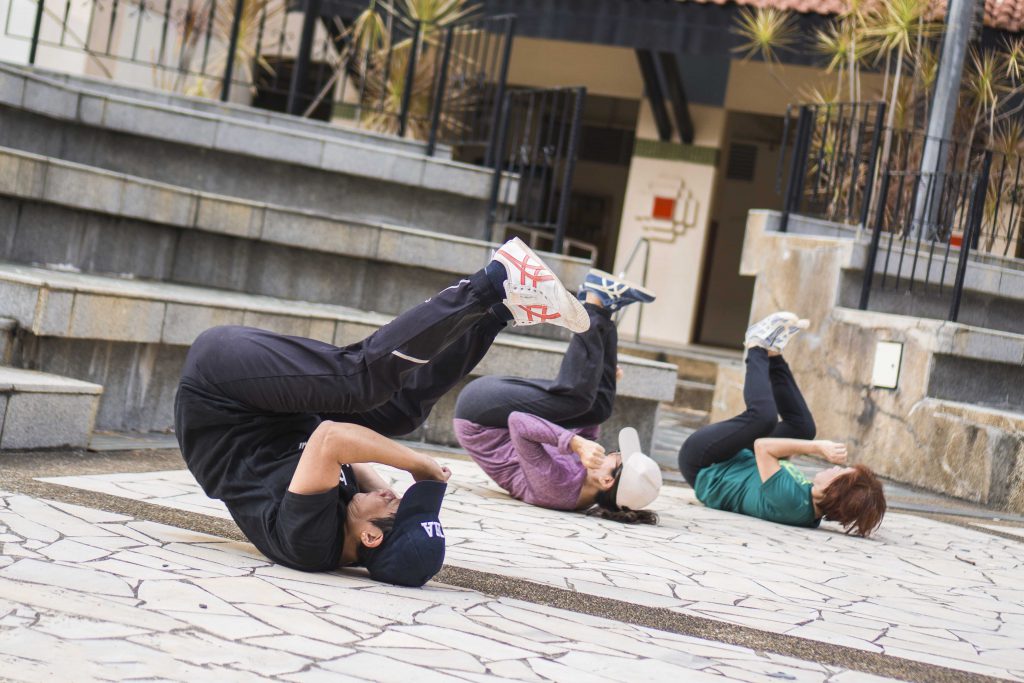 Known as the "Parkour Aunties", this particular group of active seniors is recognised for practising Parkour. "We're happy to raise awareness of the sport, but can you not call us aunties?" Margie laughs playfully.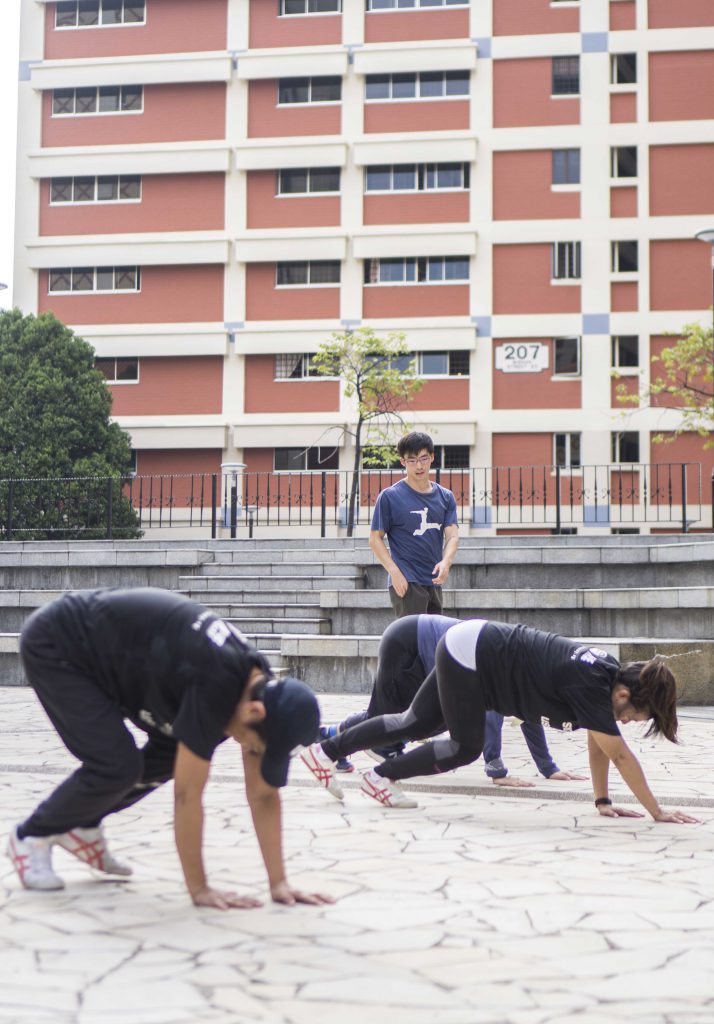 Under the tutelage of Tan Shie Boon, Head Coach and Director at Move Academy Singapore, the class meets twice weekly at the public shared space in Bishan. Sitting down with Shie Boon and his senior students (Chada, Ying Ying, Margie, Sarah, Bernice), we learn how this unique group turns estates into their playground.
What is parkour?
Shie Boon: Parkour is about crossing obstacles with agility, in the quickest and most efficient way possible. It is a discipline which involves running, jumping, and climbing through obstacles in mostly urban environments. The sport encompasses play and camaraderie – the two aspects that are also the benefits and challenges of the sport.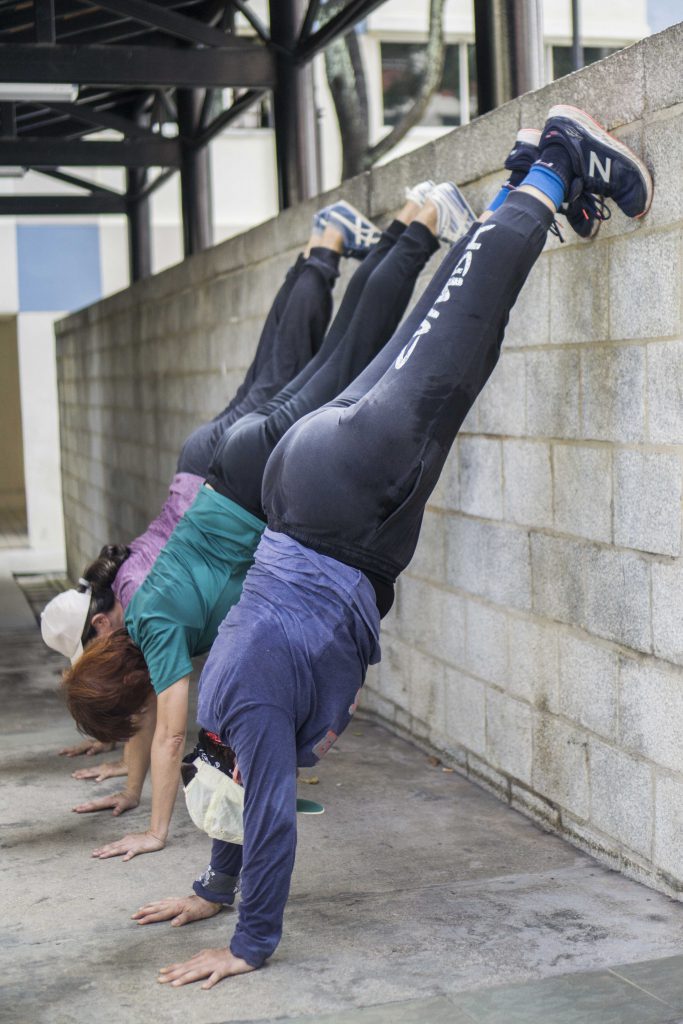 Where do you usually practise parkour?
Shie Boon: My usual spots include the various neighbourhoods located at Bishan and Clarke Quay as these where I first picked up the sport.
Senior Students: We also use the parks and playgrounds in our neighbourhoods.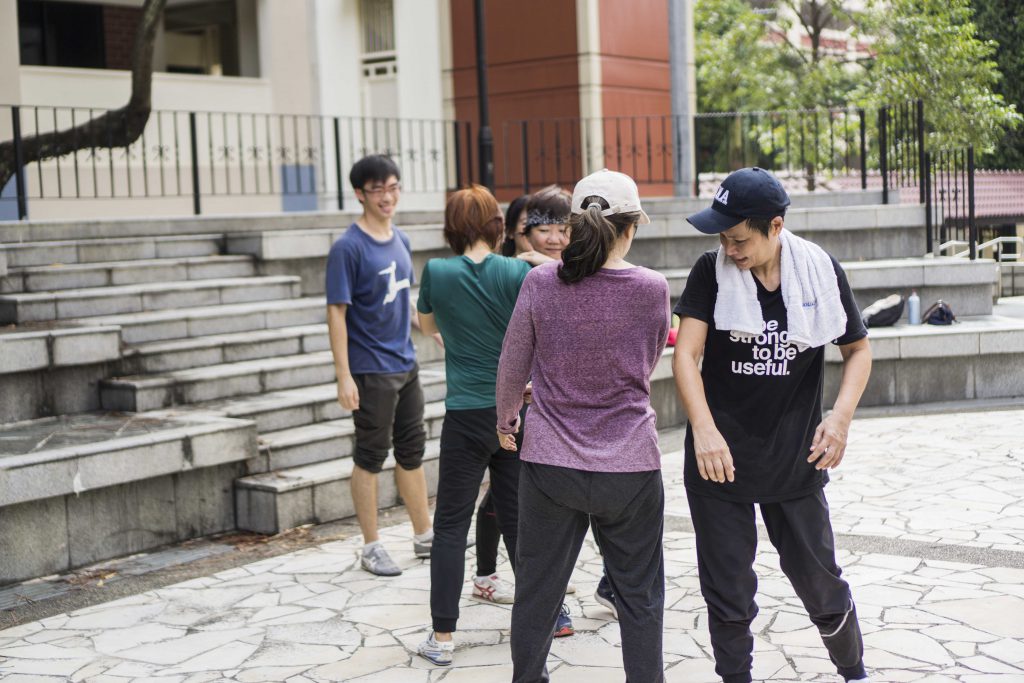 Why did you choose to practise parkour in HDB estates?
Shie Boon: The architecture in HDB estates is compact, making it ideal to practise parkour. The unpredictability of the outdoors, also inspires creativity.
Before I learnt parkour, the current mini amphitheatre at Bishan was already a popular spot amongst parkour practitioners. Not only is the environment beginner friendly, it's enticing for the seasoned. Plus, the location is located centrally and is accessible.
How did your journey of teaching seniors begin?
Shie Boon: It started when I met 64-year-old Ann Tham at a hawker centre. We were talking about her mobility issues and I thought parkour would help improve her sense of balance.
After one and a half months of consistent training twice a week, she was able to walk without holding onto a trolley. Ann's story was featured on the news, and this attracted our first batch of senior students.
What are some of the benefits of parkour for seniors?
Shie Boon: Parkour trains one's agility and flexibility in many ways. With constant practice, it can improve balance and control, and help prevent falls from mental and physical atrophy. We adjust the exercise routines according to the physical abilities of the students.
Senior Students: Parkour is a fun workout that allows us to exercise outdoors. With Shie Boon, no two routines are the same! For example, the steps alone allow for plenty of variation for our exercises. We also get to meet like-minded people and make new friends!
What are some of your most memorable moments or takeaways from the class?
Shie Boon: I am always energised and inspired by how committed these students are despite their age. The joy on their faces as they work out alongside each other under the warmth of the morning sun – it's a simple moment, but fulfilling.
Senior Students: Other than health benefits, the best takeaway would be our friendship. We often go for makan after our training sessions and Shie Boon will join us – he's like our son! We also meet up for other activities such as movies and hiking at Bukit Timah and TreeTop walk.