Home is a place of comfort and joy. Home is also where some of our best memories are made. For three residents, these reasons are why home means more than the physical space of their flats.
Beyond deriving inspiration from the heartland, artists Tan Koon Tat, Mizah Rahman and Sulwyn share how their love for the arts has created friendships, communities and a sense of belonging to the neighbourhoods they call home.
Tan Koon Tat
The carpenter who lights up the neighbourhood
A carpenter by trade, Koon Tat believes that art is a way to bring joy to the community. The 60-year-old has been putting up festive decorations in his neighbourhood for over a decade. They include a life-sized log cabin for Chinese New Year, a mosque facade and coconut trees for Hari Raya, and peacocks for Deepavali.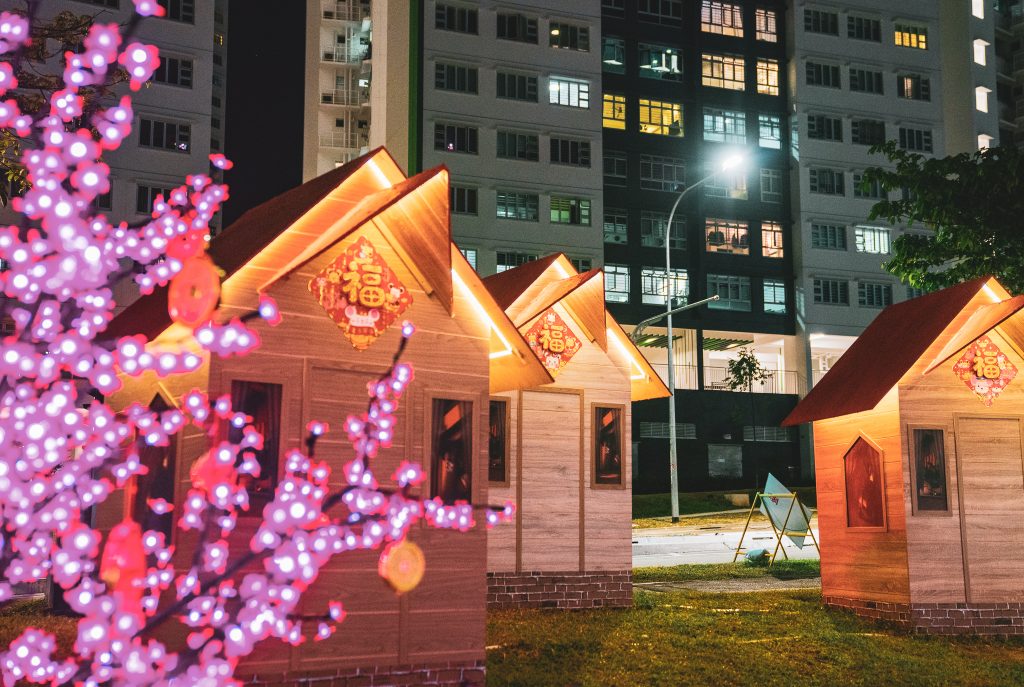 "Knowing that my neighbours enjoy the decorations brings me joy," smiles Koon Tat. "In addition to sprucing up the neighborhood, the installations also bring the residents together. It heartens me to see them gathering around the decorations, taking photos and having a good time."
Beyond spreading the festive cheer, Koon Tat's decorations have also helped strengthen community ties. For instance, Koon Tat would seek the opinions of his neighbours on the types of decorations they prefer and take their suggestions for improvement into consideration. From brainstorming for ideas to building the installations, residents would also volunteer their help so that the decorations can be completed in time.
"No matter where I live, I've always been close to my neighbours. Home is where the heart is, so I think it's important to reach out to the people around you. Whenever we have new neighbours, I would approach and welcome them."
"Not only are the decorations a way for me to reach out to the community, it is also a platform for residents to mingle and connect. This fosters a sense of belonging, and is what home means to me!"
Mizah Rahman
The designer who created memorable experiences with the community
As a student, Mizah had wanted to explore the impact of architecture and how it can make homes more meaningful. What started as a thesis for her Masters in Architecture led to her founding of Participate in Design (PID), a non-profit organisation that enables residents to reshape community spaces.
"The only way to design meaningful architecture is to understand the needs and aspirations of its users, which in this case, are the residents," said the co-founder of PID. "Through constant engagement with the community, residents can participate in the design process and play a bigger role in creating their living environment!"
PID has since collaborated with agencies such as HDB to facilitate numerous co-creation projects. These include the designing and planning of green spaces, recreational areas and community centres within neighbourhoods.
For instance, under the Neighbourhood Renewal Programme at Tampines North, PID had facilitated a series of participatory design activities for residents, to gather insights that reflected their needs for the better planning of new facilities. In enlivening neighbourhoods, PID has also worked with MacPherson's Citizens Consultative Committee and transformed a community space to house swing sets and a community garden.
"Home is a place where you're able to express yourself," smiled the 33-year-old. "Hence I think it's important for residents to have a say in the planning of their living environment. Their participation would also create a stronger sense of belonging to the neighbourhood they call home."
In memory of Mizah Rahman (1987-2020). The interview was conducted prior to her passing.
Sulwyn Lok
The musician who composes new music with old friends
On some days, Simei resident Sulwyn can be spotted strolling along the pathways in his neighbourhood. The musician derives inspiration from the heartland, from greenery in the surrounds, to sounds of light traffic buzzing in the background.
"I like to explore the neighbourhood while thinking about music," says the 26-year-old. "The sights and sounds provide a conducive environment for me to do so – at times, I'd just wander around and uncover new spaces."
When composing scores for ensembles and films, Sulwyn seeks to go beyond cultural boundaries by amalgamating a variety of different musical influences, including traditional Asian music styles, jazz, metal and more. "I believe that music is a common language we speak, and I hope to connect people and cultures with my work," the composer says.
Sulwyn's belief also echoes throughout his daily life, where he would gather his friends to play different ethnic music instruments in his home and sometimes, community spaces.
"Music brings people together," he smiles. "The fact that we're collectively playing instruments or music that are different from our cultures makes the experience really unique – it creates an unspoken connection whilst deepening our mutual understanding. To me, that's what home is."
In celebration of HDB's 60th anniversary, we have asked to share your stories of home and what home means to you. We're heartened by the overwhelming response and would like to thank everyone for your photo submissions. The Shapes of Home online exhibition is now open – click here to uncover more stories and for the winning entries of the contest!
Photos by Atikah Razak