Café-hopping, movie-watching, window-shopping – these are some of the usual date ideas. If you're looking for something different (whether it's to spice things up or to impress a date), there's plenty to do in the heartland!
For the Nature Lovin' Duo
Enjoy the outdoors? There is a wide assortment of parks and trails nestled in HDB estates that are perfect for your different date ideas. These include familiar green spaces such as Ang Mo Kio Town Garden West, Coney Island located near Punggol and Bukit Batok Town Park (Little Guilin).
For a breath of fresh air (literally), take a journey to the West and check out Jurong Lake Gardens! Comprising the Lakeside, Chinese and Japanese Gardens, the recreational space was identified for renewal and further development under the Remaking Our Heartland (ROH) Programme in 2011. The revamped Jurong Lake Gardens will be opened in phases, with Lakeside Garden marking its first phase in April 2019.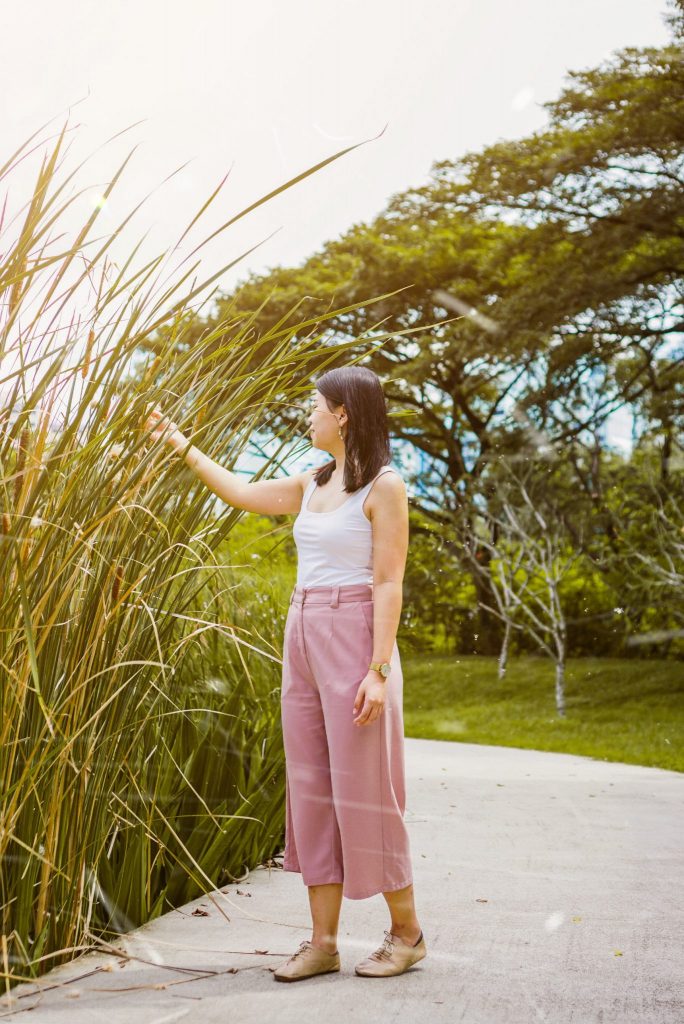 From Singapore's largest nature heartland play garden (Forest Rumble) to a boardwalk experience through the freshwater swamp forest (Rasu Walk), get ready for a day's adventure at Jurong Lake Gardens!
Located in Bukit Panjang is Chestnut Nature Park. At 81 hectares, this nature park is also Singapore's largest to date. From hiking to birdwatching and even mountain biking, the park is the perfect for your outdoor date ideas!
There are two main hiking trails to choose from – the Northern Hiking Trail (3.5km) and the Southern Hiking Trail (2.1km). The former consists of more forested trails located next to water streams while the latter offers hilly walks that eventually lead to open lalang fields.
If you're a couple that derives thrills from being on wheels, you can check out a cycling route that brings you from Tampines to Pasir Ris in less than 20 minutes. You'll end up at Pasir Ris Park, where you can do some birdwatching, or just sit by beach listening to the lapping waves. For a more heart-pumping activity at Pasir Ris Park, hop on the multiple trails or the Mangrove Boardwalk and who knows you may just spot some of the park's secret wildlife residents!
If the Tampines-Pasir Ris cycling route feels like riding on a training bike, how about challenging your date to a wheelie long ride on the Round Island Route? Stretching across 75km and covering the eastern half of Singapore, the first phase of the Round Island Route will take you on a journey round places such as Rower's Bay at Lower Seletar where you may find Grey Herons and Copper-cheeked Frogs at the wetlands, and Changi Beach Park where the sights and sea breeze makes you feel like you're on a beach vacation.
For the Shutterbugs
This one's for the Instagram boyfriends and girlfriends! You've probably captured countless shots of your partner at our #HDBeautiful void decks, lush rooftop gardens, and against our colourful block facades. Here's another location for you: our playgrounds!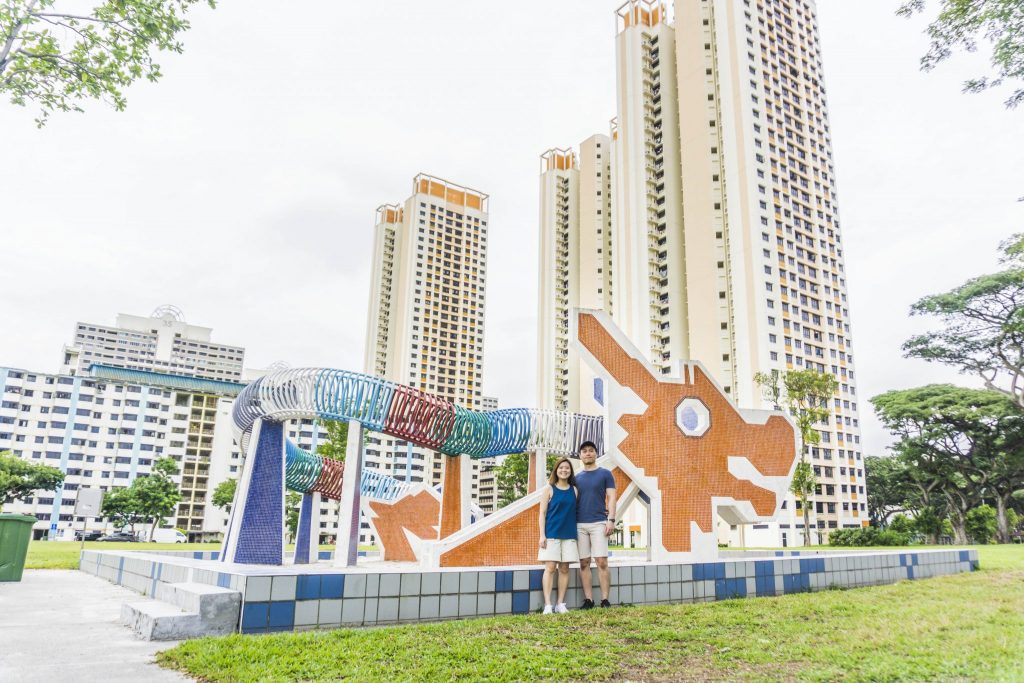 There are plenty of vibrant and quirky playgrounds in HDB estates – including the well-loved and iconic dragon playground in Toa Payoh! Other iconic spots include the watermelon and mangosteen-themed playgrounds at Tampines Central Park, and the tilting train playground at Tiong Bahru.
For something a little less conventional, visit the Dinosaur Playground at Woodland's Fu Shan Garden and the shipwrecked-themed playground at Sembawang Park.
Our playgrounds have evolved in their design and functions over the years, and are definitely an Insta-worthy backdrop for your photos.
For the Art Lovers
Whether you're a culture buff or someone who appreciates works of art, this date idea is sure to tickle your fancy!
Take a stroll around the blocks of Ang Mo Kio Avenue 3 and 4 and you will spot nostalgic murals of well-loved Singapore snacks such as ang ku kueh, satay, and old-school items like the traditional hot water flask.
These murals are part of the Wayfinding Project by the Alzheimer's Disease Association, which uses these murals to help residents with dementia easily recognise their surroundings.
For a dose of high art in the heartland, head to one of the Void Deck Art Galleries and you'll find hand-painted murals of iconic and inspired artworks by artists Van Gogh, Andy Warhol and Picasso.
For the Adrenaline Junkies
Save for the roller coasters and bungee jumps at Sentosa, there may not be many other heart-pumping activities in Singapore. But what if we told you there are unconventional date ideas for thrill-seekers, which can only be found in an HDB town?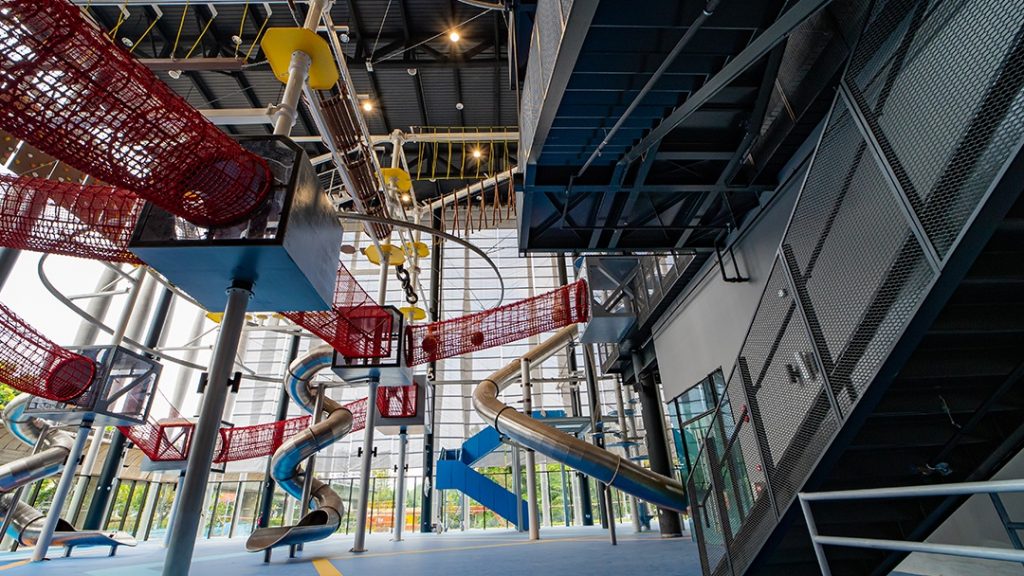 The Firemen Slides and the Roll Glider, Singapore's first indoor aerial attraction that comprises hang-gliding, a coaster ride and proximity flight will definitely get your adrenaline going.
In addition to these date ideas in the heartland, you can also explore your neighborhood in the comfort of your home with our latest reads.