OVERVIEW

TENGAH

BEDOK

KALLANG/ WHAMPOA

SERANGOON
For the May Sales Launch, about 5,400 BTO flats will be offered in 4 towns – Tengah, Bedok, Kallang/ Whampoa and Serangoon. These BTO flats will have a median waiting time of about 3 years 5 months. BTO flats are priced with generous market discounts and made even more affordable with grants of up to $80,000.
There are also 1,500 flats across various towns available via Sale of Balance Flats.
Subscribe to our HDB eAlert Service for more details on the upcoming May sales launch.
BTO Projects on Offer
Town
Project Name
Flat Types
Number of Units
Non-Mature Town
Tengah
Parc Meadow @ Tengah
2-room Flexi, 3-room, 4-room, 5-room
1,985
Plantation Verge
2-room Flexi, 3-room, 4-room, 5-room
971
Mature Town
Bedok
Bedok South Blossoms
2-room Flexi, 3-room, 4-room, 5-room, 3Gen
1,640
Kallang/ Whampoa
Farrer Park Arena
3-room, 4-room
569
Serangoon
Serangoon North Vista
4-room, 5-room
330
Prime Location Public Housing (PLH) Model
Kallang/ Whampoa
Farrer Park Arena
3-room, 4-room
569
Grants and Priority Schemes
Families with household income of up to $14,000 can buy BTO flats. Eligible first-timer applicants can also receive CPF housing grants of up to $80,000. Singles with an income of up to $7,000 are also eligible to purchase 2-room Flexi flats in non-matures estates and receive a CPF housing grant of up to $40,000. To better your chances of getting a flat, consider applying under one of the HDB priority schemes if you're eligible.
Useful Tips for Flat Buyers
Before applying for your flat, read up on the flat buying process. 
If you are intending to apply for a flat at the May Sales Launch, note that you must:
Complete the preliminary HFE check before you submit an application
Apply for an HFE letter within 30 days of starting the preliminary HFE check
Have a valid HFE letter when you book a flat, if you are shortlisted
Learn more about what the HFE letter is and how to apply in our step-by-step guide to applying for the HFE letter.
You may also wish to note the following tips:
Information on BTO flats on offer is available on HDB Flat Portal, where you can check out all the details and apply online. You do not have to visit HDB Hub to get the information.
If you do not have Internet access, do seek support from family members instead of visiting HDB Hub or Branches. Those who require assistance, especially seniors, may call the HDB Sales/ Resale Customer Service Line at 1800-866-3066 for assistance.
Consider applying for a BTO flat in non-mature towns to enjoy a higher chance of success in securing a flat. You can also check the application rates of past BTO projects for each town via HDB Flat Portal.
You can only submit 1 application for 1 flat type and 1 location during each sales exercise.
The construction period for each project varies, depending on their individual attributes, such as development height, number of units, design, site conditions and constraints. Projects with challenging site conditions or more complex designs may take longer to construct.
Regular updates on the application numbers for the various flat types/ towns will be published on the HDB InfoWEB, so check for updates before submitting your application.
Applicants are shortlisted via a computer ballot and are not processed on a first-come-first-served basis. Just remember to submit your application before the end of the sales launch.
The two projects offered in Tengah are located in different Tengah districts: Park District and Plantation District. As Tengah is a non-mature estate, at least 95% of 4-room and larger flats in these projects will be set aside for first-timer families.
The first project, Parc Meadow @ Tengah in Park District, boasts the largest number of flats (almost 2,000 units) and shortest waiting time (just over 3 years) this launch. Your home here will be a short walk from the Town Centre and be well-served with public transport links, including an upcoming MRT station. The second project, Plantation Verge in Plantation District, will be nestled amongst green and blue spaces, bordering a proposed park and Tengah pond. Flats in this project will have a waiting time of over 3.5 years.
The prices of Tengah flats after grants start from $290,000 for 4-room flats, and $409,000 for 5-room flats.

Perspective of Parc Meadow @ Tengah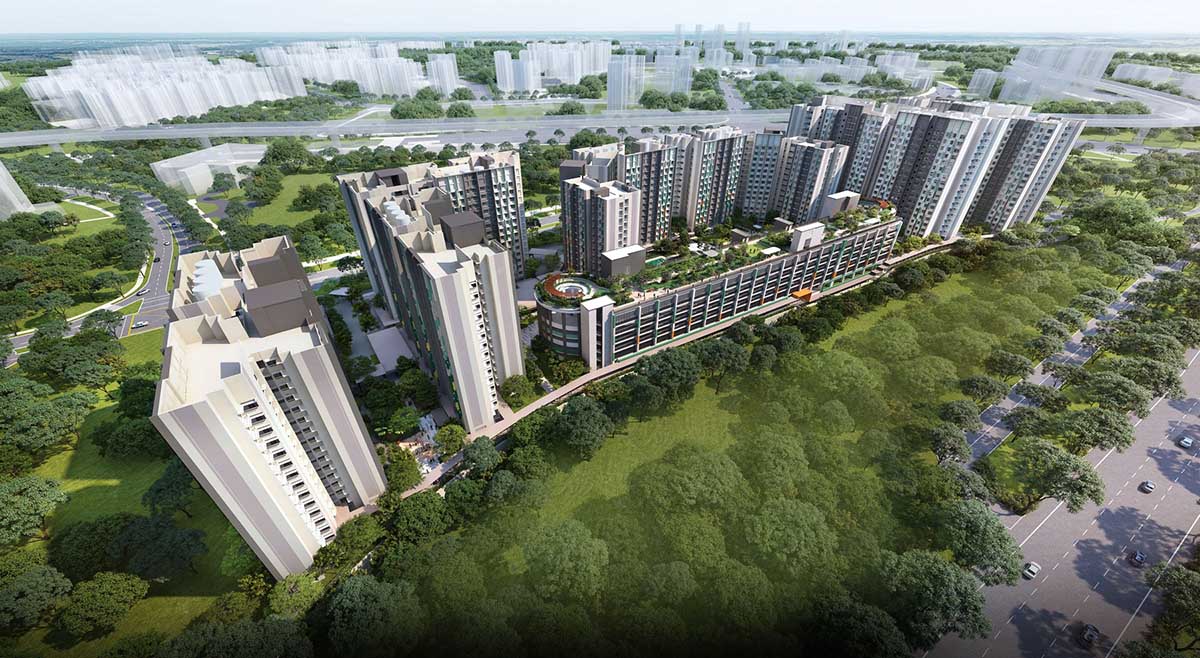 Perspective of Plantation Verge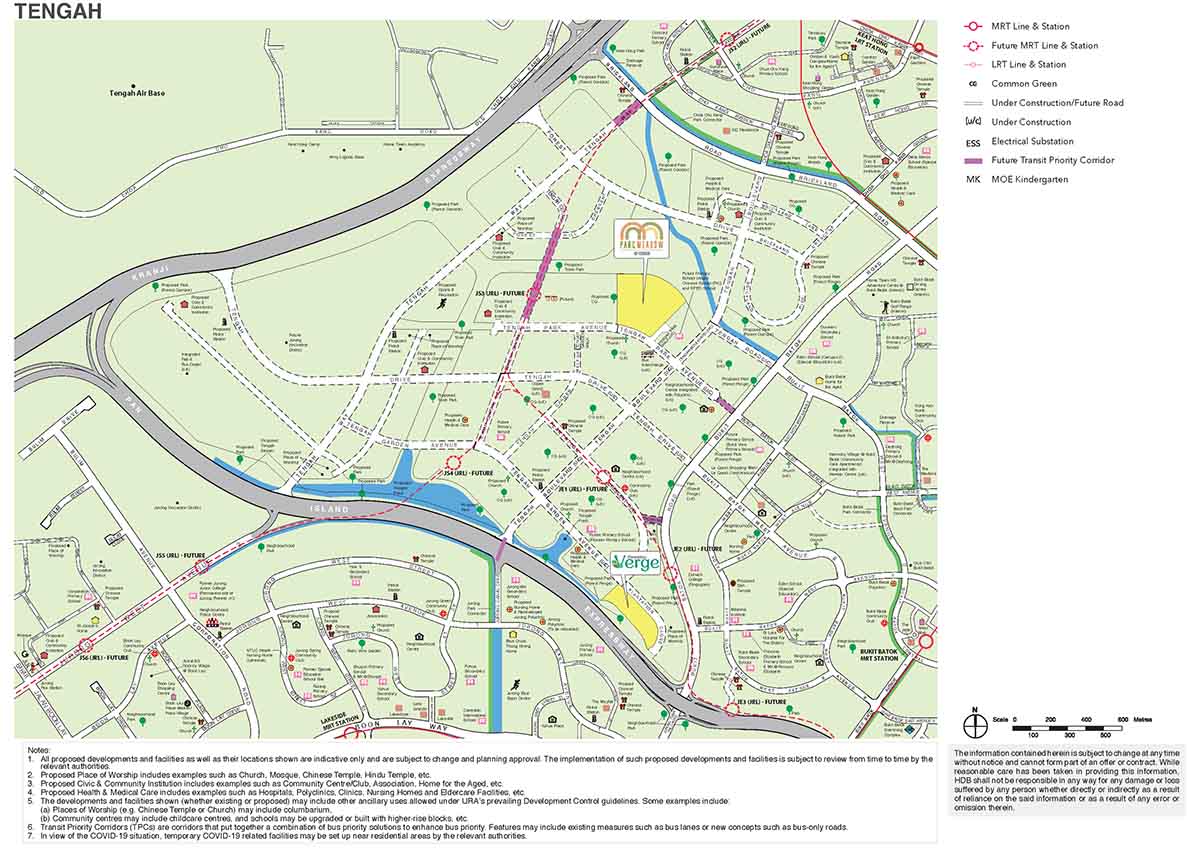 Detail
Units offered
A total of 2,956 flats across 2 projects:
1,985 flats (2-room Flexi, 3-room, 4-room, 5-room)
971 flats (2-room Flexi, 3-room, 4-room, 5-room)
Project location
Bounded by Tengah Park Avenue and Tengah Park Walk
Along Plantation Close
Transport links
Jurong Region Line MRT Station (station name to be determined)
Shops/ Malls
Tengah Town Centre
Neighbourhood Centre
Schools
Anglo-Chinese School (Primary)
Jurong Primary School
Shuqun Primary School
Rulang Primary School
Bukit Batok Secondary School
Dunearn Secondary School
Fuhua Secondary School
Yuhua Secondary School
Jurongville Secondary School
Hua Yi Secondary School
Notable landmarks
Tengah Pond
Jurong Park Connector
Jurong East Sports Centre
If you're looking to settle down in the East, you can look forward to this project which is located just a short walk away from Tanah Merah MRT Station. The project will also be a bus ride away from Bedok Town Centre, which boasts a variety of amenities, including the integrated Heartbeat@Bedok and Bedok Interchange Hawker Centre.
This project offers a wide range of flat types, including 3Gen Flats which are designed to support the needs of multi-generational families living together. Learn more about the eligibility conditions to buy a 3Gen flat, or read up about the various HDB flat types in our MyNiceHome guide.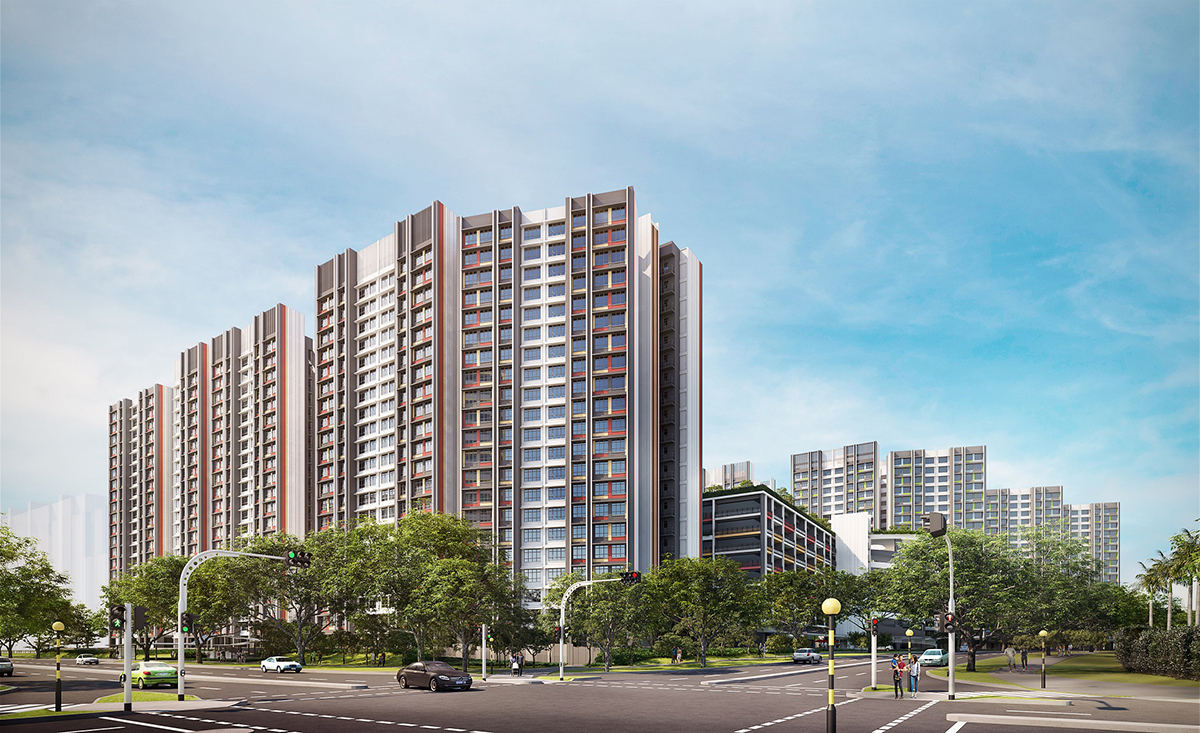 Perspective of Bedok South Blossoms
Detail
Units offered
1,640 (2-room Flexi, 3-room, 4-room, 5-room, 3Gen)
Project location
Bounded by Bedok South Road and Bedok South Avenue 3
Transport Links
Tanah Merah MRT Station
Bedok MRT Station and Bus Interchange
Shops/ Malls
The Marketplace@58
Neighbourhood Centre
Bedok Mall
Heartbeat@Bedok
Bedok Interchange Hawker Centre
Schools
Bedok Green Primary School
Temasek Primary School
Fengshan Primary School
Anglican High School
Bedok View Secondary School
Temasek Secondary School
Temasek Junior College
Notable landmarks
Bedok Stadium
Bedok Town Park
Outdoor Play corridor along Bedok South Avenue
This project is located in between Farrer Park and Little India MRT stations, allowing you to make your way to town in a jiffy. You won't have to travel far to enjoy a wide range of shopping and food options, with City Square Mall and Mustafa Centre nearby. Sports enthusiasts can also look forward to an upcoming sports complex located next to the project.
Flats in this project are offered under the Prime Location Public Housing (PLH) model. Learn more about buying a PLH flat in our guide.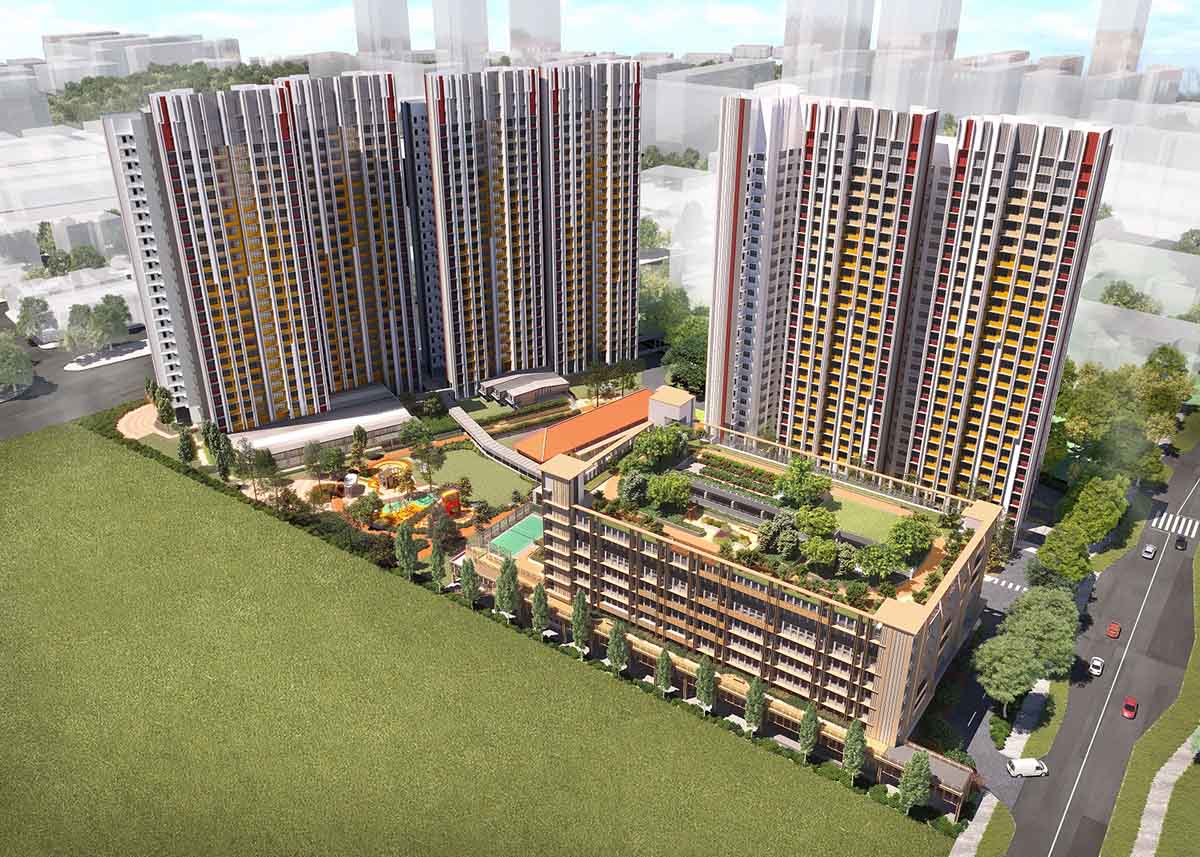 Perspective of Farrer Park Arena
Detail
Project location
Bounded by Farrer Park Road and Dorset Road
Transport links
Little India MRT Station
Farrer Park MRT Station
Shops/ Malls
Pek Kio Market & Food Centre
City Square Mall
Centrium Square
Mustafa Centre
Schools
Farrer Park Primary School
Hong Wen School
St. Joseph's Institution Junior
Bendemeer Secondary School
Notable landmarks
Upcoming Sports Complex
Jalan Besar Stadium
Rochor Canal
Located in the mature town of Serangoon, this project is near many popular eateries, cafes, and restaurants (including the famous Chomp Chomp Food Centre) and a short distance away from Serangoon Swimming Complex and Serangoon Stadium. Home owners can also look forward to an easy commute with the nearby Serangoon North MRT station on the upcoming Cross Island Line.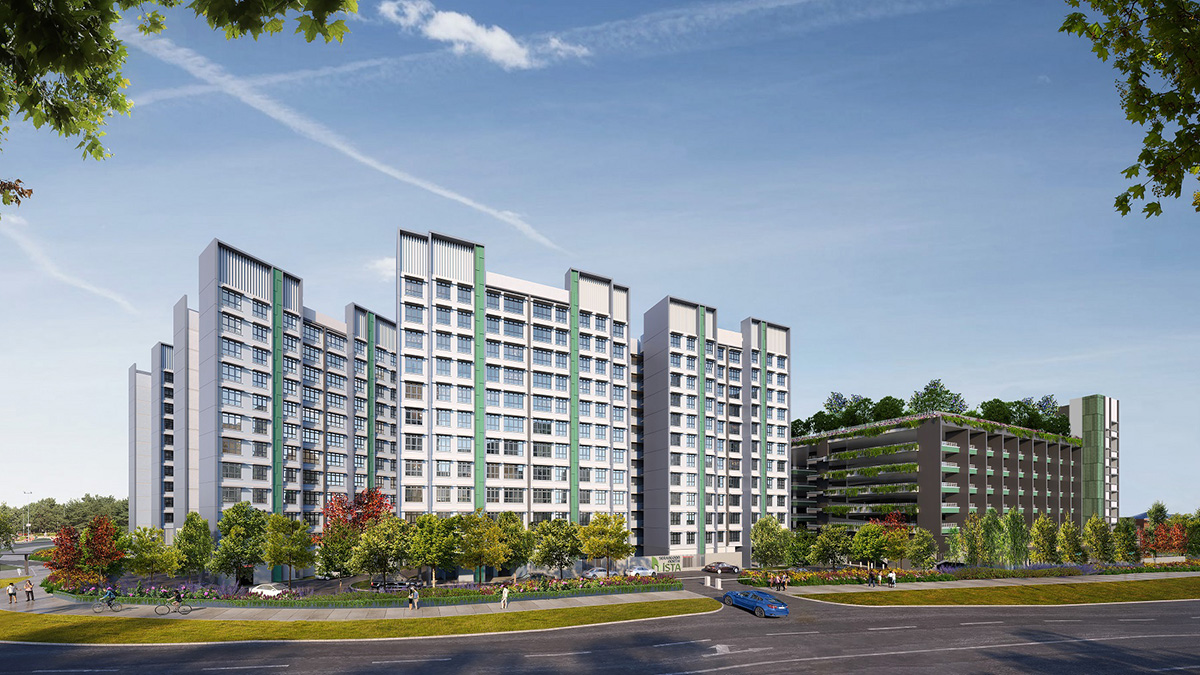 Perspective of Serangoon North Vista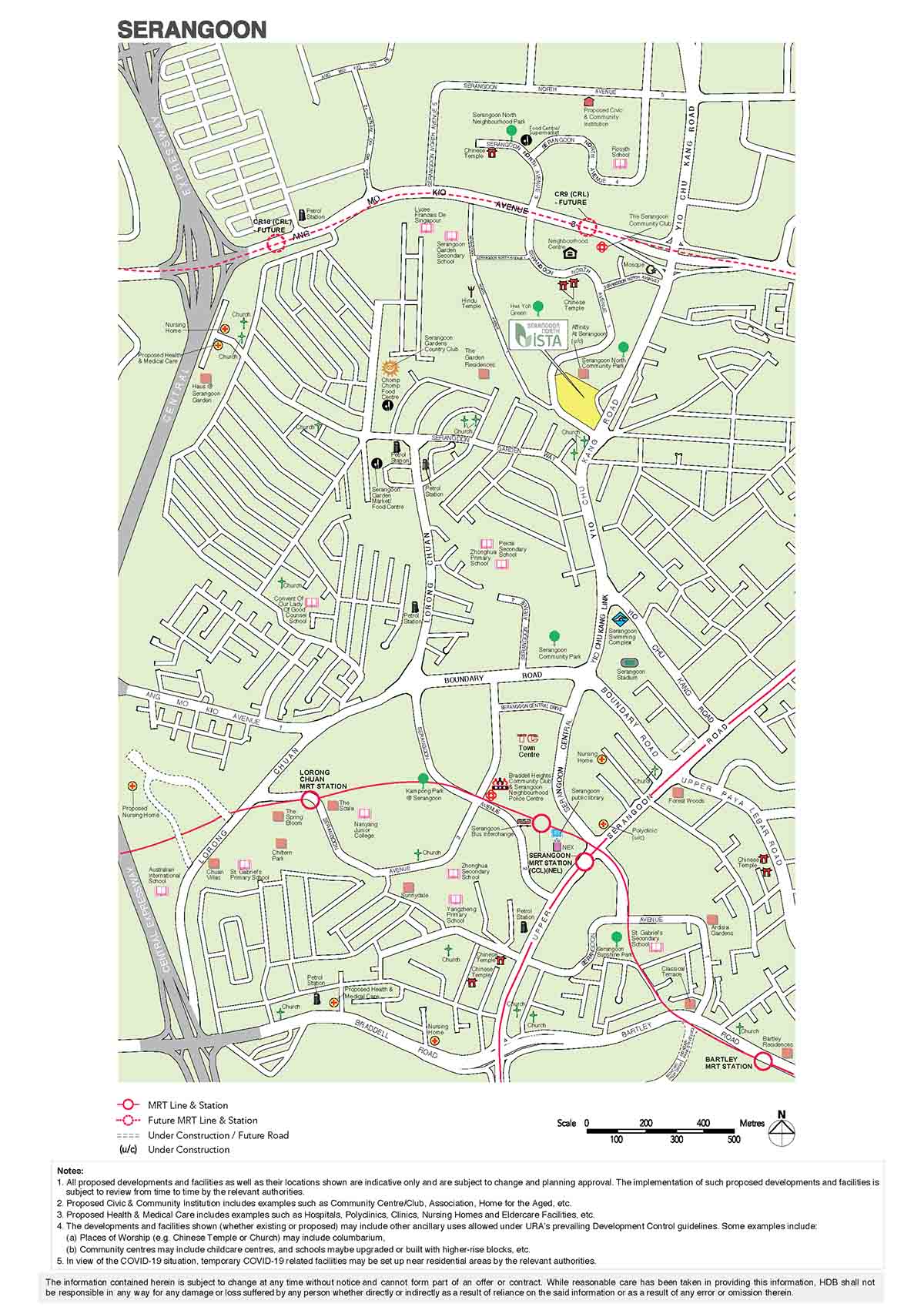 Detail
Project location:
Bounded by Serangoon North Avenue 1 and Yio Chu Kang Road
Transport links:
Serangoon North MRT station (Under construction)
Serangoon MRT Station and Bus Interchange
Shops/ Malls:
Chomp Chomp Food Centre
Serangoon North Village
Schools:
Rosyth School
Zhonghua Primary School
Peicai Secondary School
Serangoon Secondary School
Notable landmarks
Serangoon Swimming Complex
Serangoon Stadium
Serangoon North Community Park