Punggol is a modern eco-town known for its lush greenery and Instagram-worthy bridges. What better time than now, especially with all travel plans on hold, to go on a walkabout of this scenic waterfront town?
Waterway Wonder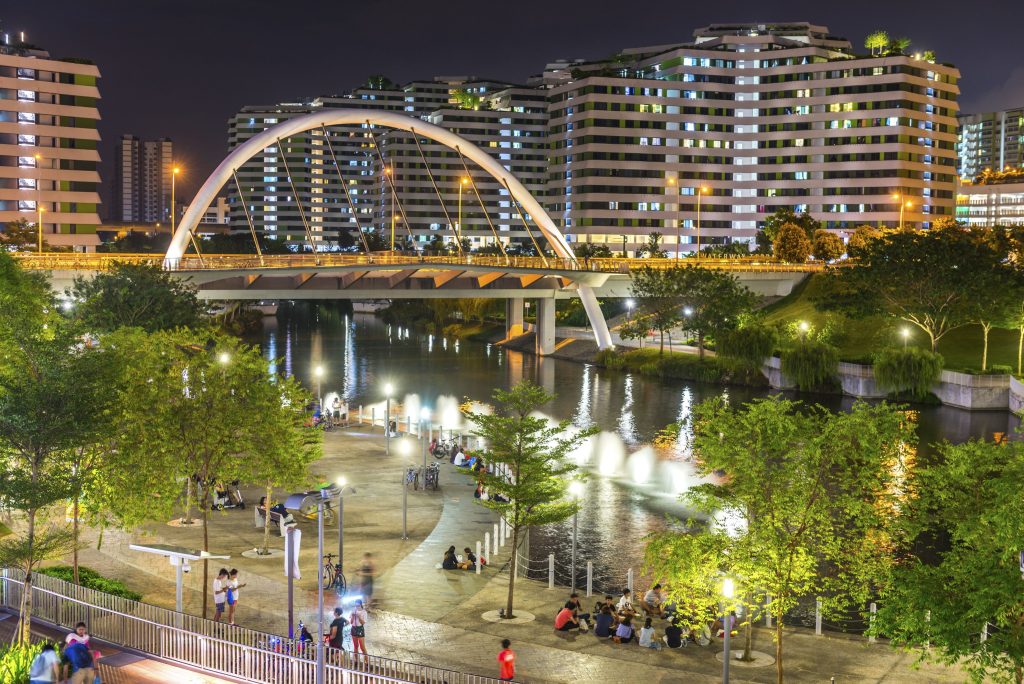 A night view of Punggol Waterway
A 4.2km-long man-made waterway runs through Punggol and is now a key part of the town, made possible as part of the Remaking Our Heartland programme to rejuvenate Punggol. Not only has it helped to realise waterfront living for Punggol's residents, the waterway is also home to a thriving ecosystem, including numerous species of freshwater plants, mangroves, butterflies, dragonflies, and birds.
Mangroves, native to Singapore, are planted along the waterway, where they help to maintain the water quality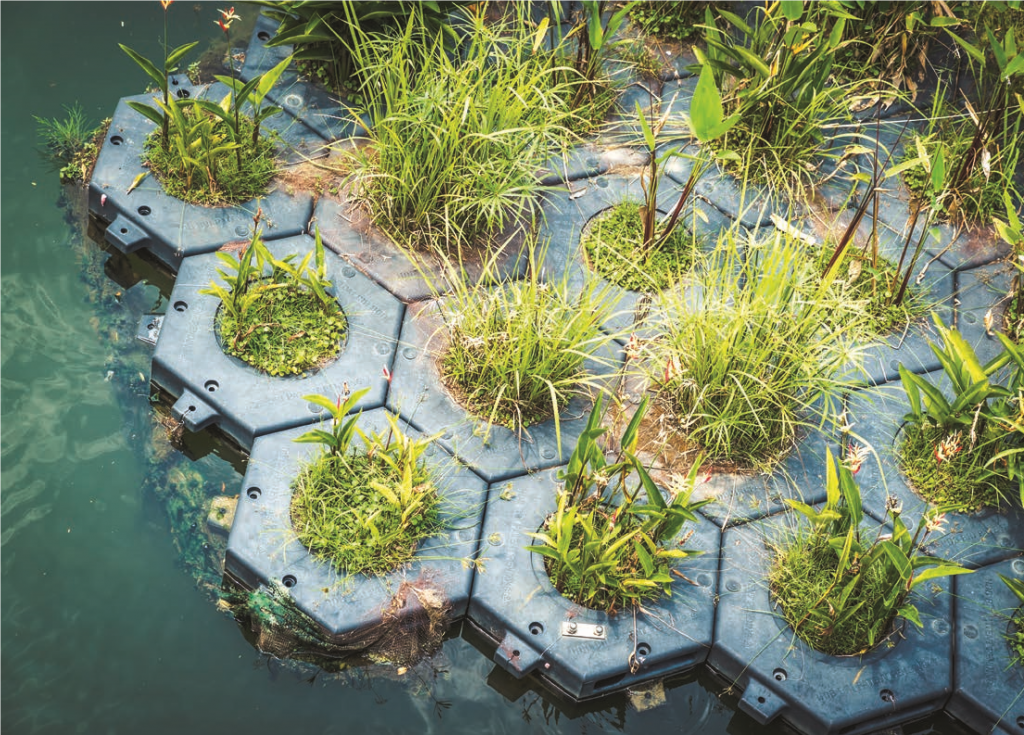 Carefully selected plants add a welcoming pop of colour to the water surface
While admiring the view from the waterway, be sure to look out for the honeycomb-inspired buoyant platforms that facilitate the growth of lush greenery. Approximately 760 of these floating wetlands can be spotted at the waterway, adding life and colour to the water surface.
The Famous Five (Bridges)
Punggol is home to not one, not two, but five picturesque bridges: Jewel Bridge, Sunrise Bridge, Kelong Bridge, Adventure Bridge and Wave Bridge. Pro tip—the wave Bridge is especially perfect for the 'gram, as is the Jewel Bridge at sunset.
The sunset view from Jewel Bridge
Punggol Discovery Cube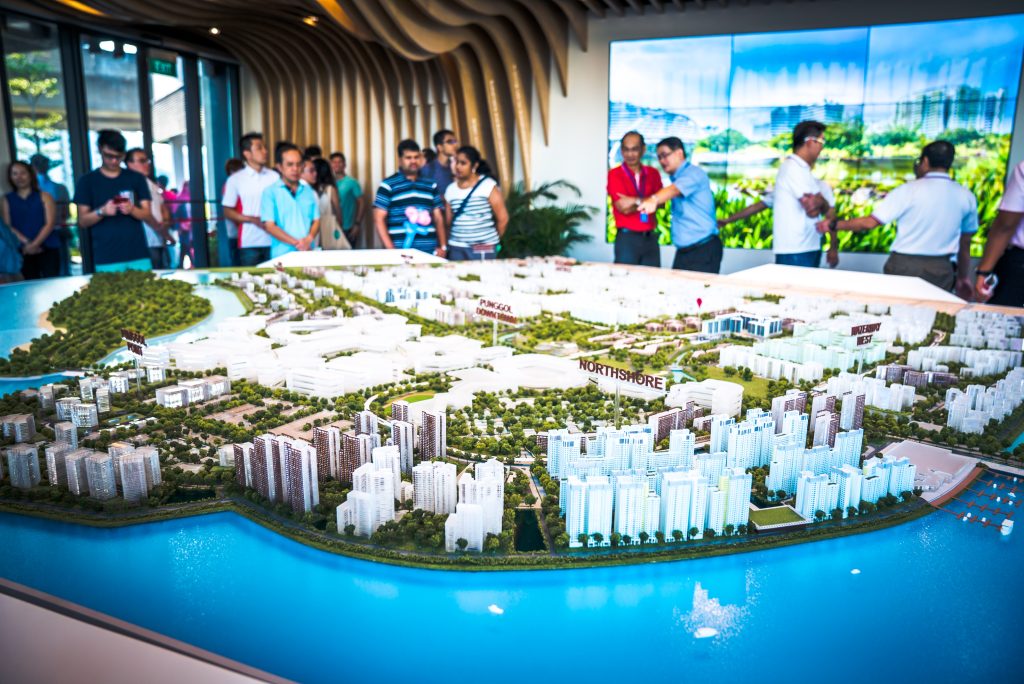 Overlooking the iconic waterway, Punggol Discovery Cube is a first-of-its-kind visitor centre in an HDB town. With the help of multimedia showcases, you can discover the rich history of Punggol and the developments that have defined its distinct Waterfront Town identity.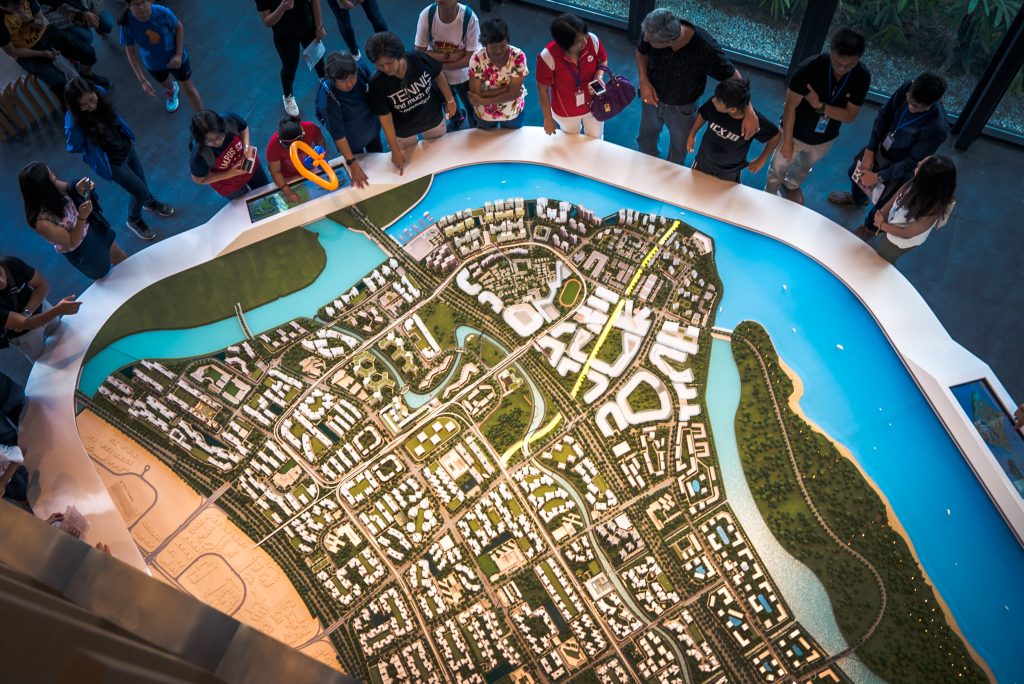 An interactive architectural model of Punggol will give you a bird's-eye view of the entire town, including its 7 signature waterfront districts.
Head to the second floor for significant moments of Punggol's development and planning. Here, learn about the smart and sustainable initiatives implemented at Punggol, including the use of modelling tools to simulate environmental conditions such as wind flow, solar radiation, shading and noise, to create the best possible homes.
Before ending your visit of the Discovery Cube, step out to the open-air viewing deck at the top of the centre and enjoy panoramic views of the estate!
The Punggol Settlement and @Punggol
Photo Credit: The Punggol Settlement
Feeling peckish after a day's adventure? Punggol Settlement offers a wide culinary spread, from fresh seafood to Thai cuisine. Located next to the Punggol Jetty, Punggol Settlement also provides a unique dining experience with a view of the sea.
Dining with a view
Photo Credit: The Punggol Settlement
Craving for some Tom Yum? Pop by Trunk at Bay, an eatery that serves classic Thai food. Tuck into dishes such as Green Curry and Phad Thai while enjoying the cool breeze.
Otherwise, head to @Punggol, a hidden gem at Tebing Lane offering restaurants, cafes and recreational activities. Visit Whisk and Paddle, an industrial-themed café that offers a diverse menu, ranging from the classic mac 'n cheese to an innovative sambal seafood pizza. Pet owners will be glad to know that the café welcomes fur friends on its premises. There are other eateries in the area too — some housed within shipping containers!
So while our flight wheels may be grounded, our adventurous spirit most certainly isn't. Especially so if you're craving for a breath of fresh air, embark on a discovery journey of Punggol and you may be surprised at what you'll find.
Have recommendations of spots in Punggol you think we should explore? Let us know at mynicehome@mailbox.hdb.gov.sg